The Best Place for Kids in Murphy Texas is totally FREE.
Its great for very young to very old.
Its the Murphy Central Park!
Here's more about it:
Murphy Central Park and Amphitheater
550 North Murphy Road
Murphy, TX 75094
60 acres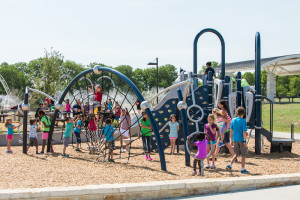 Murphy Central Park is the highest point / elevation in Murphy. Amenities include:
52 total acres of parkland
16 acres of developed parkland
5 acres of multi-purpose sports fields
Restroom facilities
Small 5-12 year old covered playground
Spray ground
Pavilion with 4 picnic tables and grill
Picnic Area with 4 picnic tables
Concession Stand
Amphitheater with seating for 2500 – 3000
Approximately 0.6 miles of 8′ concrete trail that connects to the larger Maxwell Creek Trail
2 acre stocked pond
Outdoor education area with benches
The trail is not too long and not too short (and in the Summer you have to check out the Splash pad!)
One more thing, have you seen these cute Murphy products?
(click on the pic to grab yours)
Murphy is a tiny town with everything packed inside of it!