Disclosure of Material Connection: Some of the links in this post may be "affiliate links." This means if you click on the link and purchase an item, I will receive an affiliate commission. Disclosure in accordance with the Federal Trade Commission's 16 CF.
Frisco just keeps bring us a variety of ways to entertain ourselves and our family and they know how to deliver variety when it comes to Frisco Texas Restaurants.
Frisco is not slowing down – – make no mistake, this town will cover every inch of earth with restaurants and shops and entertainment to you delight its residents and visitors.  Side note: I do think they are setting aside a huge piece of land for a park system, yes!! In the meantime, they will keep you busy with the Frisco Roughriders, the Museum of the American Railroad, Frisco Rail District, and they have a lot of space to fill.
Frisco has all the options from casual dining on a patio, coffee shops, southern fare, sushi, Irish food and everything in between.
I went ahead and segmented by the area of Frisco  – keep in mind, new places are opening almost every week.  I'll keep this updated so you can keep coming back to discover the latest.
Frisco Texas Restaurants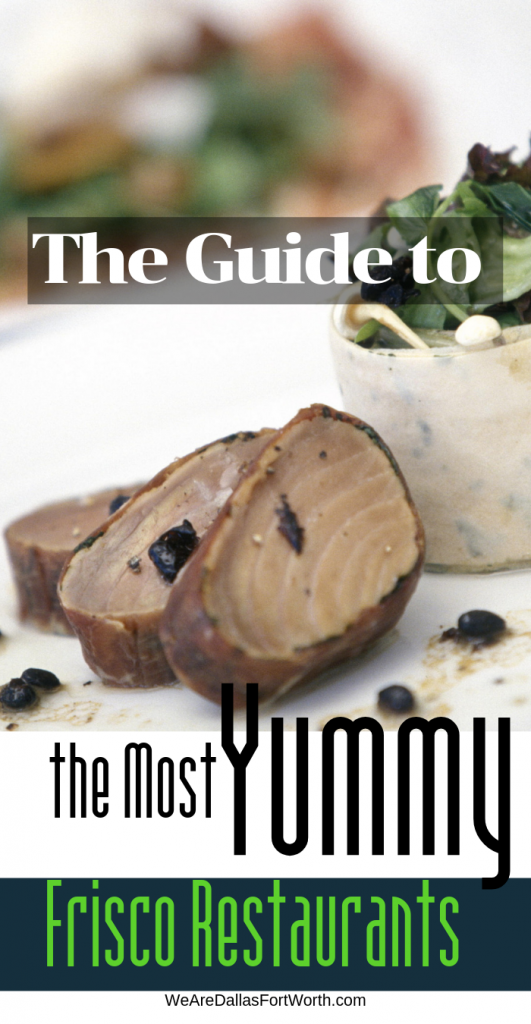 Stonebriar Mall area
At Stonebriar Centre you'll enjoy an elegant and modern setting providing the perfect backdrop for a day of fun. Whether you're looking for something special for the little ones at the area's only LEGO store or you're eager to update your wardrobe with the hottest trends, you'll find it all at Frisco's premier shopping destination.
You've got your classics such as The Cheesecake Factory, Red Lobster, Macaroni Grill, Buca di Beppo, Outback Steakhouse, Olive Garden, Smoothie King, Starbucks, Fuddruckers and Jimmy Johns.
Or maybe you'd like a steakhouse such as Perry's Steakhouse & Grille or EG Steak.
For something casual, La Madeleine (they have the best cream of mushrrom soup ever), Fuzzy's Taco Shop, Platia Greek Kouzina, IHOP, Wingstop, Zoe's Kitchen, Cotton Patch Cafe, Sushi Zen, Blaze Pizza, Chennai Cafe, Salata, Piada, Corner Bakery Cafe (they make a great chicken caesar salad), Steak n Shake, Purple Kiwi, Wendy's, Kolache Heaven or Karmic Grounds for a cup of coffee.
Stonebriar is smack dab in the middle of Frisco off of 121 and Preston Road, its been a mainstay in Frisco for quite some time and you've probably seen it when driving around.
Starwood area
Starwood is a neighborhood in Frisco, Texas. Starwood mostly features a neighborhood of big ol' Texas-sized expansive homes. This community dates back to 1997 and continues to change a bit over time.
You might like dining at the Starwood area restaurants such as: Bonnie Ruth's Neighborhood Bistro, Rice Pot, Crudo, TruFire Kitchen & Bar, Smashburger, Bottled in Bond Cocktail Parlour & Kitchen, Chick-Fil-A, Starwood Cafe, Taco Bell, Sonic Drive-In, Twisted Tortilla Tex Mex and Jenny's Donut.
Yes, I did mention Sonic and Taco Bell.  One can;t knock the Hot Fudge milkshake that I treat myself to once per year.  Sooooo good! And depending on where you are in life, Taco Bell can serve up some good nachos.  You know you knocked back a few Nachos Bell Grande back in the day . . . and depending on your night, maybe recently you hit those Nachos Bell Grande one more time.  No judgement here.  I'm quite familiar with that platter.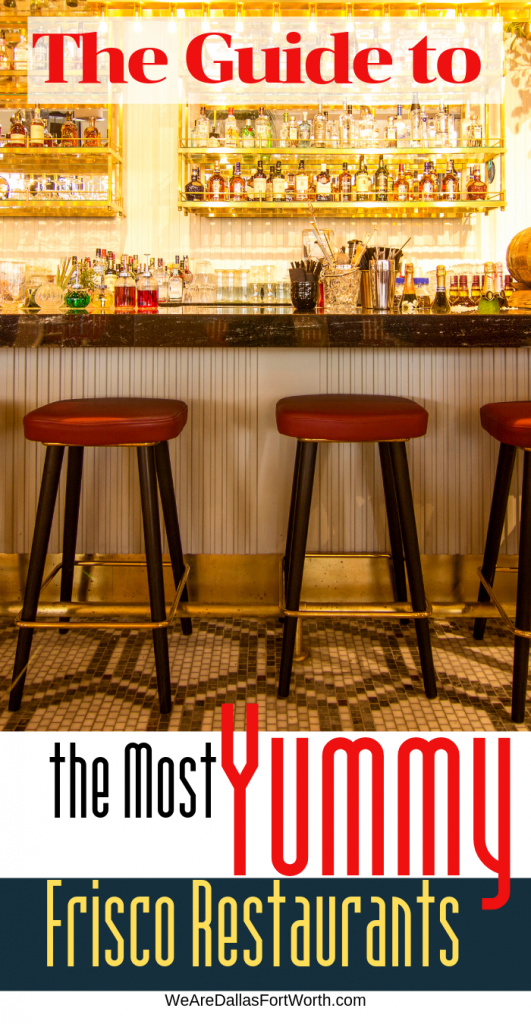 Rail District Frisco
This downtown Frisco area has a variety of independent cafes and restaurants including, Marianna's Tacos, the Frisco Railyard, Eight11 Place, 5th Street Patio Cafe, La Unica, The Snow Cone Lady, Babe's Chicken Dinner House, Simply Thai Bistro, Trouvi Cookie Company, The Heritage Table, Didi's Downtown, Rockin Taco & Tex Mex, Summer Moon Cafe  and Randy's Steakhouse.
The Rail District in Frisco is on Main Street aka Downtown Historic Frisco.
The area is about to grow or 'grow up' in the area with new developments in accordance with the City plans made in the 90's.  Yep, it sure does take a lot of planning to support a city in both growth and growing up.  I spoke to the growth in this article here with plans for the Patios, Nack Theater as well as housing, patio dining, parks, a parking garage and more boutiques.
I think many of my friends in the Downtown Frisco area are anxiously awaiting this growth. And I cannot wait to celebrate their businesses and continued business growth in the Rail District of Frisco.
You can catch a few of them here ⤵️
Frisco Square
Frisco Square is managed by the Frisco Square Property Owners Association which is made up of multiple property owners and managed by a Board of Directors. The Frisco Square POA manages the maintenance and up keep of all common areas within the development (South of Main Street, North of Page Street, East of the Dallas North Tollway, and West of John W. Elliot Street), coordinates and sponsors 3 large annual events for the community (Arts in the Square, Music in the Square, and Christmas in the Square), and partners with the City of Frisco on many events it hosts in Frisco Square, along with other organizations that host events for the community in the Square.
When you check this area out you will be able to dine at: Pizzeria Testo, Sake Toro Sushi, First Round Draft Bar & Grill, Chitos, Jakes Burgers, Nerdvana Frisco, The British Lion Pub, Best Thai and Firehouse Subs.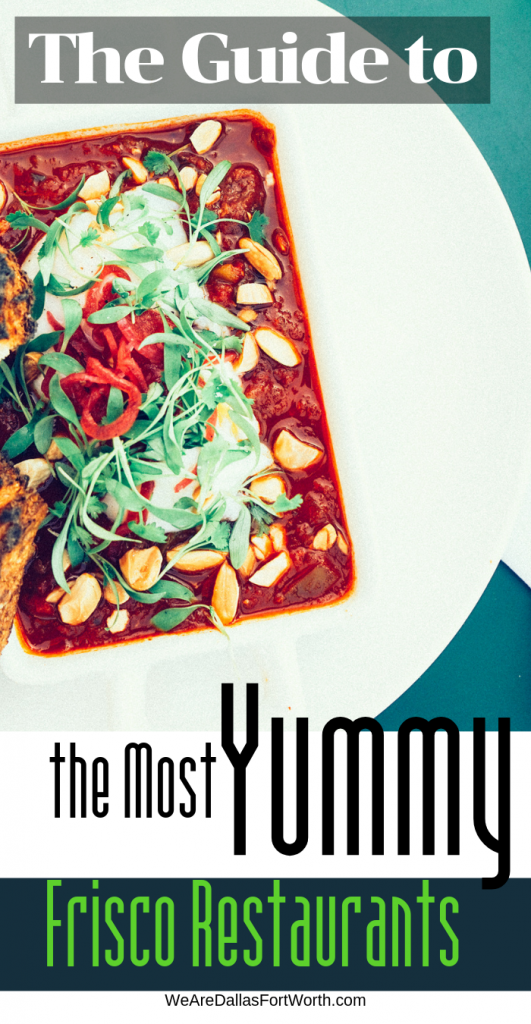 The Frisco Star
Places to eat here include: Tupelo Honey, Common Table, Mi Cocina, Dee Lincoln Prime, Zaytinya, Da Mario, crushcraft Thai Eats, Cane Rosso, Concrete Cowboy, Raising Cane's Tri Tip Grill, Sushi Marquee, Howard Wang's Frisco, Trophy Park, Roti Grill, City Works – Frisco, Ascension, Cowboys Club, Cow Tipping Creamery, Heirloom Haul, Neighborhood Services, and Rush Bowls.
✅ The Frisco Star offers more than dining and you'll discover Formation – the membership-only coworking space. Its one of the most beautiful coworking spaces I have seen, so much natural light and beautiful decor.  Definitely makes for a good break from working at home or Starbucks.
✅ You'll also discover a place to workout – Cowboys Fit. Cowboys Fit offers a comprehensive experience with over 60,000 square feet of luxury gym amenities located at the Dallas Cowboys World Headquarters at The Star in Frisco, Texas.
✅ Check out the Tostitos Championship Plaza – Tostitos Championship Plaza serves as the heartbeat of The Star campus. It contains the Dallas Cowboys 50-yard replica turf field or making your way into one of the many events hosted in Ford Center, the Tostitos Championship Plaza is both interactive and engaging for all those visiting The Star.
✅ Its also home to the Omni Hotel – which is on the higher end of pricing.  We checked into a Staycation here but maybe not until we save a few more pennies 😂 Oh, one more thing – The Star is also home to the Dr Pepper Ring of Honor Walk.
Other areas of Frisco
Of course with dining being one of the main attractions of Frisco, I would be remiss not to mention so many other restaurants such as:
Barnlight Eatery, avocado toast lovers will love The Nest Cafe, Jeff's Vegan, The Aussie Grind, Frisco Diner, Cork & Growler, Biscuit or The Berlin Cafe.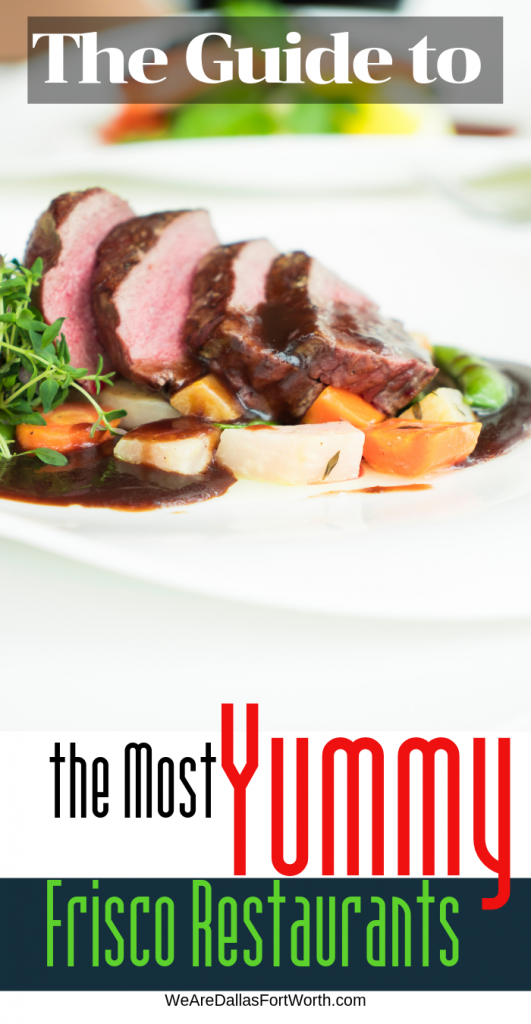 Is there a cost to dining out in Frisco Texas Restaurants?
With everything, there is a cost.
You'll need to factor in the time, the drive and the cost of the food + tip.
You probably heard this advice before—if you want to save money stop eating out so much! And let's be honest, you've tried, but haven't really stuck with that advice. I live in a growing city, I get it.
The average American household spends about $3,000 a year dining out, according to the Bureau of Labor Statistics (an individual spending only on themselves counts as a household, too.)
I've asked around to a number of friends and family who dine out often and surprisingly most dine out on something at least once per day.  Sometimes its just a muffin and a Mocha, sometimes its a lunch out at Corner Bakery or Torchy's Tacos for a cost of about $12 – $15 and many times its a full on dinner with an appetizer, entree, dessert and alcoholic drinks costing about $50 – $75 per person.  Many colleague I spoke to admitted to dining out to dinners like this at least 4 times per week.  That's well over $200 per week or $10,400 per year per person.  Wowsers!
I get it, dining out can be a good social outlet and something seen in many southern metropolitan areas like DFW.  If you also add in the government mileage rate of about 55 cents per mile and if one drives over 10 miles in a round trip . . that tacks on another bit of money.  Use the Dallas North Tollway and there's another 5 or 10 bucks.
For Brian and I, if we dine out, we like to break bread with others and do buy into the philosophy from Keith Ferrazzi the author of Never Eat Alone. Otherwise, we cook at home.
Keith Ferrazzi is one of my favorite authors and he learned about the power personal relationships can have early on in his life. And brought us many lessons in this book. During his time working, he observed how people interact and reciprocate favors as a caddie in the local country club.
Keith continued to employ the role of networking and being helpful throughout his youth and work and now Keith's rolodex counts well beyond 10,000 contacts, whom he can count on to return his calls. In 2005, he shared everything he'd learned about being a good networker in the highly appraised book Never Eat Alone. Another one of my favorite business speakers and authors who has plenty of money to go around states that he never takes just his wife out to a restaurant alone, they go together with others colleagues or business prospects that they would like to develop a business relationship with.  Its all about breaking bread together and he states it has a more powerful ROI than just looking across the table at your significant other (which you can do at home).
If you want to check out Grant Cardone, he is best known for his book The 10x Rule: The Only Difference Between Success and Failure.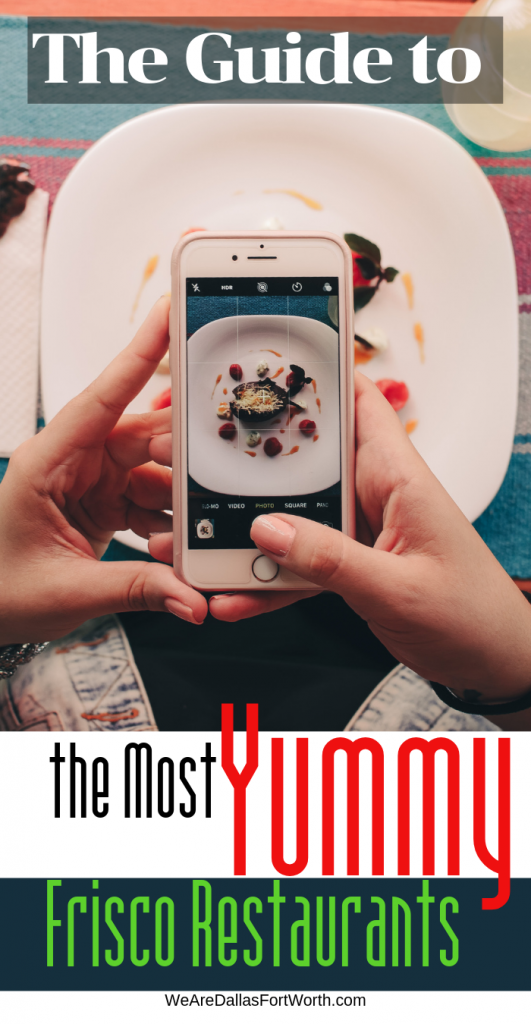 What if you don't want to go out to eat in one of the many Frisco Texas restaurants?
There are plenty of alternatives such as eating at home, Uber Eats, getting take out from your favorite Chinese restaurant (we love Fang Fang in Plano), having a picnic at Frisco Commons park, having a picnic inside of your house (yes, your kids love that), ordering from a meal kit delivery service or just drinking wine and eating popcorn, Olivia Pope style.
Can you hear me ladies?? 😂
So for eating at home, the easiest thing to do thats both yummy and healthy are creating sheet pan dinners.  You could do this 7 nights per week and it will never ever get old.  Uber Eats and Favor are 2 of the food delivery services that come to my mind and are definitely a splurge, so be sure to watch out for coupons. Meal Kits are all the rage, although its not as affordable as your own cooking it might make your meal taste and look just like something you would eat in the restaurants with a lot more convenience of course.  Wanna have a picnic?  Make it easy on yourself and go 'charcuterie' style.  Fill lots of containers with fruits, nuts, cheeses, crackers, olives, raisins, chocolates, sourdough bread and top it off with cutlery, napkins, some plates and wine or any beverage you choose.  It makes for a fun meal.  Brian and I do breakfast picnics at the park on Saturday and Sunday mornings when the weather is decent and dinner picnics at the park as well.  We even take out 1930 Model A over to our secret spot here.
And don't forget, Amazon Fresh will deliver groceries to your home.  Perfection!!
Look at this – you can pick up this:
You choose how you want to eat in Frisco
Once a small, quaint suburb, Frisco has exploded in recent years, and its dining scene is booming. As the city continues to grow, Frisco has welcomed a number of exciting new eateries that are worth the drive north.
We are dying to try Tupelo Honey – just the name alone makes this place sound so intriguing.
Keep in mind, that Frisco is very family-friendly as one of the most northern cities in the DFW metroplex.
If you are visiting Frisco, don't fret, it was ranked as the 14th safest city in the country. And they even have the most amazing Museum aka the Museum of the American Railroad. I think I've already mentioned that about 10 times!! I'm a train enthusiast and cannot help myself.  A must-visit place especially if you have a train lover in your family or a model train enthusiast – the collection in the railroad is bigger than my entire house.  OMG! Amazing!
However, this is not the town for a rager – head to Deep Ellum or Uptown or Downtown Dallas.  Frisco is very suburban . . . with that being said, its probably one of the more metropolitan suburban areas in the country due to their many partnerships and location along the Dallas North Tollway.
One more thing . . .
If you love Frisco and live in Frisco, this sticker is my most popular: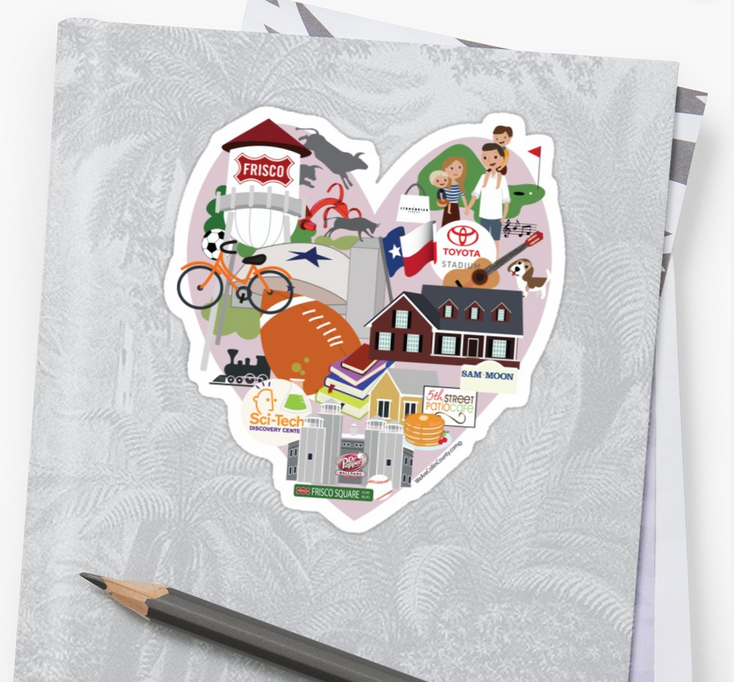 And you can see more of the Frisco Collection.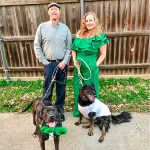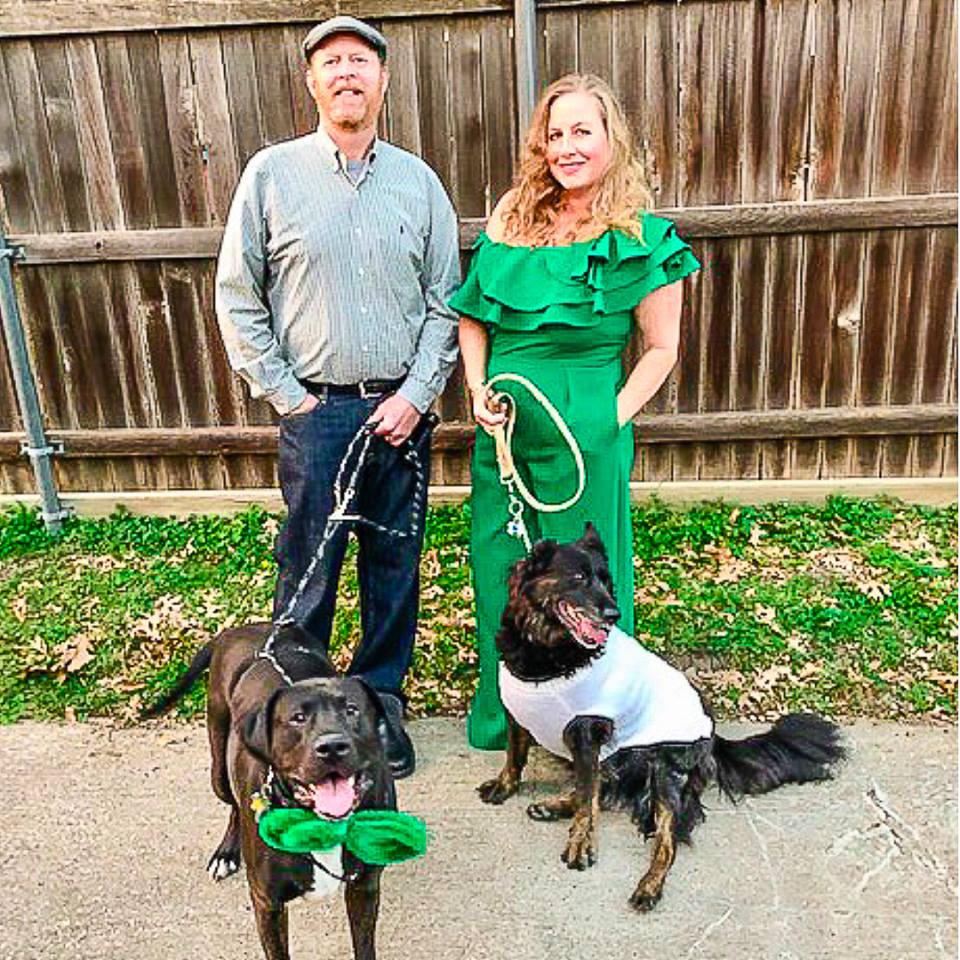 Interested in working with the We Are DFW team start here
They help local businesses in DFW and many larger businesses looking to tell a story to the readers of Dallas. Her work entails copywriting, content marketing, blog campaigns, email marketing, social media, coaching and consulting.
Be sure to take a peek at the LIVE show – here are just a few of them from the recent weeks (lots of Frisco representation in the house!)
You might also like
If you like podcasts, here are a few of my episodes from the We Are Dallas Fort Worth podcast