Disclosure of Material Connection: Some of the links in this post may be "affiliate links." This means if you click on the link and purchase an item, I will receive an affiliate commission. Disclosure in accordance with the Federal Trade Commission's 16 CF.
St. Patrick's Day in Dallas is done in a big way with festivities in the Upper and Lower Greenville neighborhoods that draw more than 125,000 attendees to the city's northeastern quadrant each year. And in McKinney  . . .Mansfield, The Colony, Plano.  And of course all the Irish festivities start off with a bang with the North Texas Irish Festival. This is how Big D rolls.
St. Patrick's Day in Dallas 2020
This year, St Patrick's Day is on a Tuesday  – and as always on March 17.
Be prepared to have your green well before as the celebrations start in the beginning of March. Scroll to the bottom to see some really unique choices.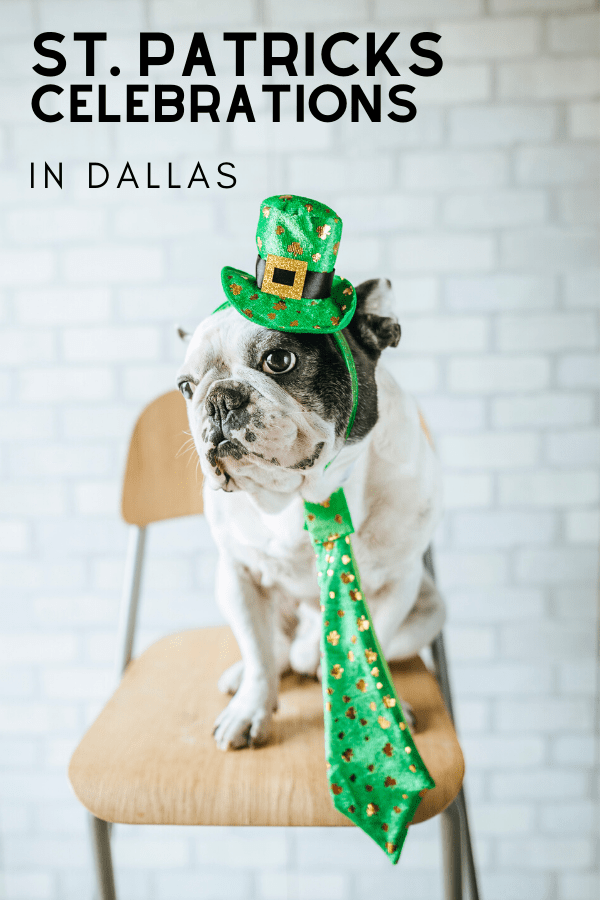 Here are the events you will want to put on your calendar:
1. North Texas Irish festival
2. St Patrick's Day Dallas Parade
3. Sundown at Granada
4. Ft Worth St Patrick's Day Fest
5. McKinney St Patricks Day Festival
6. Mansfield Pickle Parade
7. Luck of the Irish 5k in The Colony
Most, if not all of the events occur before the actual St Patrick's Day on the 17th, so if you plan carefully, you can get yourself, your family and friends to all of these great events for a really fun March.
But first, what is St Patrick's Day?
St Patrick's Day, on March 17, remembers one of Ireland's patron saints, St Patrick.
And why do Americans love it so much?
It largely celebrates Irish-American culture in the United States. But mainly, people today honor Irish heritage and its rich culture and traditions. Cities all over the U.S. celebrate with parades and festivities.

Here are some of the ways you can celebrate St Patrick's Day in Dallas
🍀 North Texas Irish Festival
We never miss this one!!
Its a beautiful time of year in Dallas and we just love being outdoors (sometimes we even bring our dog) and explore Fair Park.
The NTIF includes awesome music on multiple stages large and small, dancing, cultural talent, education and a family-friendly atmosphere.
This is one of the largest Irish festivals in the U.S., the North Texas Irish Festival celebrates the amazing music, dance, and cultural talent in the beautiful, rich tradition of Irish and other Celtic influences.
Tens of thousands of fans will converge upon Fair Park and many, just like us, return every year for a massive dose of Irish culture.
to enjoy top musicians and dancers from around the world and a number of cultural presentations on 13 different stages. Music, dancing, whiskey tastings, horse displays, Celtic storytelling, animal rescue groups, Shepherd's pie, Irish stew, dozens of activities for kids, child-friendly entertainment and chef demonstrations will comprise a weekend of fun for fans of all ages.
When is this festival:
Friday, March 6 – Sunday, March 8, 2020
The hours os operation are:
• It opens up on Friday night from 6 to 11 p.m.
• Saturday, 10:30 a.m. to 11:30 p.m.
• Sunday, 11:30 a.m. to 7:30 p.m.
North Texas Irish Festival Fun Run
The fun run occurs Saturday, March 6, 8-11 a.m., in historic Fair Park.
This family-friendly 5K fun run invites all levels of runners, walkers of any age and any ability. And because NTIF is 🐶 dog friendly, so is this race.
All registered runners will receive a T-shirt, a medal, one ticket to the North Texas Irish Festival, and two beers after the run (if they are of legal drinking age).
Don't miss stopping by the Irish Wolfhound booth and the bakery booth.
Note: consider taking the DART green line in to the Fair Park Station.
You can catch the Green Line from the Carrollton area or if you are located in Plano then you'll grab the Red Line to downtown Dallas then switch to the Green line.
🍀 St Patrick's Day Parade in Dallas
Looking for something that's a bit more wild?
Then this Dallas tradition might be your speed.
The Dallas St. Patrick's Parade & Festival spans two miles and has been a longstanding tradition in Dallas.
A procession of floats and marchers make this festive Irish celebration a big draw for huge crowds who line the streets decked out in green. This festival is a daylong event – local bars, restaurants and music venues participate in the block party that runs from morning until night, so plan on a full day of spirited Irish fun!
When: Saturday, March 14, 2020 – 11:00am
The Parade Step Off: Greenville @ Blackwell St.
The Parade Ends: Yale Blvd/SMU Blvd @ 75 Central Expressway
And FYI, this is the largest St. Patrick's Parade in the Southwest!
125,000+ Attendance
2 Mile Route
More than 90 Parade Float Entries
More than 1,700 Parade Participants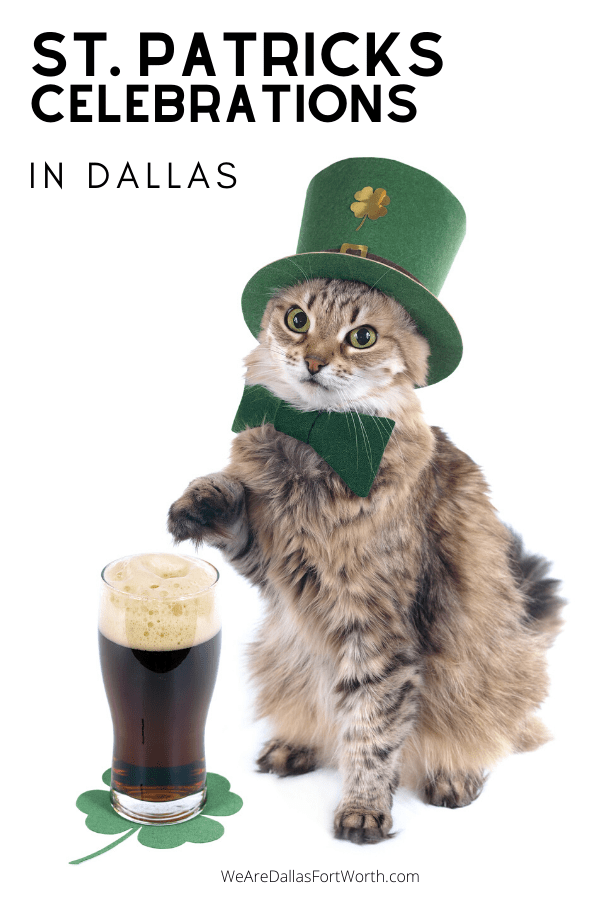 🍀 Sundown at Granada
Sundown at Granada is the free after-party to the parade.
When: Saturday, March 14, 2020
The party will be both indoors and outdoors.
In fact the rooftop patio will be all about the reggae and live music will be everywhere.
Here's the line up for the outdoor stage:
2 PM: Cultivated
4 PM: idoljob
6 PM: Burning Slow
And here is the line up for the indoor stage:
11:30 AM: Mahagonie (Goes Dead)
1:30 PM: Pepper Theft
3:30 PM: The Matters
5:30 PM: Electrik Ants
7:30 PM: Graveltooth
9:30 PM: Deep Sequence
Where:  At the Granada of course
3524 Greenville Ave, Dallas, TX 75206
🍀 McKinney St Patrick's Day Festival
This newer McKinney event  is much more laid back than the Dallas festival and much smaller.  You might like this option as a family event.
I believe we are on the 3rd Annual McKinney St. Patrick's Day Festival & Shamrock Run.
The event starts with the Shamrock Run 5k at 9:00AM.
The start and finish line will be in front of TUPPS Brewery located at the historic McKinney Cotton Mill which is just south and a bit east of the Downtown McKinney Square.
If you want to run, register prior to the event.
After the 5K the festival begins at 10:00am.
What can you expect:
The festival will include live music via not one but two  Irish Bands.
Expect lots of food for purchase, cold beer, dancing, kid friendly activities and local vendors sharing their arts and crafts with you.
If you are concerned about parking, keep in mind that there will be a complimentary shuttle that will shuttle festival attendees between downtown McKinney at the Chestnut Commons parking garage (Virginia/Chestnut) starting at 10am.
🍀 Ft Worth St Patrick's Day Festival
When: Saturday March 14, 2020 Noon – 9PM
What about kids? This particular event is for 21 and up.
Join 1500 fun loving, beer drinking, green wearing party people and Celebrate St. Patrick's Day at the Fort Worth St. Paddy's Day Festival!
Tickets are between $5 and $25.
Each ticket includes:

A Souvenir Cup

ACommemorative St Paddys TShirt

1 Free Green Beer

A Photo Opp with a Leprechaun

Entry into $500 Pot of Gold Raffle
Festivities include:
A live band and DJs

Green beer (of course)

$500 POT OF GOLD RAFFLE

Live Leprechaun

Irish food and grub

Food trucks

Drink specials

Vendors, games and more
They also have some additional options for tickets that include:
The Early Bird Sampling Admission – $10
Includes Access from 2PM, Entry to Festival, 1 Green Beer, Souvenir Cup, Commemorative T-Shirt, 1 entry to Win $500 Pot of Gold Raffle
The Early Bird VIP Sampling Admission – $20
Includes Access from Noon, Speedy Entry All Day, 1 Free Green Beer, Souvenir Cup, Commemorative T-Shirt, 2 entries to Win $500 Pot of Gold Raffle,
General Sampling Admisison – $15
Includes Access from 2PM, Entry to Festival, 1 Green Beer, Souvenir Cup, Commemorative T-Shirt, 1 entry to Win $500 Pot of Gold Raffle
VIP Sampling Admission – $25
Includes Access from Noon, Speedy Entry All Day, 1 Free Green Beer, Souvenir Cup, Commemorative T-Shirt, 2 entries to Win $500 Pot of Gold Raffle,
NOTE:  If you'd like a raffle ticket to the $500 Pot of Gold Prize – those are 5 bucks.
Raffle will be at 7:15PM. All proceeds from raffle benefit Alexiam Foundation benefiting Childrens's Charities
Some other items to note about this festival:
Can we bring our kids?
No, the Festival is strictly 21+, NO EXCEPTIONS.
What about rain?
The show goes on, rain or shine.
​Can I bring outside food or drinks?
No, there will be food and drinks for purchase at the Festival.​
WHhen is the raffle winner announced?
At 7:15PM, we will announce the winner of the raffle. Keep in mind, that you must be present to win.
🍀 Mansfield Pickle Parade
When: March 13 – 14
Where: Various locations depending on the event, see more by scrolling down.
🍀 Luck of the Irish 5k in The Colony
This is a fun Triathlon or Run/Bike/Run.  If you have a group of friends that like to run then you might prefer the relay option.
All participants will receive a Tech Shirt, Finisher Medals, Green Drinks, great music, and fun vibe make this annual event a fan favorite!
Fees: The fees vary depending on the type of event that you enroll in and how soon you sign up.  The sooner the better if you want the lower price.
Who can participate in this triathlon? The minimum age to participate is 13 in the Triathlon.
SCHEDULE
6:30AM Transition Opens
7:55AM Transition Closes
8:00AM Race Starts
AWARDS
Top Overall, Masters, and Grand Masters Male & Female winners.
Age Group / Weight Class awards will be 3 deep for both Male and Female.
Relay Team awards will be for top 3 overall relays.
Shirts are guaranteed for participants registered March 1, 2020.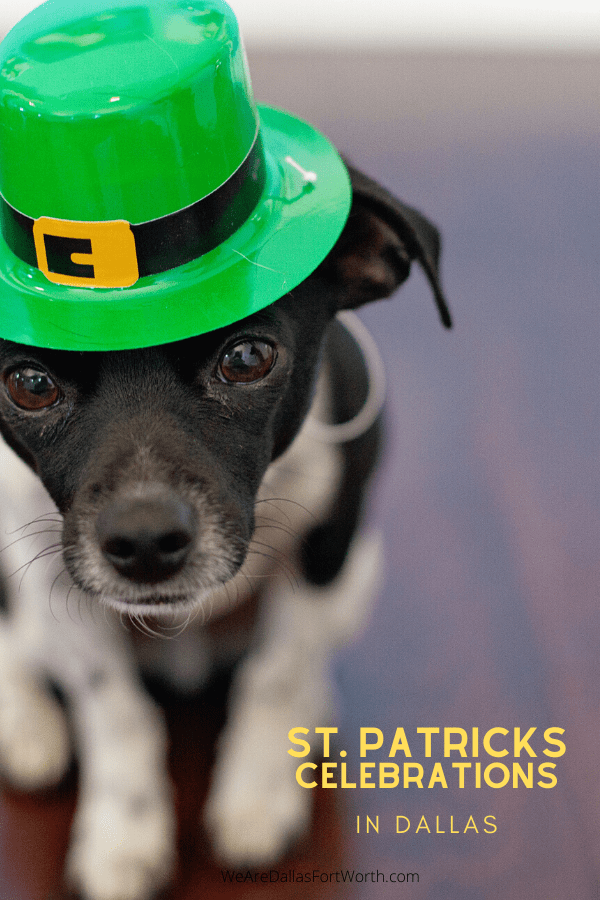 🍀 Lucky's St Patrick's Day Crawl
Nothing says beer and St Patty's day then a pub crawl.
If you attended the parade, then you might want to keep the party going.
Grab a ticket to this St Patrick's Day Crawl in Dallas. ⤵️
Your ticket will include:
•1-2 Complimentary Drinks & Items
•Custom Lucky Badge & Lanyard
•Drink Specials for Pub Crawlers only
•Food Specials
•Free Cover With the Lucky Badge
•Professional Photographers
•$1,000 costume contest prize money
When does it start? The check-in as from 4PM-6PM and the bar crawl specials go until 10PM
But wait, there's more . . .
Don't forget about the After Party from 10PM-12AM
What can you wear for St Patrick's Day in Dallas?
Anything green.
The crazier the better.
At minimum you need to grab a tee the next time you find yourself in Target or CVS or even Kroger for that matter.
Or if you plan ahead, I recommend these that can get shipped to your door.
If you want something with a Texas flavor, try these
How to Transport yourself (and stay safe)
The best way is to plan ahead and be truly realistic with your plans for the day.
St Patrick's events are fun and most are focused on beer, beer and lots of cocktails.
So consider transportation assistance such as:
Lyft
Uber
What if you want to do something besides a festival or parade with beer?
1. You could celebrate at McDonald's with a Shamrock Shake
2. Go out out for a good Irish meal of bangers and mash such as The Celt in McKinney or at Trinity Hall in Mockingbird Station.
3. Make an Irish meal at home. Have fun trying your hand at Irish soda bread, Irish Stew or Irish Colcannon.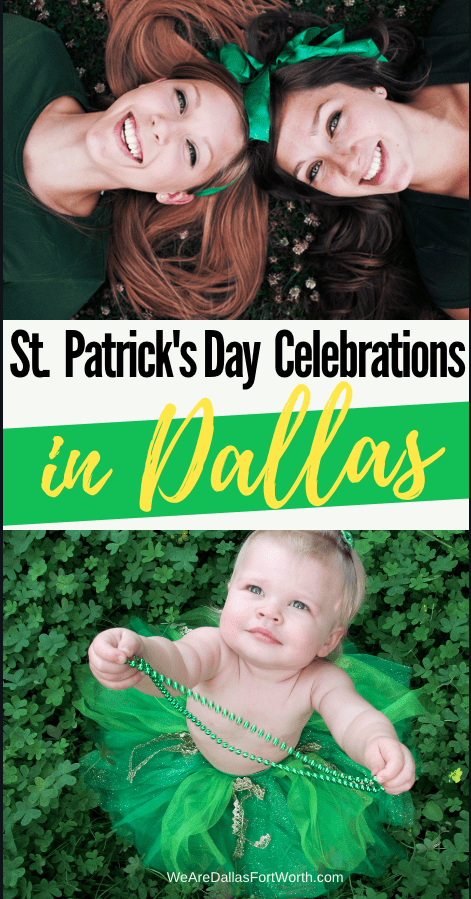 Final Verdict on St Patrick's Day Dallas
St Patrick's Day and all of the events surrounding this big day can be so much fun.  Irish music is some of the happiest music out there.
There is something happening the weekend prior to March 17 in every corner of DFW.
Stay safe and have a Happy St Patrick's Day celebration.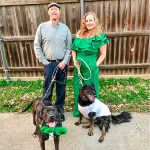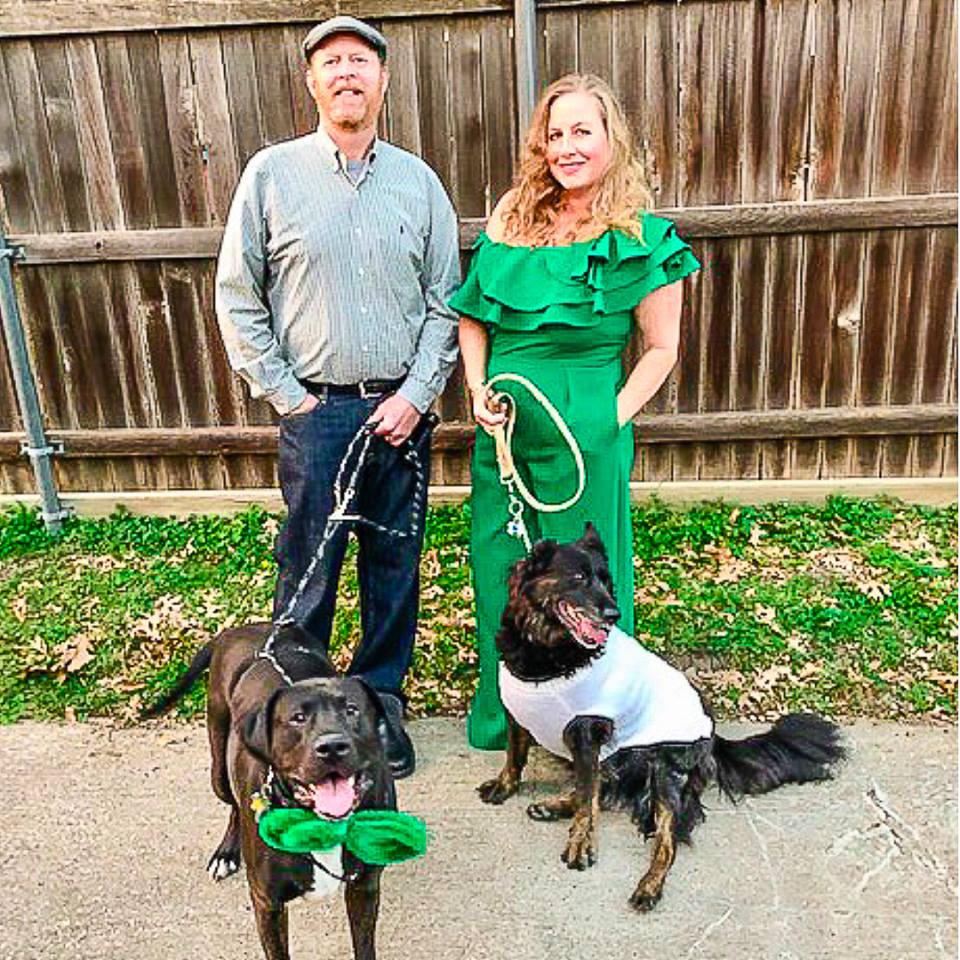 Interested in working with the We Are DFW team start here
They help local businesses in DFW and many larger businesses looking to tell a story to the readers of Dallas. Her work entails copywriting, content marketing, blog campaigns, email marketing, social media, coaching and consulting.
Don't forget to catch the Krewe of Barkus at the end of February ⤵️
Catch some of our podcast episodes here:

You might also like: