Welcome! I'm Becca! I'm so glad you are interested in being part of our DFW community. I support local businesses in Collin County & Dallas County with storytelling on this site, sharing through my online communities and being transparent with my pricing.
Spoiler alert: it's super affordable, clear and easy to participate. I charge large corporations over 10x the amount listed below, but if your local and we are in alignment then the price is low and simple.
I'm going to help you get more eyeballs on your business because . . .
💛 I talk about your business to Dallas residents & visitors.
💛 Most business owners state that Word of Mouth referrals are their best lead generator.
💛 Let's give them something to talk about. Billboards, block ads, coupon ads, TV ads, basic ads could work BUT they are massively overpriced and have limited attention.

Together, we'll break down the old ways of advertising and use storytelling as a powerful communication tool. 🙌🏻
Stories > Ads. One more time for the people in the back, STORIES are greater than Advertisements.
💥Stories cannot be blocked.
💥Stories are evergreen and can be shared forever.
💥Stories take your word of mouth and put it on steroids.
💥Stories create an emotional connection with the reader which will stay with them longer than that block ad in a magazine.
Here's the best part, I'm going to do all of this for you.
✅ And do it for a mere 50 bucks!
For an approved small, local business, I will: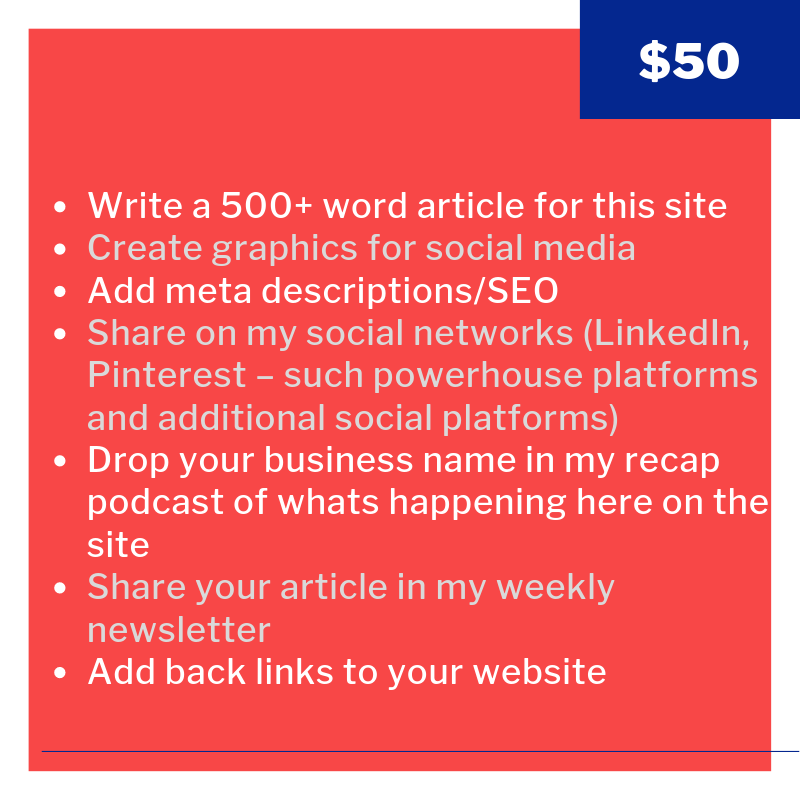 I'm going to talk about you, then tell others in DFW and Collin County about you.  Is that cool?
(If you are a large big box store or business, please email info@WeAreDallasFortWorth.com for custom rates.)

Pending approval, you can choose the following (I only work with small local companies that are authentic for our readers):
*Only $50 for all of the above.
*$100 option: includes all of the above + 50% put towards Facebook adspend. Basically, social amplification on steroids for 30 days. Using my Facebook ad skills, I'll use half of this fee and put it towards targeting your content to your ideal client.
————————————————
Ready to explore? I hope so! Let's keep going 😃
When you choose our storytelling services, you'll get more than just nice words.
I'll create copy that is authentic, shareable, and aligned with your mission and goals.

(been featured on Fox 4, Good Morning Texas, Business Insider, AARP, Dallas Morning News and have worked with brands such as Dunkin Donuts, i9 Sports, GoApe, City of Celina, Subaru, Brio, Cross Creek Roofing, Farmer's Insurance, Sunrun, Bubbl rideshare, Dell, CDW, Apple, Luxxotica, Mastercard, Tory Burch, Senior Resource Center to name a few. And have featured Alto rideshare, DART, Shelly Slater, Volunteers in Plano and many more on the podcast)
Want more statistics on the power of content marketing, go here and be blown away.
________________________________________________________________________
Are you trying to wear ALL THE HATS in your biz and feel like you're losing your mind?
Have a boss that hired only you to do the job of 3 people?
Maybe you are missing out on precious time with your family because you have to work on the tedious things and the big picture agenda.
You've got too many things to accomplish and not enough time to get them done.
I make it my mission to help you simplify your business, your life, and show you how to add margin into your schedule again. Then you'll have time for the things you REALLY love.
Whether you are trying to grow your brand, increase visibility or generate sales leads, marketing is a key component to your success. Using my Virtual Marketing services is a cost-effective, convenient way to leverage the expertise of experienced marketing professionals to support your business.
I'm able to help you with a wide variety of projects including:
Blogging and Copywriting Services
Podcast Management Services
YouTube Editing and Management
Instagram Management
Facebook Management (Community / Page )
General Administrative Skills and Customer Service
Pinterest Management
Facebook Group Management
Content writing
Strategy chats
LinkedIn Optimization
LinkedIn Company Page management
Social Media Management
Email newsletter
Social Media Image creation
By outsourcing to me, you'll only pay for the work.
You'll pay absolutely ➡️ No sick pay, no holiday pay or vacation or insurance. In addition, as much as I love birthday cake 🍰 you won't have to celebrate my birthday like a traditional employee or pay for my phone, computer, new desk chair or software.
I want to help you grow your business in the easiest way possible.
I'm your girl. Go ahead, pick me, hit the continue so we can start a conversation today.

(Becca Niederkrom has worked around the globe as a Sales Manager and Marketer, speaking from the stage at some of the world's largest AV and Tech conferences such as InfoComm, ISTE, TCEA, ISE. In addition, managed regional clients along with CDW, Apple, Dell, Ingram Micro and the like. She also is a trained online and offline speaker taking to the board rooms and stages of biotech firms throughout New England, the fashion industry, Ray Ban sunglasses, Thomson Reuters, Visa, Hasbro, Zurich, SunTrust, Unilever, Tory Burch and more. As she dove into Digital Marketing she has created online courses, trained businesses in LinkedIn/Social Media platforms, sales funnels, creating websites, Facebook Ads, podcasts, YouTube shows and so much more. Online marketing is an endless opportunity for everyone.)
Are you a Solopreneur looking for more services?  Keep going ⤵️