Dude Sweet Chocolate is coming to Plano in November!
Historic downtown Plano is about to get sweeter with the addition of a chocolate shop: Dallas' Dude, Sweet Chocolate. It goes into a prime spot on the brick-street-lined main strip, at 1016 E. 15th St. and Katherine Clapner and her team are diligently working to get the space ready to sell over-the-top chocolate to us folks in Collin County.  As a Chocolate Connoisouer I love her creations but I am especially in love with her Chubby Nuts.  Yup!!  When you go (or even if you pop into Whole Foods, they sell them there too) grab a bag of Chubby Nuts.  You will curse my name because as you try to eat 1 then 2 then 3 you will soon realize (similar to Trader Joe's Cookie Butter) that its really hard to stop.
Here's the dealio . . I love chocolate  . . like really love chocolate.  I have an entire site dedicated to all things chocolate here at I Really Love Chocolate it includes chocolate recipes, videos and reviews of fine chocolate bars and not-so-fine chocolate bars that are equally delicious.  So my dream job would be to take all of my Marketing and Chocolate knowledge and help run operations over here at the Plano location.  I can see myself riding my bike over there and chatting up the patron and bringing chocolate delight to all of Collin County.  Its not such a crazy dream, is it?
Anyway, so its about to open, once they get all things up and running and I can only imagine it must be a challenge getting all of those food permits but they have successfully accomplished this in Bishop Arts, Ft. Worth and Greenville Ave.  They can do this!  I'm counting on them to move quickly!!  Pullleeeeaaasse!!! Pretty please with a cherry on top?  Oh wait, thats too simple for the founder, Katherine Clapner . . .she would top it with a candied chestnut and mix in Bacardi like this Uncle Chester truffle she created
Yep, thats whats about to go down in this one-horse town.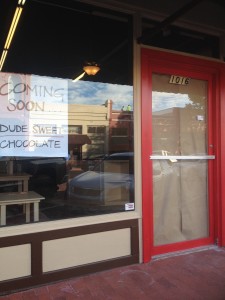 I pressed my iPhone up against the window for this photo.
I see potential.
These tables will soon be covered in Dude Sweet Chocolate boxes containing Break Up Potion, Chocolate Salami (what the what?) and the Holiday in Cambodia Bar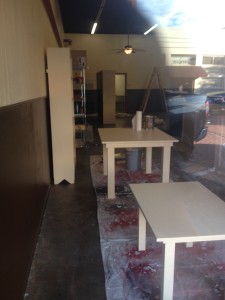 And they are all damn good . . . I've tried almost all of them and even went onto Good Morning Texas with these chocolates!
I took one last pic, so I could make sure to get the address for you all.  1016.  15th Street.
Basically, just a few steps east of the Crosswalk.  There is one crosswalk in downtown Plano.  On the other side is Lockhart Smokehouse and my fave furniture shop – Sutton Place.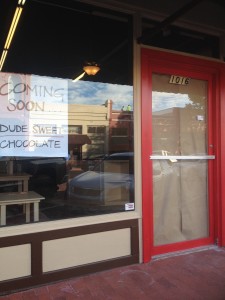 Anyway, it's going to be a pretty difficult season for my waistline this year.  Thanks a lot Dude Sweet Chocolate.  I blame you for having to wear my yoga pants for the next 3 months as if I am heading to yoga and then out for a green tea.