Disclosure of Material Connection: Some of the links in this post may be "affiliate links." This means if you click on the link and purchase an item, I will receive an affiliate commission. Disclosure in accordance with the Federal Trade Commission's 16 CF.
Plano has been ranked as one of the top 10 Best Cities for Families, it also ranks among the Best Cities for Millennials to Live & Work by Monster.com. Planoites have access to great schools and 3,800 acres of parkland, and  amazing  jobs thanks to the city housing the headquarters of more than 25 American companies, including Cinemark Theatres, Dr. Pepper, Frito-Lay, JCPenney, Pizza Hut and Toyota (this list gets bigger and bigger each year). In addition to all the practical stuff, there is a ton of adventure, amazing shopping, award-winning restaurants and festivals. 21 Reasons You Can Live Live Like a Rockstar in Plano Texas
And, perhaps you've heard that Plano was recently named the 12th longest-living city in the country by the Daily Beast.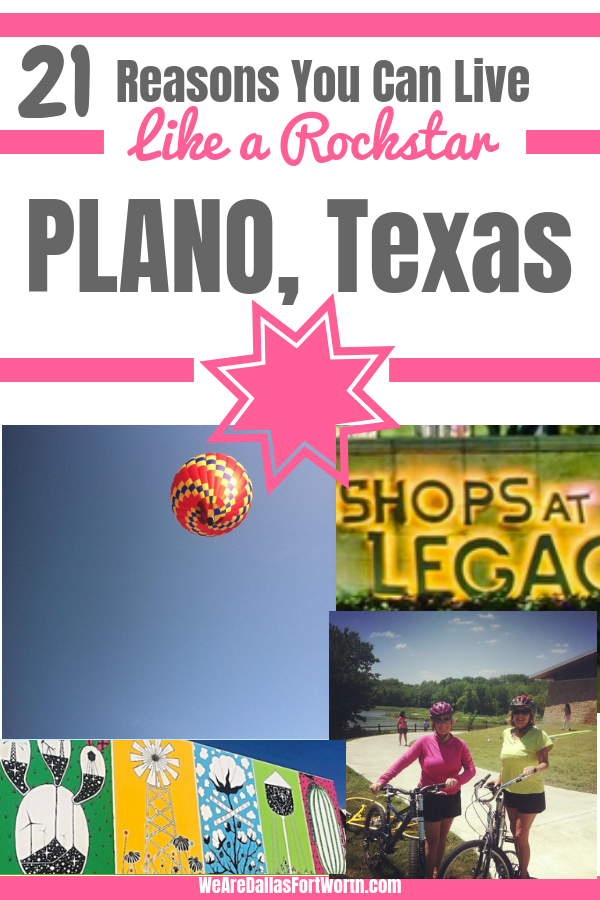 21 Reasons You Can Live Live Like a Rockstar in Plano Texas
Way back in 2008, a survey by Salary.com named Plano the best place in the U.S. in which to build personal wealth.The same year, Forbes included Plano on its list of Top Suburbs To Live Well, along with Highland Park and University Park.
And I couldn't agree more.
This is why I think living you can live in this town and Plano offers everything and more to live like a rock star.
(if you Love Plano, will you Pin this? – just hover over and click the Pinterest button)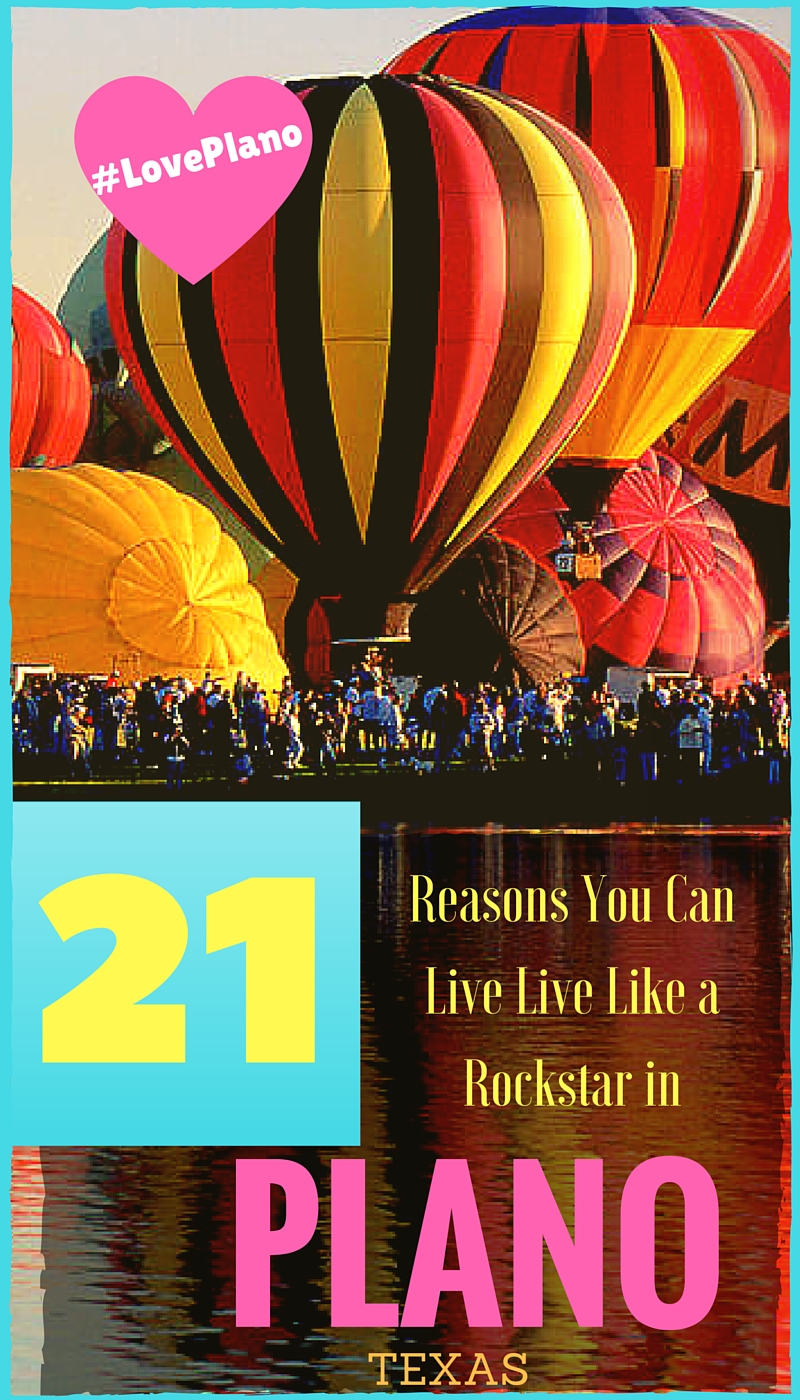 1. Delicious Restaurants & Food
Dallas restaurants are expanding to our suburb of Plano faster than you can blink an eye. One of my favorites, Fleming's Prime Steakhouse just moved to Legacy Shops. You've also got the Turkish Cafe, Capitol Grill, Fishmonger's, RA Sushi, Hash House a Go Go, Winners BBQ. East Hampton Sandwich Company, Cajun Tailgator's and even the amazing Eatzi's.
2. Dallas International Film Festival
Why bother flying to Beverly Hills when the International Film Festival comes right to Plano. Films, celebrities, it's all so fabulous!
3. The Most Amazing Pools
From a Texas Shaped Pool to the City of Plano Parks and Rec pools, these pools will blow your mind. The Texas pool is the oldest pool in Plano and it is perfectly shaped into the our great nation state of Texas. This needs to be on your bucket list for the Summer. On the other hand, the City of Plano has created mini water parks that are so budget-friendly, you cannot afford not to play here. Pictured below Oak Point, Tom Muehlenbeck (the indoor pool is just as impressive) and the newly renovated, ah-mazing Jack Carter pool.
(p.s. back in the day I was a Water Safety Instructor for the City of Plano and to this day I appreciate a fabulous pool!)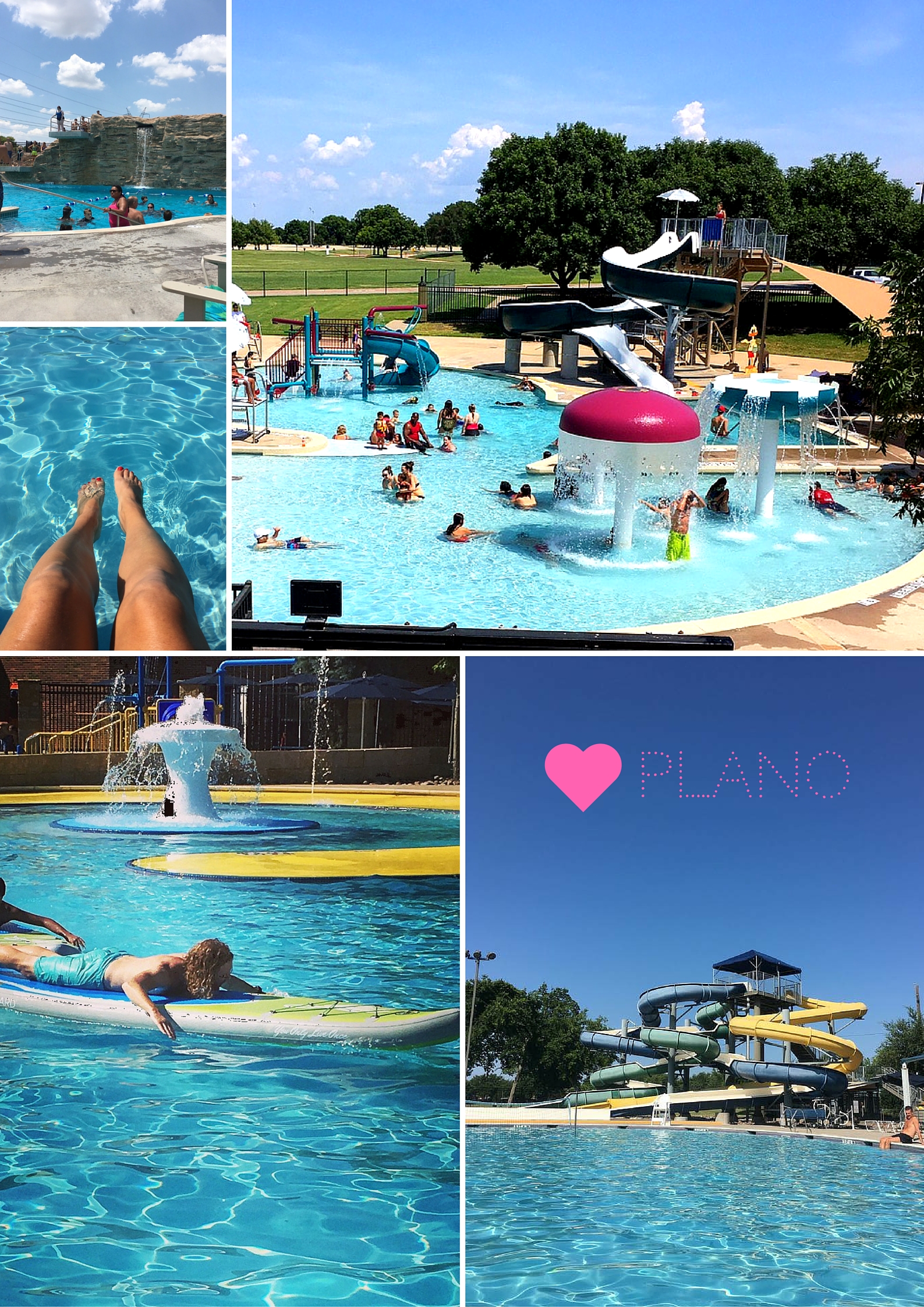 4. An Adventure in the Trees
City of Plano has teamed up with Go Ape adventures to bring you the coolest adventure in the sky. You can't find this in most cities, but in Plano, there is a lot happening up in the air. Check out some of the close up pictures here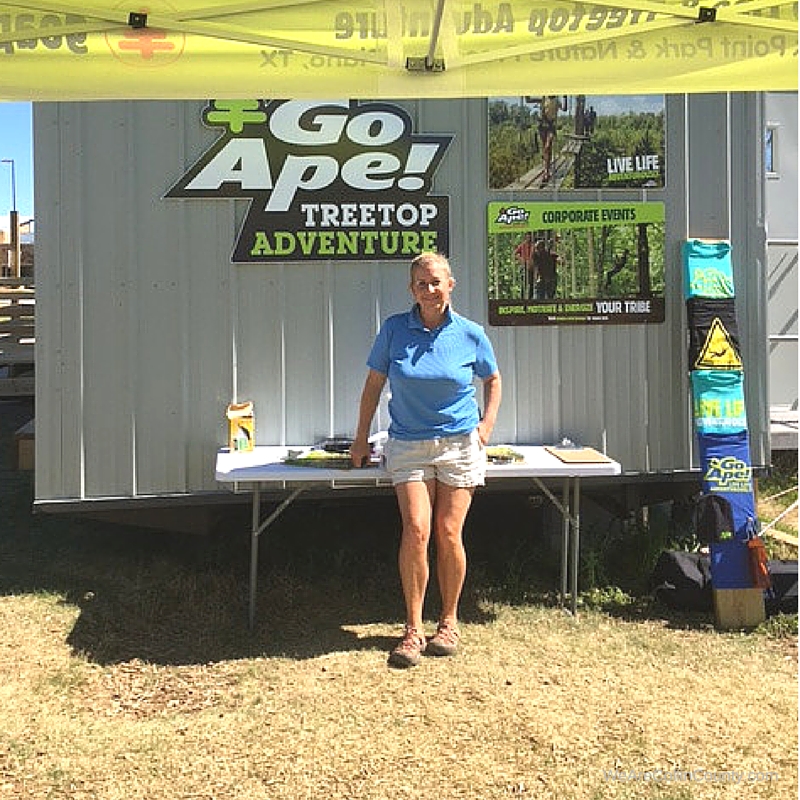 5. Over 70 miles of trails and adventure!
Grab your bikes, running shoes and camelbaks and choose a trail to explore. My favorites are the trail inside Bob Woodruff and Oak Point for hiking with the dogs. My husband and I opt in to the exhilarating mountain bike trails of Arbor Hills on the far west side of town. If you prefer to stick to the pavement, you can ride your bike from Plano East Senior High to the Cinemark Legacy all by way of bike trail 28 (no traffic lights and no cars – all nature).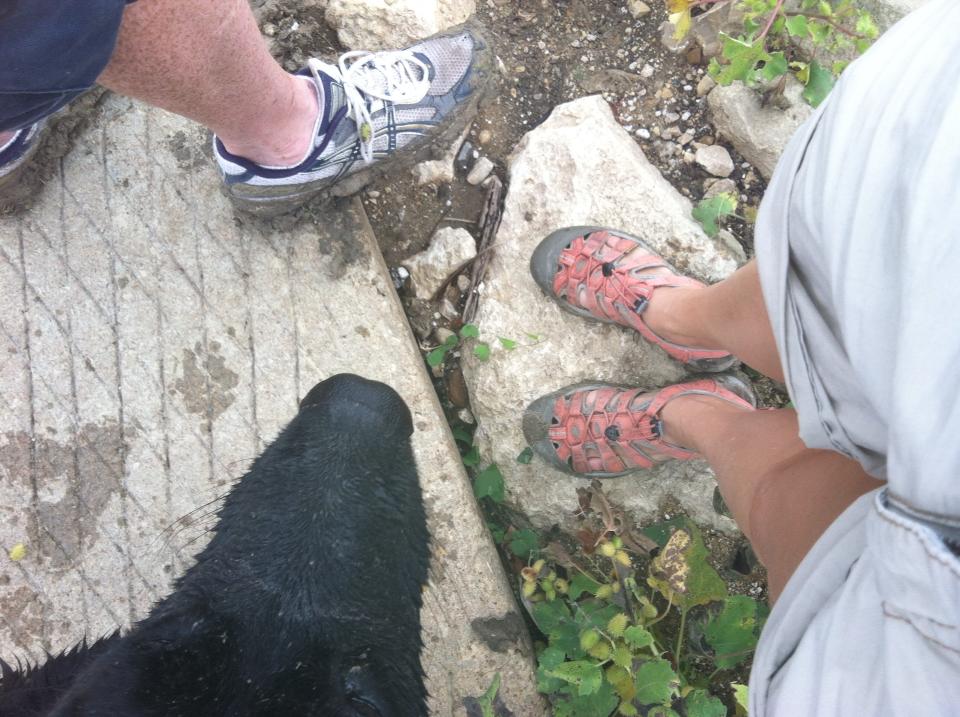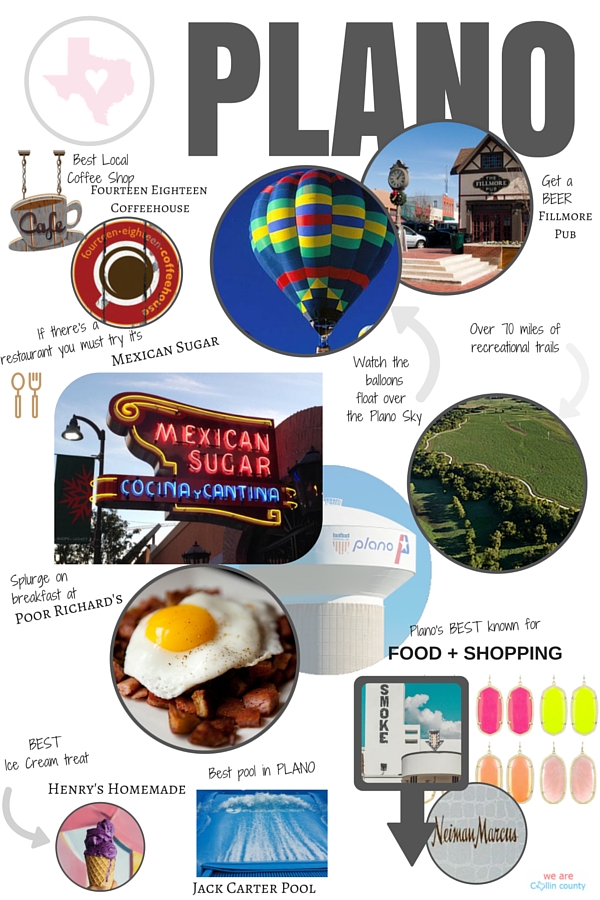 6. The nationally recognized Plano Balloon Festival
This event has been going on for close to 4 decades. There's nothing quite like seeing the sky fill up with all kinds of giant, festive balloons, except maybe getting the chance to ride up with them. If you're not up for taking to the skies, rest assured that the amazing balloons are wonderful from the ground, and everyone in Plano knows that the balloon glow after sundown is what ties the whole weekend together.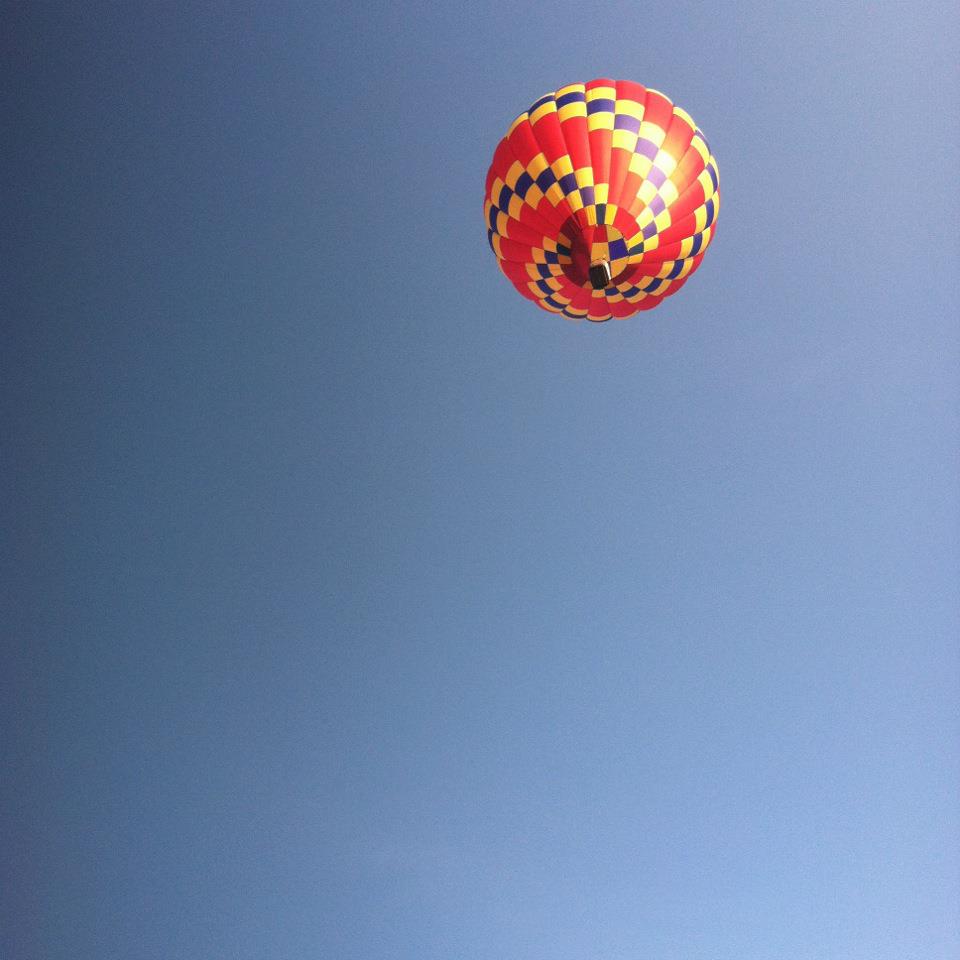 7. Trader Joe's!
Whether you lived on the West Coast, East Coast are coming straight down from Missouri, your favorite market has made its way to Texas. And Plano Texas! We are getting all the goodies that Cali gets. Cookie butter here I come!
Have you seen the Plano Flour Sack Towel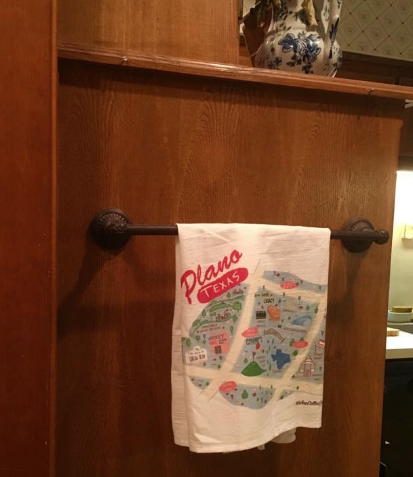 8. The Best Burgers in the Country
Some will always love the tried and true Country Burger but there are some new kids in town (there's always room for a great burger) like Dugg Burger, Ye Olde Butcher Shop or the Village Burger Bar oh my!
And just when you thought you had decided on a burger joint, John Tesar introduces the Royale Magnificent Burger.
9. Jumping onto the Fun and Adventure of DART Light Rail
The DART rail starts at Parker Road and 75 – right in the middle of it all. Yep, it all starts here and takes you across the metroplex for 2 bucks. There is so much pure ADVENTURE and exploration I wrote a 6 part series starting here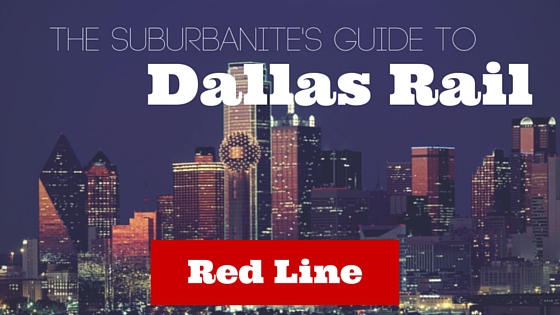 10. Tennis & Golf
Have you ever tried playing tennis when its 100 degrees at 9:30AM on a Sunday morning in August?
I have.
And I thought I was going to die.
Thankfully Plano has some indoor options, and our tennis and golf options can't even be found in Manhattan or Beverly Hills, we are truly living like rockstars with Gleneagles country club, High Point tennis, and indoor tennis courts at Lifetime Fitness off of Preston Road or the PGA store off of Plano Parkway.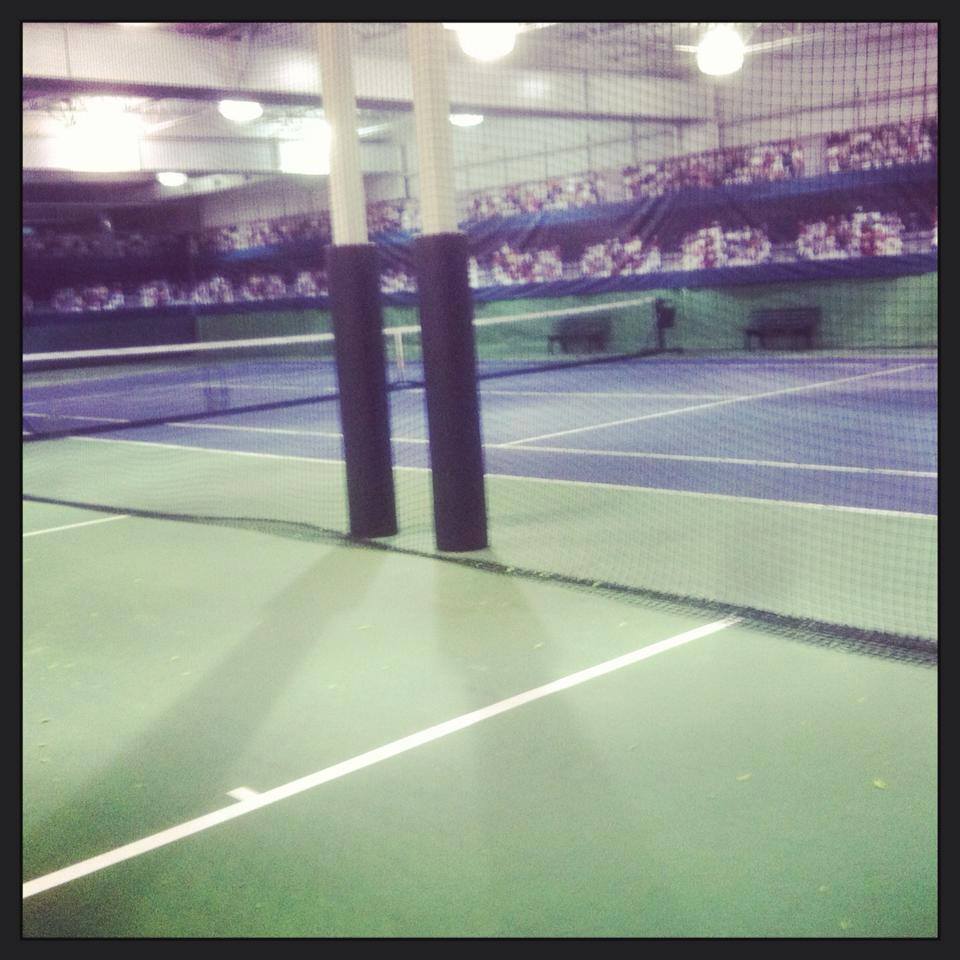 11. The Lazy Boy Recliners at Cinemark
Grab your coke, your popcorn and then saunter into the theater to your reserved seat, kick up your feet in the new recliners, lean back (perhaps bring a blankie?)
12. Luxurious spas to pamper yourself for an hour or a day
Spa Habitat, Woodhouse Spa or Hiatus Spa are among the many luxurious day spas where you can pamper yourself. Or Happy Feet.  You've got happy feet everywhere.
13. Fresh and innovative farm to table restaurants
Sit down at the communal table filled with succulents at Modern Market or get in line at the uber popular Whiskey Cake. Real food using whole ingredients and made from scratch served in a beautiful, relaxed setting. Oh, don't forget Smoke that has its original location in the hip Bishop Arts district.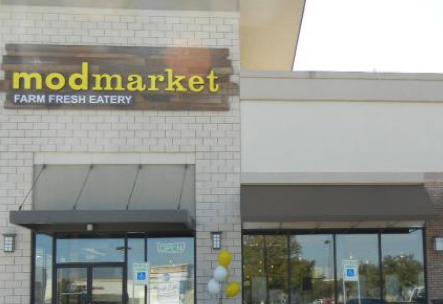 14. Biking trails to crisscross the entire city
Besides being the best city for bicyclists in the entirety of the great state of Texas, Plano was also the birthplace of Lance Armstrong (and regardless of what he did once he got to the Tour de France). Plano is extremely bikeable and I've easily ridden to the library, downtown Plano, Poor Richard's, the Cinemark and even over to the new State Farm complex.  You gotta try the recently constructed bike paths, and its part of an intercity plan to connect many of the suburbs in Collin and Dallas Counties via bike.
hey guys – come join us on FACEBOOK (just click on the pic)
15. Insane food establishments in unique settings
Hub Streat Food Truck Park is opening any day – a unique food port just on the edge of downtown Plano. Live music, amazing foods and dog-friendly. Take that Austin!  Then we'll have the Legacy Food Hall  – It will include 55,000 square feet of space for artisan foods, craft beer and concerts in the Legacy West complex. Lastly, every May is Plano's Night Out on 15th. The annual outdoor dining experience features a 300-foot-long table down the middle of 15th Street where chefs will serve a 5-course meal paired with select beer, wine, and spirits.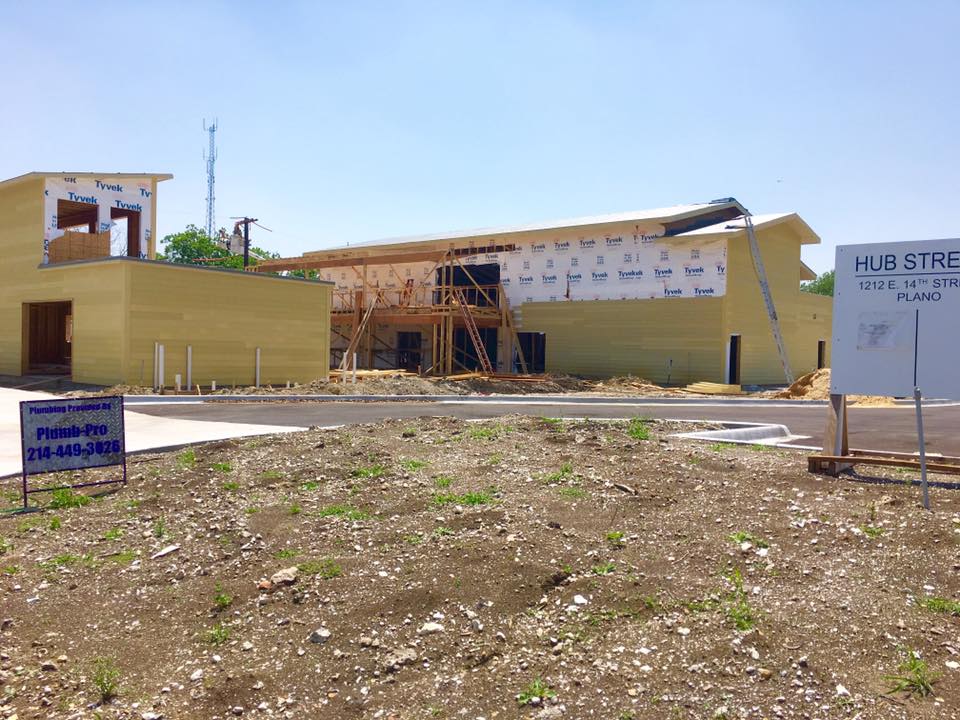 16. We are a city filled with corporate headquarters and gainfully employed citizens
Longtime hometown for big companies like Frito-Lay and J. C. Penney, Plano recently had a big industry boom when the Toyota headquarters relocated here earlier this year. And right after we received the news of Toyota coming to town, Liberty Mutual decided to move into town as well. Plano's economy is on a major upswing, and the residents are looking good (this will keep us out at all the amazing restaurants).
17. Deerfield Christmas Lights!
Deerfield is well known around the DFW area for its wonderful display of holiday lights on approximately 75% of the neighborhood houses. The biggest, and arguably best, Christmas lights display in all of Plano is in this fantastic west Plano neighborhood. Deerfield begun decorating  back when they were one of the first Plano neighborhoods built north of Park and Preston. A friendly competition between neighbors has turned their tradition into an annual event for Planoites and neighboring cities. The homes are decorated with colorful lights, white lights, twinkly lights, giant inflatables, wooden cutouts, Christmas displays, Hannukah displays, sports displays, life-size Santas, synchronized  music. More recently, they've added hot chocolate and carriage rides. I strongly recommend parking and taking a stroll.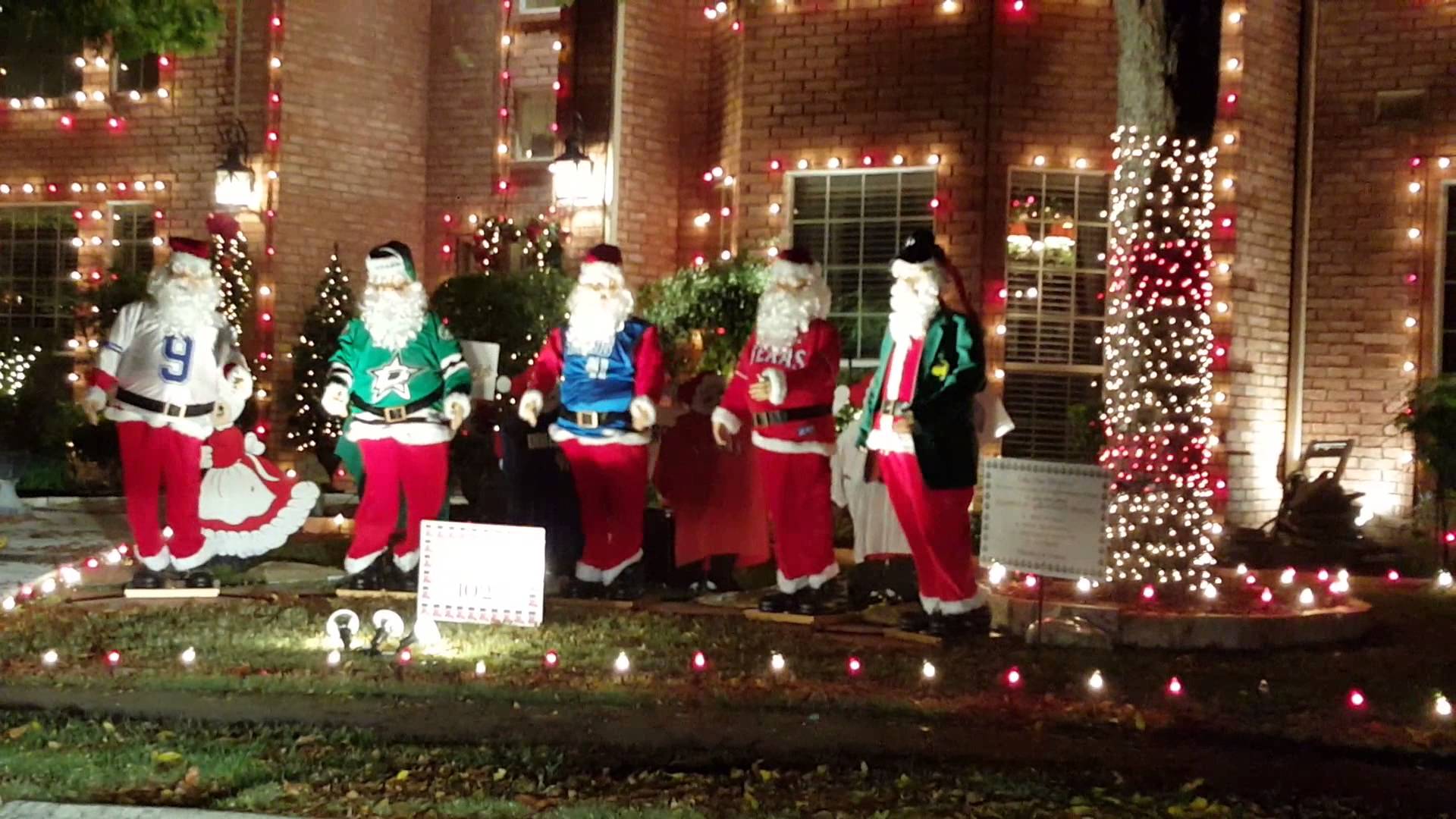 18. Books Galore
Plano Public Library System is an accredited and award winning system that truly enhances the quality of life in Plano by providing lifelong learning opportunities to our community. All the free books, Wall Street Journals, Oprah magazines to read to your heart's content. With your membership you can access of of these resources for free. Choose from Harrigton, Parr, Davis, Schimelpfenig and Haggard libraries. P.S. Davis Library has a 3-D printer!!
19. Try the World has nothing on this city
Some of you may be subscribers of the international treat box, Try the World. But if you take a look around Plano, we are a living breathing "Try the World".
Germany, Bavarian Grill, Japan, Kula Sushi. Italy, Covino's. Everywhere, World of Beer. Scandinavia, The Wooden Spoon.
India, Indopak Grocery Store. Turkey, Cafe Istanbul. Iran, Texas Kabob House. Greece, Shandiz Mediterranean Grill.
Poland, Taste of Poland. Ethipoia, Queen of Sheba. Austria, Jorg's, India, Mumtaz Indian buffet. Mexico, Tacontento and Dona Mary.
20. The Arts
The Courtyard Theater and The Cox Playhouse are located in Historic Downtown Plano offer music, dance, and theatre performances as well as visual art displays. Most notably, the Courtyard Theater features performances by the Plano Symphony Orchestra.
21. Horses, Ranches, Llamas and Shetland Ponies
If you have been to the Bob Woodruff area you'll get to see plenty of horses, sweet Shetland ponies on the corner of Parker Road and if you wander a little more or you can come face to face with an ostrich. Living near ranches in the northeast part of Plano, I'll sometimes awake to a rooster. If you are really wanting an interesting way to start your Saturday, Shrangrillama allows you to take their llamas for a walk at Bob Woodruff.  You haven't lived until you've met the famous Como T. Llama. He's a rockstar too!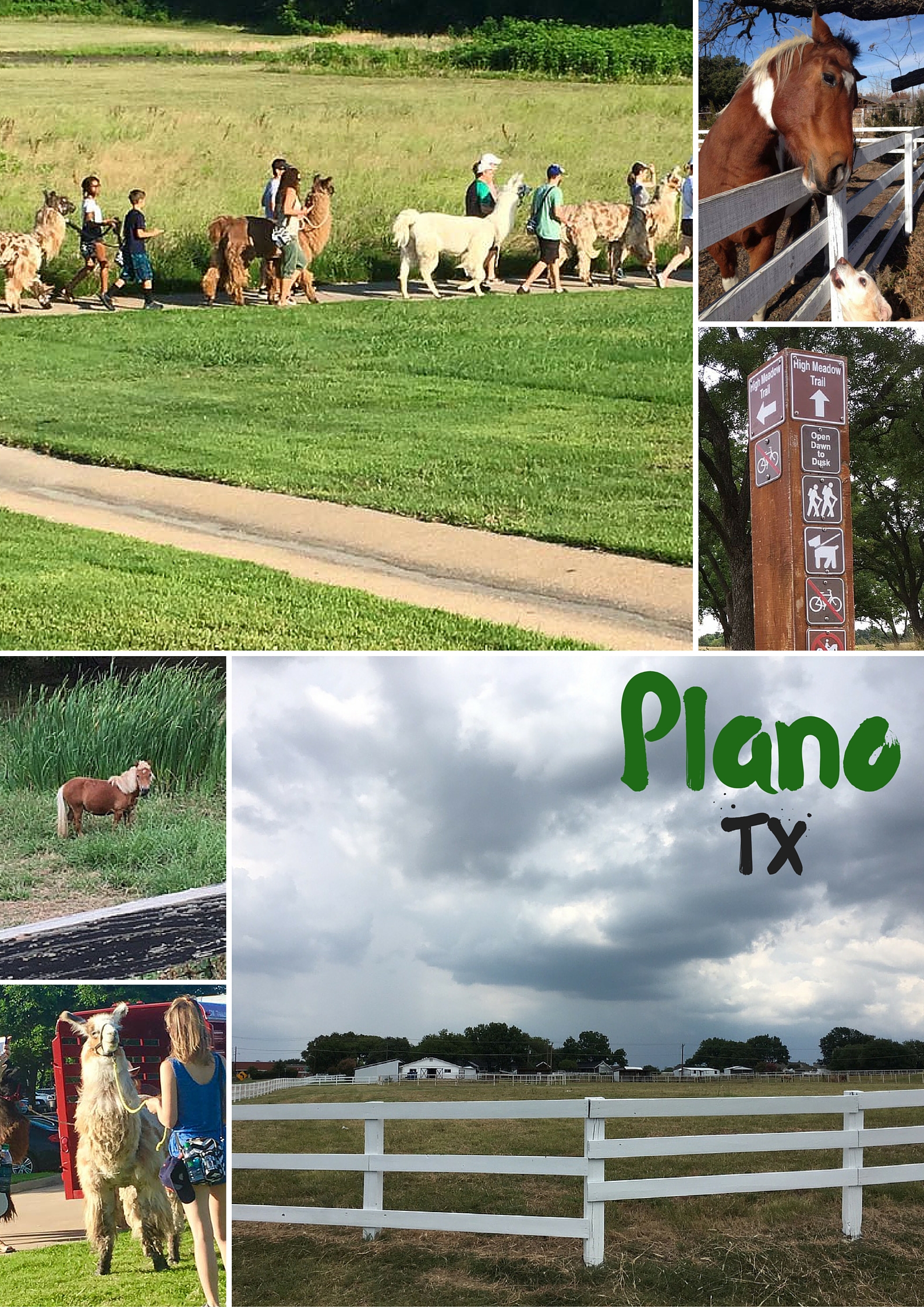 Plano has it all! Walk a llama in the morning, ride your bike to catch a movie, shoot down the water slides at the City of Plano parks and then put on your couture from Neiman's, add some jewels from Bachendorf's and arrive in style at the International Film Festival.
Now I'm going to turn it over to you. How are you living like a rockstar in Plano?
Oh, one more thing, you may enjoy these similar posts

P.S.  The Plano Texas Collection has launched. Grab it here