Disclosure of Material Connection: Some of the links in this post may be "affiliate links." This means if you click on the link and purchase an item, I will receive an affiliate commission. Disclosure in accordance with the Federal Trade Commission's 16 CF.
When football season begins in Texas, the first big event that gets a lot of chatter is the Homecoming game!! 🏈
I remember when I first moved to Texas with my family and strolling through the Plano Balloon Festival for the first time. Back then, the craft area was still in the wooded section of Bob Woodruff park.  I was introduced to Mums and even Texas Aggie jokes . . for someone not immersed in the Texas culture, these things seemed wild to me (especially as a Florida State University fan . . shhhh).
Anyway, I soon found out that Homecoming is very important time in the life of high school students here in the metroplex and all of the great state of Texas. Here in the Lone Star State we have an original and unique Texas tradition that folks from out of state just don't understand ➡️ Homecoming mums.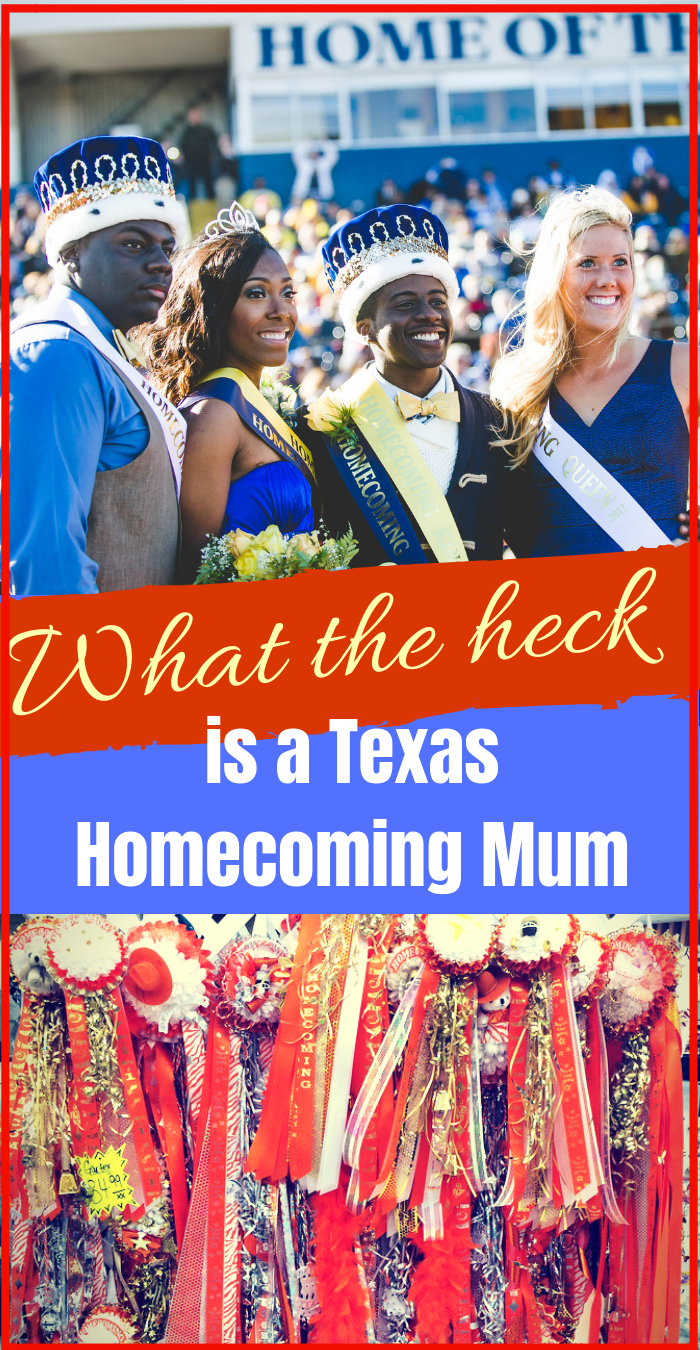 They are as BIG as our 💗 of football.
Simply referred to as "mums" by Texans, these creations are works of art. Or massive works of ribbon, bells and teddy bears.
Mums can be especially hard to explain until you see one for yourself.
If you've read the Jezebel article about Texas Homecoming Mums, you'll see that the world is beginning to discover our unique tradition.
Like other forms of clothing worn in honor of a social ritual (in this case, the homecoming dance) mums are a form of non-verbal communication based on symbolism that only a select group of people understands. To outsiders — non-Texans, or even just non-teenagers — they might look weird or impractical to wear. But that's not the point. To these girls and boys and their families, they are a key part of the high school experience.  -Jezebel
If you're a newcomer to our great state, there are a few things you need to know about the tradition and why we do it.
What is a Texas Homecoming Mum?
It's a Texas phenomenon and today's homecoming mums rarely involve live flowers, but there are silk flowers, trinkets, bells, ribbons, stuffed animals such as teddy bears,  and even blinking LED lights involved in the Mum ingredients. They're typically suspended from a ribbon tied around the neck. No one would dare use a safety pin for their shirt.
How it got started?
This tradition started out several decades ago as a simple chrysanthemum gift from a boy to a girl. From the Dallas Morning News archives: By the 1930s, mums had become a traditional fall flower in the United States. Movie stars often wore them and so the floral industry started promoting the flowers as football game corsages.
"By the 1940's, mums were already very much implanted into the ideas of Texans. By the '50s and '60s, they'd become so elaborate," Rocky Pollitz of Telefloral floral wire service told The News in 1994.
And like all things in Texas, it grew bigger and bigger and BIGGER.
How does this tie into the Homecoming football game?  The football game is typically on a Friday night and then a Homecoming Dance is held on Saturday evening. Its very similar to prom but a bit more casual. And the day of the game, the girls wear their Mums and the guys that they are going to the dance with are wearing garters.
What about the boys?
Guys also wear smaller mums on their arms called garters. Typically, they're made to match the mum that the girl was wearing. The size of the garters has remained the same while the girls' garters have grown astronomically.
How much for a Homecoming mum?
If you're Mom is crafty, you can ask her to run to Michaels or Hobby Lobby to get the materials to make one . . . but if you can't convince your hard working mama then you'll need to order one.  If you decide to purchase a pre-made mum you'll be dropping between $60 – $300 for one.
This one cost close to $600 and made the news 
Where to get one?
You can usually get a pre-made mum in your school colors in a local grocery store, florist shop or craft store. However, there are professional crafters who create custom mums that can cost hundreds of dollars.
Sure, you could go to a regular big-box craft store for supplies to make your own, but there are stores with areas specifically devoted to mum-making, including the Mum Shop in Plano and the Saleplace in Balch Springs. Expect endless racks of starter mums to embellish, as well as ribbons and trinkets galore.
You can also check out these local North Texas Mum shops:
(Plano)
(Crowley)
(Flower Mound)
(Fort Worth)
Or just order it online right here . . . easy peasy
Is yours still in your closet?
After the festivities, the mums never just get tossed . . . heck no! Mine is still in my closet with me with a garment bag (I think a Dillard's garment bag from Collin Creek mall) still hanging over it.  And that's exactly where it will remain.

P.S. If you know someone who loves a big 'ol Texas mum, I would be thrilled if you shared this article with them. Much love to you!!
We are a participant in the Amazon Services LLC Associates Program and ShareaSale program, an affiliate advertising program designed to provide a means for us to earn fees by linking to Amazon.com and affiliated sites.