Disclosure of Material Connection: Some of the links in this post may be "affiliate links." This means if you click on the link and purchase an item, I will receive an affiliate commission. Disclosure in accordance with the Federal Trade Commission's 16 CF.
This is sponsored partner content via our Partner Content Program and is written by the client.
Summer means lounging by the pool, beach days, and vacations. With those fun days, summer also means heat. It is fun to spend some time outside in the heat enjoying summer activities, but high temperatures and humidity can cause summer to be unbearable at times. That is when it is best to go inside and enjoy the cool air from the air conditioning.  The problem with having the air conditioning on is that the electric bill can go waaaaay up. It can get costly fast. It can be a hard choice between staying cool and a high bill. Denton Texas air conditioning company has what you need. Keep your Denton home cool with these tips from a local air conditioning company.
When you are trying to find ways to keep your ac system performing its best and keeping your house cool, one of the best things to do is make sure that the outside unit is not being blocked and has free-flowing air around it. On the inside, make sure that nothing is coming to the vents. It is easy for vents on the floor to get covered. If vents are covered, the cool air is not blowing in and the room will be hotter.
Mr. Cool knows that the last thing you want to deal with is being hot and sweaty in your own home. Use these 15 Tips to Keep Your Denton Texas Home Cool this Summer.
Keep Your Denton Texas Home Cool This Summer
If you are tired of dealing with this Texas heat, then you know how important it is to be able to cool off inside your home. A well-maintained air conditioning system is vital which is why it is important to have regularly scheduled maintenance. Cogburn's Heating and Air, a Denton Texas air conditioning company, offers a maintenance program that costs pennies a day and keeps your system running at optimal performance. There are different plans to choose from which will help you find the perfect plan to keep your system running smoothly. In addition to a well-maintained system, there are ways to keep your house cooler that does not equal a higher electric bill. Here are 15 Hot Tips to Keep Your Home Cool this Summer:
Close the Blinds
Starting in mid-morning until early evening, keep the blinds closed. Closing the blinds can make a big difference in the temperature of a room. Closing the blinds can make a room 10 to 15 degrees cooler and can save up to seven percent on your electric bill.  You can go one step further and get insulating blinds. These blinds are designed to keep the heat from coming in through the windows.
If you prefer curtains to blinds, invest in blackout curtains. Blackout curtains block sunlight from coming into the room. These days, blackout curtains do not have to be black. There are other color options available. There are neutral colored curtains that have a plastic backing to reduce heat from entering the room. These curtains work as an easy insulator and block the heat. The curtains can be pulled back to let light in and closed to keep the heat out.
Turn Off the Lights
I know it is obvious that when you are not using lights they should be turned off. I am sure you have told your kids this more times than you can count. Besides costing more electricity, light bulbs give off heat. If possible, use the natural light coming through the windows but still avoid direct sunlight. Avoid using the lights at all if possible. At the very least, be sure to turn off lights that are not being used.
Use the Right Light Bulbs
Speaking of lights, it is important to look at the type of light bulbs being used. A traditional light bulb can give off enough heat that it can raise the temperature in a small room by 11 degrees. If possible use natural light from a window, as long as it is not direct sunlight, which will increase the temperature too, or use energy efficient light bulbs. As a bonus, some utility companies give free energy efficient light bulbs to their customers or offer a rebate. 
Don't Use the Oven
Using the oven can cause the house to feel even hotter. Instead of using the oven, try grilling outside. If that doesn't seem like a good idea, either because you don't like grilling or it is just too darn hot outside, then use a slow cooker or a pressure cooker. Besides the convenience that these types of cookers provide, they also do not warm up the house and you can still make a great dinner. Use Pinterest to find great slow cooker or pressure cooker recipes.
Close the Doors
Close off rooms that you are using during the hottest part of the day. By closing off the other rooms, the cool air is not going into those rooms. During the evening and night, it is naturally cooler. Use this to your advantage. At nighttime, open the doors and let the air flow through the home naturally. If it is cool enough, turning off your ac system and open the windows and doors. Let the cooler night air come in. By opening certain windows and using a fan to force the air, you can create a cross breeze that can cool everything down. However, be sure to shut everything back up in the early morning to prevent the heat from coming in when the sun comes up.
Turn Appliances Off
Running appliances, like washing machines and dishwashers, give off heat as it uses the hot water. Plan to use them when it is cooler at night. Also, electronics give off heat when they are being used. If the television or computer is not being used, it is best to turn it off. Besides saving money on the electricity, it will also keep the home from getting hotter.
Unplug Appliances
Anything that is plugged in creates heat. When you are trying to keep things cool, every little bit matters. Turning it off isn't enough to keep it from producing heat. Unplug whatever is not being used so that there is nothing extra creating heat. Not only does it help with the heat, it will also save you money. If something is plugged in, it is still using a small amount of electricity which means it is still costing you.
Use a Dehumidifier
Think how awful it is when it is humid. Everything feels wet and sticky. If your home is humid, you can not get cool. People naturally sweat when it is hot. As the air dries the sweat, our bodies cool off. If the air is too humid, the air cannot evaporate the sweat. Using a dehumidifier can keep your home feeling cooler with almost no effort. Some people hate having to remember to empty their dehumidifier. Many dehumidifiers can have a hose hooked up to the collection container. Simply run the hose to where the water can be drained. Some people use the area where the water is collected in the sump pump hole. Then the collection container never needs to be emptied.
Utilize Ceiling Fans
Ceiling fans, or any fan, can be a great way to help the air circulate, and make things feel cooler. When using a ceiling fan, it is important to use it the correct way in summertime. Set the ceiling fan to a higher speed and have it rotate counter-clockwise. This creates a breeze that makes you feel cooler.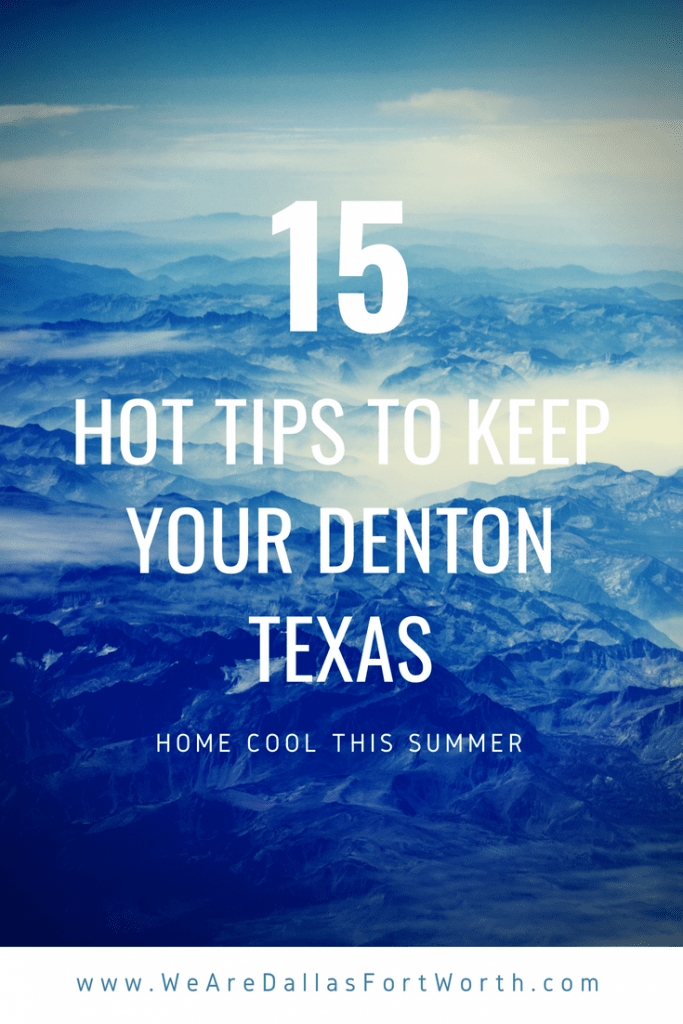 How to Cool a Room with Simple Hacks
So, the tips above are great for simple things that you can do to cool a house. By combining the tips, it will help keep the house cooler. Sometimes, during the worst heat waves, these tips are not enough. No matter what you try, the house still feels warm, even with the air blowing. That is when it is time to do something a little different. That is when Mr. Cool needs to pull out some hacks from his bag of tricks.
Here's Some Simple Hacks to Cool Your Denton Home:
Create a Cool Breeze
The air coming from an air conditioner is the best. But if the ac isn't working at its optimal or is being overworked because of the extreme heat, this cool hack (see what I did there?) will create a nice cool breeze. Fill a bowl with ice, ice packs, or use a frozen gallon of water. Place it in front of a fan. As the air blows over the ice, the air gets cooled. It does get a little misty, but that's ok. It is like being at the beach.
Dip Your Feet
While this might not be a hack that everyone will enjoy, it does the trick if you are really hot. Take a bowl of cold water. When you are feeling extremely hot, dip your feet in the cold water. The cold water on your feet will give you a cool feeling. This is a great hack at night when it is hard to sleep.
Cool Long-Term Improvements
While some of the tips may not give instant relief, they will give long-term benefits to your home and the ability to keep it cool. Some of these tips will help keep your house warmer in the winter, lower the heating bill as well help with the overall value of your house.
New Windows
Many people replace old windows to keep the cold drafts out in the wintertime. However, the same drafts come in during the summer time, except these drafts are made of hot air. During the winter, people who get these drafts use plastic or other ways to block the cold air, but they leave the windows clear in the summertime. New windows will help keep the drafts out during the cold months, as well as the warm months. New windows not only help with the drafts, but they will also help with your utility bills. With less air coming in and less air going out, the heating and cooling system does not have to work as hard.
Insulation
Most people think of insulation as a way to keep the heat in during the wintertime. Insulation is also great to keep the hot air from coming into the home. Most homes have some insulation, and depending on the age of the home more insulation may be needed. If you want to add more insulation, start at the highest point of the house. The top of the house and a dark roof collect much of the heat from the sun. The heat is then transferred to the rest of the house. Make sure the attic area has good insulation which will help keep that heat from being transferred to the rest of the house. Adding insulation will also help during the winter.
While adding the insulation, make sure to plug any gaps. The gaps will let hot and cold air in and make your HVAC unit work harder.
Plant Trees
Everyone knows that it is cooler in the shade. If your Denton, Texas house is in the shade it can make your home cooler. If planting trees is not an option, planting bushes can have a similar effect by creating small shade patches on the walls. When trying to keep the temperature down in your home, every little bit helps. As a bonus, trees and bushes look beautiful in the landscape. Remember to keep bushes and other plants away from your central air unit outside. The unit needs air flow in order to work properly.
Use Light Colored Paint
Have you ever heard to wear light colored clothes on a hot day to help you stay cooler? It is the same with the color of the walls. Light colored paint will help to keep a room cooler when sunlight comes in. The light-colored paint will reflect the light and that means it keeps things cooler
Cogburn's Heating and Air in Denton, Texas is Here to Help You
Besides these tips to keep your house cooler, it is important to make sure that your cooling system is working properly. An AC system should be able to keep your home cool. While these tips are great for lowering your electric bill while keeping your home cool, if your AC system is not able to keep your home cool, it is time to reach out to Cogburn's Heating and Air. The Denton Texas air conditioning company can help get your ac system back on track or help you find a new system to meet your needs.
Call Cogburn's Heating and Air at 1-866-523-8762.
You might also like . . .