Disclosure of Material Connection: Some of the links in this post may be "affiliate links." This means if you click on the link and purchase an item, I will receive an affiliate commission. Disclosure in accordance with the Federal Trade Commission's 16 CF.
When you get the opportunity to stay in downtown McKinney, you gotta go for it! I felt like I was Lorelei for a weekend walking into an episode of Gilmore Girls. What's not to love about this sweet town? Even better, when the Southern Chic Retreat spoils you rotten for a complete weekend. So I left my 2 giant furry dogs and husband behind in Plano and gave them the peace out look. I could tell by the look in my husband's eyes that he was already wondering what he was going to eat for dinner. And if he could read my mind (which has yet to happen) he would realize I was telling him peanut butter and jelly.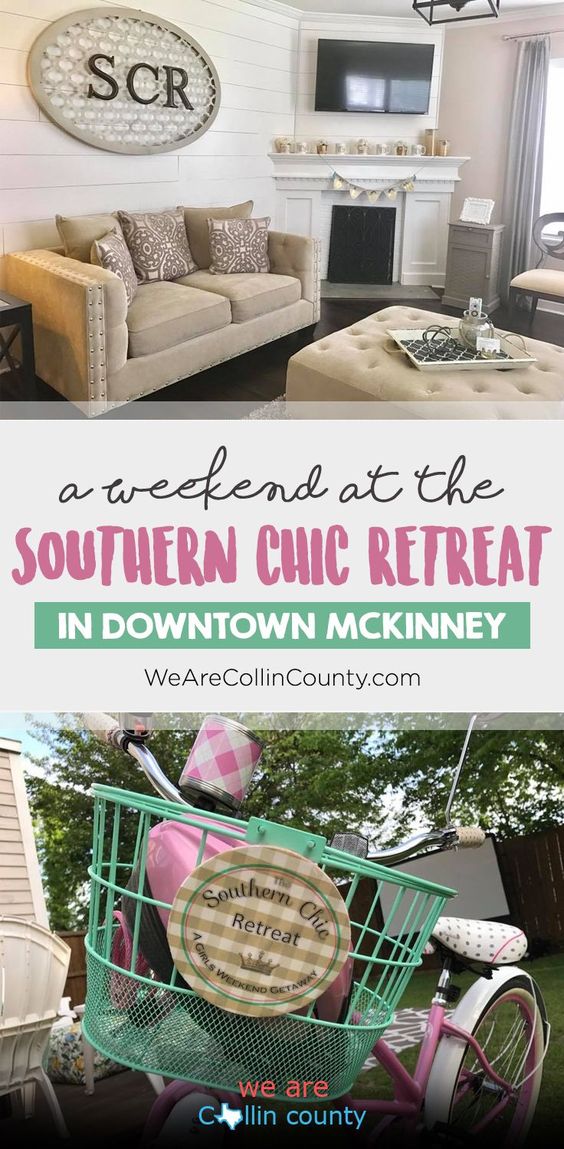 He'll figure it out, right?  He couldn't possibly starve?!?!?!
I seriously had to get myself over to Stars Hollow . . .  errrr, I mean downtown McKinney.
And I did just that, I pulled up to this Pinteresting, man-free, fur-free, slice of heaven.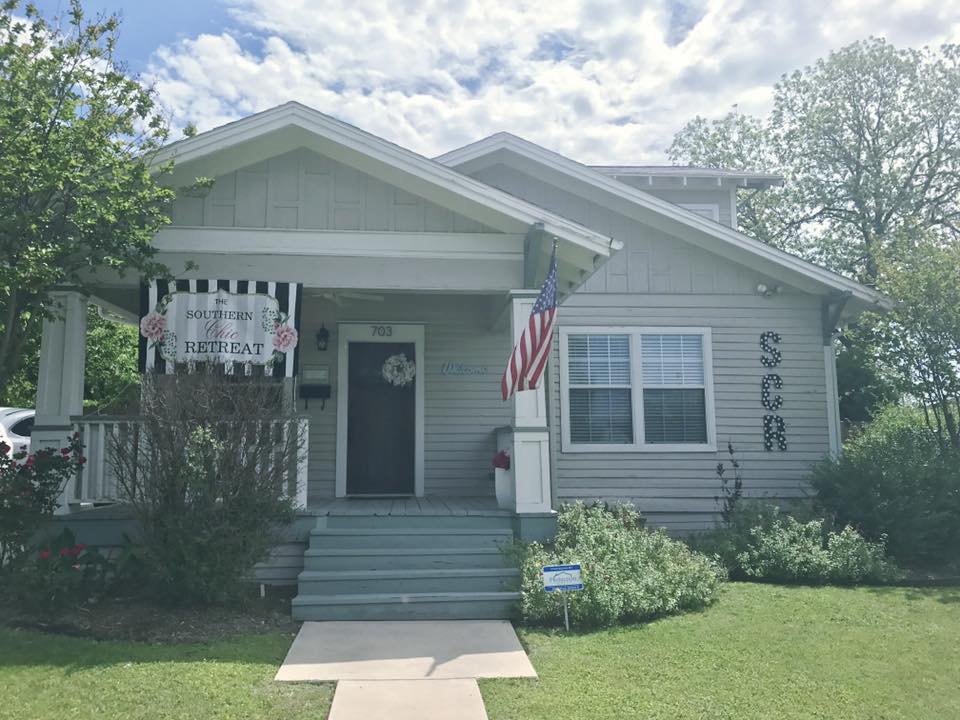 and then I opened the door and fell into this magazine worthy living room.  I literally plopped down and wrapped myself in the coziest blanket and let my stresses start to melt away.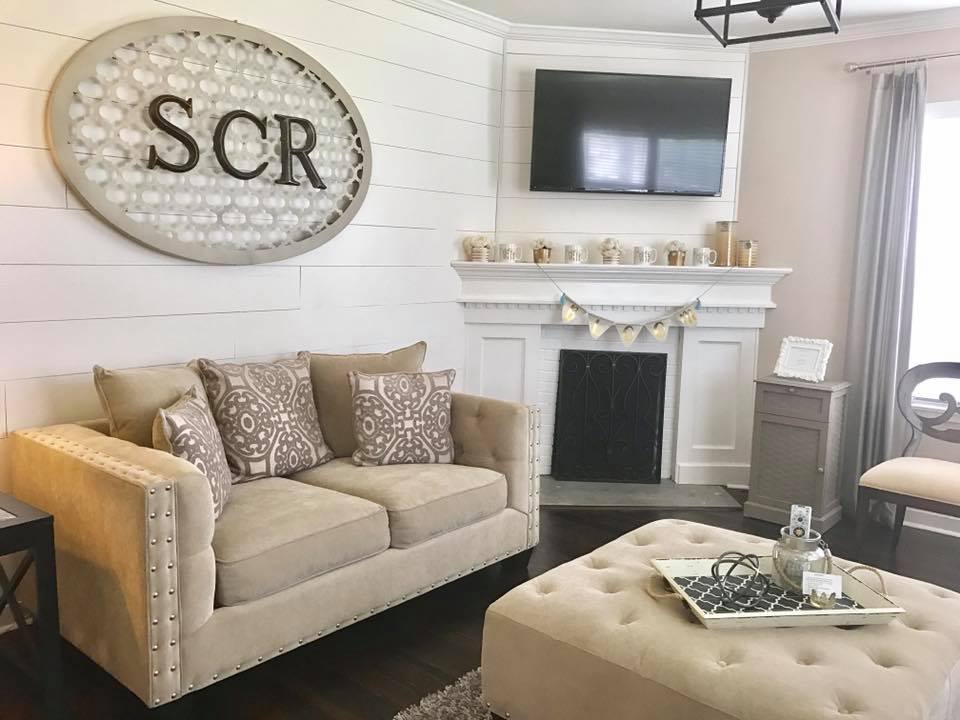 Monica, our gracious hostess and owner (she's the one on the right), made us yummy savories and showed us around the retreat.
The Southern Chic Retreat was created for women to have a place to craft, relax, socialize and celebrate.
Ahhhh, yes, I'm down for that! While I was relaxing I was trying to figure out how I could move in for the month.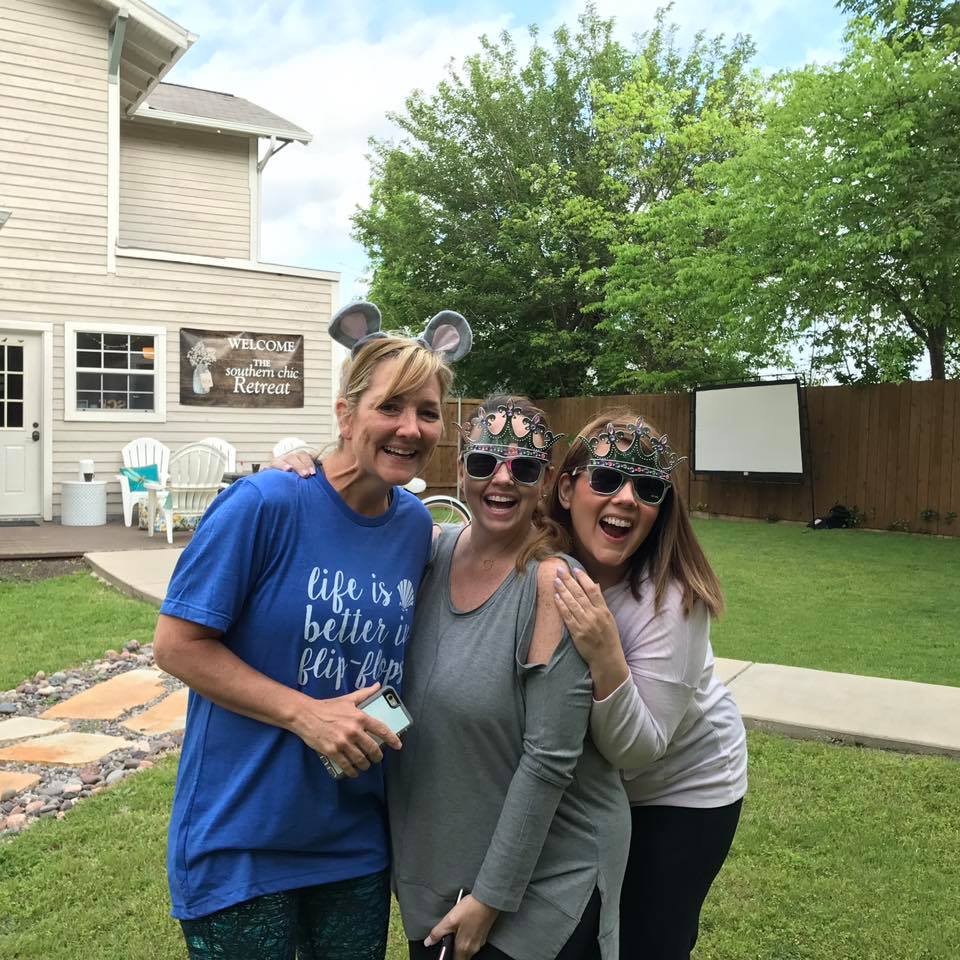 And look, she even provided transportation for us which Rory and friends would totally approve of. How cute!!! Right?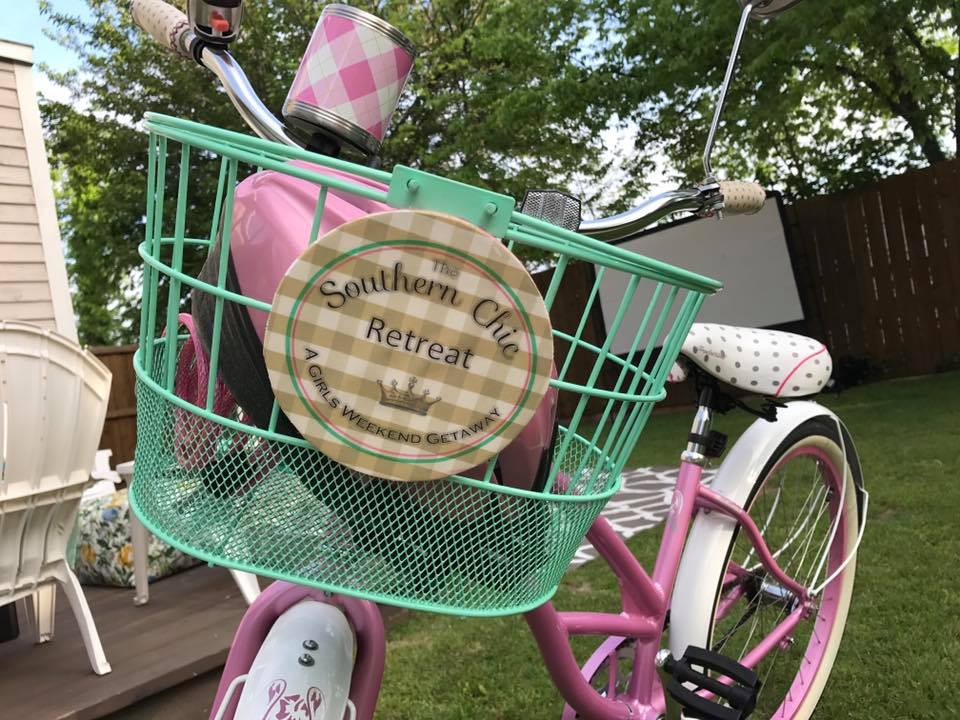 Ashley, a local Instablogger, taught me how to be my most Instagram worthy self on the front porch. So fun! (click on the pic to follow her adventures)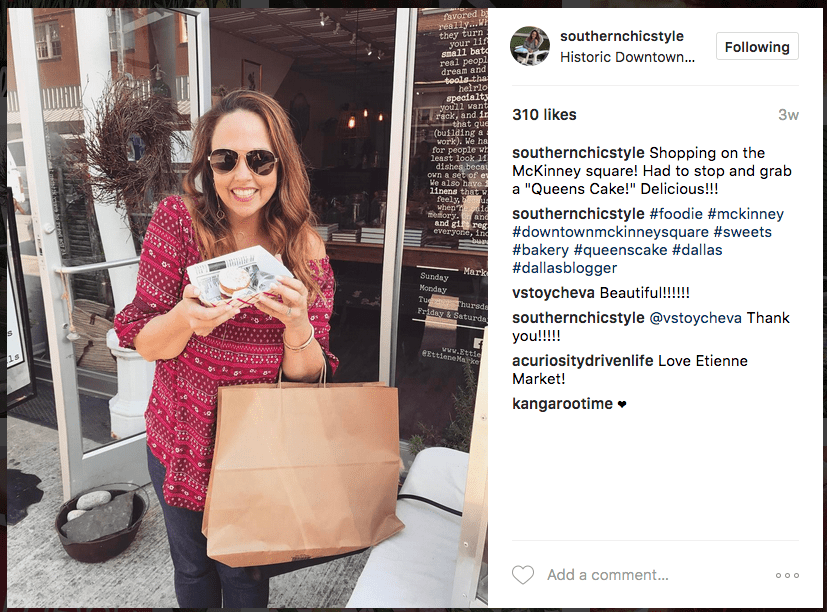 Thanks Ashley from Southern Chic Style! Before we left for some lunch and shopping on the Square, we got a great tour of the backyard which was set up in the perfect rows for our chick flick later that night.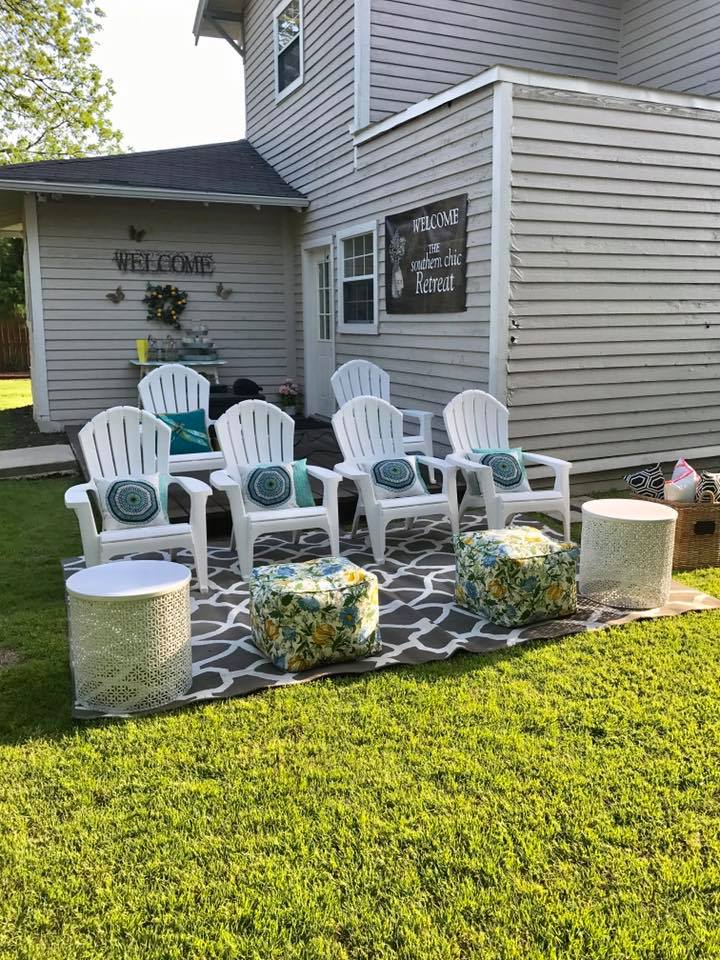 But alas, we had to run off to Landon Winery for a quick sip of their delicious wine as well as a bite to eat at one of the fabulous cafes. We had a hard time deciding since their were so many to choose from!
write all about McKinney here and have an entire McKinney Texas collection here.  If you love McKinney as much as I do, then you just might like those links. After a bit more chillaxing, we were treated to a gourmet catered dinner in the dining room.
Then off to the the Craft Room in a completely separate building for a Mod Podge craft. Something I have never done but in this room it seems like all things are possible. If you zoom in, you will see the really neat cupholders and attached mini receptacles. Such a small but impactful detail. What craft would you like to sit doen and make in here?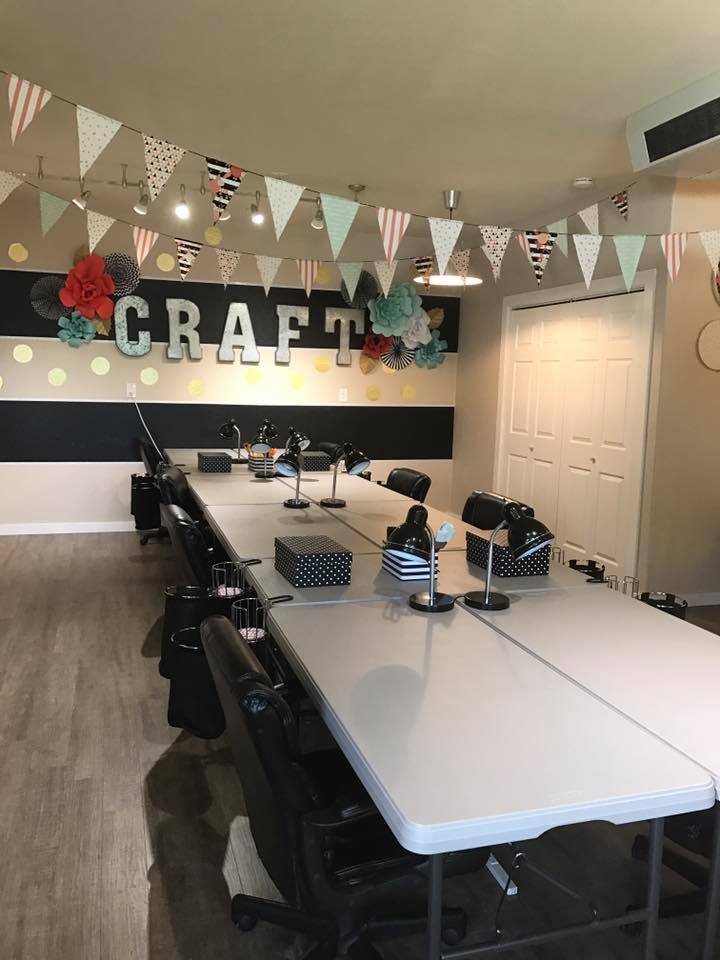 This is the one my friend made! Turned out brilliantly!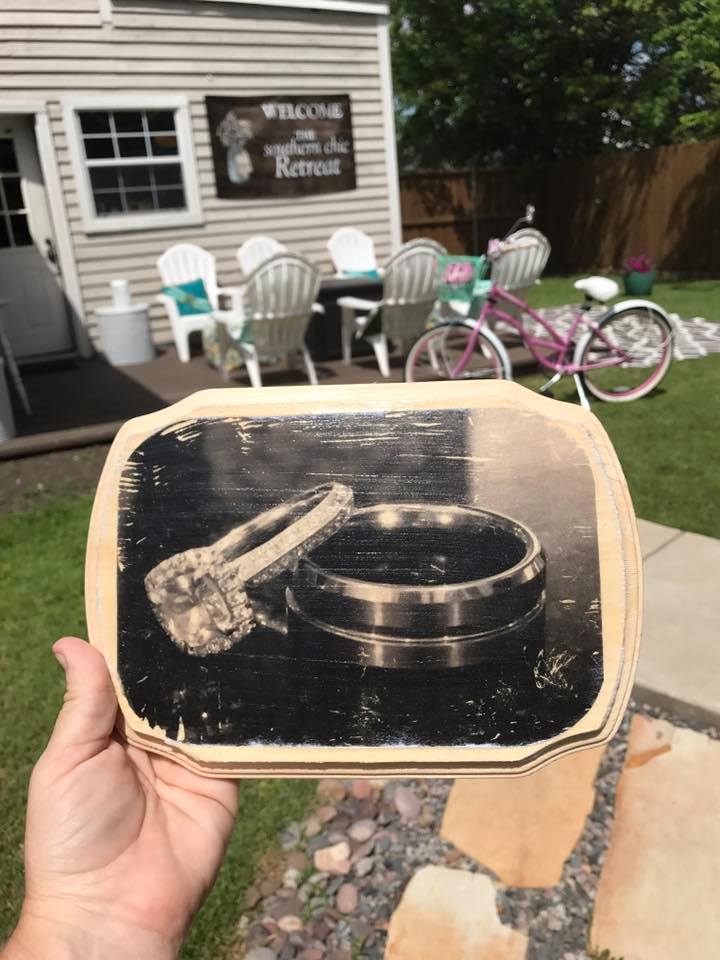 We were given massive snacks from Posh Pretzels of Frisco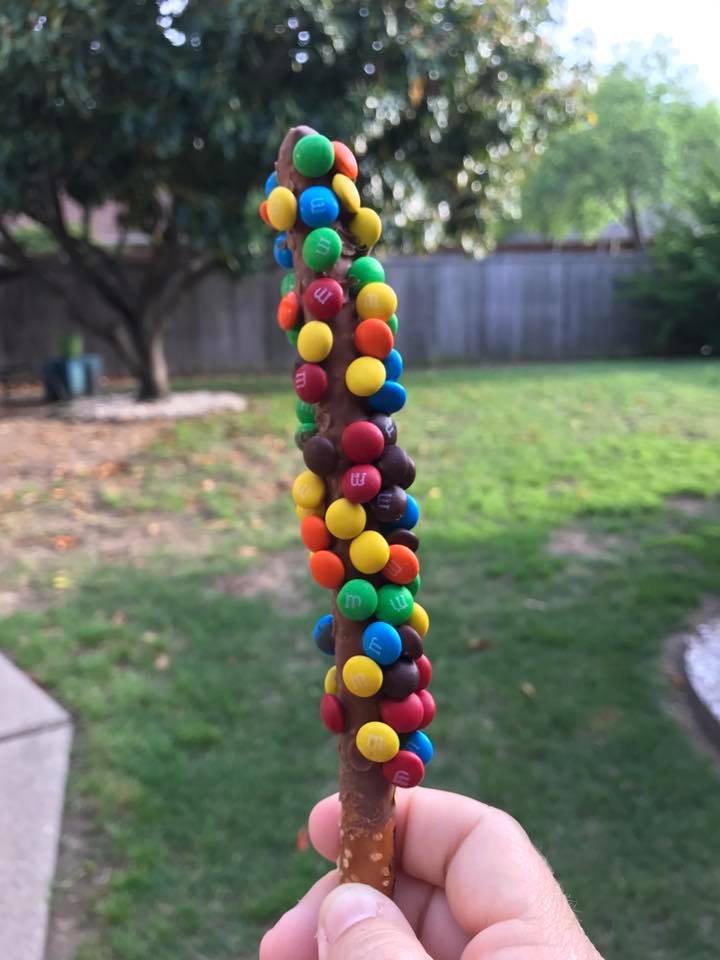 And then sat down to our very own movie theater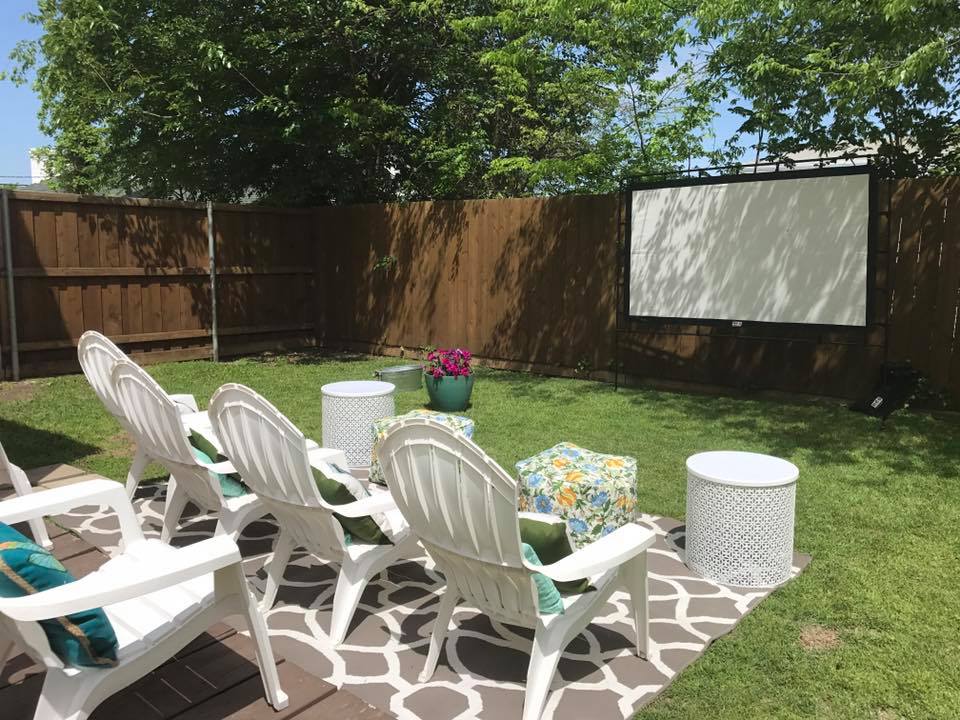 I tried to get myself in bed at a decent time but ended up staying up half the night chatting. Because, its just what you do at a Girls Only retreat. Here's the room I chose: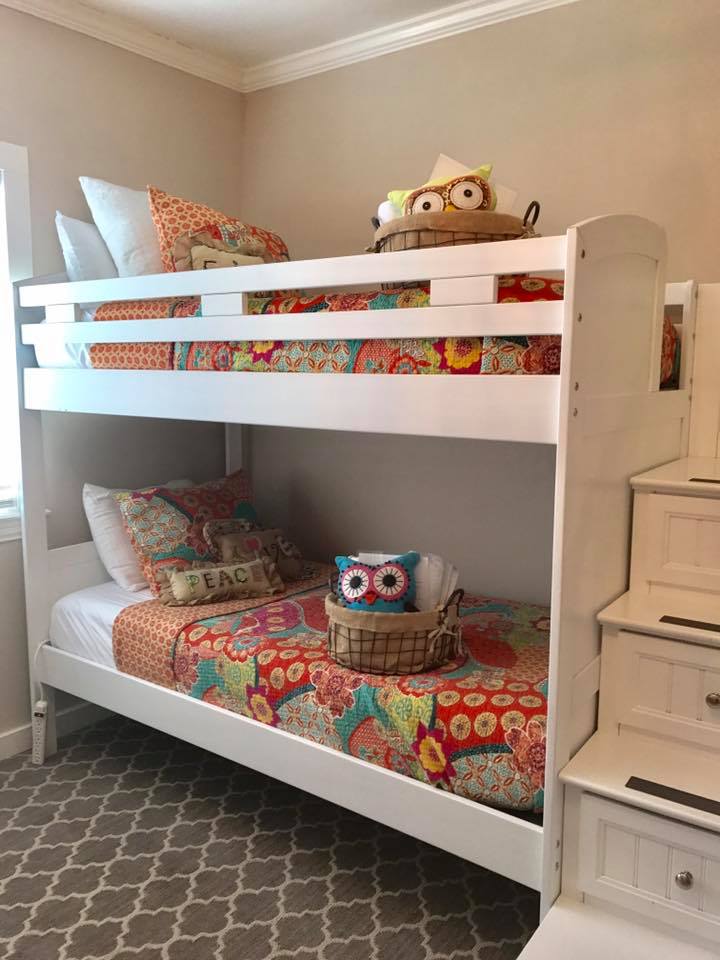 And of course, all bedrooms are furnished with soft linens, cozy comforters, and plush memory foam gel infused mattresses. Included in the bathrooms are large comfy towels, luxurious toiletries (shampoo/conditioner, body wash, lotions) as well as hair dryers, irons, and ironing boards   Make sure to check out Monica's website here   We awoke to yummy smoothies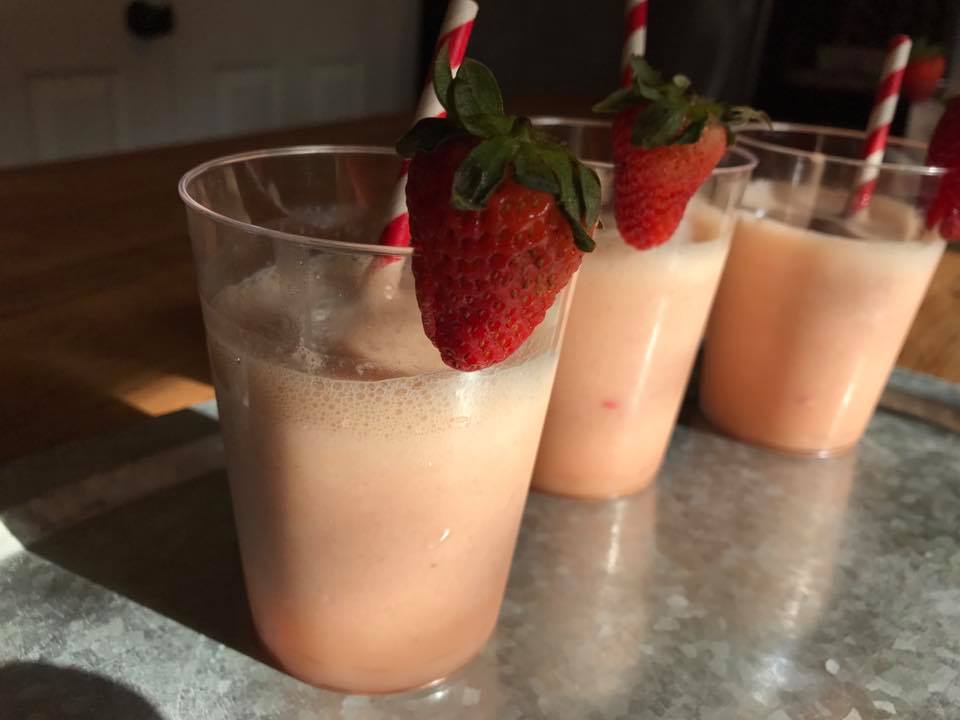 followed by a private yoga class by Megan right on the lawn! It was so relaxing and lovely! She provides yoga for retreats, women groups and kids, how awesome!   (click on her pic to follow her journey)
I also met Anna from Fleurdille who had some downright awesome yoga moves.
Check her out!
And click the pic for her write up on the retreat (she lives in  Dallas with her husband and 2 adorable girls and this girl is your go-to for fashion!!)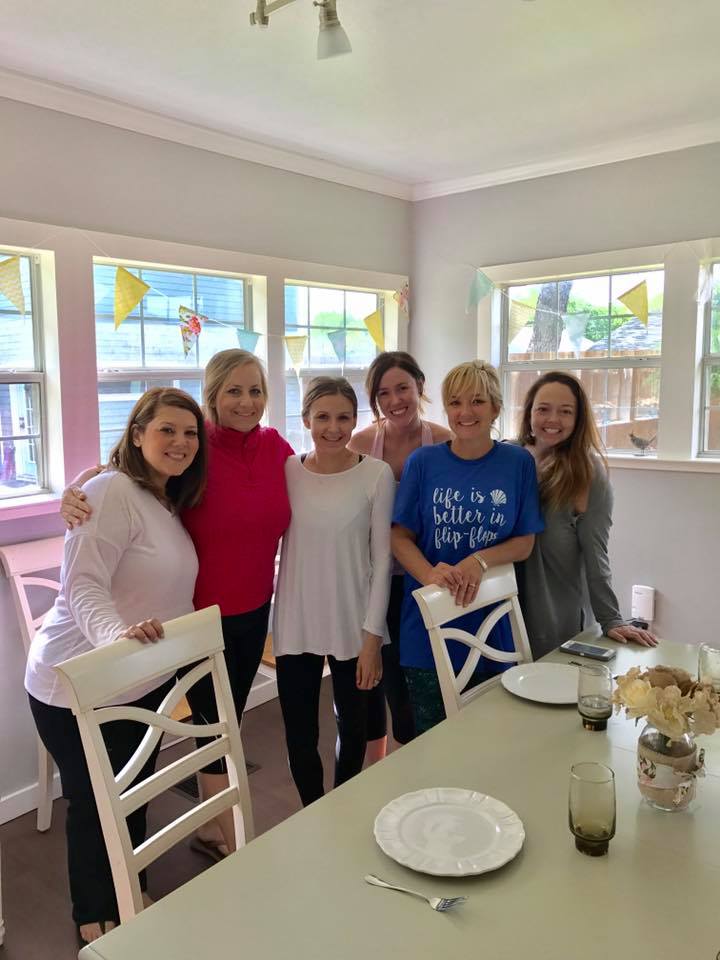 Finally, the caterer returned with the most delicious breakfast to get us started on our day     It was a really special weekend for me. Most of my time is spent hanging out with my digital marketer friends, mostly guys and its so tough to pull me away from my laptop for more than 5 minutes. This experience had a bit of nostalgia to it with the fun slumber party vibe, with lots of pampering and girl time. I didn't know I needed to hang out all day and night and chat with other women . . but I guess its exactly what I needed. Massive thanks to Monica for creating this special place to create special memories in the most special city in North Texas.
The Southern Chic Retreat
www.TheSouthernChicRetreat.com Downtown McKinney, Texas

*please note: this is a sponsored post, and although this post is sponsored, all opinions are my own 
One more thing . . . 
You might also like this
(click on pic y'all)