If you want a glimpse of professional paradise, or at least one vision of it, look no further than WeWork. I specifically got a chance to not only visit the WeWork in Plano Texas but I'm also a member.
Yes, I still pop in to a Starbucks to work for a bit but it does not come close to working from a true coworking space.
And, I can go to any of their offices in Dallas or across the world.
If I can't get to these places physically, heck, if I can't get out of my pajama pants that day, I can still connect to the other WeWorkers through their awesome app.
What is Coworking and collaborative workspaces?
Collaborative workspaces are membership-based places where a diverse group of freelancers, remote workers, startup companies, small businesses and other independent professionals can work together in a communal setting.
A great collaborative workspace not only offers free wi-fi and coffee, but it also hosts seminars with high-profile guest speakers. They offer unstructured networking events that allow members to get to know each other without the pressure of trying to get things done during the workday. They build an atmosphere where people feel comfortable sharing ideas.
Case in point, I attended a social function on the evening of International Women's Day (after a few cocktails, I did wish every woman in Legacy West a happy, happy day).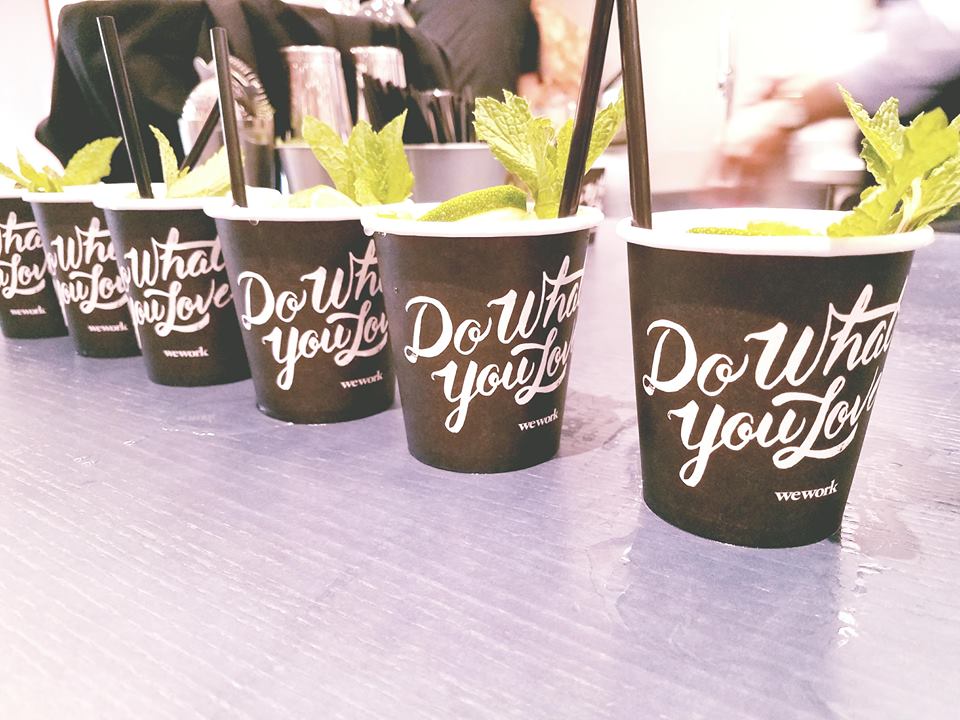 On this particular evening, we got to sample Moscow Mules and Sugarfina candy. Yes, those are chocolate covered almonds that look like olives below.  Freaking ridic good!
Tito's Vodka + Sugarfina candies teamed up and since Sugarfina is right below the WeWork office in Plano, the members got to benefit from this partnership.
Look at these cute Bento Boxes ⬇
Collaborative workspaces are an excellent place no matter what stage of your business you're at. If you are just starting out, you give yourself the opportunity to network with others in your field as well as other fields. Personally, since I work from home and a bit of an introvert, I can begin to really isolate myself.  If you are the same way, then maybe you realize like I did, its good to get out with the public.  It adds a lot of life and spark to the day. AND, every single time, I meet new people, come up with new ideas and feel reenergized towards my business.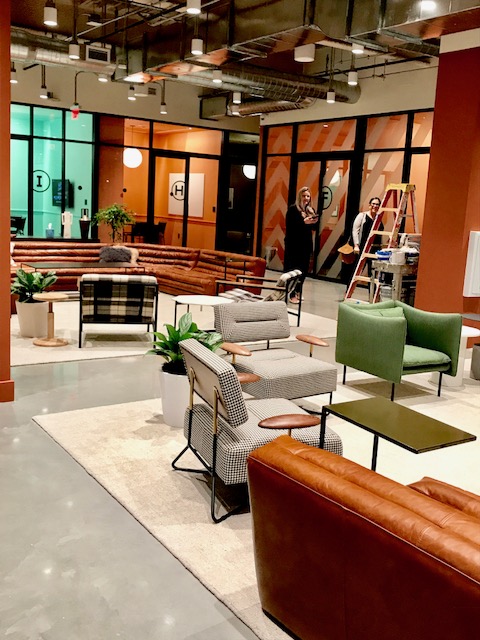 Here's another snapshot of the Titos+Sugarfina social hour but they also have pizza parties, Texas Rangers opening day parties, lunch & learns, supply drives and a variety of events throughout all of their Dallas locations and of course the globe.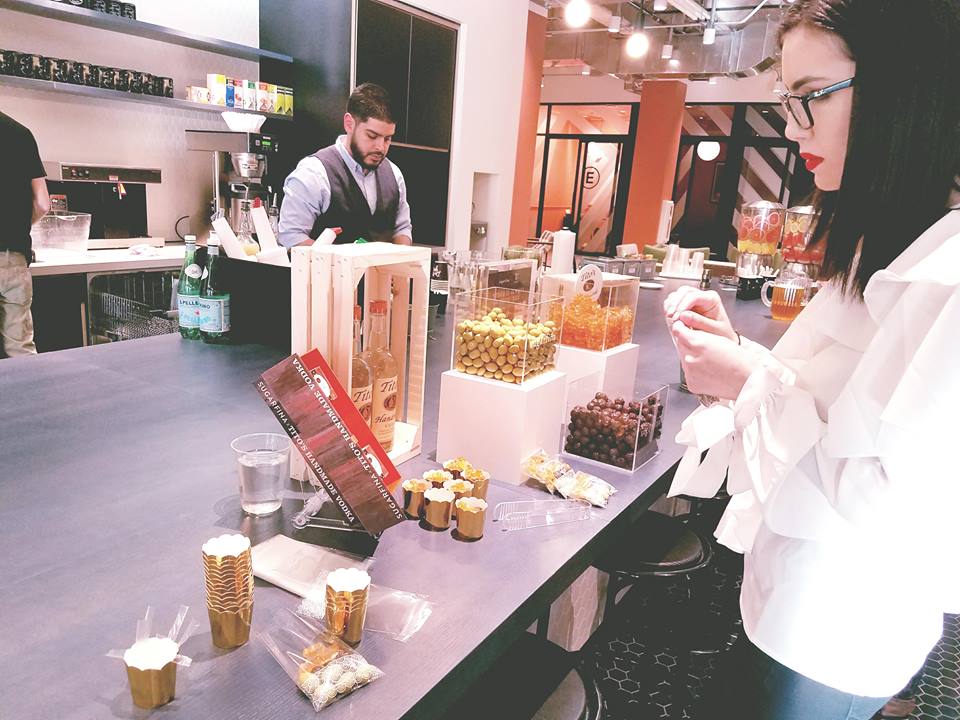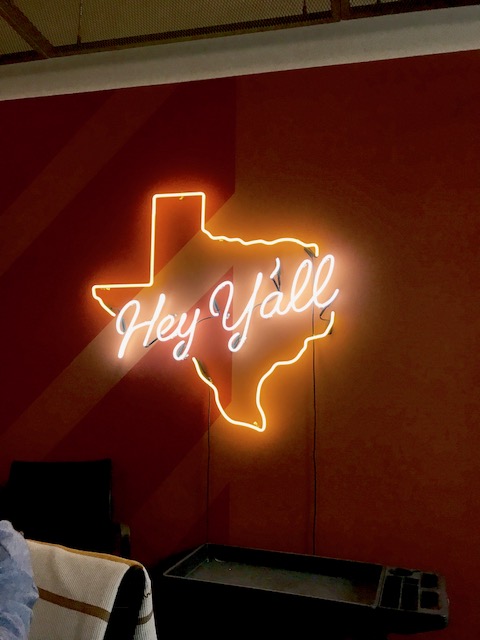 So how does it work?
You can think about it as, like, you would think of a gym — you pay a membership, you get to share all the equipment. It's really a shared infrastructure for business. WeWork happens to offer hipster fabulous work space, a variety of tables, booths, couches, meeting rooms, outdoor patio space and private offices of every size.
The major selling point was unlimited coffee.  C'mon now, I love nothing more than bottomless cups of coffee and letting my brain go wild!
You can use my referral link here https://refer.wework.com/i/becca
Are there Benefits Of A Collaborative Workplace?
Whether you are a freelancer or you work remotely for your company, collaborative workspaces are a great way to get the creative juices flowing and make sure you don't get cabin fever in your own home. We can all relate to that, right? There are a lot of reasons why more and more remote workers are preferring to work in shared workspaces.
1. Socialization
Drastically different than a cafe because all of the members are building something solo or with a team. No guarantees who is walking into a Starbucks.  And hey, I love Starbucks, I've even discovered clients at Starbucks on a random whim. But, its pretty awesome to be around a like-minded tribe that have skin in the game and 100% are part of something being created. It makes for great water cooler talk (or in this case fruit infused water cooler talk)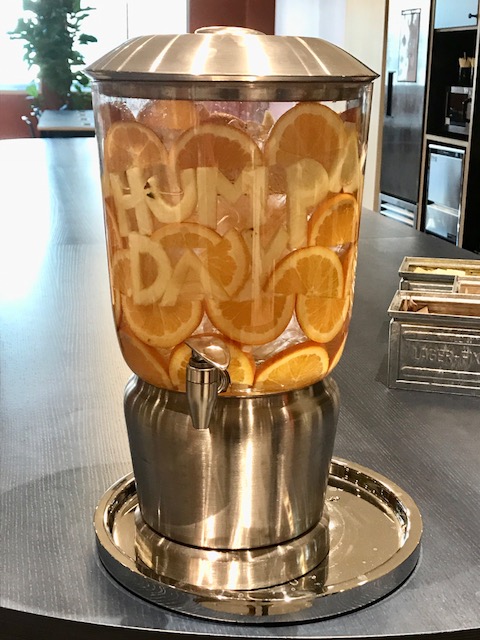 2. Cheap Office Space
Memberships start at $49 but the most common hot desk is 250 for the month.
3. Flexibility
4. Better Office Space and Location
Hands down, a much better option than a cafe.  You've got a comfy seat, a place to plug in, coffee, snacks and even unlimited beer.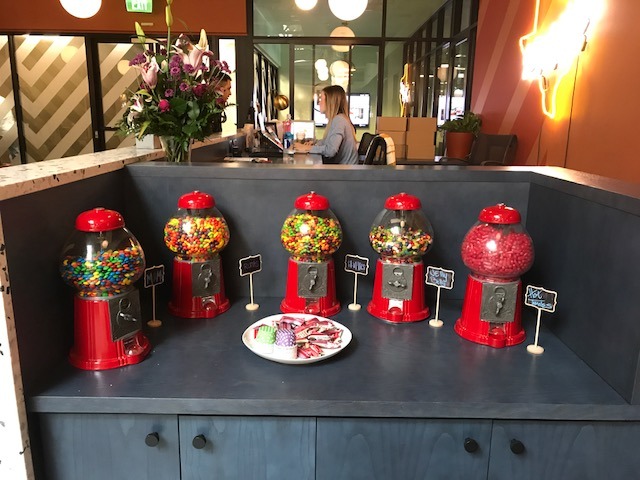 5. Increase Productivity and Motivation
6. Access to More Information
7. Hire or Get Hired
Need more gigs? Other members are always looking for help, you can chat in person or find them on the WeWork app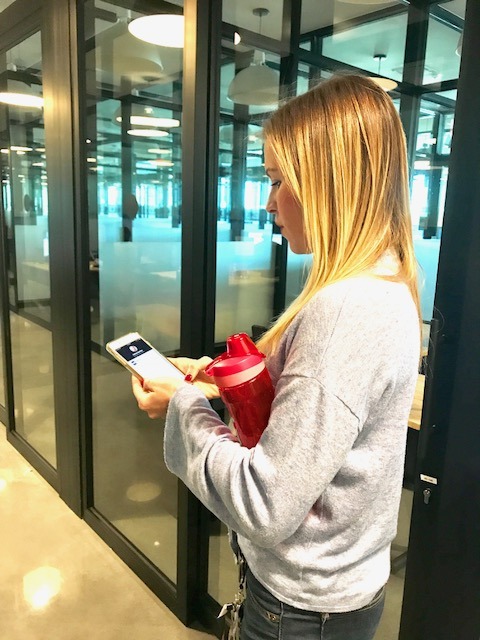 8. Fast Setup
Sign up online or in person and start working ASAP.  Here's my referral link that I would love for you to use: https://refer.wework.com/i/becca
9. Free Amenities
I mentioned the coffee, beer, candy, fruit infused water, social hours . . . even the restrooms are decked out with hair products, mouthwash and other valuable tools for you to make a great first impression.
10. Use of the WeWork app
Meet other WeWorkers through the app, discover new hires or get hired yourself and also find out when the events are being held so you have a chance to build a bigger network.
11. Getting Your Name Out There
For those of us that work from home or starting something new, this coworking space allows for a soft intro to you and your business.  It can be a more natural approach to networking and building deeper relationships.
In the DFW area, there are 5 locations:
Clearfork (Ft Worth), Thanksgiving Tower, Uptown, Legacy West and soon to be one just across the Dallas Parkway near the Shops at Legacy.  They provide tours!! Do it y'all!
And at the minimum, sign up for one month of the app + 1 day membership or a month of the hot desk.
Ping me on Facebook or LinkedIn to message me if you have any questions I can answer for you

P.S. Use this link to get started https://refer.wework.com/i/becca
P.P.S. Check out these decked out private phone booths you can plug in inside, just go on over here