Disclosure of Material Connection: Some of the links in this post may be "affiliate links." This means if you click on the link and purchase an item, I will receive an affiliate commission. Disclosure in accordance with the Federal Trade Commission's 16 CF.
Its been a strange couple of weeks in the world and here in Dallas, shelves at grocery stores are clearing out of toilet paper, eggs, bread and more.  Anxiety is up and a lot of questions are circling in the metroplex.  Moreover, some of you might be preparing for things to get worse before they get better which means you want your home prepared.  One of the questions that came up in our household this week was where to buy ammo in Dallas.
Where to Buy Ammo in Dallas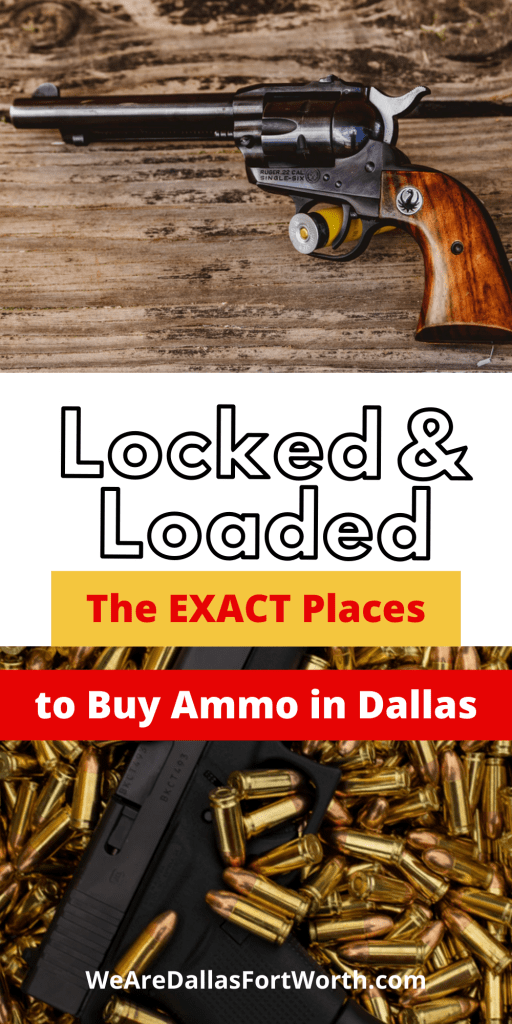 1. GunMaster
Phone: 972.423.0121
Address: 5001 K Ave #102, Plano, TX 75074
2. Academy Sports
Phone: 972.633.4100
Address: 4045 Central Expy, Plano, TX 75023
3. Cabela's
Phone: 214.383.0502
Address: 1 Cabela Dr, Allen, TX 75002
4. Walmart
(many options, this is the one we go to)
Phone: 469.675.8801
Address: 2662 W Lucas Rd, Lucas, TX 75002
5. Jackson Armory
(Snider Plaza)
Phone: 214.363.2767
Address: 3416 Rosedale Ave, Dallas, TX 75205
6. GT Distributors
Phone: 972.682.2600
Address: 12610 Perimeter Dr, Dallas, TX 75228
7. Ray's Sporting Goods
Phone: 214.747.7916
Address: 730 Singleton Blvd, Dallas, TX 75212
8. 1911 Academy
Phone: 214.856.3976
Address: 1971 University Business Dr, McKinney, TX 75071
9. Mister Guns
Phone: 214.901.7429
Address: 2751 W 15th St, Plano, TX 75075
10. Shotgun Blasters
Phone: 469.385.9779
Address: 1629 W Hebron Pkwy, Carrollton, TX 75010
11. Celina Gun Shop
Phone: 972.382.8340
Address: 701 N Preston Rd #310, Celina, TX 75009
12. Bullet Trap
Phone: 972.881.0372
Address: 2608 K Avenue  Plano, TX 75074
---
Or maybe you want something a little different ⤵️
Here are 3 options:
Smith & Wesson 586 CO2 Pellet Revolver
2. Umarex Smith and Wesson 586 Black (6 inch Barrel) CO2 Pellet Revolver
3. SIG Sauer X-Five Air Pistol with CO2 12 Gram
Final Thoughts on Buying Ammo in Dallas
First it was toilet paper then hand sanitizer, then eggs, bread, chicken.
And now its ammo. 
You can store your ammo in containers like these that would be extremely helpful.
If you want to make sure you have a decent stash of ammunition and you are also looking to feel secure for what the next 2 – 3 weeks will bring, do this . . .
Call your nearest gun and ammunition shop here in Dallas, confirm they have inventory, then head over there quickly.  Be prepared with these Dallas ammo shops.
They say there is PANIC in DC and PANIC in the UK and I know we have PANIC in DFW.
Stay strong y'all