Disclosure of Material Connection: Some of the links in this post may be "affiliate links." This means if you click on the link and purchase an item, I will receive an affiliate commission. Disclosure in accordance with the Federal Trade Commission's 16 CF.
The weather in Dallas offers a variety, and sometimes, this variety comes in the same week or even a 24 hour period.  Yup! Ice, hail, rain and maybe even a gorgeous blue skies by 7pm.
See more from Wikipedia here: ⤵️
The city of Dallas has a humid subtropical climate that is characteristic of the Southern Plains of the United States. Dallas experiences distinct four seasons with mild winters and hot summers.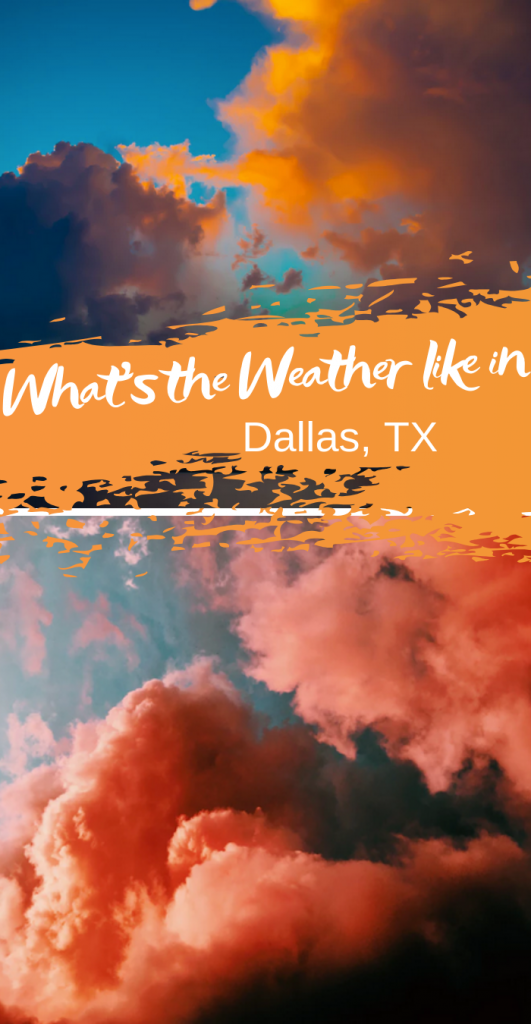 What's the Weather in Dallas like?
During the winter season, daytime highs above 65 °F (18 °C) are not unusual. On the other hand, a couple of times each year, warm and humid air from the south overrides cold, dry air, leading to freezing rain, which often causes major disruptions in the city if the roads and highways become slick. Due to the city's location inland from the Gulf Coast, the city's climate is mildly continental: it is characterized by a relatively wide annual temperature range, as well as significant weather variations in a given month.
Spring and autumn bring pleasant weather to the area. Vibrant wildflowers (such as the bluebonnet, Indian paintbrush and other flora) bloom in spring and are planted around the highways throughout Texas.[2] Springtime weather can be quite volatile, but temperatures themselves are mild. The weather in Dallas is also generally pleasant between late September and early December, and unlike springtime, major storms rarely form in the area.
In the spring, cool fronts moving south from Canada collide with warm, humid air streaming in from the Gulf Coast. When these fronts meet over north central Texas, severe thunderstorms are generated with spectacular lightning shows, torrents of rain, hail, and occasionally, tornadoes (Dallas is located at the lower-end of the Tornado Alley). The U.S. Department of Agriculture places Dallas in Plant Hardiness Zone 8a.[3][4]
Weather in Dallas
Summers are hot, with temperatures approaching those of desert and semidesert locations of similar latitude. Heat waves can be severe. During the summer, the region receives warm and dry winds from the north and west. The city's all-time recorded high temperature is 113 °F (45 °C) during the Heat Wave of 1980, while the all-time recorded low is −8 °F (−22 °C) 1899. The average daily low in Dallas is 57.1 °F (13.9 °C) and the average daily high in Dallas is 76.7 °F (24.8 °C). Dallas receives approximately 37.1 inches (942 mm) of equivalent rain per year.