Disclosure of Material Connection: Some of the links in this post may be "affiliate links." This means if you click on the link and purchase an item, I will receive an affiliate commission. Disclosure in accordance with the Federal Trade Commission's 16 CF.
This is sponsored partner content via our Partner Content Program and is written by the client.
Denton started out as a college town and we believe this is how Denton hangs onto its cool vibe, awesome people and  fun places in Denton You Gotta Check Out This Fall. Many Dallasites spend hours to travel to Austin for that same college town, cool vibe. Or weird vibe, hence the slogan, Keep Austin Weird.  But we don't have to trek down I-35 anymore spending 5 hours or more in bumper to bumper traffic because we have that cool vibe, culture and art scene right here on the tip of the metroplex ➡️ and its all here in our town of Denton.
Residents living in Denton, sometimes refer to their city as "little D," in contrast to the Big D aka Dallas. Let's be real, Texas doesn't do anything LITTLE.  Everything is BIG and Denton Texas is far from the Little D.
With Denton's music scene, football scene and arts scene, it is now on the map.  In its center, the Denton County Courthouse-on-the-Square Museum explores local history. Nearby, the Bayless-Selby House Museum is a grand Queen Anne–style home with Victorian interiors. Outdoor sculptures can be found throughout the University of North Texas campus.

And that's just the beginning of Denton.
9 Fun Places in Denton You Gotta Check Out This Fall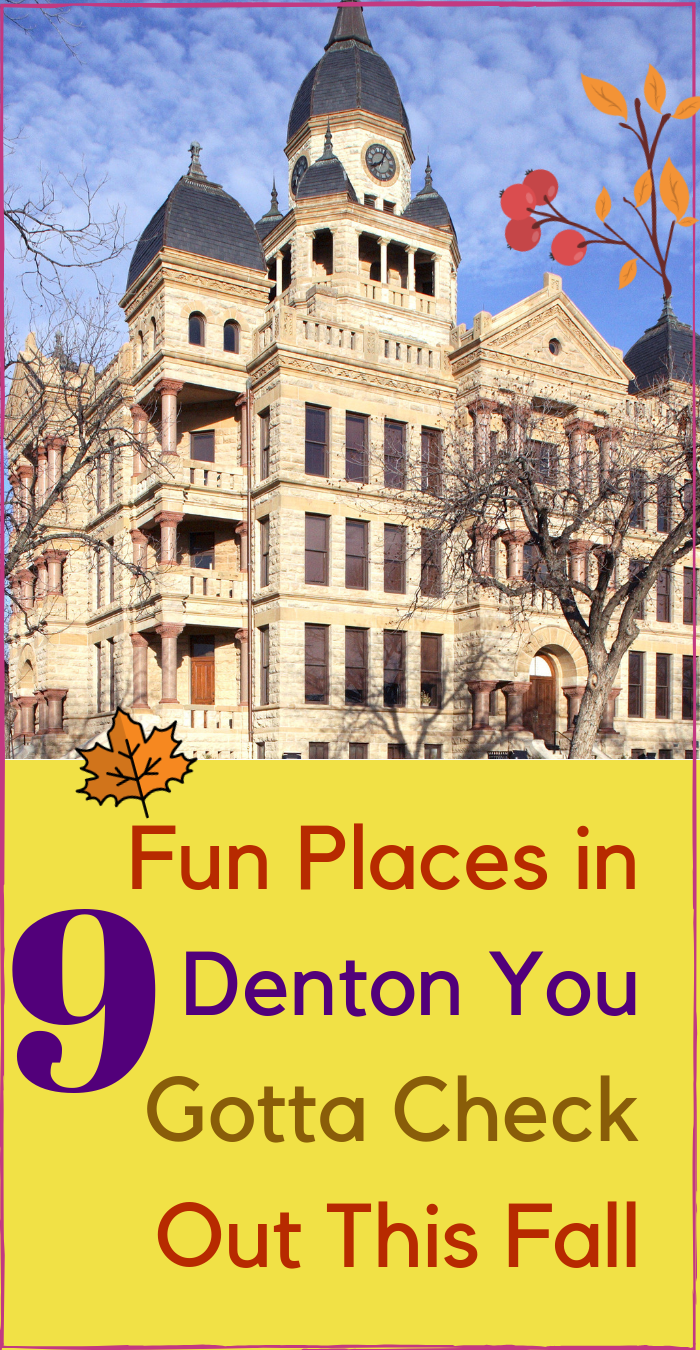 #1 Denton Blues Festival
The art and culture scene in Denton is really large for a town of its size. Every year, Denton hosts as many as 20 amazing fairs and festivals. Music, art, air shows and yes, the Denton Blues Festival.
The Denton Black Chamber of Commerce presents the 20th Annual Denton Blues Festival and its coming up soon!
The Denton Blues Festival sets the stage for one of the best ways to hear blues music in North Texas. A town dedicated to its musical reputation, Denton provides two days of exceptional blues acts in a family-friendly outdoor setting. If you need to take a break from the spellbinding guitar solos, browse through numerous local vendors offering one-of-a-kind arts and crafts.
Location:
Quakertown Park
321 E. McKinney Street
Denton, TX, 76206
Quakertown Park is the place that most of the city's major events and  public celebrations are held. This 32-acre park, sits behind the Civic Center and contains a 31,000-square-foot event center, an amphitheater, picnic tables, playgrounds, a pool and more. If you haven't been then mark your Google cal for this upcoming festival.
Keep in mind, we'll have a booth at the Denton Blues Festival keeping all of y'all nice and cold.  That's right! We are providing all of Denton Texas Air Conditioning with a fully enclosed AC booth to answer all of your AC questions.
#2 Denton Trading Company to get Fall themed cute things for your house
Denton Trading Company offers a variety of unique one of a kind items from housewares and home decor and gifts, plus locally handmade jewelry, art, candles, clothing, Annie Sloan Chalk Paint and so many more trinkets and unique items. Its very Joanna Gaines approved yet completely one-of-a-kind at the same time.
We know you are ready to get your Pumkin/Fall/Apple Cinnamon candle/Crockpot season on  =)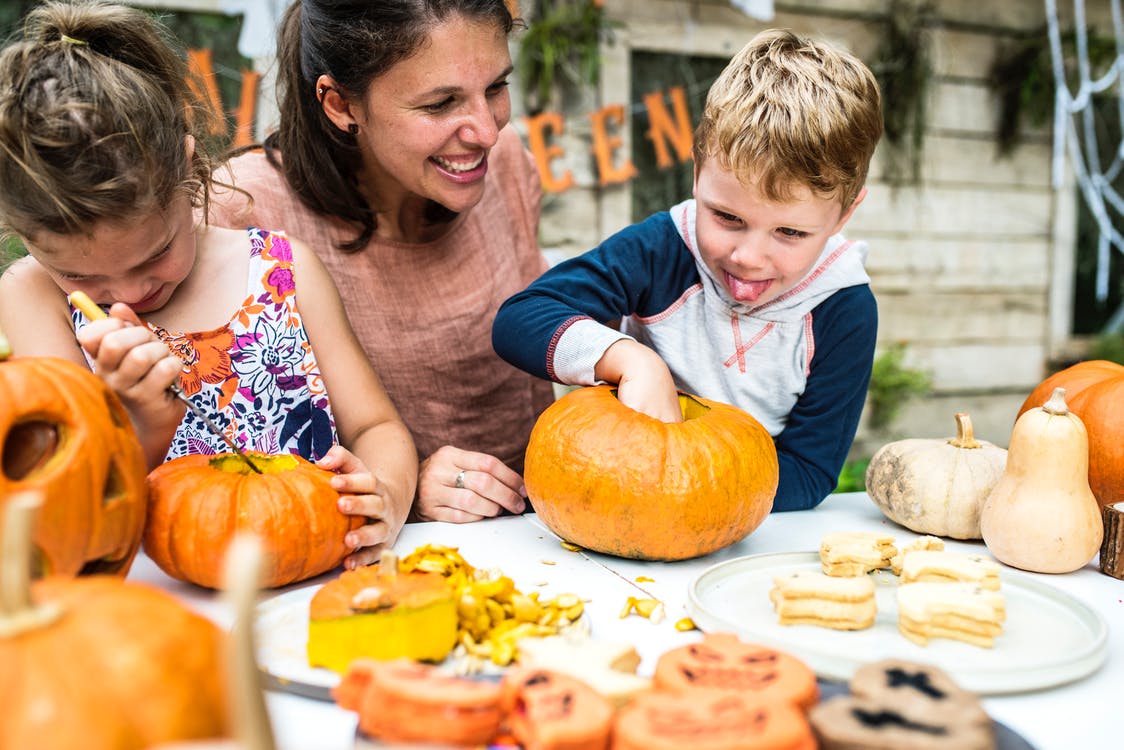 As the weather begins to change, its an especially great time to fill the house with all things pumpkin, Fall and of course, lots of new yummy scented candles to get the full effect. We know we don't need to convince you.
The best part about Denton Trading Company? They're open 7 days per week and its located right next to to West Oak Coffee Bar on the downtown Square. They still have their sister store down the road in Roanoke aka the Roanoke Trading Co. Inside this cute store, you'll find men's and women's clothes, kitchen decorations, candles, dainty jewelry, custom Texas signs, lotions, potions, frames and other ingredients to make a home more personal.
And lots of adorable pumpkins as well as anything related to the Fall season.
You will leave totally inspired and eager to come back for a one of a kind shopping experience filled with things you will not see everywhere else.
Get yourself pumpkin spice ready y'all!
#3 Ghosts of Denton Tour
Here lies John B. Denton:
View this post on Instagram
Wanna know where he lies?
You'll need to catch up with Shelly from the Ghosts of Denton tour.
Shelly Tucker takes visitors  of Denton and residents of the metroplex on a guided tour of the town's history.
From the Ghosts of Denton site:
The city of Denton, and the county surrounding it, has fascinating history.  It also has more than its fair share of ghostly stories.  The town of Denton had 14 major fires on the square during the period between 1860 and 1895.  During those fires, early records of the county were lost and perhaps that is why the spirits linger … they just want someone to remember.   Maybe, or it could be that they just like the night life in Denton!

Denton has a lot of interesting characters, and reportedly many ghosts!  There are so many stories, that Shelly tells different ones each night.  On any night you might hear the tales of the ghostly hooligan, the dead Comanche's bones, the librarian who never "checked out," or the man who survived the Goliad massacre to die in a suspicious fire.  Perhaps you'll hear tales of Sam Bass and his friend/nemesis Jim Murphy (who some say still haunt the streets of Denton), or the blind sheriff who protects and serves from beyond the grave. After a Ghosts of Denton tour, you won't look at the town the same way in the daylight. 
View this post on Instagram
Shelly takes groups year-around on the weekends to tell them the history – and the rumored history of Denton Texas.
You can see their
website
here to purchase tickets.
Phone: 817.996.9775
#4 Denton Community Market
Once the weather gets cold, this market will close for the season.  Hurry!  Now is the time to get out there to grab all the most unique artisan and farmer's market goods that you can.
How beautiful are these veggies?
The Denton Community Market is a producer-only farmer's market and art market in downtown Denton, Texas. The Market began in April of 2010 and features live music, kids activities, local farms, local artists, food trucks, food vendors and more! Bring the family and friends and experience the best of Denton, Texas! The mission of the Denton Community Market is to strengthen the Denton community by providing economic opportunities for local artists, businesses, food vendors, and food producers to contribute to the vitality and livability of Denton. We love Denton small businesses.
Denton Community Market
Every Saturday April – November 2018
Denton County Historical Park at Carroll Blvd. and Mulberry St.
(317 W. Mulberry St. Denton TX 76201)
8am – 1pm
Again, here are the market hours and be sure to tag #DentonCommunityMarket when you are out there to help support our hard working farmers
#5 Mural Tour
With a town full of artists who like to keep Denton weird and Keep Denton Cool, you know you're bound to discover some of the best murals in the metroplex.
Welcome to Denton y'all, this town is an art mecca that's home to painters, sculptors, printmakers and designers. Denton's creative community cultivates the best art around, especially fantastic public art. From Fry Street to the Historic Downtown Denton Square to the halls of UNT, there's a wall, fence or building to display every artist's passion.
The weather is perfect right now with lots of daylight (but make sure to hurry before the time changes), to charge up your phone and Instagram it all.  I know we don't have to comvince you to take that perfect Insta.
We think you will get totally inspired by Angie Away's article here on all of the murals, go here to see for yourself, amazing pics!
The Sweetwater Grill and Tavern are putting the final touches on their latest mural here
Or maybe you want to kick up your heels and go upside down like this:
If you do this, you better tag @CogburnsAC so we can check it out!
We know you live a good Insta and this is a great town to find your best one yet.
#6 Books & Coffee on the patio
We all live for that perfect patio weather which is happening right NOW.
Its the absolute perfect time to grab a book at Recycled and dive in to said book on the patio of West Oak Coffee Bar.
Both of these places are located on the treasured Denton historic downtown area, a nationally recognized Main Street, and a favorite with residents and visitors alike, full of shopping, arts, dining and people-watching.
People watching is best done outside and this time of year, that's exactly what we get to do.
How do you find Recycled Books in Denton?
Just look for the big purple building that many call the cornerstone of the Denton square has long been a local mainstay of books. Filled with stacks and stacks of books old and new, there is always something to flip through to search for and generally get lost among the many floors and many twists and turns inside of the building. Recycled has always been locally focused and keeps Denton cool.
Just take a look to see what they have in their basement here
#7 Clear Creek Natural Heritage Center
Clear Creek Natural Heritage Center offers lovers of the great outdoors the chance to experience some of the best birding and hiking in the Denton area. Put on your hiking boots and trek the nearly eight miles of nature trails that meander on Clear Creek and the Elm Fork of the Trinity River through grasslands, wetlands, prairies, and bottomland hardwood forests.
We all need to get in our sweat on before the apple pie and pecan pie and all of the fun holiday parties begin to expand our waistlines.  You know this is true!! Make room now so you can eat more pie later, yum!
#8 The Dog Days of Denton
Dog lovers rejoice!
Dog Days of Denton is celebrating 25 years as Denton's most original festival for pooches and their people.  The event is typically held on the first weekend in October and is FREE to the public. The event features arts, crafts, educational demonstrations, canine talent contests, entertainment and fun for the entire family! You can finally take your dog out of its comfortable air conditioned home in Denton and let it mingle with other friendly canines.
Dog Days is a fun and entertaining day welcoming friendly dogs and their owners.  For everyone's safety, all dogs must remain leashed and owners must provide proof of current vaccinations. Please visit their website to peruse the guidelines before heading over.
25th Annual Dog Days of Denton
Saturday, October 6th, 2018
9:00 a.m. – 3:00 p.m.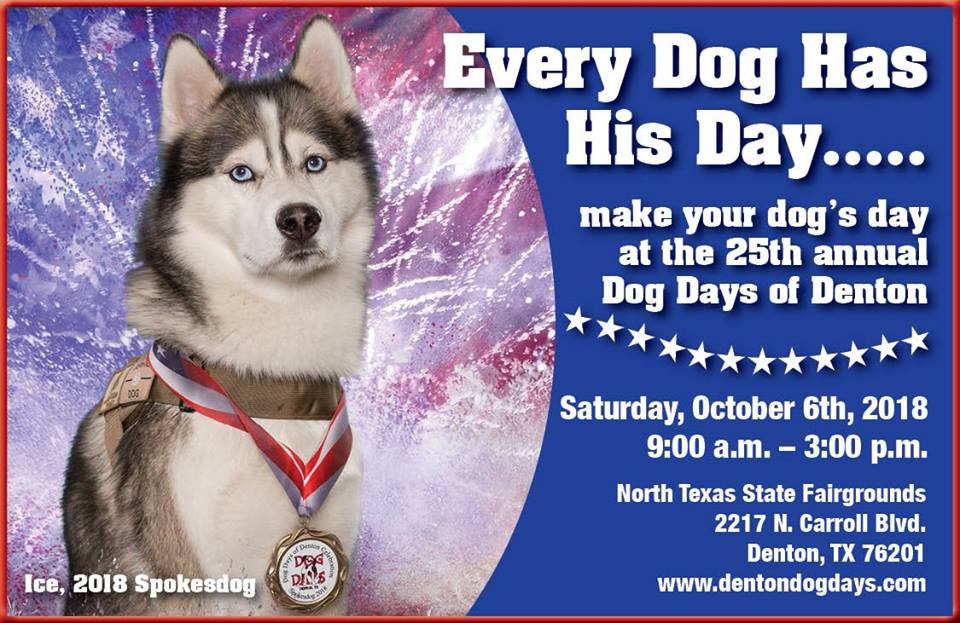 Location:
North Texas State Fairgrounds
2217 N. Carroll Blvd.
Denton, TX 76201
Find more about it here on their event page
#9 Mac & Cheese Festival
Did someone say Mac & Cheese??
This year is the 1st ever Denton Mac' N Cheese Fest Sunday October 28th from 2-6pm in the street between Oak St. Drafthouse and Komodo Loco. Its a 21 and up event (unless present with a parent). You will be able to sample 15-20 different mac n cheeses and help us crown the macaroni king or queen!
Tickets will be $10 pre sale and $15 day of event and tickets will be limited.
All money raised will help local Denton students with school lunches and the Denton Community Food bank.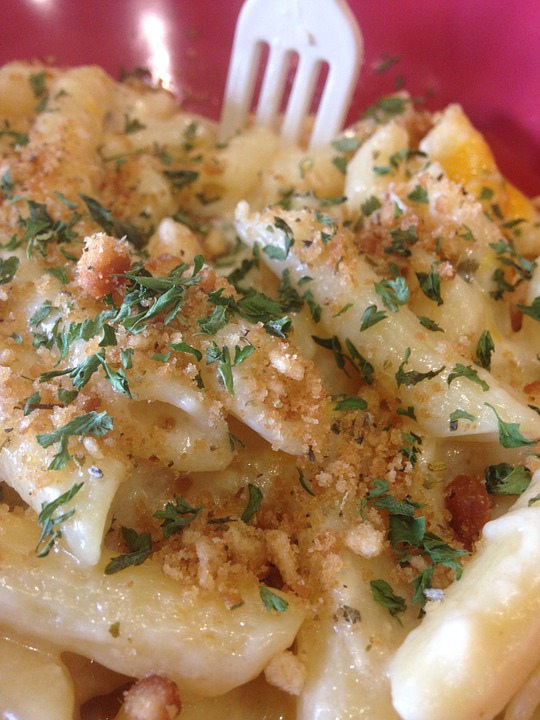 Link to buy Mac N Cheese ticket:
https://eventbrite.com/e/denton-mac-n-cheese-fest-tickets-49449987243
Cogburn's Heating and AC Maintenance Plan
If you are looking for things to do in Denton Texas, there is no shortage of unique activities in our cool town.  Be sure to have your HVAC system working at its optimal performance. No one wants to come home to a hot house after enjoying the cooler temps out and about in the Denton area.
To keep your AC system in its best performance, make sure to have the system cleaned and routine maintenance performed regularly. A Denton Texas air conditioning company, Cogburn's Heating and Air offers maintenance plans in order to stay ahead of routine care. Let the professionals find problems before it gets started.
Call Cogburn's Heating and Air at 1-866-523-8762.