Disclosure of Material Connection: Some of the links in this post may be "affiliate links." This means if you click on the link and purchase an item, I will receive an affiliate commission. Disclosure in accordance with the Federal Trade Commission's 16 CF.
Unlike pedaling on a paved trail or in a city bike lane, mountain biking in Dallas truly exists and can add excitement to your typical routine of hiking or biking a paved trail.
Most people don't know this . . .
But there are excellent mountain biking trails for all skill levels throughout Dallas and Collin County. Each one offers something a bit different and I'm pretty sure that no matter where you are in the metroplex, you'll find one within miles of your home.
And you know what?
Even if you don't mountain bike, you can still use these trails for an awesome hike or adventure with your sweet pups.
At the end of this article I added some tips and products that you absolutely need to have a good and safe ride out there. So don't skim over those!
DFW is an awesome place to go mountain biking, plus, if you have the gear, then its a fun and free activity that you can participate in.
Here are our favorite mountain biking spots in Dallas.
A Comprehensive Guide to Mountain Biking in Dallas
Mountain Biking in Dallas: Arbor Hills

6701 W Parker Rd Plano, TX 75093
Arbor Hills Mountain Bike trail and park is owned and managed by the City of Plano in the far west corner of Plano.
Unlike Oak Point Nature Preserve on the East side of Plano that focuses on hiking, kayaking and tree adventures, Arbor Hills provides Plano's only mountain bike trail. (note: the upcoming Los Rios Park Master Plan includes a 1 mile mountain biking trail)

Although Arbor Hills its a bit short compared to rides at places like RCP, it provides a decent run for advanced or intermediate mountain bikers.
Arbor Hills is a go to park for many in Frisco, Carrollton, Plano and other nearby cities as the mountain bike trail is just a small part of a large nature preserve that has both concrete trails and additional soft-surface hiking trails.
The trail listed here is the only trail within the preserve where bicycles are allowed—all the other soft-surface trails are open to foot traffic only.
If you are looking for a longer workout just ride multiple laps of this trail or get some riding in on the paved surfaces.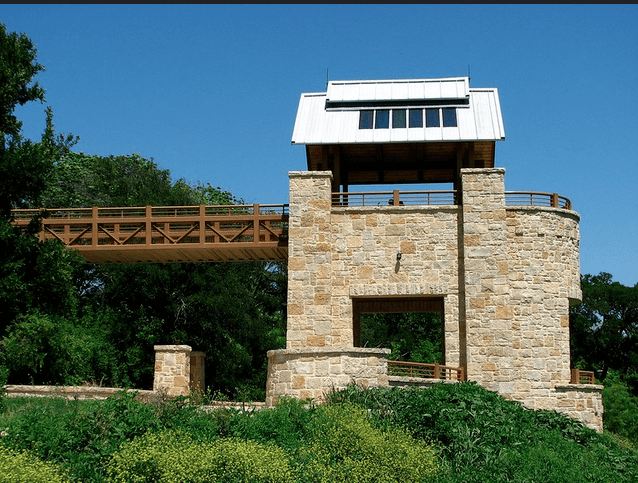 Mountain Biking in Dallas: Big Cedar
One of our favorite trails in DFW when we are looking to adventure a bit more from our home in Plano.
You might like it too as its a pretty drive where the topography begins to change and you feel far from Dallas. Yes, it makes for a great day trip!
I am talking about Big Cedar.

This trail is HUGE with 20 miles of single track loops and Dorba does an awesome job of keeping it maintained.

What's really interesting about this trail is that it is located on a church's property.

And in addition to providing the trail, the church has generously offered use of facilities for restroom/water. Keep in mind, like some mountain bike trails such as Solavaca Ranch in Glen Rose – there is a waiver required to sign before you go off adventuring.
Mountain Biking Trail: Boulder Park
6600 Pastor Bailey Dr. Dallas, TX 75237
The Boulder mountain bike trail is located just north of Duncanville, at the SW corner of Hwy 67 & Red Bird Lane and is owned by the City of Dallas.

This is a trail of over 12 miles long, perfect for a full day of riding. It has both beginner loops and advanced loops so perfect for our family and perfect for every level in your family or group of friends as well.

For the entire Boulder experience, follow all the RED signs. The RED will have all the hills, rocky descents, dips, and wet creek crossings.
If you follow the BLUE bypasses, then you will encounter the more challenging stuff.
Choose your adventure!

Mountain Biking in Dallas: Erwin Park
4300 County Road 1006 McKinney, TX 75071
Erwin Park is a city of McKinney public park and one of Collin County's faves!
In order to reach this rural part of Collin County, you'll need to head just north of the 380.
You can take the 380 exit and turn right near the hospital or take the exit just north of the 380 off of 75.
We always prefer avoiding scary 380 =)
The trail is just around 10 miles. The trail is a mix of tight and twisty in the woods to some fast open field sections.
Keep in mind, there are a number of technical sections and most of the technical sections have alternate (easy) routes around them.
Mountain Biking Trail: Frisco NW Community Trail
Mountain Biking Trail: Goat Island Preserve
Goat Island Preserve is a Dallas County park with approximately 9.5
miles of trails. Another amazing option for mountain biking in Dallas.
In this park, trails can be ridden in either direction.
Mountain Biking Trail in Dallas: Harry Moss Park
7601 Greenville Dallas, TX 75231
Harry Moss Trail is a short and sweet trail in the heart of Dallas. Its about 1.6 miles of trails near Walnut Hill.
In fact we took the DART train to Forest Lane station, hopped off and rode over to this mountain bike trail.  When your done riding the trails, you could always pop over to Civil Pour.
Keep an eye out for the exact access point to this area of Harry Moss Park as its actually through the parking lot of Buckeye Liquor down a non paved road.
If you are a beginner mountain biker, this is a phenomenal trail for you.  Meaning that its pretty flat, short and there are several escape points back to the parking lot.  =)
Mountain Biking Trail in Dallas: Horseshoe Trail
Horseshoe offers a little bit of everything, in a nice, compact package.

There are lots of nice short, "steep" technical sections If you've never been, bring a map or go with a group like the Dirt Side Sisters so they can help guide you on the trail.

You'll find that the trail twists back on itself in
many places, so it's not hard to shortcut/bypass, or even get going in the wrong direction.
The more you ride a trail, the more familiar you will get.

Mountain bikers are a friendly group of people and if you need help, just ask someone.

They don't love when you are headed in the wrong direction, so if you are unsure, just step off the trail and wait for someone to come by. They will be happy to help.

Mountain Biking Trail in Dallas: Katie Jackson Trail
4900 Haverwood Lane, Dallas, TX. 75287
The Katie Jackson DORBA Trail is located southeast of
the intersection of the President George Bush Turnpike and the North
Dallas Tollway inside of the larger Katie Jackson Park.
The KJ Trail consists of 5 miles of scenic single track in the woods along White Rock Creek and around the NorthBark Dog Park to the North.
It has dirt jumps, a pump track and can handle both beginner bikers as well as more advanced mountain bikers.
Mountain Biking Trail in Dallas: L.B. Houston
10152 Wildwood Dr. Dallas, Tx. 75220
Hey beginners! This is a great option for you plus its centrally located within DFW. Keep in mind, this is a great option for a Summer ride as this trail provides so much more shade than many of the others.

Mountain Biking Trail in Dallas: Northshore Trail
880 Simmons Rd, Flower Mound, TX 75022
North Shore Trail is one of the most popular hiking and biking trails in North Texas. The trail runs for that runs for 9 to 10 miles from Rockledge Park to Twin Coves Park on the north side of Lake Grapevine.
North Shore Trail offers up moderately difficult terrain and beautiful views from the lakes cliffs and shores. The trail is safe for both bicycle riders and hikers, but you should use caution as there are some rough points. We will show a video at the bottom of the page that displays some of the terrain.
You can start either in Rockledge Park, Twin Coves Park, or Murrell Park. All three parks have trail heads and designated parking for the trail. There is a fee to enter Rockledge Park, but you can get on the trail for free from Murrell Park and Twin Coves Park.
At Twin Coves Park, there is a fee as well, but if you park right outside the gate you can enter North Shore Trail for free.
Mountain Biking Trail in Dallas: Oak Cliff Nature Preserve
2875 Pierce St Dallas, TX 75233
Oak Cliff Nature Preserve Trail is a heavily trafficked loop trail located on the south side of Downtown Dallas. 
We LOVE this trail.  There is a lot going on in this trail for all levels plus we always make a stop in the Bishop Arts area after we are done for a great brunch at Oddfellows or pizza and beer at Eno's.  Just tell me one person who doesn't love Eno's!
The oak Cliff Nature Preserve is maintained by Dallas Off Road Biking Association and is on land maintained by the Texas Land Conservancy.
It is 121 acres of woodlands & wildflower meadows, with 8 miles of hike-&-bike trails. Please reference their site for trail closings and up to date information on the trail
Mountain Biking in Dallas: River Legacy
River Legacy hike and bike trail offers 10+ miles of Hiking and Biking
trails are of varying difficulties.

This trail is within the larger River Legacy Park and it has some amazing trails for beginners.

There are signs with location and difficulty information so that you can avoid any section you may not be ready for.

Tip: Be sure to take out your phone and snap a pic if you need to reference for later.

This is a much loved trail by mountain bike enthusiasts and a popular in Dallas that travels through thick forests, along steep river banks, and through grassy fields of flowers.

It draws nature lovers, hikers and mountain bikers so be aware and respect others on the trail.

Mountain Biking in Dallas: Rowlett Creek Preserve
2525 Castle Dr Garland, TX 75040
The Rowlett Creek Preserve is a City of Garland park, features a gazebo, picnic area with grill and multi-use trail.
Its one of our favorite trails since its the closest to our home which makes it a trail that we ride the most.
Its also a trail that we see GW Bush on the most. =) And his secret service pedaling furiously behind him.
The trail is super long!!!
Its 15.6 miles long, constructed on a staked look system that allows trail users to create paths ranging from one to 15+ miles long.
On nice days when the trail is OPEN (always check Dorba.org) this park becomes packed with hikers, bikers, dogs and nature lovers. It really comes alive when it gets full of people.

If the day is too chilly to start our biking early, we usually hang out over in Downtown Rowlett at Modern Well Coffee. A super cute spot to start out the day or end the day.

11110 Co Rd 562, Princeton, TX 75407
A 5.4 mile loop trail through the woods of Sister Grove Park. Sister Grove Trail is a 5.4 mile loop trail through the woods of Sister Grove Park way up in Princeton.
Keep in mind that this is also off the 380. 
Since our home backs up to the city of Lucas, we typically come in the back way to avoid the 380 as much as possible.
Also, I need to tell you that there is wildlife on this trail and we have seen coyote many times out here. 
This is a trail we frequent the least because of the lack of trail maintenance.
Mountain Biking in Dallas: Squabble Creek
This is another favorite as ours since its so easy to head East from our home on the Plano/Murphy border, scooch on over to the George Bush then take the scenic exit at Highway 66 which takes over multiple bridges and feels like we have traveled far away from the busy busy chaos of Dallas. When in actuality, it is a pretty peaceful 20 – 25 minute drive.
The trailhead area has a picnic table, restroom, water fountains, bike wash and tools available. You will also find a small paved parking lot to accommodate about 20 vehicles.
Once again, this park is shared by both hikers and bikers.

A wooden sign, engraved with "Squabble Creek" notes the beginning of the trail for bikers and an arrow guiding hikers to their entrance across the gravel access road.

Another thing to note, this trail is only a couple miles from one of our favorite historical downtown areas – the Downtown Rockwall Square. Depending on how much energy you still have in you, you might want to ride over their or load your bike on your rack and cruise over in your car.
The Book Club Cafe has a patio out back and makes for a great hangout. Be warned, this spot gets super busy!!
Another favorite is the Londoner which has a huge deck and yard. Or head down to the breezeway to pop in to an amazing pie shop as mentioned here.
And don't forget that opening day of the awesome Rockwall Farmer's Market is coming soon!
What about getting your bike tuned up?
There's nothing worse than getting ready to load up your bike for a day on the trails and you discover a number of issues on your bike. 
My tubeless tires were always giving me trouble!!
Due to such a rainy season, I wasn't getting out as much as I liked which was causing problems with my tubeless tires.  Or, we would have a week of sunshine, then it would rain on Friday and once again, another Saturday of mountain biking would be canceled. 
Having a tune up for my bike and your bike too is essential (and yes, I finally ditched the tubeless tires).
If you are new to mountain biking, here is a list of items you'll need to get started:
What else do you need to know about Mountain Biking in Dallas?
There are so many opportunities for mountain biking in DFW that many residents don't even know exist.
If you are new here, please check DORBA.org before you head out to a trail to discover if its OPEN or CLOSED. To keep the trails in good condition, we never want to ride on them when they are wet.
Also, if you are a hiker or enjoy hiking as much as mountain biking, be sure to walk in a reverse direction of the bikes. They have the right of way and sometimes its truly non negotiable if they are coming off of a jump or hill. Walking in reverse will help you keep an eye out for them and keeps everyone safe.
One more thing . . hiking with a dog? I love my dog y'all (I even created the Dog Mom group) and want them to live their best life and that includes keeping them on a leash when hiking on shared mountain bike trails. Again, keep everyone safe.