Disclosure of Material Connection: Some of the links in this post may be "affiliate links." This means if you click on the link and purchase an item, I will receive an affiliate commission. Disclosure in accordance with the Federal Trade Commission's 16 CF.
Whether it's to shop till you drop, eat to your heart's content or simply spend an enjoyable time with your friends and family, Watters Creek is definitely one of our favorite go-to places, and it's no wonder it's ranked #2 out of #13 things to do in Allen on TripAdvisor.
Everything You Need to Know About Watters Creek in Allen
Located a stone's throw north of Dallas, Texas, Watter's Creek is a resort-style village that features a large variety of activities, entertainment and retail shops for everyone, as well as residential and office spaces. This guide highlights everything you need to know to plan your trip and make the most of your time at Watter's Creek.
Watter's Creek is a beautiful and scenic neighborhood shopping experience featuring a variety of stores, cafes and restaurant plus a really cool kids' play area.
Yes, this village includes dining, shopping, cafes, a craft store, a grocery store, a trail, lots of parking, a place for kids to really explore, a place to run your practical errands.
Here's whats interesting . . .
If you love to shop, you'll love this area.
If you don't love to shop, you'll love this area.
And maybe this is why so many love this area – the creators of this area focused on this ONE thing 
EXPERIENCE.
Its an experience for kids, retirees, young professionals, families, individuals, girlfriends and everyone and anyone.
There's nothing better than catching up with a friend sitting on the patio at Frogg's and overlooking the canopy of trees.
Kids love romping around on this cool natural playground, we love getting a few steps in while taking in the scenery and then toss in a concert or festival and it is the makings of a great Saturday afternoon in the Dallas area.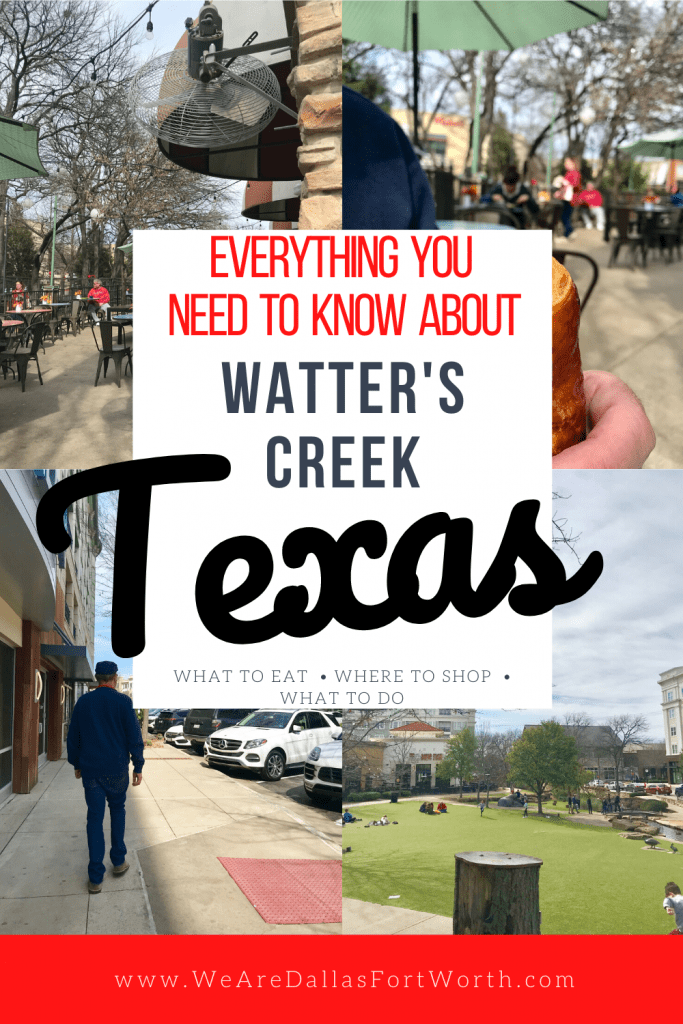 Let's Break Watters Creek Down
Restaurants in Watters Creek
If like my husband and I you love good food, then you'd be delighted to know that this village features a variety of cuisines, from Asian, European, Mexican to good 'ole Southern BBQs.
In Allen itself, you can count over 200 restaurants, at least 20 of which are right in the heart of the Watter's Creek and some providing an al fresco dining experience.
While we haven't reviewed every single one of them, you may have read in one of our posts about the time when we were invited to eat at BRIO Tuscan Grille, which turned out to be a spectacular Italian dinner for two.
If that experience could be summed up in three statements, it would be "Great company – Divine food – Amazing ambience".
Other restaurants that we've tried (since we go there almost every week) include Village Burger Bar and Cru.
Here are the restaurants:
Village Burger Bar
They have meat, they have turkey burgers, kale, sweet potato fries and beer.  This is a fave place at Watter's Creek, probably because its delicious and there's something for everyone.
Mi Cocina
A North Texas staple.
Mutt's Canine Cantina (opening soon)
Just like the one in Uptown, it includes a dog park and a bar.  What could go wrong?
Either way, my Dog Moms of Allen, Plano, McKinney and Frisco are going to be thrilled about this new location.
Firewater Grill
Pub fare in a casual setting.
Brio
Brio invited us to dinner and it was pretty darn good.
The Blue Fish
Sushi and sashimi, chef inspired rolls and grilled entrées.
Cru
Wine flights and cheese boards, oh my!
Frogg Coffee & Creperie
Grab a chocolate croissant and a glass of wine, beer or a mug of Oak Cliff Coffee Roasters dark roast, settle on the patio and watch your kids play or enjoy a concert from one of the best seats in the house.
Panera Bread

The Lion and Crown
British-themed pub offering hearty fare, cocktails, sports on TV, a pool table & live bands.
Open until 2:00am.
Grimaldi's
Amazing pizza spot. Also a great place to snag a seat for a Saturday night concert on the creek.
P.F. Chang's
Snappy Salads
Snappy Salads provides life-changing salads.I recommend the Real Dill Sockeye Salmon (yes, try it!)
Fish City Grill
A casual seafood joint with an outdoor patio.
The Cheesecake Factory
Known for their ginormous menu and awesome cheesecakes! Grab your own gift card here.
Edith's French Cafe
If you like any of the following: French toast, prime rib, crepes, lobster bisque, beef stroganoff, foie gras, croissants  or even steak frites . ..  you'll love this new spot at Watter's Creek in Allen.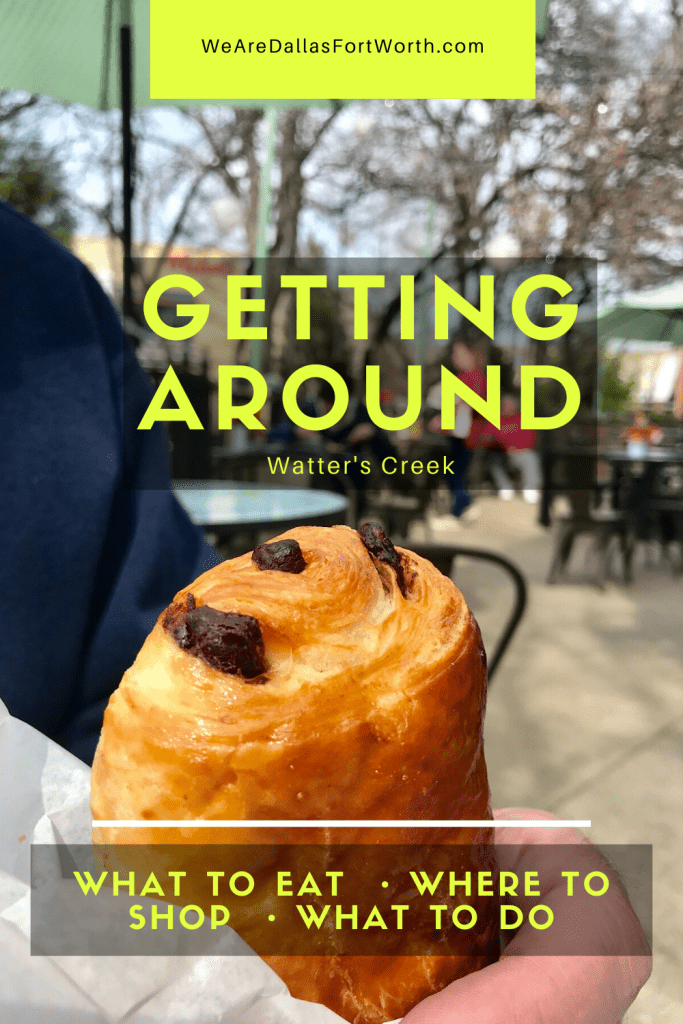 Shops Located in Watters Creek
Let's face it, Dallas never gets tired of shopping! Watter's Creek houses a variety of premium clothing, accessories and shoe brands when it comes to shopping for him or for her.
Brands such as Kendra Scott, Victoria's Secret or Eddie Bauer have their own stores around the village (along with many others) and if that isn't enough, DSW, which needless to say is a shoe heaven, is also present on site. I love perusing the clearance section to see what treasures I can find.
If shopping isn't really your thing, that's no problem either. Part of the shopping experience include the service, design and atmosphere of the resort, which is always admirable, and quite the inspiration, especially when visiting stores such as Anthropologie, who tend to be very creative with their window displays.
Here are the stores available:

Springfree Trampoline
White House Black Market
White House Black Market offers polished black and white women's clothing with pops of color and patterns. Shop tailored dresses, tops, pants and accessories.
J.Jill
J.Jill offers unique and classic women's apparel, accessories, and footwear.
Vera Bradley
Vera Bradley is the name of an American luggage and handbag design company, founded by Barbara Bradley Baekgaard and Patricia R. Miller in 1982.
Shop for quilted bags and backpacks here. They have a variety of exclusive patterns and colorful products.
Kendra Scott
Kendra Scott offers jewelry, home decor, gifts and beauty. From decorative trays to nail polish, earrings, necklaces, bracelets and candles.
DSW
Designer Brands is an American footwear retailer of designer and name brand shoes and fashion accessories. The retailer has over 500 stores in the United States.
The company also owns private-label footwear brands including Audrey Brooke, Kelly & Katie, Lulu Townsend, and Poppie Jones.
Chico's
Chico's is a retail women's clothing chain founded in 1983 by a three-person operation on Sanibel Island, Florida. Hence, the easy styles of this clothing line.
Origins
The mission at Origins is to create high-performance natural skincare that is powered by nature and proven by science. They use potent plants, organic ingredients and 100% natural essential oils. And our long-standing commitment to protect the planet, its resources and all those who populate it is reaffirmed by our earth and animal friendly practices, packaging and policies.


The Loft
Part of the Ann Taylor family, the LOFT is more causal and Ann Taylor is more dressy. … Loft is the more casual of the two while Ann Taylor has more professional wear.
Sephora
Sephora is a French multinational chain
of personal care and beauty stores. Featuring nearly 300 brands, along with its own private label, Sephora offers beauty products including cosmetics, skincare, body, fragrance, nail color, beauty tools, and haircare.
Ann Taylor
Ann Inc. is an American group of specialty apparel retail chain stores for women. The company headquartered in New York City and currently operates as a subsidiary of Ascena Retail Group. The stores offer classic styled suits, separates, dresses, shoes and accessories.
Victoria's Secret
Victoria's Secret is an American designer, manufacturer, and marketer of women's
lingerie
, womenswear, and beauty products. The company was founded in 1977 by Roy and Gaye Raymond as a response to packaged underwear, which Roy Raymond considered to be "ugly, floral-print nylon nightgowns".
Francesca's
Shop francescas curated collection of boutique clothing, dresses, sweaters, jewelry, shoes, & unique gifts.  Perfect for the tween or teen girl in your family.
Soma
In 2004, an all-women design team set out to
create something they saw missing from
the marketplace: an intimates brand for
women who refuse to compromise. They began innovating, and Soma® was born.
Anthropologie
Anthropologie was founded by current URBN chairman and president Dick Hayne, having heard the plea of a friend. She had just moved to the suburbs of Philadelphia, and was dissatisfied with the shopping options available to her. Now a distance from Urban Outfitters—a brand she also was aging out of—there was a void in her life. She longed for a store to indulge her creative side. Dick, realizing this wasn't an isolated phenomenon, went on to build a lifestyle brand that catered to creative, educated and affluent 30-45 year-old women. Named after his college major (but with a decidedly French twist), Anthropologie opened its very first doors in the autumn of 1992 in Wayne, Pennsylvania. We now operate over 200 stores worldwide.
The product line  consists of women's apparel and accessories, intimates, home furniture and décor, beauty and gifts. Each caters to the lifestyle of their five muses: soft & delicate; boho chic; easy cool; elegant classic; and modern sporty.
Sunglass Hut
Sunglass Hut
is an international retailer of sunglasses and sunglass accessories founded in Miami, Florida, United States, in 1971. Sunglass Hut is part of the Italian-based Luxottica Group, the world's largest eyewear company.
Altar'd State
Shop boho chic clothing, accessories, and more at Altar'd State, a fashion experience on a mission to change the world for the better.
Birds & Words
Birds & Words is a home boutique first discovered in Downtown McKinney. At the heart of birds & words is a deep love of meaning and of beauty, and a compelling desire to design, create and express ourselves uniquely and artfully. In the store, you'll find a unique collection of home decor, both found and created
ACO Boutique
The ACO Boutique offers a great selection of gently-used selection of home furnishings, décor and more! All proceeds from the Boutique on the Road benefit the programs provided by Allen Community Outreach.
Earthwise Pets
Nature's Pet Market stores sell pet food and supplies, with a focus on natural foods and green, recyclable products. Coming soon to Allen.
Michael's
This 2-story craft store has the products you need for home decor, framing, scrapbooking and more. Shop and save on arts and crafts supplies online or at a store near you.
Market Street
This grocery store features take-home cuisine, restaurants, gourmet, and everyday grocery items in one store
Pandora
Pandora is an international Danish jewellery manufacturer and retailer founded in 1982 by Per Enevoldsen. The company started as a family-run jewellery shop in Copenhagen. Pandora is known for its customizable charm bracelets, designer rings, necklaces and watches.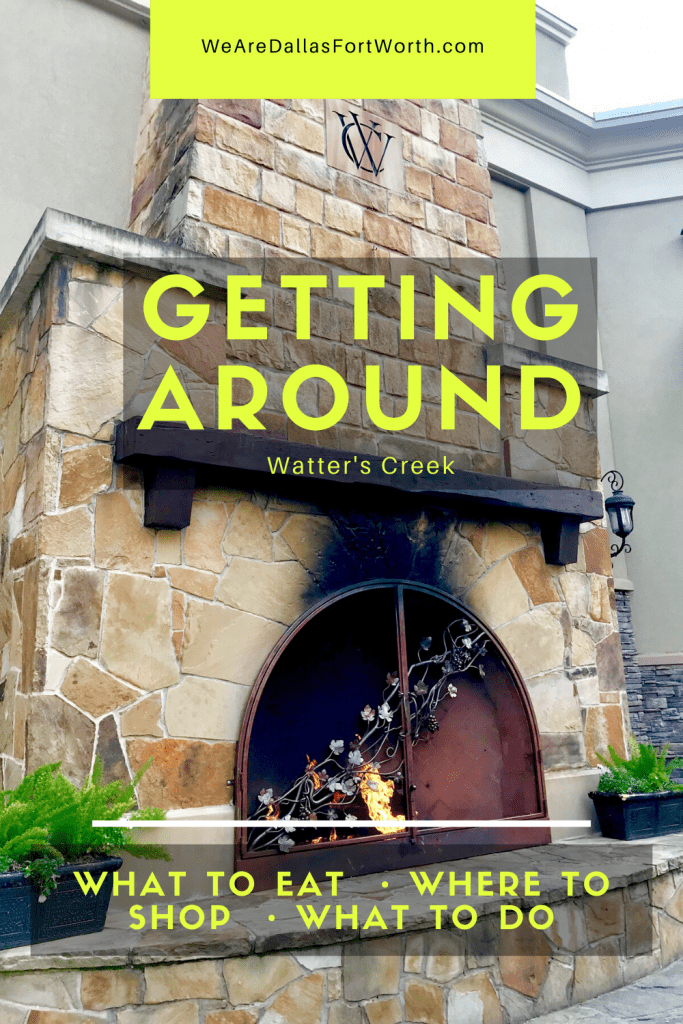 Cafes in Watter's Creek

Menchie's Frozen Yogurt
Menchie's Frozen Yogurt is yogurt your way. You pick the flavors, you pick the toppings – it's as simple as mix, weigh and pay!
Snag a gift card for the fro yo lover in your life, an easy and affordable gift.
Paciugo Gelato
If you're looking for a local dessert with authentic Italian flair, Paciugo has the cold treat for you. They specialize in freshly made gelato.

Frogg Coffee & Creperie
Nothing Bundt Cakes
Peanut butter chocolate swirl, red velvet and pecan praline are just a few of the yummy flavors at this cute shop.
Starbucks (inside Market Street)
Just like the stand alone Starbucks, there is a large area to sit and sip your coffee or a patio outside between Michael's and Market Street.
Sublime Chocolate
This is a scratch made chocolate and coffee shop. We handcraft truffles, bonbons, ice cream, craft chocolate made directly from the bean and coffee drinks.
Frios
Stop by Frios for a fresh, seasonal, organically-sweetened gourmet frozen pop.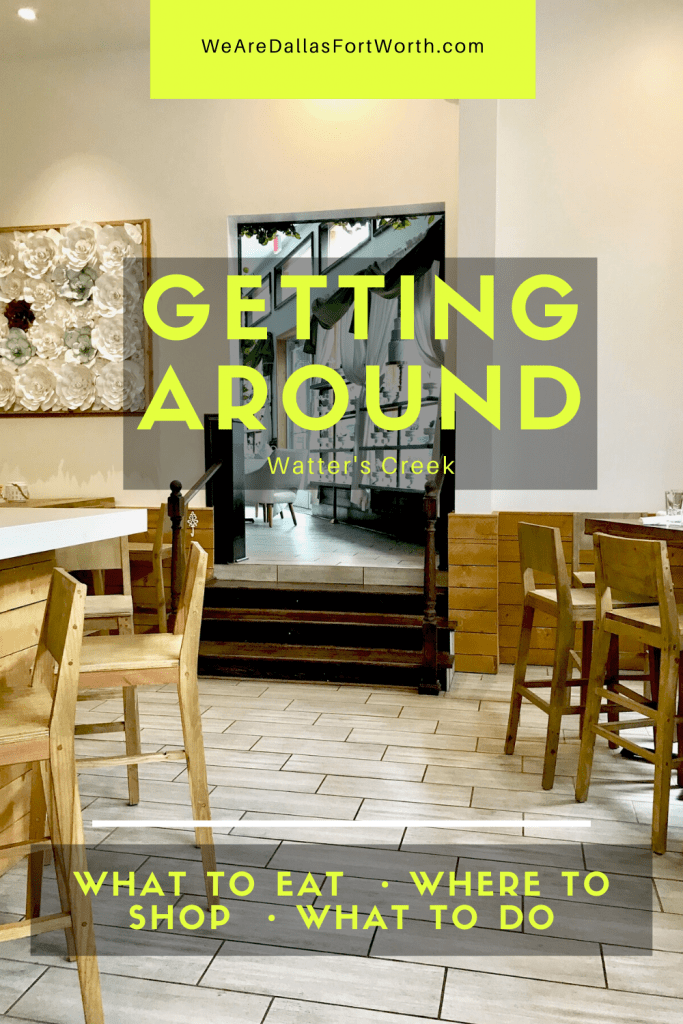 Services offered at Watters Creek

The Lash Lounge
Simplify your morning routine with natural-looking eyelash extensions, tinting, threading, and permanent makeup.
Texas State Optical
Quality Allen Eye Specialists. You can book an appointment online with a doctor and also purchase your glasses or sunglasses here.
Wells Fargo
The fourth largest bank in the US by total assets.
Mattison Avenue Suites
Mattison Avenue Salon Suites and Spa offers fully furnished salon spaces for rent throughout Texas. Get pre-qualified a salon booth rental, contact us today!
Blo
Blow out bar when you need an expert to make you look amazing.
Depil Brazil Waxing Studio
Take off hair, anywhere, the luxurious Brazilian way. Depil Brazil has a soothing all-natural wax and paperless technique removes unwanted hair with less pain.
Boardroom
Boardroom combines the community and nostalgia of an old-time barbershop, outstanding client service, professionalism, and a country club setting to create a masculine environment where men can relax, unwind, and confidently enjoy the highest quality haircut, shave, or spa service in town.
Pure Barre
At Pure Barre you'll be guided through a series low-impact, high intensity movements that are designed to strengthen and tone your body in ways that no other technique can.
VR Trip
 New virtual reality entertainment center.
Modern Tailor
Modern Tailor offers the best service in clothing alterations around. Come in and we will have your merchandise fit you like a glove in no time.
Venetian Nail Spa

Wow! What a car!
Merum Face Bar (opens at the end of February)
Palm Beach Tan
Aveda Salon
Natural hair products designed with environmental leadership and responsibility. Shop professional hair care, skin care products or find a hair salon near you.
Massage Heights
Massage Heights offers a peaceful facility for you to relax your mind and rejuvenate your body.
Toni & Guy
Toni & Guy is a British international chain of hairdressing salons founded in the UK in 1963 by brothers Toni Mascolo and Guy Mascolo. In 1963, Toni Mascolo and his brother Guy opened their first salon in Clapham, London. In 1985, the company opened its first salon outside Europe, in Dallas, Texas.
We've all been in a Toni & Guy sometime in our lives since they have conquered Dallas.  Glad to have one in Allen too.
TruDerm
TruDerm is a state-of-the-art dermatology center, offering medical and cosmetic dermatology services under the direction of renowned Board Certified Dermatologist Dr. Max Adler.   Dr. Adler and his medical team specialize in everything from acne to skin cancer.Cosmetic services include Botox & fillers, facials, and a wide range of laser treatments for skin rejuvenation and body contouring.TruDerm  was named a Candela Center of Excellence, reflecting their expertise in non-invasive laser procedures.  TruDerm also offers exclusive skincare products from brands such as SkinBetter Science, Alastin, SkinMedica, EltaMD, and more.Love this restorative eye cream from Alastin.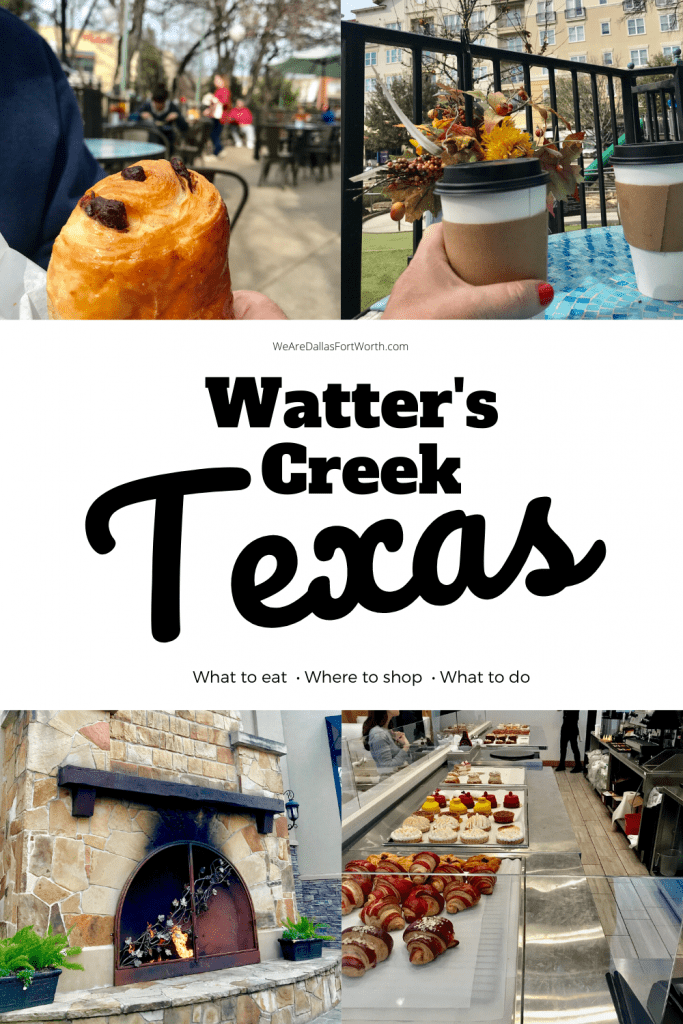 Many people come to Watter's Creek to attend one of their many events or to simply enjoy the village experience. Quoting from what one of the reviewers said on TripAdvisor, "The atmosphere of a village with a creek running through it is relaxing and even in the heat of summer has an air of casual comfort".
Watter's Creek in Allen is designed like a village resort, spread across 52 acres, with greenery, ponds and creeks running through it. That said, it is the perfect place to bring your kids for a day outdoors, or perhaps to bring your date, or your dog, on a casual stroll around the walking trails.
In addition, there are plenty of events taking place at Watter's Creek, both free and paid, which include concerts and live bands, horse carriage rides (Special Valentine's Day offer), kids' activities and many more.
What about Events?

Watter's Creek puts on some pretty interesting events.
You can count on them for holiday events like Valentine's Jazz, Trick or Treating at Halloween, art festivals and the like.
Some of the events that I've seen that really draw in people are the Concerts by the Creek.
Concerts by the Creek, every Thursday, Friday and Saturday starting in April through October. Meanwhile, you will discover street performers every Saturday starting April through October as well.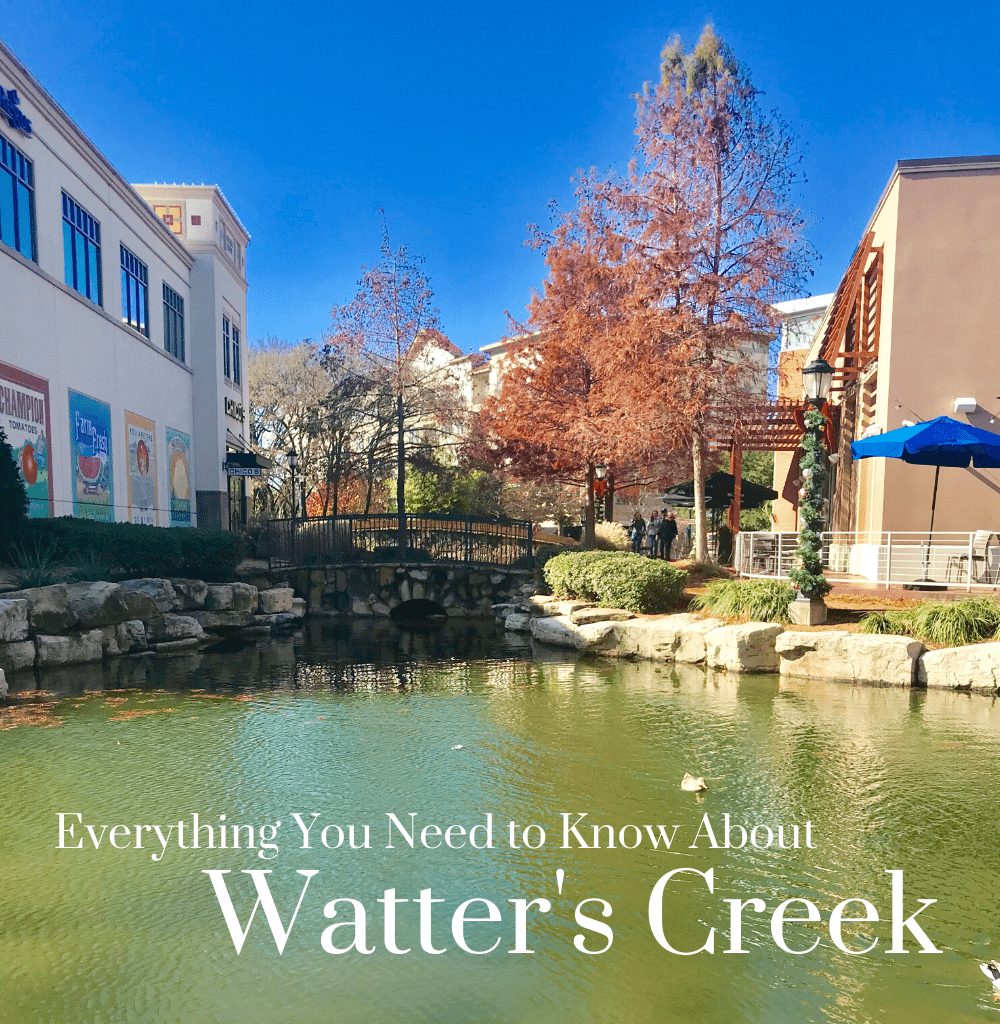 Experiences at Watter's Creek
1. The Trail
We use this trail to get in a few miles before relaxing on one of the many patios. The Trail is behind Village Burger Bar that connects with many other trails that take you through Allen.
This trail can be joined in a variety of locations with parking available mostly along neighboring streets. The path is entirely concrete providing access for walkers, runners, and cyclists alike. At the southern end of the trail, the path moves through a creek overflow area with great opportunities for bird watching as well as lush vegetation. The majority of the trail wanders back and forth across Watters Creek and sticks primarily to the greenbelt areas. There are several shorter access and connecting trails that intersect the path, but great signage make the path very easy to follow. Overall, this is a great place to enjoy some shade and a taste of nature in bustling suburbia.
2. The Treehouse
This is the play structure between Frogg's and Michaels that leads into the green space along the creek. Its such a neat space for kids of all ages to play in the day or at night.
3. Walking Path
Near Mi Cocina.
Also makes for some great photo shots.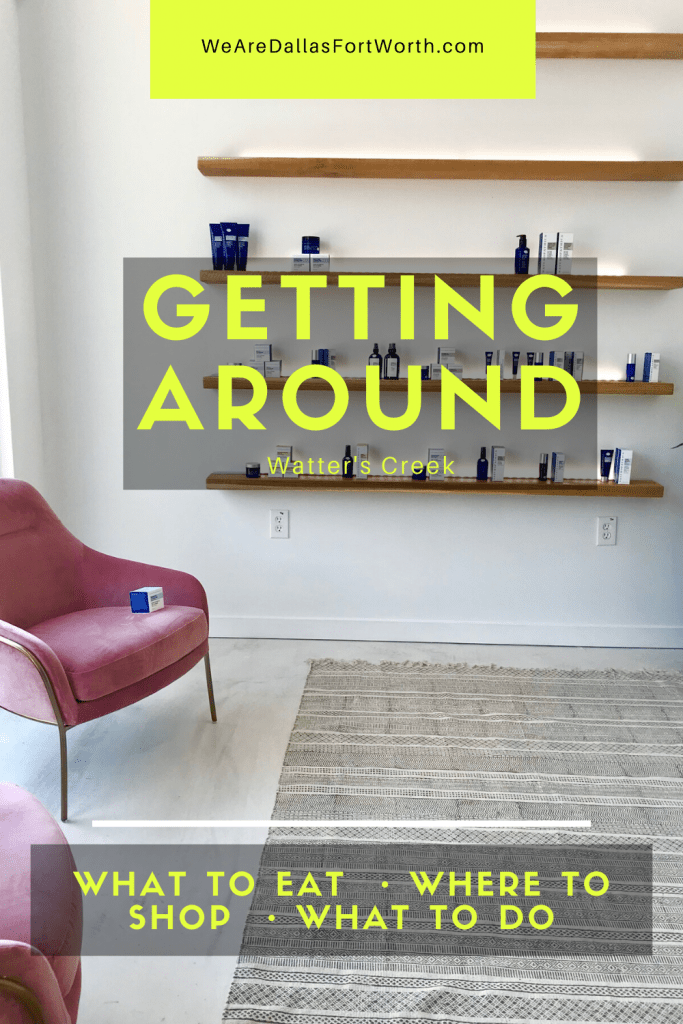 Living Space
Yes, you can live here too.
The Lofts at Watters Creek  is a mid-rise apartment community built into the shops.If you are looking for a place that is alive with people and energy without living in Downtown Dallas, this might be a nice fit for you.
Residents enjoy restaurants, retail, and walk-ability of this location. Plus, the apartments include a gym, resort style pool, game room and community space.
The apartments range in price from $1,100 – $3,500 per month.
Everyone has a different reason for enjoying Watters Creek
What your kids will love
Your kids will love taking off their shoes and running around the green space in the center of the shopping center.
This is the perfect place to let them run, have a snack, admire the ducks swimming in the creek while you're sipping some coffee from Frogg's or Starbucks.
To the east of the green area is a fabulous play structure for young and even the young at heart.
A giant tree house complete with a slide and tunnel below are located above the creek on The Green (parallels Village Green Drive). The upper level of the tree house does fit a wheelchair; areas in the lower level do not.
What your husband will love
He'll love grabbing some new gear over at Eddie Baur then walking over to the Boardroom for one of the best haircuts in the DFW area.
Maybe finishing the day off with a burger and beer at the Village Burger Bar or choosing from the beer selection at Lion & Crown.
What your wife will love
Booking a treatment at Massage Heights.
Make high quality, rejuvenating massage part of your healthy lifestyle. Our membership-based Retreats are where busy people from all walks of life come to feel better, relieve stress, ease sore muscles and recharge.
Maybe even a cup of dark chocolate sipping chocolate from Sublime.
What your parents will love
I know that mine love heading out for a meal at Fish City Grill – oh gosh, they adore that place.  And if its a Saturday night then they'll definitely enjoy the concerts on the green.
What your teen will love
They love this area as a place to meet with friends, buy some makeup at Sephora or something cute at Francesca.
And maybe hang out at Menchie's for a fro yo.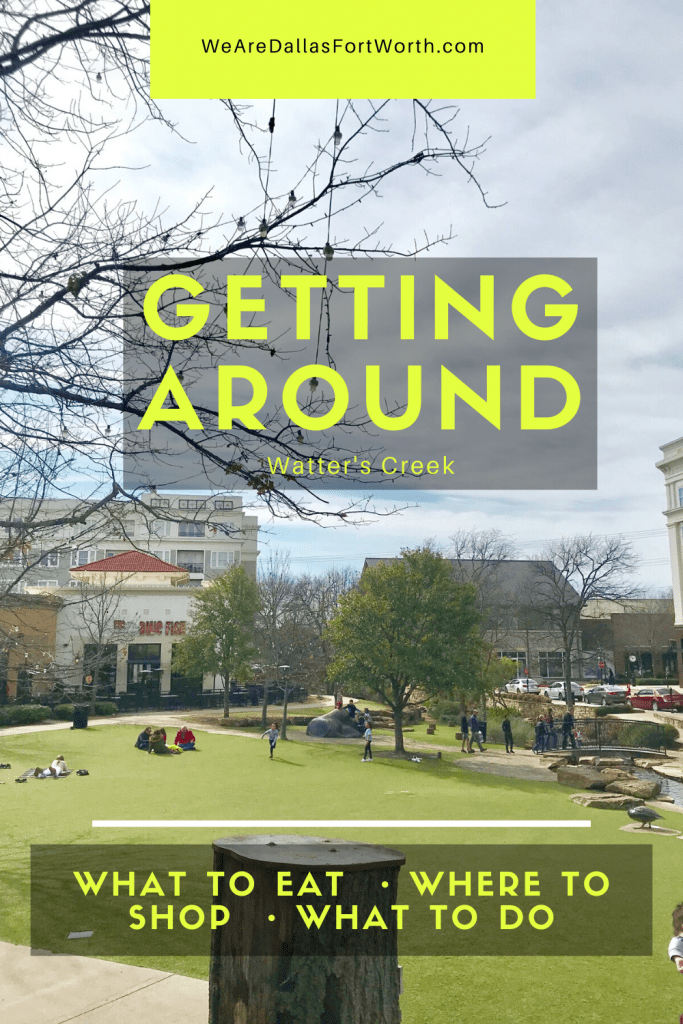 What can you find nearby?
Just across Bethany road (on the P.F. Chang's side), you'll find a new Convention Center, hotel and Dallas-based restaurant.
Convention Center
The Watters Creek Convention Center and Delta Hotels by Marriott Dallas Allen offer everything you need for an unforgettable meeting with flexibility to book a wide range of event types and sizes (from the convention website):
79,000 square feet of flexible convention, ballroom, and meeting space
300 hotel rooms offering the very best in accommodations
Expansive 40,000 SF event center that can be divided into smaller spaces
Elegant 12,000 SF ballroom divisible into 4,000 SF
15 technology-rich meeting rooms: 9 state-of-the-art meeting rooms in The Innovation Suite, 6 flexible rooms in the Convention Center
Beautiful outdoor patio and courtyard for events
Restaurant and bar at Stampede 66 and Canyon Bar by Chef Stephan Pyles
Private dining rooms in celebrity chef restaurant
Connected 1,000-car parking garage with additional garage parking nearby
Free WiFi, free bottled water, high-end linens, and an expansive pool and patio.
Stampede 66
Located in the Delta Hotels by Marriott Dallas Allen & Watters Creek Convention Center, Stampede66 by Stephan Pyles offers guests a true taste of Texas. I was able to get a tast of Chef Pyles food at their roof topping party – phenomenal! I have videos and pictures over on the Facebook page.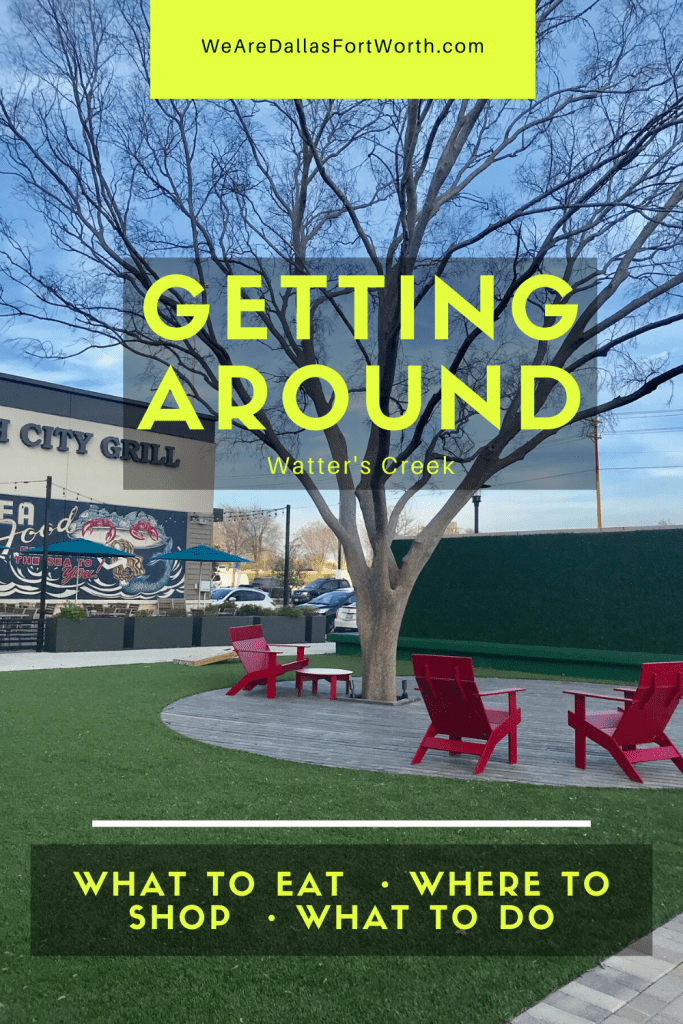 Getting to Watters Creek

A short 30-minute drive up from Dallas, Watter's Creek is located right in the heart of Allen, Texas. It is best accessed by car and is only approximately 30 miles away from Dallas Love Field Airport and the DFW International Airport. The bonus, however, is that Watter's Creek offers plenty of free parking space, although 'the early bird gets the worm' as they say. However, if you fancy a more posh (read: worry-free) experience, then don't hesitate to give their 'Concierge +' service a try, where you'll be pretty much treated like royalty. In other words, you can expect hands-free shopping, curbside pick-up, personal gift selection and delivery, and much much more!
Above all else, Watter's Creek is designed to give you a memorable experience and no matter what your preferences are, whether you like shopping, relaxing or eating, you will be spoilt for choice!
So y'all head over and find out what a world of experience awaits you!
Here is the exact address:
Watters Creek, 970 Garden Park Dr,
Allen, TX 75013
Final Thoughts on Watters Creek in Allen
I think there's more than meets the eye in this area. And when the weather is stellar, I know you will really enjoy a stroll through this scenic neighborhood shopping area.
I hope to run into you the next time I'm there (which is probably tomorrow). =)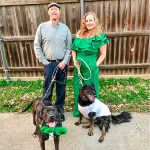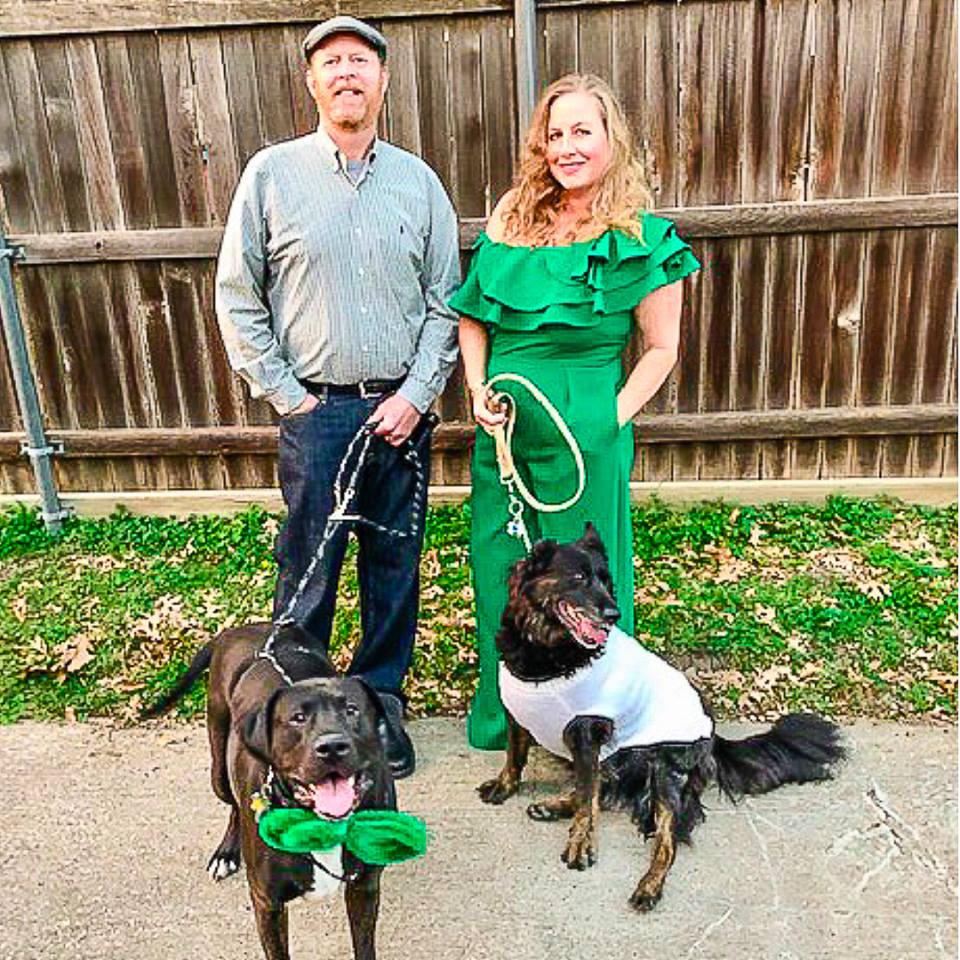 Interested in working with the We Are DFW team or being featured here on the website, start here
They help local businesses in DFW and beyond as an Online Business Manager, support on LinkedIn, social media and marketing Training and a even a little content marketing, blog campaigns, email marketing, social media, coaching and consulting.
Take a peek at our latest directory
Everything You Need to Know About Watters Creek in Allen