Disclosure of Material Connection: Some of the links in this post may be "affiliate links." This means if you click on the link and purchase an item, I will receive an affiliate commission. Disclosure in accordance with the Federal Trade Commission's 16 CF.
Frisco Texas has always been ready to bring it.  Frisco is a town built on vision and massive action.  This town went big with their shopping and the humongous Stonebriar Centre, big with their sports like the Frisco Roughriders (and the amazing lazy river) and the one and only Museum of the American Railroad. [BTW, how amazing of a gift is this this] There are so many changes in Frisco but did you know there are even bigger plans for the downtown area of Frisco? Which leaves us all wondering what's coming the the Rail District of Frisco.
What's Coming to the Rail District in Frisco
So you find yourself flipping through Facebook or driving over to the Babe's Chicken Diner for dinner, and you can't help but hear and also notice that the downtown area of Frisco is about to undergo some changes.  I'm not too surprised because over the last decade I have seen Downtown Plano, Downtown McKinney and even Deep Ellum become revitalized and an amazing destination for families to come together to eat, play , shop and live. A destination which is located near the railroad tracks the city formed around in the 1800s.
Downtowns that offer a new, exciting district – even if it's just a couple of blocks – provide local residents with a reason to check out what is going on in the center of their community.  Its brings people together, improves community morale and supports local businesses.
Since 1997, the City of Frisco has had the vision to create a downtown area that would give any person in the community a reason to come to Main Street and so, they wanted to include housing, restaurants, shopping, a place for festivals, entertainment and green space.
The City of Frisco team recognized the many historical structures in the downtown area including:
 Railroad Water Tower
Cotton Loading Dock
Methodist Church
Tractor Sales
Frisco Grain Company
School
Lumber Company
Ford Dealership
Hotel
Railroad Depot
Cotton Gin
Fire Department
Dance Hall
Textile Print Factory
Livery Stable
Two Story Lodge Hall
Second Bank Building
Jail
First Baptist Church
Miscellaneous Retail
And now starts downtown Frisco's renaissance, where redevelopment is given a history to build upon. Introducing The Rail District, where creativity and collaboration collide to reimagine a downtown for a new generation. North or South of Main, the redevelopment is cohesive. Offering the right mix of restaurants, retail and residential to activate the street. To get people out and walking and enjoying their city. Industrial in its design, just like its past and by taking inspiration from some of the South's greatest and most well-planned cities. They all had one thing in common. A downtown that is thoughtfully planned and walkable.

from Nack Development
In the City of Frisco records from 1997, one can read all about the future plans of "Downtown Frisco".
Frisco, like many cities, has had a vision for its town and downtown area that would reflect the history, historical buildings and create a place for the community to gather.
With many vacant buildings, the downtown area of Frisco was very scattered and they understood that they needed to pull the area together to create a cohesive destination spot. If they filled in these spots, it would strengthen the community, creating new opportunities and also preserving the historic structures mentioned above.
I imagine the current downtown Frisco businesses are ecstatic – these include – Lillian Welch, Didi's Downtown, Countdown to Escape, Eight11 Place, 5th Street Patio Cafe, Sweets on a Stick, Summer Moon Coffee, Sunny Paige, Mariana's Taco Shop, House of Hadley Kate, The Blushing Bride, Brookielynn's Bungalow.
Many downtown Frisco businesses have been mentioned here ⤵️
and here ⤵️
1. The Tower
The Tower at The Rail will offer a completely walkable area to work, live and play. At the street level, retail space will allow visitors to stroll in and peruse and shop. On top of the retail space, you will have a number of restaurants to choose to dine in. while restaurant space will sit on top. And layered within all of these spaces will be residential spaces that are brownstones, think Brooklyn, the Upper East Side or even Downtown Dallas where I've seen this style near the Dallas Farmer's market.  The development company, Nack Development will create each brownstone with a rooftop terrace including pathways, calming green space and water features, sidewalk patios.
2. Nack Theater
Another destination spot from  Nack Development includes a new Performing Arts Center called, Nack Theater. 
The City of Frisco has had the addition of a historic theater in their vision
With a focus on a place for Frisco youth to express and share their creativity and be the home to the Frisco Youth Theater. The new theater will have 200 seats available for parents and friends of these youth ready to take the stage and perform. On the outside, it will feature "throwback architecture," to make it look like a historical community theater. An entertainment destination that will soon be available in Frisco, Nack Theater also will be hosting improv and comedy nights and even a dinner theater.

3. The Calaboose
The Calaboose, which is proposed to include two three-story office buildings and 20 brownstone town homes, will another development project that Nack Development plans to bring to old downtown Frisco.  I'm excited to see these finished brownstones both inside and out, aren't you? In addition, several new apartment buildings are being built around the farmers market, which is located near the railroad tracks the city formed around in the 1800s.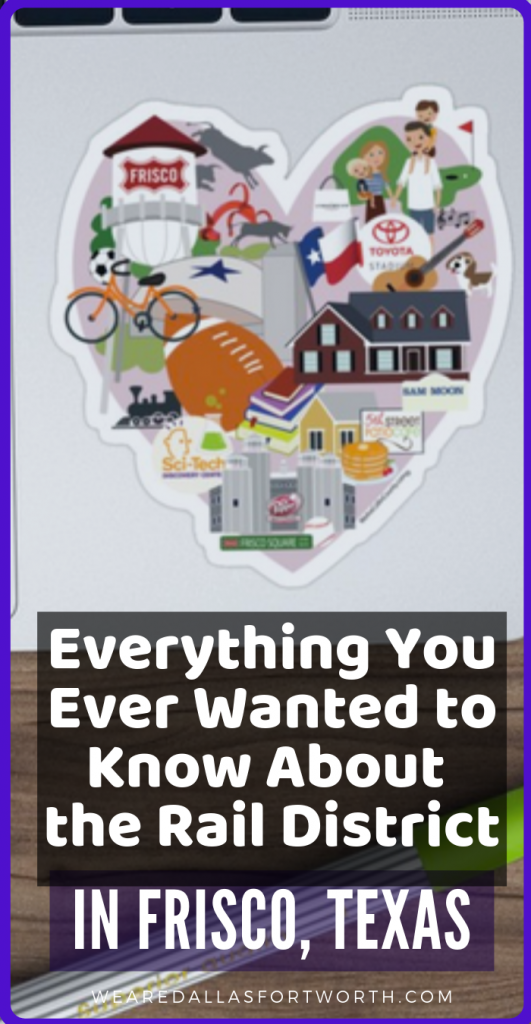 4. The Patios
Last but not least are the Patios at the Rail, this is intended to be the first structure at the Rail District. Every person that I have spoke to in Frisco is super excited about the Patios coming to their downtown district. As the first redevelopment project as part of The Rail District, The Patios will include restaurant rooftop patios, park space with outdoor games and playgrounds for entertaining kids and grown up kids.
To be frank, Frisco this is Frisco's missing link ➡️ outdoor space.  Plano is killing it in the outdoors department and so is McKinney with Erwin Park.  I am so hopeful that Frisco will bring as much outdoor playspace as possible to encourage exploration and adventure.  😀
And one more thing, there will be a PARKING GARAGE.
Can you imagine a more walkable Rail District in Frisco?
The city of Frisco has been working on these plans for more years than any of us know.
They have a lot of work, more planning and research ahead of them but we do know they are going to make this area more pedestrian friendly, more patios, courtyards and green areas for a true downtown destination space.
As Brian and I have driven by in the past, its looked more like a ghost town and more of an area to drive by.
If we dared to slow down and look we were honked at or run off the road.  Thanks Frisco 😂  I believe that turning this area into a walkable destination spot with parking garages will be good for residents, visitors and the local businesses that have set up shop in the Frisco Rail District.  It will be safer for all plus I imagine some amazing Instagram photos in everyone's future.
I am so excited to see so many local businesses thrive even more in their hometown.
Who will this benefit?
I am excited to see this renovation support my friends at Lillian Welch, Brookielynn's Bungalow and many others mentioned here in the Frisco Gift Guide. There will be so much coming to the Rail District in Frisco that I will definitely have to add to this gift guide.
For me personally, I adore my hair stylist Michell Mateo who has a studio just down Parkwood next door to the Nest Cafe, and would look forward to seeing and doing more while I am in town.
With so much coming to Frisco in general such as Frisco Station which is being built for 5G, flying taxis, self-driving cars and IoT – its got its mind both on the past to make the past shine and the future to make Frisco accessible to all.
What do you think of all the new things coming to Frisco?  Are you excited about the development? Are you looking forward the new Rail District in Frisco?
Come join the Facebook convo.
And if you'd like a piece of Frisco, you might like perusing the Frisco collection here:

Or snagging the popular I LOVE Frisco Texas sticker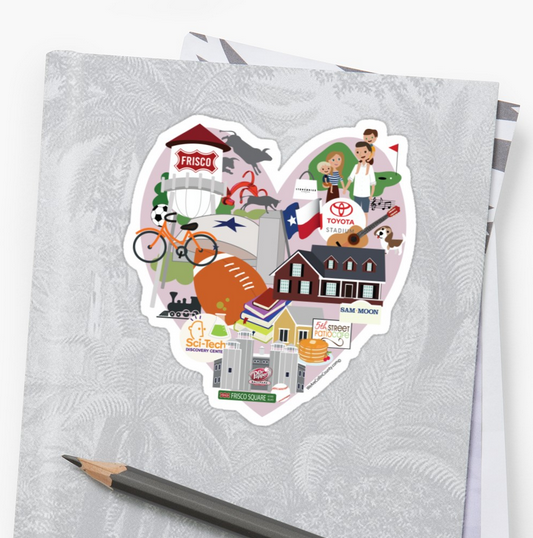 Pin for later ⤵️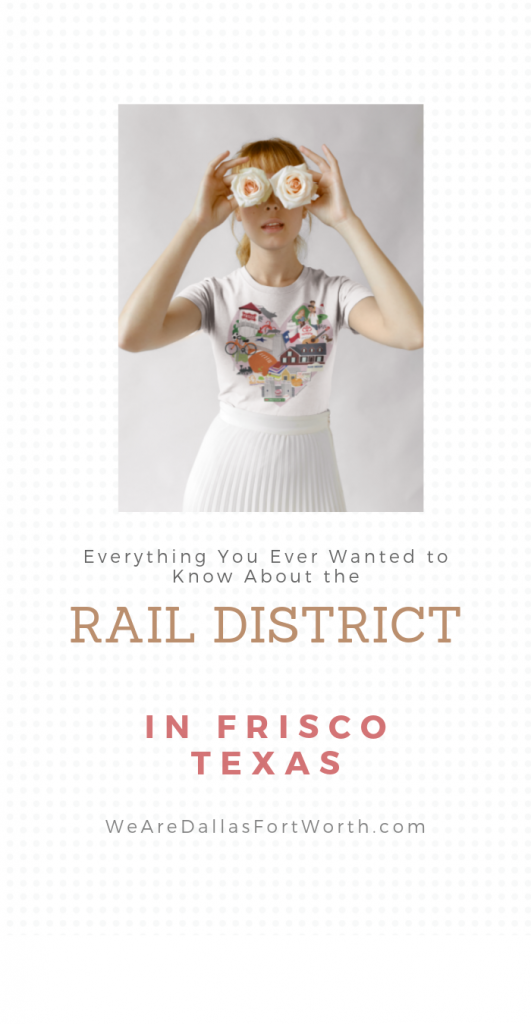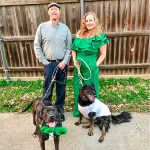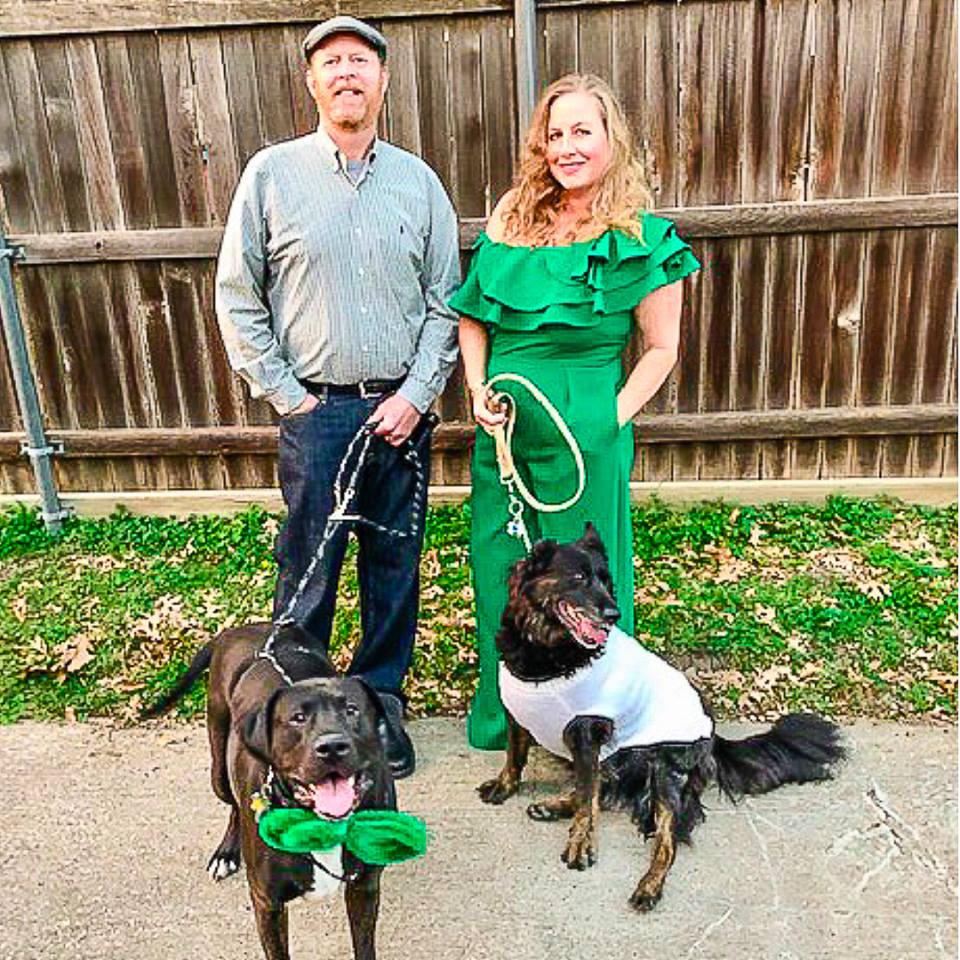 Interested in working with Becca or being featured here on the website, start here
She helps local businesses in DFW and many larger businesses looking to tell a story to the readers of Dallas. Her work entails copywriting, content marketing, blog campaigns, email marketing, social media, coaching and consulting.
Catch some of our podcast episodes here: