Disclosure of Material Connection: Some of the links in this post may be "affiliate links." This means if you click on the link and purchase an item, I will receive an affiliate commission. Disclosure in accordance with the Federal Trade Commission's 16 CF.
This article contains some affiliate links, meaning that if you make a purchase through these links, I may earn a small commission (at no extra cost to you!). Thank you for reading!
When Brian and I took a day off, we decided it was a great day to find some new trails.
YES!! We 💗 to explore and discover new places (especially on foot).
Because we took the whole day off, we had enough time to venture a bit from our home in Plano but not heading out as far as Beaver's Bend State Park or Caddo Lake.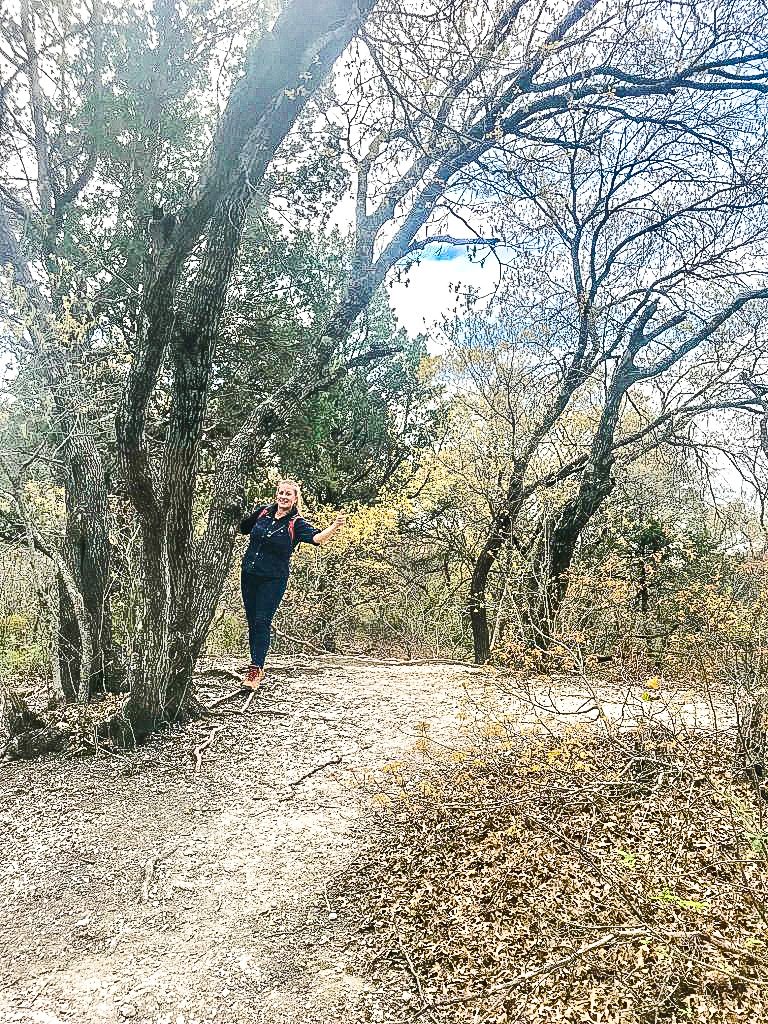 We searched online and found an article about the 5 best trails in Dallas.
They recommended the Piedmont Ridge Trail. It sounded ah-mazing!!
As we were getting closer, we realized its a bit hard to find and you'll have a hard time finding on Google or Apple maps (so search for Gateway Park, this is where you will want to park).
There's just no signage for the Piedmont Trail thats visible.  I guess that makes the whole thing more adventurous, right?
You can also access this trail from 2 ways:
You could either drive by taking the 75 south to the the 175 (just southeast of Downtown Dallas) via car OR you can take the DART green line to Lawnview Station and continue walking southeast for about a mile or so. I guarantee you will get your 10,000 steps in this way. 👣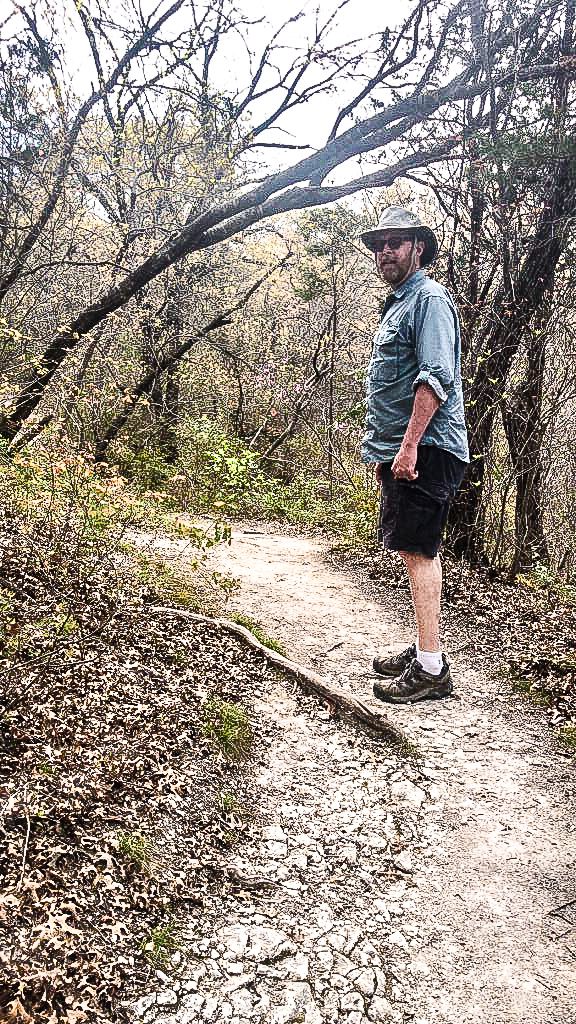 Woohoo!!
Onwards!
Come to find out, although we ❤️'d this trail, it was one of the shortest trails we have ever hiked.
So we hiked it twice.
I'm not sure how it made one of the 'Best of' lists but it is what it is.  On the sunny side, it was nice to something in a totally different area and try something new.
Additionally, this might have been good for our senior dog Bow Bow who struggles a bit more to take longer hikes with us.
And if you have littles that have a limited hiking span, this would be a nice little adventurous trail for them.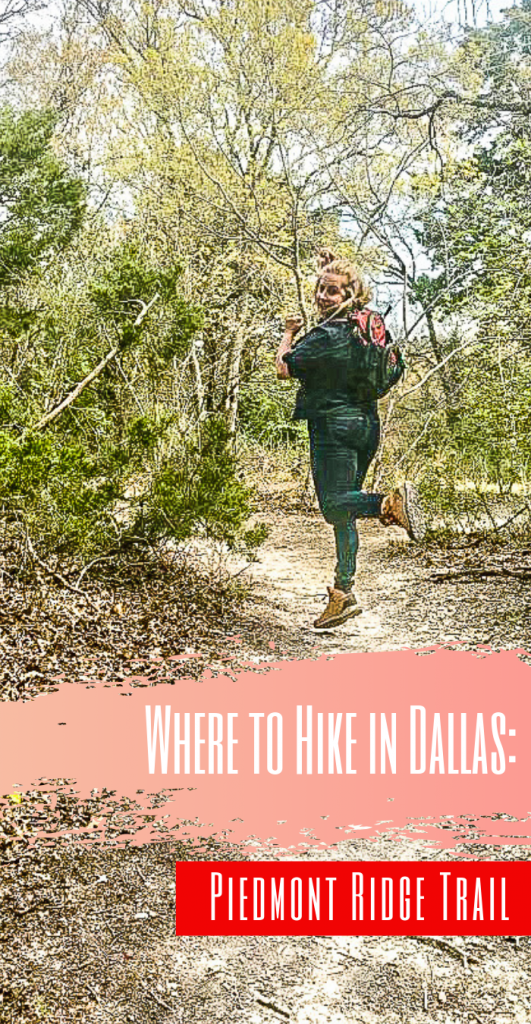 As the weather starts to warm up, I want to point out one piece of gear that is essential and that you can see in the pic above.
This piece of gear that is my "ride or die" is my Camelbak water pack.
Years and years ago, I spent about $60 bucks on this bad boy and it was the best 60 bucks I ever spent.
Some bloggers love to talk about what they carry in their purse . . . but I'm not your average blogger LOL.  Let me tell you why I love this pack and what I carry in it.
First of all, inside is a blister pack which allows me to carry all the water on my back with a straw coming out the side (use the valve to turn it on and off).  I also can squeeze it to squirt water into the dogs portable water bowl when the water fountains have been turned off for the season.
Its also wear I pack my keys, bike lock, dog bags, maps, tissues (you" always want to carry them whether you have the sniffles or nature calls).  I keep a flashlight, license, debit card or money of some sort, hair ties, hand wipes, trail mix and sometimes a sandwich too.
It straps firmly to my back for minimal movement like you would have from a regular sized backpack.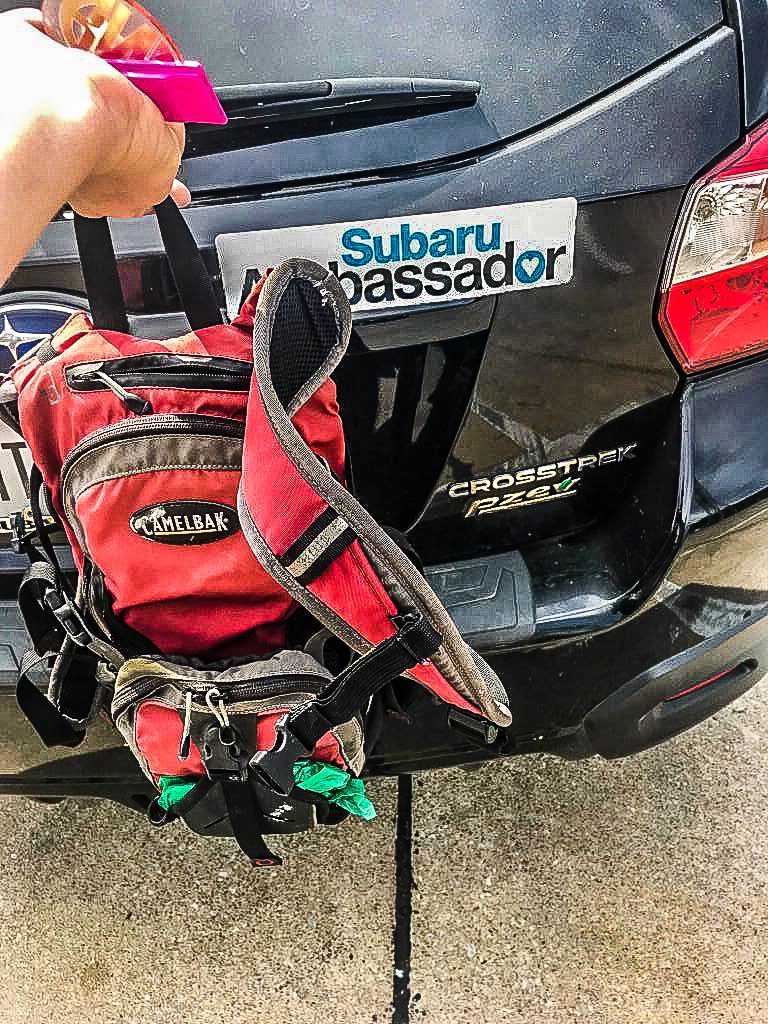 I think we will put this trail on our list again for November to be amongst the Fall leaves.
That would be a beautiful view of hiking one of Dallas' best trails – Piedmont Ridge Trail.
Who here has hiked this one?

You might also like: