Disclosure of Material Connection: Some of the links in this post may be "affiliate links." This means if you click on the link and purchase an item, I will receive an affiliate commission. Disclosure in accordance with the Federal Trade Commission's 16 CF.
Discover the magic of color at Crayola Experience, Crayola's premier, one-of-a-kind family attraction that has landed in Plano!
Just when you think that Plano and the DFW area is beginning to have it all.  The Crayola Experience finds a home just off the Dallas Parkway.
Dozens of hands-on, creative activities and a full day of fun awaits families in Plano, Texas.
Bigger, brighter and bolder than ever, the colorful adventures of Crayola Experience Plano helps kids and adults alike explore art and technology, express their creativity and experience color in a whole new way. Plan your visit ahead of time so you can make the most of your visit.
Things to Know About the Crayola Experience Plano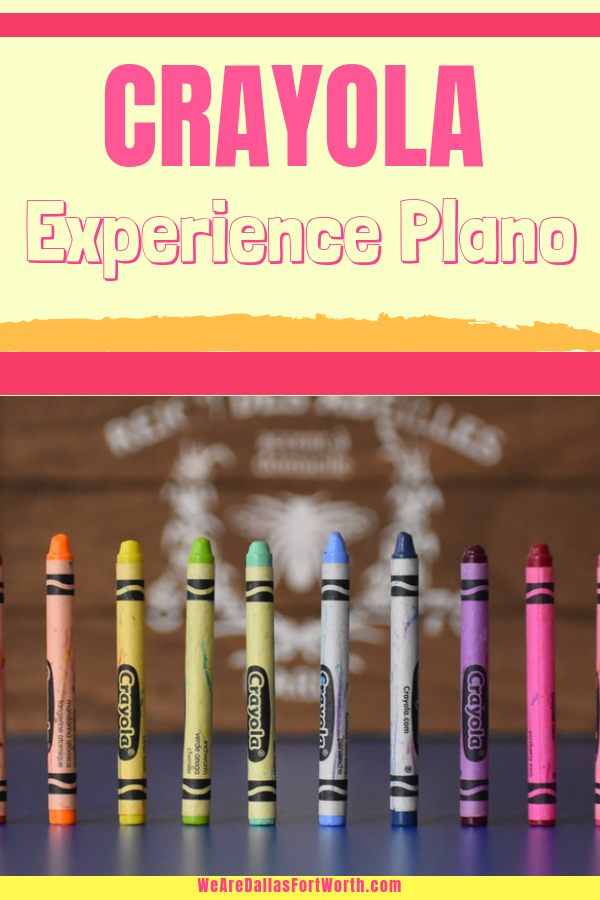 With 60,000 square feet of attractions, Crayola Experience is the most colorful family destination in Dallas Texas for interactive, creative play!
Thinking of visiting Crayola Experience? Plan on spending 3-4 hours at this attraction – it's bigger than an NFL football field.
Located in The Shops of Willowbend, at the crossroads of the Park Blvd and the Dallas Parkway, Crayola Experience Plano is an interactive, hands-on art center perfect for families.
A Look Inside Crayola Experience Plano

The bright colors will welcome you  as you make your way to the attractions. From the massive Color Playground to the Colossal Caddy, filled with thousands of crayons and coloring pages – you might have a hard time deciding where to start first.
All of the stations are hands-on and interactive – so if your kids like to stay busy and touch everything, you're in luck.
They have posted instructions and they are easy enough for even the little ones to catch on without much lead.
At the Color Magic station, your coloring pages will come to life.
You can scan the pictures into the touchscreen computer and the images came to life in an augmented reality on the screen! We could move our characters and even create backgrounds for them.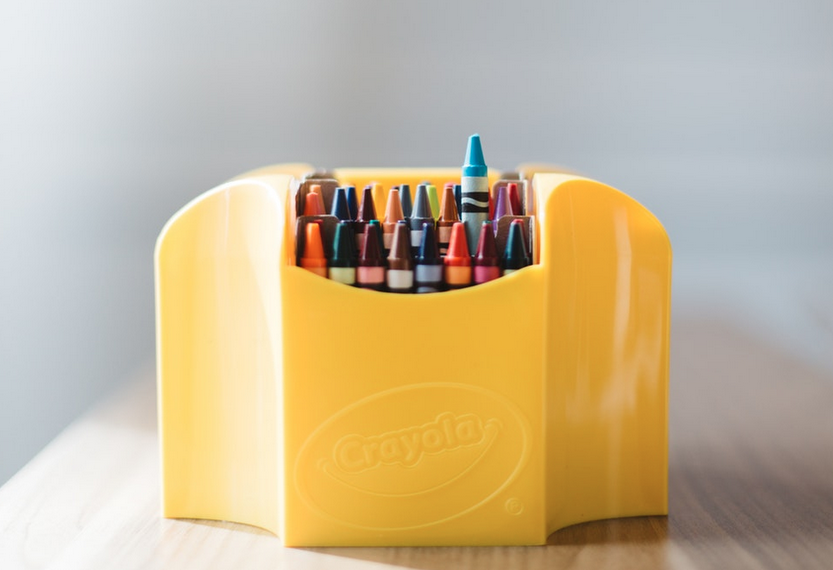 Another activity that you'll spend a lot of time at creating was the Art Alive area.
Color a pre-determined picture or create your own from scratch and watch it appear on the wall-sized projection screen.
And yes, the adults can create their own artwork here too. Just load a crayon into the Drip Art machine and watch it melt, dripping crayon wax onto your swirling creation.
You'll also have the option of attending the Crayola Factory Show. Held numerous times a day, the show is about 15 minutes long and shows the process of how crayons are made and packaged for sales. Totally eye opening.
What else is there at Crayola Experience Plano ?
You can view all of Crayola Experience's attractions on their website (click here to visit their Attractions page).
The Activity Studio
Make a colorful craft Colorful and classic paper and scissors projects abound in this area where themes change monthly.
Adventure Lab
The lab is in trouble – and we need YOU to save it!
Solve colorful puzzles and riddles using a "magic" tablet in this immersive attraction.
Be A Star
Say Macaroni & Cheese!
Turn yourself into the star of a coloring page in this photo-booth attraction.
Café Crayola
Recharge at Café Crayola with a variety of meals and snacks
From pizza and sandwiches to salads, sweets and gluten-free options, there's something for every taste at Café Crayola.
Café Stage
Enjoy a live show while you eat
Watch an entertaining, live show and learn the science and magic of color behind your favorite Crayola products. Check your map for show times.
Character Meet-n-Greets
Pose with your favorite Crayon Character
Meet our larger than life Crayon Characters at scheduled times throughout the day. Check your map for times and places.
Color Magic
Watch your art come to life in this digital coloring adventure
In this augmented reality experience, your coloring creation will come to life in front of you – don't forget to snap a selfie!
Color Playground
Climb and play in color
Climb a two-story playground only Crayola could create.
Colossal Caddy
The Ultimate Coloring Station
Color to your heart's content with thousands of Crayola crayons at your fingertips.
 . . . and still there's more areas to discover such as the:
Cool Moves
The Crayola Store
Crayon Factory Show
Drip Art
Kaleidoscope
Melt & Mold
Meltdown
Modeling Madness
Paint Palette
Rainbow Rain
Say "Crayola!"
Scribble Square
Silly Selfies
Stomp and Play
Sweet Shop
Toddler Town
Trading Post
Wrap It Up!
You Design
omg, that's a lot!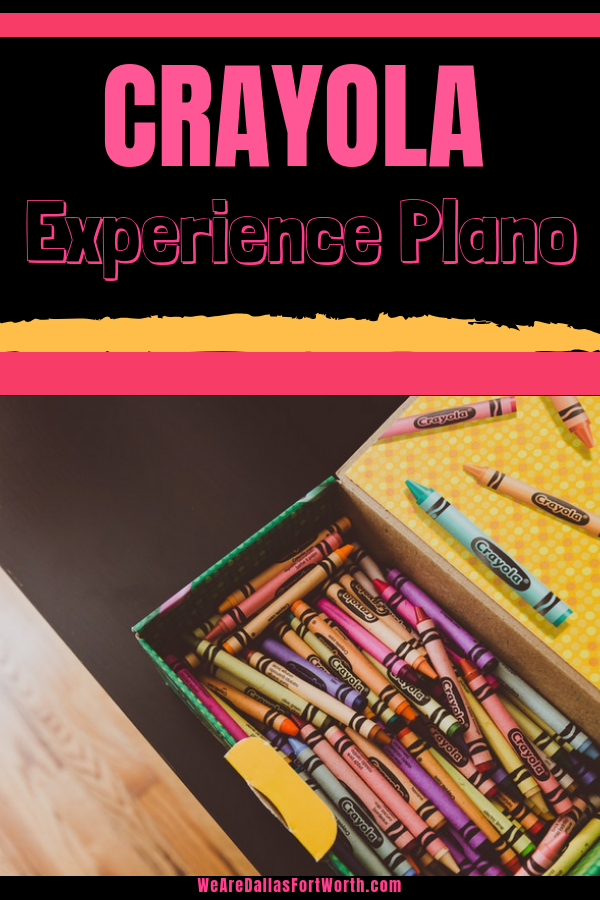 Things to Know About Crayola Experience Plano
Here are some helpful things to know when planning your visit to Crayola Experience Plano –
Bring Your Own Bag – Each person receives a bag when you enter Crayola Experience Plano, but I'd suggest bringing an additional bag, purse or maybe a bookbag. We made so many great pieces of art during our visit that I wanted to keep them all safe and flat during our time there!
Tickets Are Good All Day – Crayola Experience Plano is attached to the Shops at Willowbend and admission tickets are good throughout the day, so you can come and go as you please making this great for families looking to shop during their visit too.
Hungry? Check out Cafe Crayola – Cafe Crayola, the on-site dining spot features pizza, salads and plenty of great snacks. The Trading Post also sells Icees (with fun, color names) and tons of popcorn with a souvenir bucket too.
Upgrade to Annual Pass – If you think you'll be in the area numerous times over the next year, I'd highly suggest upgrading your daily ticket to an annual pass. The prices are affordable and it is worth the upgrade!
Save Time for the Gift Shop – Like all good attractions, the exit is located through the gift shop. And this one is colorful and filled with unique souvenirs. For the ultimate takeaway, check out the Pick Your Pack display. Choose from a small or large container and pack your container of a variety of colors.

You might also like: