Disclosure of Material Connection: Some of the links in this post may be "affiliate links." This means if you click on the link and purchase an item, I will receive an affiliate commission. Disclosure in accordance with the Federal Trade Commission's 16 CF.
Everyone has an opinion when it comes to the perfect pizza. And finding the best pizza in Plano is not too hard to do.
It's just a matter of what you are craving, how far you want to drive, whether you want it to come to your house or how many people you want to join you.
These days we always have options.  Thank you Millennials.
We can have thin crust, thick crust, stuffed crust, whole wheat, gluten free and even fried crust. It can come as a square, circle, rectangle and way down in San Antonio they even have one the size of your car.
Any kind of topping seems possible.
Although I prefer cheese, cheese then some more extra cheese.
The Best Place for Pizza in Plano
In Plano, the pizza is plentiful, but only one place serves up that neighborhood vibe along with great pizza, service and the most amazing cheesecake (if you still have room).
Whether you're new to the area and need a quick bite or you're a long-term resident craving something new, or you want a pizza place that you can pop into quickly on the way to a game at McMillen High or Plano East, Wylie High School or heading over to Clark Stadium in central Plano.
For Brian and I, when we have a craving, we want to act quickly.
Getting great pizza in Plano is easy when you have Napoli's.
And yes, if you live in Wylie or Allen, you've got a Napoli's nearby as well.
Napoli's is our go to pizza spot on Friday nights.  And sometimes on Tuesday, Wednesday or even Thursday nights.
For us, we think its the BEST because we can easily get to it without any traffic – we can walk or ride our bikes.  No traffic! Absolutely nothing to get in the way of our pizza dreams.
Another great thing about Napoli's is that it is BYOB. Sometimes we will grab a bottle at home or pick one up from Kroger that will come with us as a pairing to our meal.
This restaurant has a family feel and atmosphere and it is and will always be one of my favorite Italian restaurants.
Napoli's Pizza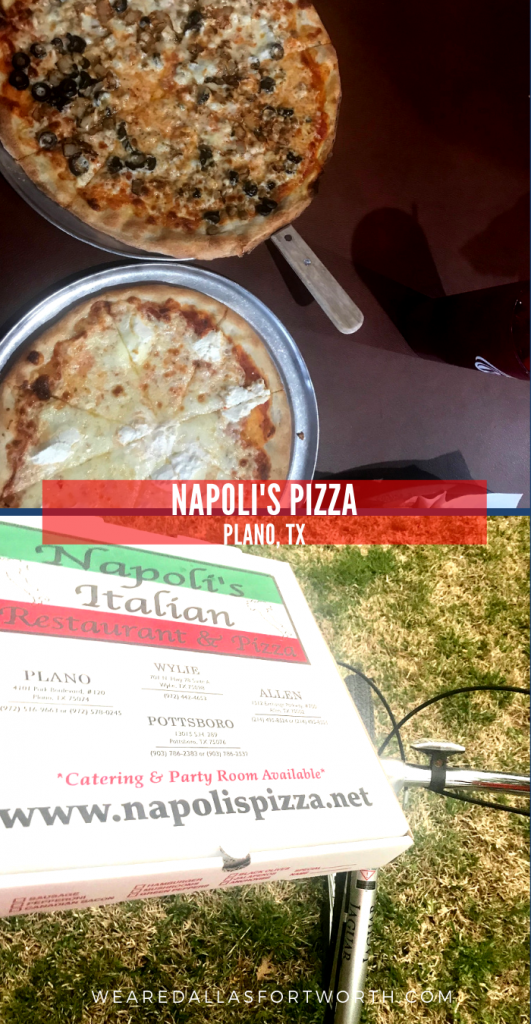 Just thinking about Napoli's makes me want to head over there straight away (or as fast as I can pedal my bike).
My topping of choice – ricotta cheese, as see in the pic above.
If you haven't tried Napoli's yet, give it a whirl. I think you'll like it!

You might also like
f you like podcasts, here are a few of my episodes from the We Are Dallas Fort Worth podcast