Disclosure of Material Connection: Some of the links in this post may be "affiliate links." This means if you click on the link and purchase an item, I will receive an affiliate commission. Disclosure in accordance with the Federal Trade Commission's 16 CF.
This is sponsored partner content via our Content Partner Program and is written by the client. I think you'll really like this.
This article contains some affiliate links, meaning that if you make a purchase through these links, I may earn a small commission (at no extra cost to you!). Thank you for reading!
From McKinney Texas resident, Laura Bartlett aka brilliant PR mind behind the internationally-known Wine Condoms
. . . and her start in comedy and when you'll get to see her and the other funny females perform again. ⤵️
"Only in comedy, by the way, does an obedient white girl from the suburbs count as diversity." — Tina Fey, "Bossypants"
It started over 15 years ago…
I was a recently divorced, cancer surviving, broke, stressed out, single mom of two school aged boys.
But I had a dream.
I had a crazy idea at the tender age of 36 years old to become a stand-up comedian and bring laughter to my community.
At the time, the closest comedy venue smelled like spilled beer and regret, REQUIRED a 2 drink minimum and included complimentary F-Bombs and drunk hecklers.
"Can't someone do better?!?" I thought
So in 2006 (between homework and work-work) I began chipping away at that dream.
Along the way I learned the craft of stand-up, performed open mic nights into the wee midnight hours, and starred down a lifelong childhood fear – paralyzing stage fright.
Seriously, my stage fright was so bad my body would go into early stages of shock. My hands would become ice cold as blood was diverted away from my extremities to protect my vital organs.
Before hitting the stage, I'd have to run to the bathroom and hold my hands under hot running water.
I'm happy to report that today I don't suffer from those debilitating symptoms. Now they're more in line with the garden variety performance butterflies.
Thank God!
Was it worth it? You bet!!
During the past 13 years, I've watched thousands of men and women magically transformed after 90 minutes of laughter.
Four Funny Females
They actually leave Four Funny Females feeling a little bit better than when they walked in.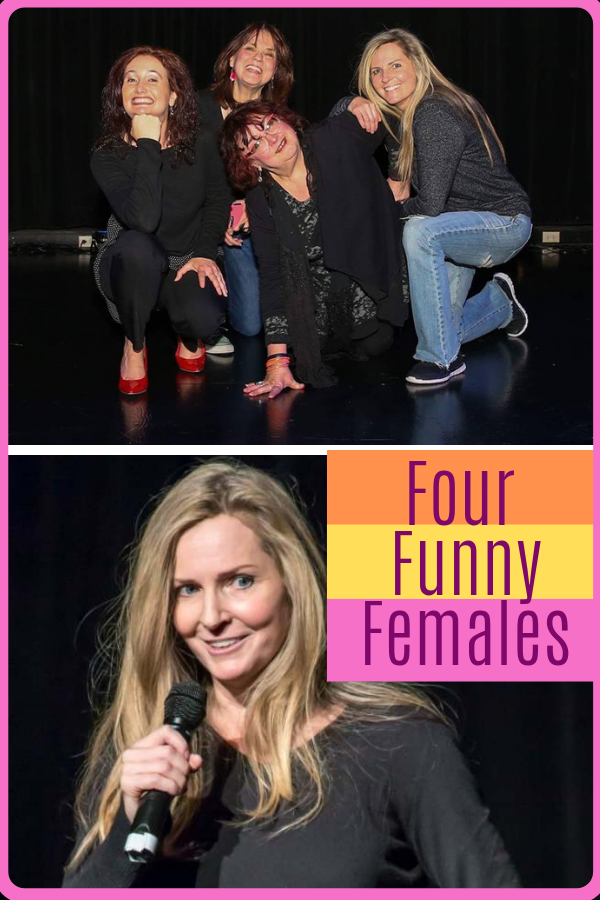 Other cool stuff, unexpected stuff has happened, too:
There was the time we helped a husband publicly re-propose to his bride of 30 years, on stage, in a tux holding roses while 400 people gave a standing ovation.
Then there was that time a wife called to tell me she was planning to attend Four Funny Females to privately celebrate her husbands last cancer chemotherapy treatment.
It's been nothing short of awesome.
Over the years our story has been shared by some great media sites such as Dallas Morning News, Dallas Observer, "Women You Should Know," and The New York Times.
"If you're longing for the sisterhood lost by the departure of Oprah, get found here." declared The New York Times
This is a rather long post but I thought it might be interesting to know how something like this happens.
Something good in a world of tragic happenings and a never ending supply of bad news
In a little more than a week we're back on stage in McKinney – inside our home theater, an 18th Century, 420 seat historical courtroom theater.
I hope you'll have the opportunity to experience a dream that's 13 years in the making and laugh with us,
Thanks,
Laura
Founder/Executive Producer
FOUR FUNNY FEMALES
FOUR FUNNY FEMALES
Saturday January 26, 8PM
McKinney Performing Arts Center
You might also like . . .