Disclosure of Material Connection: Some of the links in this post may be "affiliate links." This means if you click on the link and purchase an item, I will receive an affiliate commission. Disclosure in accordance with the Federal Trade Commission's 16 CF.
What do you do when you have 2 HUGE dogs with boundless energy?
You let 'em loose in a dog park!
With careful supervision of course, our fur babies love to socialize at Plano's Dog Parks and of course so do Mommy & Daddy.
The City of Plano is hitting it out of the park when it comes to dog parks.  Yes, they are.
Most towns in the US have ZERO dog parks while Plano has 1 amazing dog park with 2 more world class dog parks on the way.  Dutch and Bowden can hardly wait! In fact, Dutch is available for consults anytime.
The City of Plano currently has an additional 2 dog parks under construction – one in Bob Woodruff Park off of Shiloh and Park Blvd. and the other on the west side of town, Windhaven Meadows Park.
Our current free Dog Park in Plano Texas is Jack Carter Dog Park located in a beautiful
The park has a designated small dog area (great for dogs under 30 pounds) and large dog area (for those dogs over 30 pounds). The gates are on different ends of the park. Our dog, Dutch comes in at 125 pounds and thoroughly enjoys the large dog section.  We even schedule play dates over there.
Both areas have plenty of room for your pooch to run, jump, play, chase ball or whatever their heart wants. You'll find have some seating areas on the perimeter of the park. Both areas also have several stations filled with bags to help you clean up after your dogs and fountains for your dogs to drink water. But please note: the water fountains do get turned off in the winter and in the hotter months, the pavillion at the opening of the large dog section uses a concrete or brick material that becomes extremely hot.  Although it was the only covered section, I do not let Dutch walk on it during the hotter months.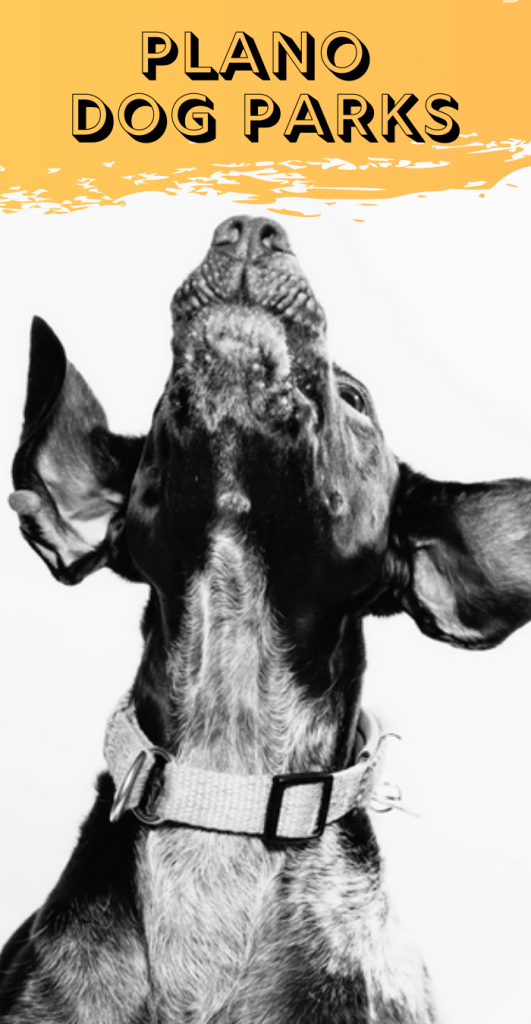 Plano Dog Park Rules and Info
Great for dogs 4 months and older
Stay with your dog and keep an eye them (do not sit across the park on your phone, be attentive)
Dogs must wear current tags and registration at the park
Do not bring food for yourself or for your dog into Jack Carter Dog Park
Enter the gates correctly, using the holding area to unleash your dog. Keep your leash with you.
Pick up after your dog
Hours
Sunrise – 10:30 p.m.     Friday – Wednesday
4 p.m. – 10:30 p.m.       Thursday
How to Enter and Leave the Area (via the City of Plano website)
You enter the area through a double-gated vestibule. These vestibules are designed with two gates to provide maximum control over your dog and the other dogs as you enter/leave the enclosure. If someone is ahead of you, please wait your turn.
To Enter, before you open the outer gate, check to be sure the inner gate is closed
– Open the outer gate and enter the vestibule with your dog(s)
– Close the outer gate behind you remove your dog's leash. Having your dog on a leash when confronting an off-leash dog may cause problems – your dog can feel vulnerable and fearful, as well as the need to protect you. Restraining your dog with the leash puts him/her at a disadvantage. Restraining may put your dog in a pose that can cause the off-leash dog to feel threatened
– Before you open the inner gate, check to be sure the inner area is not congested with excited dogs waiting to pounce on the new dog or with dogs trying to get out
– Pay attention to the reception from the dogs already in the enclosure
– Open the inner gate and enter the park with your dog
– Close the inner gate behind you and move your dog away from the entrance
To exit, follow the procedure for entry in reverse order.
Address:
2215 Pleasant Valley Dr.
Phone
972-941-2275
Oh, be sure to make a friend over here at the Dog Moms group

You might also like . .