Doesn't that make you feel young?
With McKinney Texas turning 170 years old, it sures does come with a lot of history.
Like the county, the town was named for Collin McKinney, signer of the Texas Declaration of Independence and author of a bill establishing counties in the northern part of the state. On March 24, 1849, William Davis, who owned 3,000 acres where McKinney now stands, donated 120 acres for the town site.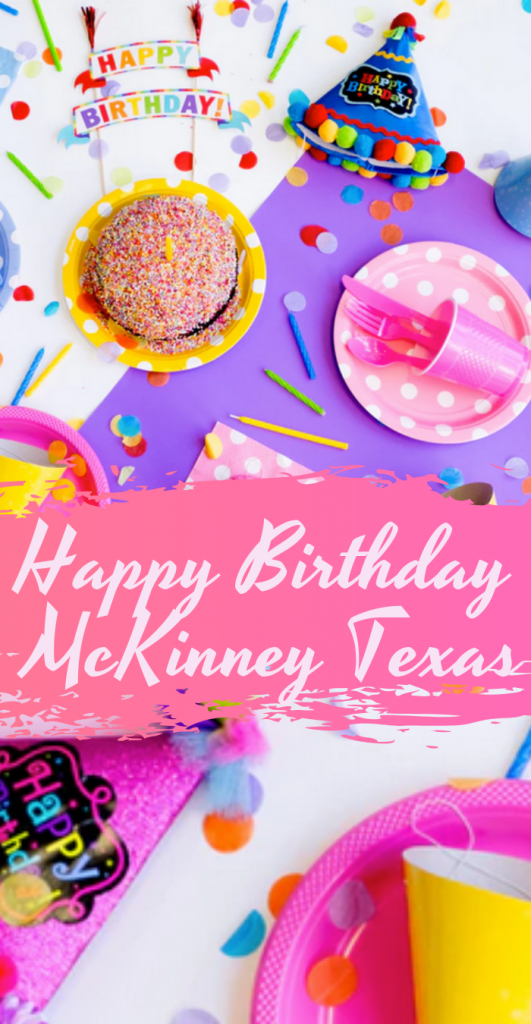 On March 24, 1849, William Davis, who owned 3,000 acres (12 km2) where McKinney now stands, donated 120 acres (0.49 km2) for the townsite. Ten years later, McKinney incorporated, and in 1913, the town adopted the commission form of government.
For the first 125 years of its history, McKinney served as the principal commercial center for the county. The county seat provided farmers with flour, corn, and cotton mills, cotton gins, a cotton compress, and a cottonseed oil mill, as well as banks, churches, schools, newspapers, and from the 1880s, an opera house. Businesses also came to include a textile mill, an ice company, a large dairy, and a garment-manufacturing company. The population grew from 35 in 1848 to 4,714 in 1912. By 1953, McKinney had a population of more than 10,000 and 355 businesses. The town continued to serve as an agribusiness center for the county until
the late 1960s.
By 1970, McKinney was surpassed in size by Plano. McKinney experienced moderate population growth, from 15,193 in the 1970 census, to 21,283 in the 1990 census. By the mid-1980s, the town had become a commuter center for residents who worked in Plano and Dallas. In 1985, it had a population of just over 16,000 and supported 254 businesses. Since then, McKinney's rate of increase has been much more dramatic. In the 2000 census, McKinney had grown to 54,369 with 2,005 businesses and in the 2010 census the population had more than doubled to 131,117 residents.[9] The Census Bureau's most recent estimated population for McKinney (July 1, 2015) is 162,898.[9] The most recent population estimate, produced by the city as of January 1, 2017, is 168,358.[2]
Both the city and the county were named for Collin McKinney, signer of the Texas Declaration of Independence, and a congressman for the Red River district of the Republic of Texas. He was the author of a bill establishing counties in the northern part of the state.[10] (via Wikipedia)
Happy Birthday 🎂 to the City of McKinney! You look better than ever 😀💁🏼