Disclosure of Material Connection: Some of the links in this post may be "affiliate links." This means if you click on the link and purchase an item, I will receive an affiliate commission. Disclosure in accordance with the Federal Trade Commission's 16 CF.
Know someone who is suddenly working from home . . . with like ZERO warning?  Um, yeah.  I think we all know someone who found themselves juggling reports, sales calls, 360 reviews and all sorts of busy work, xls spreadsheets and beyond hunkering down at the kitchen table. This is for you, this is the work from home gift guide.
If you are in DFW, you might consider perusing big 'ol Nebraska Furniture Mart or maybe cruising by Plano Office Supply near
downtown Plano.
  Of course the classics are available such as Office Depot, Office Max, Staples, Target or even WalMart.
But if you don't plan on getting out of your pajama pants, then peek at any of the links below to do your shopping right from your comfy couch (and if you are sitting on a couch, definitely look at the ergonomic chair).
Work from Home Gift Guide & Checklist
These 10 items will help create a more organized, peaceful, and healthy home office space ⤵️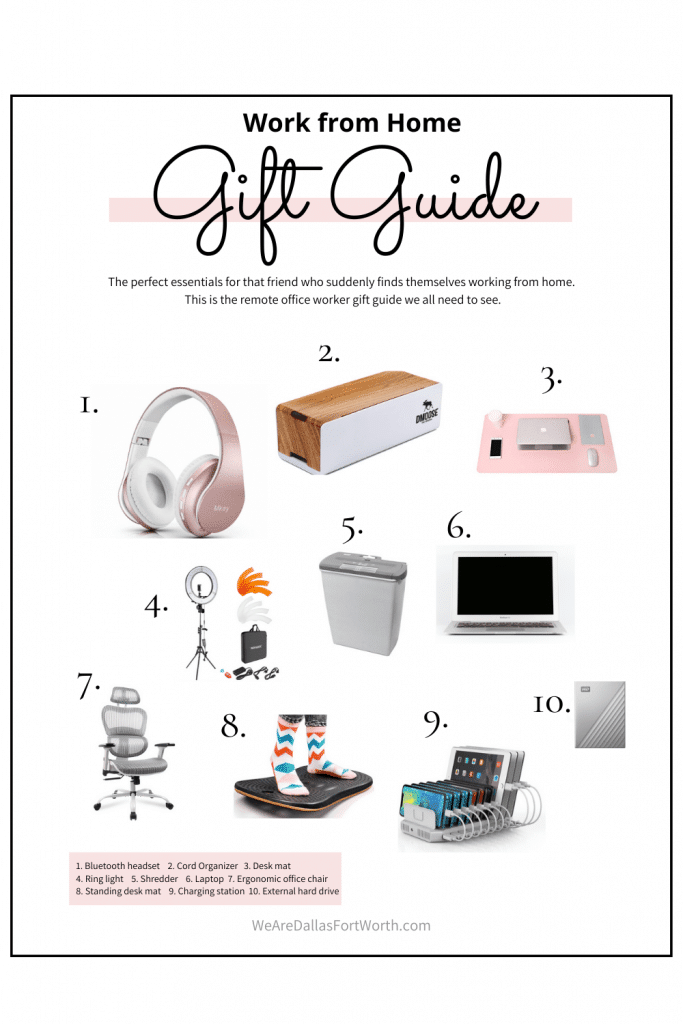 This pretty pink Bluetooth headset is wireless, cutting down on clutter.
Perfect for podcasts, webinars, video chats on Zoom, interviews and of course listening to music or even tuning out the chaos in the house.
Oh, if you like white noise, you might like tuning into Coffitivity.
Coffitivity recreates the ambient sounds of a cafe to boost your creativity and help you work better. Proven and peer reviewed, see the research to learn more.
This makes all the ugly power cords so much neater and tidier.
Its like stuffing everything in the oven, closet or kitchen drawer before company comes over to the house. Although this cord organizer is a forever helper in your home.  Plus, its super sleek.
When you work from home, you need to keep it together.

Find yourself working at your kitchen table covered in cheerios and apple juice residue?
This might be the perfect way to transition from the chaos of breakfast to worky worky time.
This is the exact one I purchased and use almost daily.
Before you think this is a vanity thing, its actually a way to light up your face if you are in a room with poor lighting.
Why is this important?  If you use Zoom, video chat or live video on places such as LinkedIn or Facebook, its important that your viewers can clearly see your face. If your viewers (and possibly potential clients) can only see a dark shadow then there will be less of a know, like and trust factor happening.
Here's what it comes with:
Flexible Light – its flexible in every direction. You can twist and bend it any way you like to reach certain angles you want.
Dimmable Light – Depending on the time of day, the light in your space will change.  I love being able to turn mine up all the way or dim it down if needed.
Color Filter – Comes with 2 color filters (White and Orange) which makes it easy to switch color temperature. Plus, I can go LIVE without needing any makeup.  How cool is that?
I'm able to sit at my desk and use it if I'm on my computer camera or stand up and pop my phone into the holder.
In our town, most garages are in the back of the house.  Which means we have an alley system – trash and recycle bins are taken out back and we don't have a good eye on who might be sifting through these. (warning: we have a giant dog, so have fun if you come sifting thru our trash). Anywho, this one tears it up – financial docs, 401k docs, credit cards and lots more.
Once you go Mac, its really hard to go back.
I've had my MacBook Pro for close to a  . . . . . . wait for it . . . .
DECADE.
I dropped about $2700 on my back in the day.
It was a far bigger chunk of change than, let's say a Dell.
So funny story, back in the day I used to visit Dell HQ in Roundrock and during presentations discussing connectivity between the products they were reselling and an Apple, Toshiba, Dell, Acer etc . . when I said APPLE, the Dell peeps would begin hissing like snakes.
Why I purchased Mac?
I was already a Mac user and knew that the interface was super simple and easy. 
I wanted something with me for the long haul
I wanted to know I could go to one of their stores (5 in DFW) if I ever needed more training or needed to visit a genius at the Genius Bar
I knew I would get what I paid for . . and almost 10 years later, the Macbook Pro is a great decision for my business and nomadic lifestyle.
I think this is the foundation of your work from home gift guide.
Posture y'all.
It matters.
Sure, we all have our days where we do a little work from the couch.  30 minutes turns into an hour then 2 hours and sure enough, the back pain kicks in.
Treat yourself to a stylish and ergonomic chair for your work from home setup.
This charging station organizer will turn your tangled cords into the most beautiful thing your eyes have ever seen.
So organized and so beautiful.
Gained the Quarantine 15?
No prob! This standing anti-fatigue mat holds up to 320 pounds.
Back it up.  Back, back it up!
You know you need to be doing this.  And you know you really shouldn't wait a minute longer.  Having an external hard drive for important documents is extreme adult-ing.
And 5 terabytes . . . should cover you for a bit, right?

Final Thoughts on the Work from Home Gift Guide (& checklist)
Up until now, you might have been neglecting your work from home space.
And you know what?
That worked for a bit but now your work from home space might need to be shared with the spouse, mother-in-law, 4 kids and the dog. If you have a home office that you'd like to improve, with gift giving season coming up, you could always forward this to a loved one as a little hint   🙂
I hope you get to complete your work-from-home space this Summer. And if you're all covered, make sure to scan this list for some interesting and helpful gifts for friends who are finding themselves at home.