Disclosure of Material Connection: Some of the links in this post may be "affiliate links." This means if you click on the link and purchase an item, I will receive an affiliate commission. Disclosure in accordance with the Federal Trade Commission's 16 CF.
This page contains affiliate links which means I may earn a commission if you use them. I only recommend tools and products that I use and trust.
If you're looking for an escape in nature, then biking Oak Point Park Plano is the place to explore.
"The fundamental idea behind the parks is native. It is, in brief, that the country belongs to the people, that it is in process of making for the enrichment of the lives of all of us. The parks stand as the outward symbol of the great human principle."
~Franklin D Roosevelt
I wrote about the opening of the
Oak Point Nature Preserve & Retreat Center years ago
and its open to the public during business hours (a great place to for hands on activities with kids, refill your water bottle or hydration pack and use a super clean restroom).
My very first job was with the City of Plano Parks & Recreation Department, it was then and it still is today dedicated to an ever evolving kick ass park system. No matter how much Brian and I travel across the globe and see new sights, we are always so appreciative of what our own town has developed for us.  Acres upon acres of land to roam, run, bike and hike.  Yes, we are super thankful because not too far from Plano, other towns just aren't as dedicated to maintaining the green space.
Biking in Oak Point Park Plano
Plano understands that city parks play a critically-important role in the mental and physical health of people within its' city limits and those who visit for events like the
Plano Balloon Festival
or adventure through Go Ape Tree Top course. Our city parks are where we gather and play, they are where we revitalize and refresh both our bodies and our psyches, and its vital to our lives and of course our dogs,
Bow Bow and Dutch.
This is our go-to trail, mostly because of proximity to our home . . . but once you're in it, you can stay surrounded by nature for the entire day.
They have beautiful walking, jogging,
biking
and horse
trails, yes, every single time we see horses.  So majestic! 
We've also seen owls, foxes, snakes, armadillo, bunnies and of course lots of cute
dogs
to pet along the way  =)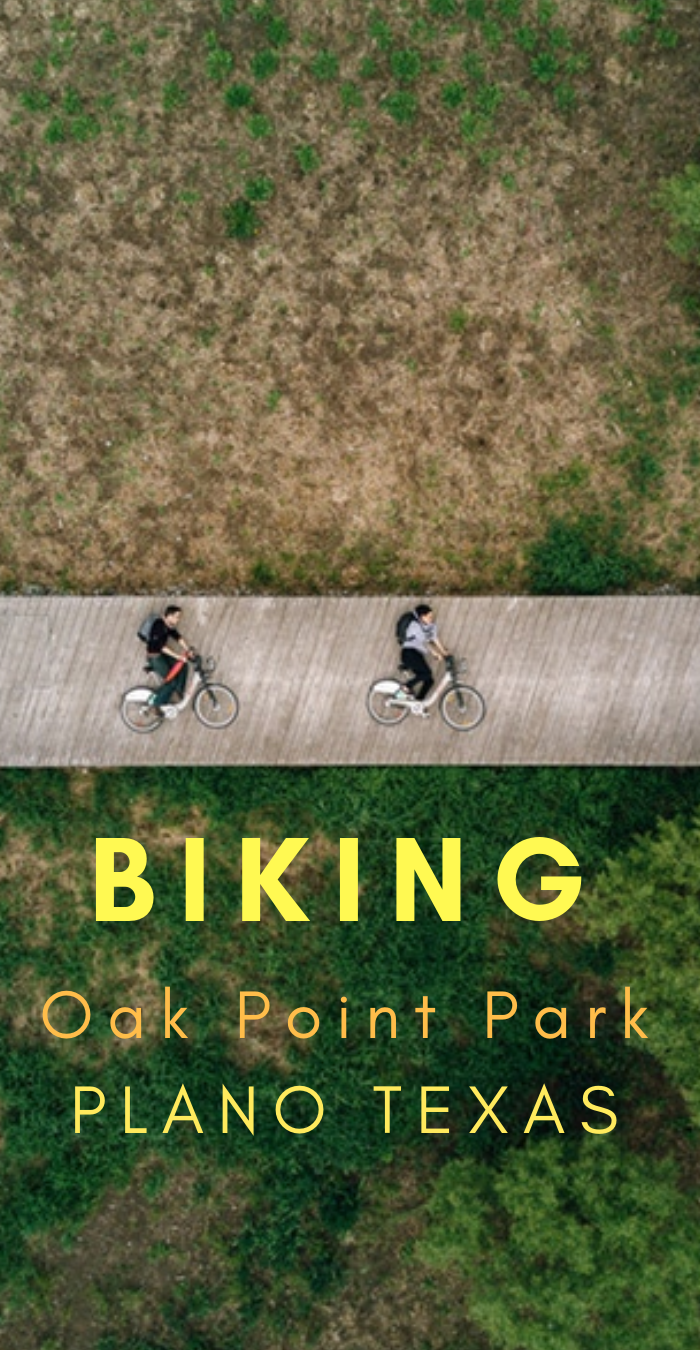 Oak Point Park & Nature Preserve, Plano's largest park, is 800 acres and extends from Parker Road on the south to Chaparral Road on the north and from Spring Creek Parkway on the west to Los Rios Boulevard on the east. The park boasts 3.5 miles of concrete trails and 5 miles of soft surface trails located along Rowlett Creek.
Plano loves these trails and park!
View this post on Instagram
The nature trails are open from sunrise to sunset daily. And yes, you'll want to head out by sunset as it gets very, very dark in there. We usually start from Bob Woodruff park which is where we live and have biked as far as the Cinemark theater on Legacy.  I know, right? That's a long way but we love having the option to avoid traffic and take the trails all the way.
If you start from Oak Point, the best spot to park is off of Los Rios Blvd and Jupiter area; they have a large parking lot next to the Retreat Center.  Or, you can park off of Spring Creek in the smaller lot and travel through the tunnel seen below. ⬇️
This fun tunnel transports you underneath Spring Creek Pkwy and connects Collin College to the park.  So fun!
Rest areas are built into the boardwalk, perfect for a place to rest my legs or take a quick Insta of my bike.
If I stop for an Instagram shot, I will totally lose track of my husband who does NO social media at all.  LOL.  Thankfully, bikes have to stay on trail so I'll run into him eventually. This is my Cannondale lefty mountain bike  =) It's a damn good bike for all kinds of trails which is important because Brian and I love mountain biking RCP, Erwin Park or heading out to places like Solavaca Ranch in Glen Rose (make sure to have a chilled beer after that trail, goodness gracious!!). However, you don't need to own a mountain bike to ride Plano's trails, afterall they don't allow bikes in the dirt trails (don't attempt y'all, head to Arbor Hills or Erwin for off roading). You can grab a bike from a garage sale, Target, Amazon, or a cycling store nearby.  If you can afford a bike from a specialty store or my list below, then invest in one and it will be with you for a long time.
The boardwalk is one of my favorite areas of this expansive park.  Its shaded and super cozy with all of the tree coverage.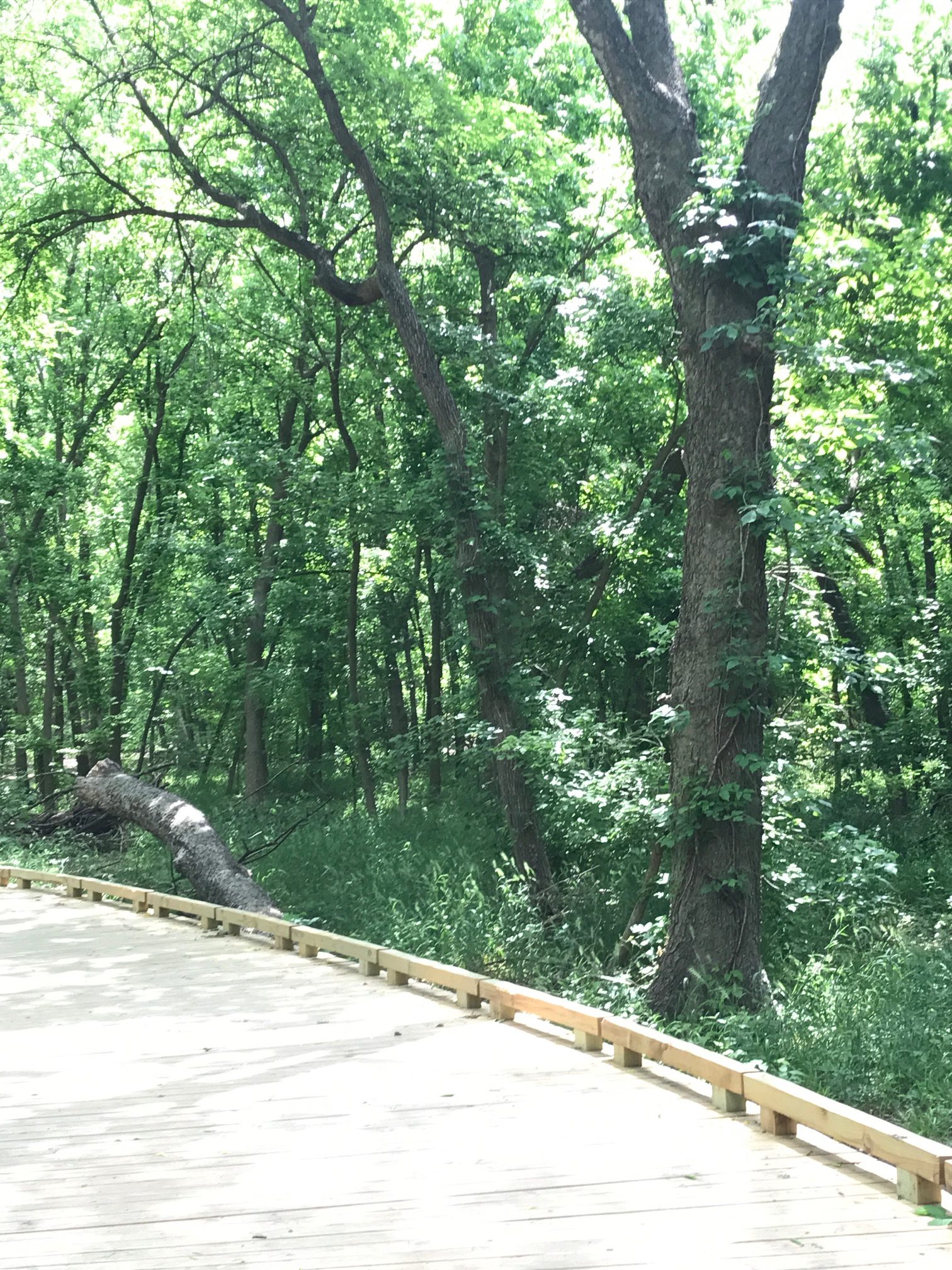 Because this is Plano's largest park, we could really spend hours if not even the whole day exploring, biking and adventuring.  The Camelbak is one of my most important purchases I made for all of our explorations.  It contains a blister pack for water (see built in straw on the side), holds a snack, my keys, iPhone, windbreaker and even a bike lock.  Its slender and straps on around the waist and there is minimal bouncing.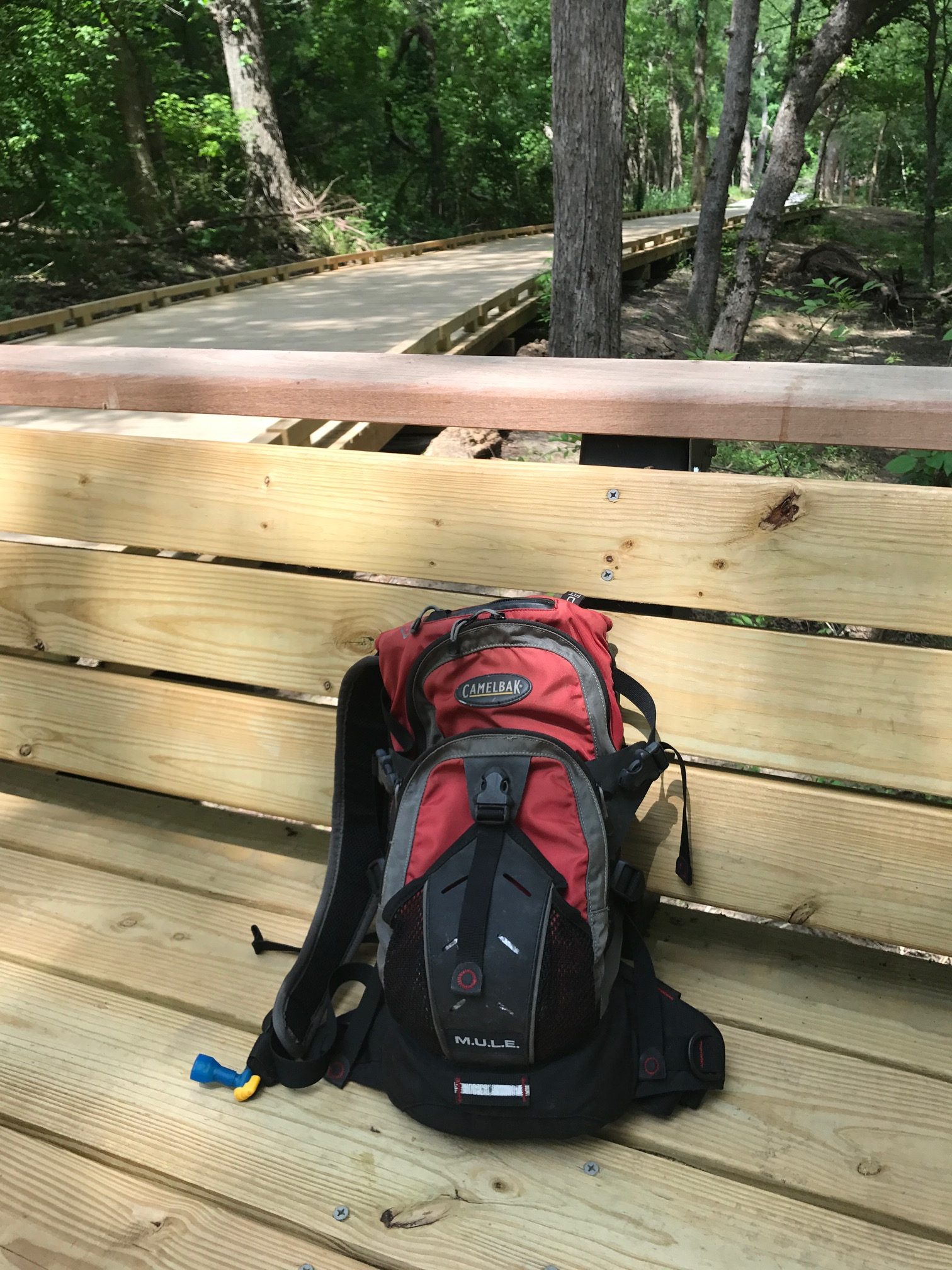 Make sure to head out prepared . .  like y'all need to have the gear to have a successful and enjoyable trip. Trust me! Plus, if you are well-equipped you are able to stay out longer.
To prep, you can head by Cadence Cyclery in McKinney or Performance Bike in Plano (this is where we get our tune ups for our Cannondale bikes).
You can also see recommended gear here:

You might also like: