Disclosure of Material Connection: Some of the links in this post may be "affiliate links." This means if you click on the link and purchase an item, I will receive an affiliate commission. Disclosure in accordance with the Federal Trade Commission's 16 CF.
Know someone who has a dog? They live in TEXAS? And perhaps they are bracing for the HEAT?  This is for you ➡️ this is the dog gift guide to survive the Texas summer.

The Dog Gift Guide for those of us trying to survive the Texas Summer
These dog gifts are some really important items to have in your home especially when you are trying to keep your furbaby safe and comfortable in this season of pure HEAT.  🔥
I feel confident in saying that these 10 products are the best gift ideas for your dog or your fellow Dog Mom/Parent out there ⤵️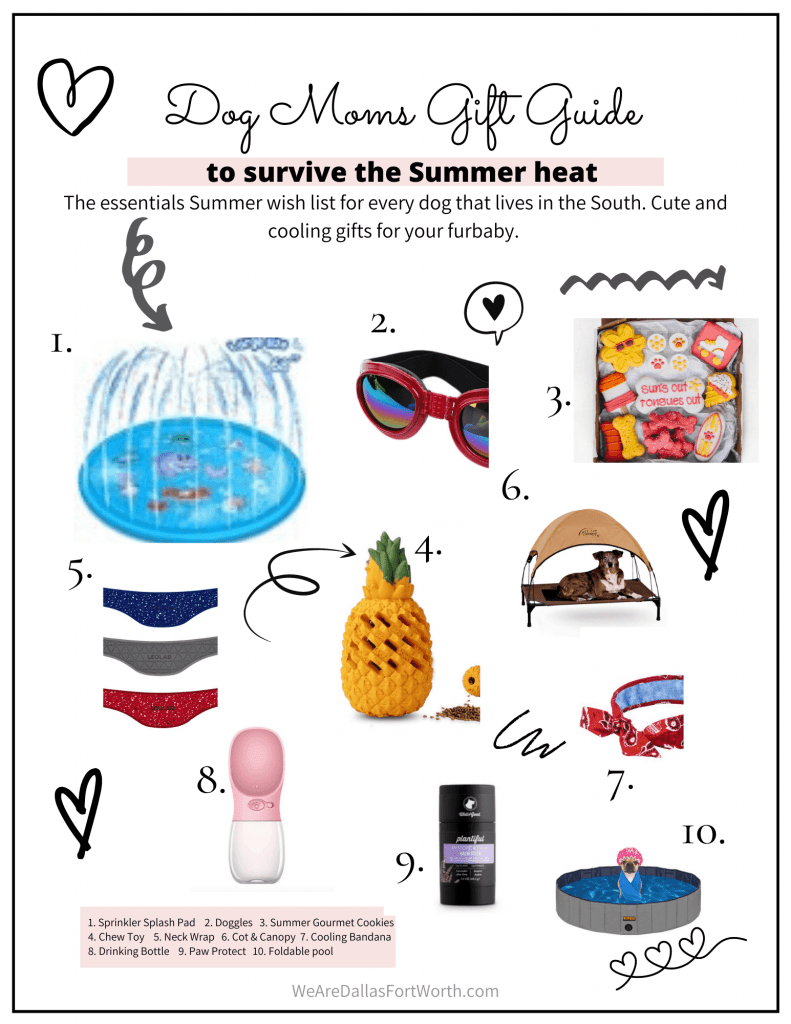 When you wish you had a pool because your dog loves water so much, this is what you need.
At first glance, you might think this is a silly accessory.
But did you know . . .
Doggles or Dog Goggles can help protect your pup's eyes from dirt, dust and UV rays AND if you love to go boating with your furbaby, the doggles will prevent their eyes from wind and water splashing into their eyes.

This family owned and operated company of dog lovers created Wüfers – boxes of themed dog cookies. So cute!!
Some of us have dogs (big or small) that could chew through anything.
This super fun pineapple toy is for you!
Maybe one for YOU and your pup.
This portable cot is perfect for when you want to have your pup enjoy the backyard with you while you swim in the pool. Or for a weekend at Lake Texoma, or for a camping trips at Beaver's Bend.
Its super lightweight and easy to carry around wherever you go.
One more thing, it comes with its own carry bag to make it even easier.

This chill bandana can last for up to 4 hours on a single soak.
Just re-wet to increase cooling duration
When you only have one hand . . .
And check out that nifty lock button to lock water.

This paw protector balm is for heat, cold, ice, and salt.
Y'all know how hot the asphalt or sidewalks can become, even in the mornings on an August day.
And, it's organic too  =)
For a swimming playdate or bathtime!
Love that this is easy to put together and super easy to drain or refresh the water in the tub.

Final Thoughts on the Texas Heat Dog Gift Guide
Make it an enjoyable Summer for your furbaby – and the best way to do that is to keep them cool and hydrated.
Make sure to come join us in the Dog Moms group over here.