Disclosure of Material Connection: Some of the links in this post may be "affiliate links." This means if you click on the link and purchase an item, I will receive an affiliate commission. Disclosure in accordance with the Federal Trade Commission's 16 CF.
Between hiking trails, biking trails and parks located throughout Plano, McKinney, Dallas, Rockwall, Murphy, Rowlett and beyond, there is just no shortage of ways to get out and explore with your sweet dog. As much as we love a good adventure on a dirt trail, we know that when the skies open up and dump massive amounts of rain on us, the dirt trails will be off limits until the sun can dry them out.  Thankfully, there are just as many, if not more paved trails to walk your dog in Dallas.
5 Paved Trails to Walk your Dog in Dallas (after a huge Texas storm)
1. Spring Creek Nature Trails in Richardson
These paved trails are adjacent to Cityline in Richardson and because they are so close to our home, they make for a frequently visited trail from us.
We typically park near Top Pot Doughnuts (yes, we sure do) and begin our walk through restaurant row, past the train station, past the playground then we hit the elevated bridge and we are on our way.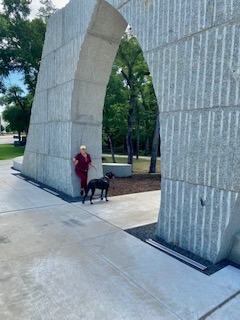 The heavily wooded Spring Creek Nature Trail offers a natural retreat through Richardson – and a real standout from other nature areas around town.
Access this trail area from Ave. K or Central Expressway and Renner Road.
Richardson is one of our fave suburbs and sits just north of Dallas – we especially love the waterfall just on the other side of 75.  Its the most perfect photo opp. Take a peek of it over here.
This trail is paved, shaded and an easy walk to get in 10,000 steps or more.  Sometimes we take the trail that continues to head South or the trail that heads under the highway back towards the old Collin Creek mall.
The eastern half of the trail runs through Spring Creek Nature Area, a 51-acre park offering picnic areas, restrooms, and other amenities.
And then we may or may not land back at Top Pot for a reward.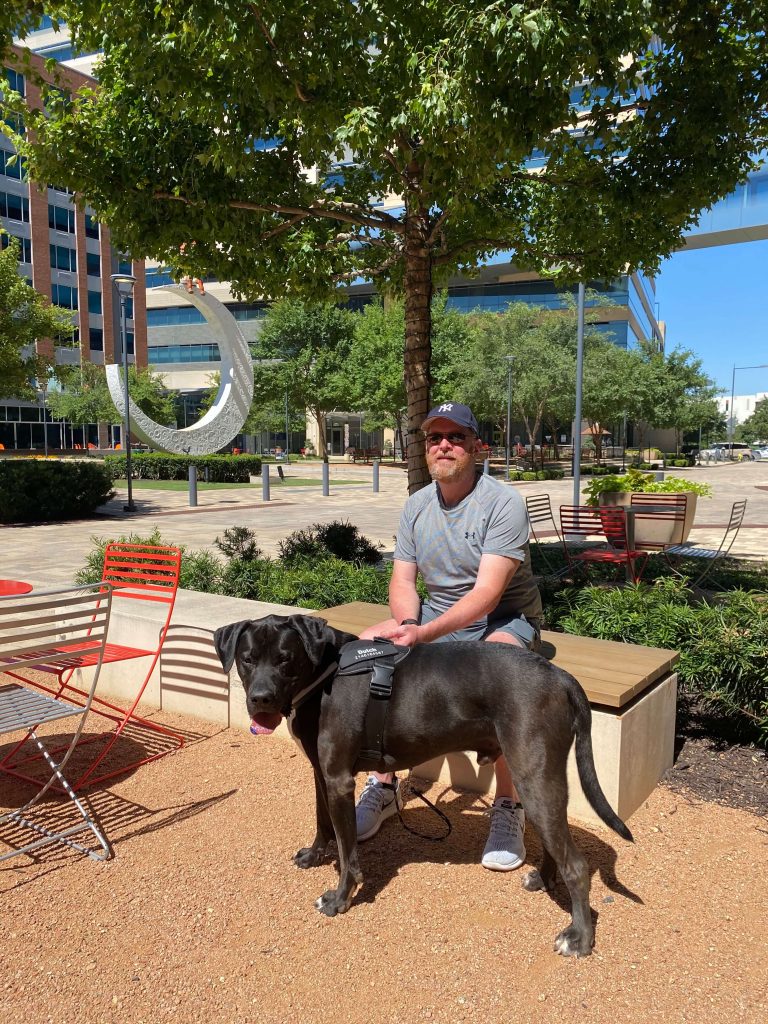 2. Cottonwood Creek Trail in Allen
The Cottonwood Creek Trail provides a north-south route through Allen. Allen sits just north of Richardson, Dallas and Plano as you head up 75. And when you are needing a mega outing, this trail provides for really good mileage, approximately 7.5 miles in two segments.
The northern section begins at Ridgeview Drive, just south of the 121. This is a 3.4-mile section that follows Cottonwood Creek south along residential neighborhoods.
Once you approach Stacy Road, you will see a park with a playground, tennis court and parking area.
If you continue on under Central Expressway, this paved trail will pass by the Old Stone Dam, built in 1874 by the Houston and Texas Central Railway Company to provide water for steam locomotives.
Its a must-stop on your adventure with your furbaby for pics or possible swimming.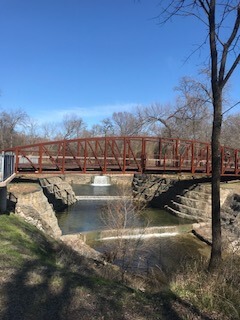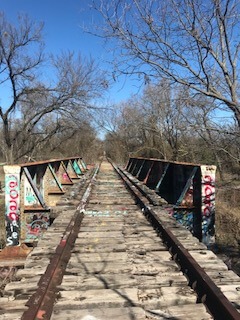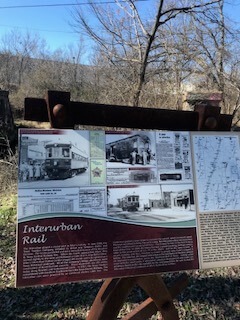 The final leg of this paved pathway traverses Allen Station Park, which offers athletic fields, a playground, skate park for skateboarders, a BMX track, roller hockey rinks and water ski cable park.  Its a pretty cool spot to walk around and discover what it has to offer.
We typically park at Allen Station park and begin our walk on the east side until it takes us under the highway, past the dam, the railroad bridge and comes up right behind Rudy's BBQ (and yes, Rudy's has a dog-friendly patio)
3. White Rock Lake Trail in Lakewood
We just love this area of Dallas – Lakewood is absolutely stunning and it also feels like a much more laid back version of the Big D.
Because its used for many evens and marathons etc, you might want to check online before you go so you don't end up overwhelmed by the Dallas half-marathon or any other event going on that day.
Save 30% on select product(s) with promo code 30P5NNTU on Amazon.com
If you and your sweet furbaby make it all the way around the lake, then you will have walked 9.3 miles and they just might be ready to go to the doggy swim beach to cool off. 

If you are looking to make it even longer, the lake trail hooks up with the 7.5 mile White Rock Creek trail at the north end of the lake, making for a 24.3 mile round trip. We've actually started this trail from Forest Lane Station for a really long and rewarding bike ride.  So much fun!

4. Arbor Hills Nature Preserve in Plano
The Arbor Hills Trail is on the far west side of Plano off of Parker Road.
You can head north from Dallas on the tollway or south on the tollway if you are coming from Frisco.
The paved pathway loops through a 200-acre wooded nature preserve and if the trails are dry you can hop off to the dirt hiking trails.
You will get a great walk in as the paved trail is about 3 miles long (so that's almost your 10,000 steps for the day)
And when the weather is dry, come back for the mountain biking.  We love that too! Of course our labradane Dutch has to stay at home for that adventure.
5. Oak Point Preserve in Plano
The Oak Point Park & Nature Preserve Trail is a HUGE park and trail system from the City of Plano.
This is just off of Spring Creek and Jupiter (exit from Central Expressway).
It offers more than 800 acres to explore and many recreational amenities, including a recreation center, amphitheater, a fishing pond, and zipline course called GoApe.  You might know this preserve as its where the Balloon Festival is held each year as well as the 4th of July fireworks.
It has a mix of both paved and dirt trails that wind just about everywhere through the park. Its concrete pathway, which spans more than 8 miles, is especially scenic with views of Rowlett Creek. It also connects to the Bob Woodruff Park Trail on its southern end for a longer walk or ride.
(Note that bikes are not allowed on the unpaved trail, trust us, we tried it, don't do it!)
This is Dutch after just 1 mile . . .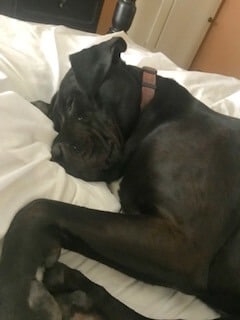 We typically start with Bob Woddruff trail and weave into the Oak Point trail which allows us to stop at the rec center for water then we can walk the cool boardwalk that takes you under Spring Creek to formerly known as CCCC, Collin County Community College. Or, continue west and the trail will take you all the way to the Cinemark off of Legacy and 75.
Final Thoughts on 5 Paved Trails to Walk your Dog in Dallas (after a huge Texas storm)
I hope this article gave you some ideas on where to take your furbaby when needing a walk on safe paved trails rather than super muddy messy trails.  Although, it does seem like our dogs will find the mud pits no matter how we try to avoid them. Anyway, I hope you found some new ideas on paved trails to walk your dog in Dallas.
Come hang with us in the online community – click over here to join in on the Dog Mom community.



You might also like: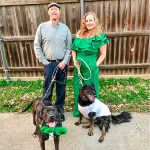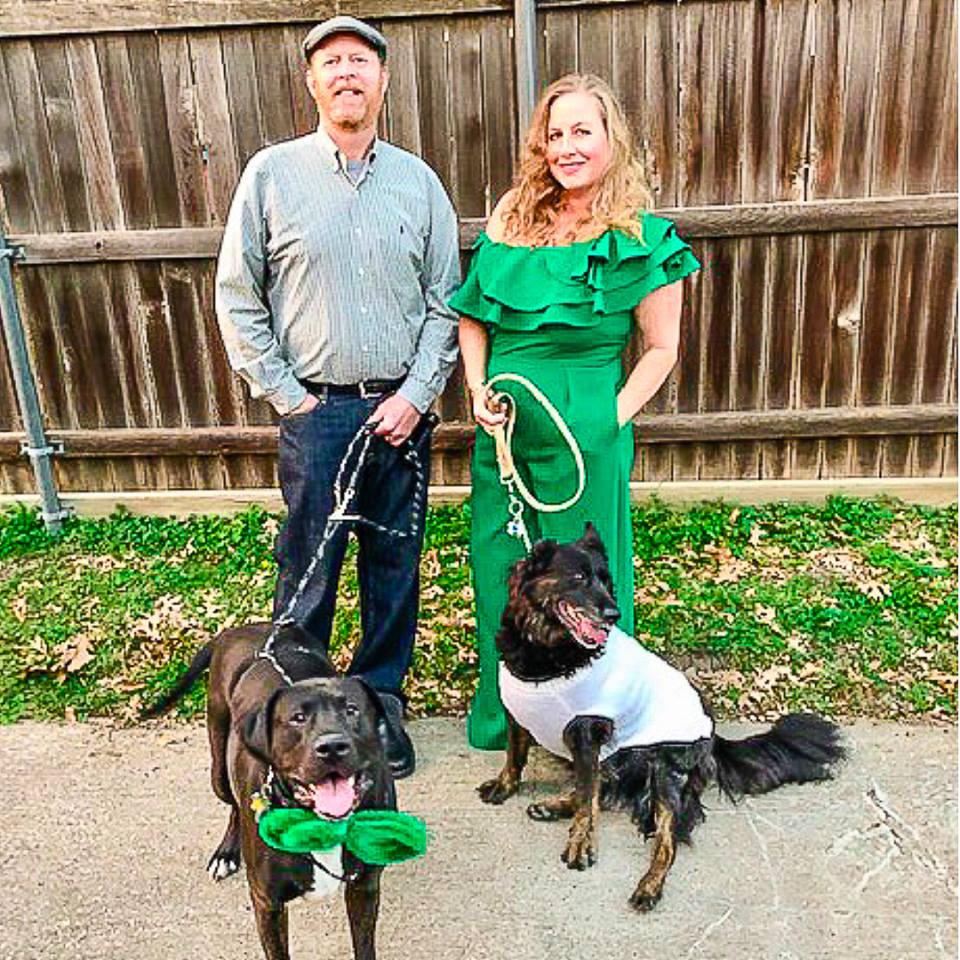 Need more sales, leads or attention start here
Our team has been helping business owner's kick the old school networking meetings to the curb and make money online. Its so much fun to help solopreneurs and businesses see the light. The online world is a roller coaster of fun!!