Disclosure of Material Connection: Some of the links in this post may be "affiliate links." This means if you click on the link and purchase an item, I will receive an affiliate commission. Disclosure in accordance with the Federal Trade Commission's 16 CF.
Welcome to the  Ultimate Guide to Plano Parks and Recreation.

Plano Texas does not disappoint when it comes to this department, in fact, I think its where they truly excel at making the city shine. Within the city borders contains a robust park system, practice fields, trail system (both dirt and paved), tree top adventure course, rec centers with amazing gyms, pickle ball, multiple pools for leisure and swim teams and thats just the beginning.
One thing that is absolutely crucial for any city is its ratio of forestry to commercial/residential, this is crucial for the health and wellness of its citizens. I applaud Dallas to the south of us and of course my own town of Plano for dedicating resources to the continual planting of trees and protecting our nature preserves.  This is not a given with any town and Plano, the city of Excellence has hit this goal out of the ballpark.
In fact, they will be celebrating Arbor Day again this year on November 1 at Bob Woodruff park.
The Ultimate Guide to Plano Parks and Recreation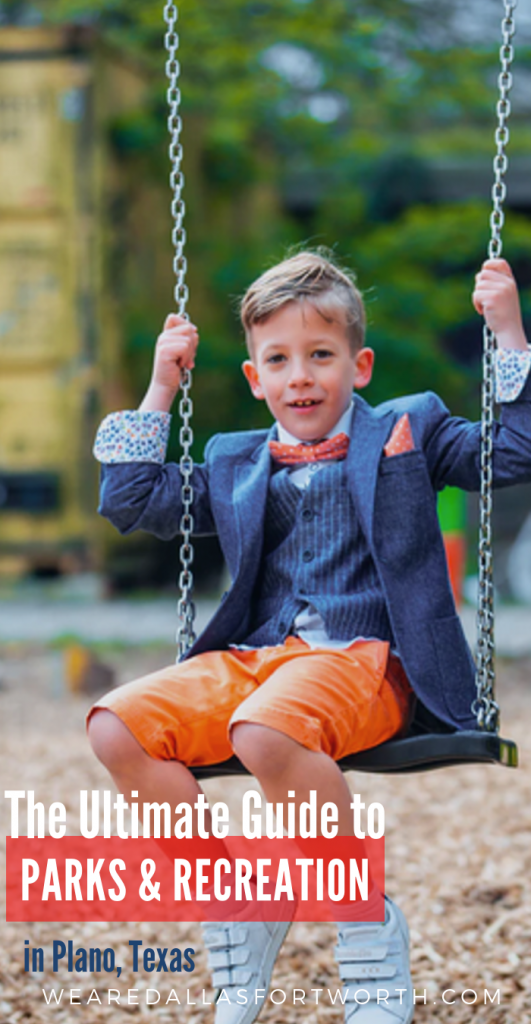 If you are a resident of Plano and for visitors as well, the Plano Parks & Rec system is your pathway to fun! Great parks, great programs, great events, all family friendly!
The mission at the Plano Parks and Recreation Department is to provide for the positive development and well-being of the Plano community through the provision of parks, greenways, trails and recreational programming and facilities while working in cooperation with other service providers and partners in the community to maximize all available resources. Through a fun and innovative team, the nationally accredited Plano Parks and Recreation Department enriches Plano by providing inviting spaces, caring service, outstanding value, and memorable experiences. They make life better for all by offering exceptional parks, trails and recreation facilities, and a variety of enriching programs, special events and activities that contribute to the health, well-being and quality of life in Plano.
Stay Updated
There are a lot of things happening around Plano.  Lots of new things, big changes and constant improvement to this city.  Check out their website here so you can stay in the loop.
Do you know the power of parks and recreation in your community?
Many of us can easily take this program for granted, meanwhile, this department is moving mountains to keep areas available for us to enjoy and play in without charging us every time we walk foot onto them.
Yes, parks and recreation provide beautiful green spaces and fun programming, but they do so much more and the benefits are great. To showcase the impact parks and recreation has in every community, we have put together this short video that we encourage you to watch and share.
Local park and recreation agencies provide crucial health and wellness opportunities for all populations in communities across the country. As America continues to face serious health issues, including rising rates of chronic disease, an increased prevalence of sedentary lifestyles and poor nutrition habits, parks and recreation offer an affordable and accessible solution.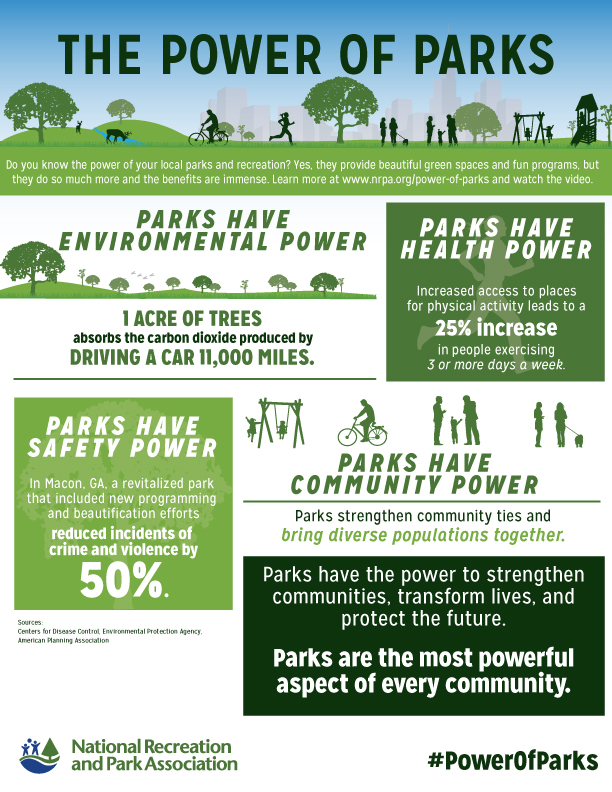 How to Find Out what happening in the Plano Parks & Recreation?
Make sure to get a Leisure Catalog
About once per season we receive one of these catalogs in the mail, the Leisure catalog.
In fact, I remember receiving these in 9th grade, pre-internet days when this catalog showing up in the mail was like opening a box under the Christmas tree.
It had everything – tap dancing, gymnastics, swimming, outings, tennis and more.
And to this day, the Leisure catalog still delivers a surprise to mailboxes throughout the 75075, the 75093, the 75074 and more!

The City of Plano Parks & Recreation Centers
Plano serves its community with 5, yes 5 outstanding recreation centers!!
When I lived in Plano during high school, this city rec center was my first gym, first indoor track and first hamstring workout I ever did.  Memories  =)
Today, Brian and I don't live far from Oak Point and when we have a membership, this is the gym we go to.  Sometimes we buy an annual pass while sometimes we just stick with a month long pass.  It just depends.
The 5 recreation centers include Oak Point, Douglas, Tom Muehlenbeck, Liberty and Sam Johnson center which is now a 50+ recreational center (and its been recently updated and looking gooooood😀 )
☀️ Oak Point Recreation Center
This rec center is on the east side of Plano at Jupiter and Spring Creek.
• Weight Room
• Climbing Wall (certification required, please contact center for details.)
• Racquetball Courts
• Indoor Track
• Game Room
• Gymnasiums
• Recreation Classes
• Indoor & Outdoor Swimming Pools
• Room and Pool Rentals
☀️ Liberty Recreation Center
This is located closer to central Plano and the Collin Creek area
This rec center is in the midst of remodeling but opening up again at the end of October.
It includes an outdoor pool, cardio room, weight room, volleyball, table tennis and don't forget Pickle Ball.  
If you haven't tried your hand at Pickle Ball, I encourage you to give it a whirl at least once.  Lots of fun and lots of calorie burning.
Tip: if you are somewhat serious about pickle ball, try upgrading to a better racket, rather than the 'government issued' paddle that they provide.  You'll do much better and enjoy the game so much more with better equipment.
And if you can read up on a few rules of the game, you'll be able to walk in to the rec center like the
Pickle Ball badass that you are.
☀️ Tom Muehlenbeck Recreation Center

We love popping over to this rec center in the Summertime. This one is just west of Preston on Parker Road.
It has a fantastic pool, layout, indoor and outdoor water features and 3 awesome water slides.
Tom Muehlenbeck Recreation Center also includes:
-Cardio areas with treadmills, elliptical machines, upright and recumbent bikes and rowing machines
– Adult strength area and a free weight area
– Youth line of strength equipment (age 10+ with adult supervision)
– One full size basketball court
– Indoor jogging/walking track
– Indoor lap pool (8 lanes x 25 yards, 3.5 -12 ft deep) w/large drop slide and diving board
– Indoor leisure pool w/current channel, large slide & shallow water play pool
– Two outdoor pools with three large slides and shallow water play pool
– Game room that includes billiards, air hockey, board games and table tennis and foosball
– Open play Badminton, Basketball, Table Tennis and Volleyball. Classrooms, meeting rooms and pool party room available for rent.
☀️ Douglas Recreation Center
Douglas Rec Center is located in historic downtown Plano.
The Boys and Girls Clubs of Collin County provides programs for children ages 8-16 at the Douglass Community Center during the school year and summer. For more information and hours, contact the Boys and Girls Club at 972-424-6301
The Douglass Community Center is open to all residents of Plano during public hours.
☀️ Sam Johnson Recreation Center
The center reopened in March 2019 after a yearlong renovation with a new, 2,800-square-foot cardio and weight room addition overlooking Harrington Park. The center's famed Gazebo Café received an extensive face-lift with more dining space and a reconfigured kitchen, which will allow staff and volunteers to better serve patrons.
I know that many residents of DFW choose to purchase a home in Plano because the city provides so many benefits for its aging residents.  These are benefits that cannot be found in just any city. Plano has made an effort to make this city a comfortable residence.
Here is a link to discover more of Plano's senior resources
Other amenities at the Sam Johnson rec center include:
•  New fitness class space
•  Additional classroom space for classes, seminars, meetings, etc.
•  Additional parking and restrooms
•  Expanded area for the Wellness Center for Older Adults
In case you have not been there before, its tucked in behind the old Spaghetti Warehouse/Barnes Noble area off of 15th street.
However, you might have ridden your bike down the Chisholm Trail and seen it.
Plano Pools
Plano has no shortage of pools in addition to their rec centers. And Brian and I love exploring the various pools and amenities at each one.  Some are more relaxed, some are all about the swim workout whereas others are all about the amusements.  Its amazing to see how much Plano has put into this area – pools are a serious investment to implement and maintain.  They do a brilliant job!
Some of the Plano pools are attached to the rec centers like Tom Muehlenbeck which has an indoor and outdoor pool while others are stand alone.
The Swimming Pools in Plano Texas include:
1. Plano Aquatic Center
2. Williams Natatorium
3. Jack Carter
4. Oak Point
5. Liberty
6. Tom Muehlenbeck
Plano Aquatic Center
Also known as the PAC, this used to be my old stomping ground every Monday and Wednesday night throughout the school year because my first job was with the City of Plano as a Water Safety Instructor.  Best job I ever had!
This public recreation spot with an indoor pool & outdoor splash area also offers facility rentals.
2301 Westside Dr, Plano, TX 75075
Williams Natatorium
Just like the PAC was my home on Mondays and Wednesdays, the Nat was my home on Tuesdays and Thursdays.
Rowlinson Natatorium is an indoor 25-yard facility with deep and shallow water training areas and a zero depth entry ramp in shallow area. It is open weekends during the summer season and for scheduled classes only during fall, winter and spring.
1712 P Ave, Plano, TX 75074
Jack Carter Pool
Back in the day, this was just one big giant rectangle of a pool with a really tall diving board.  My Mom used to drop my brother and I off and we would throw our towel on the grass and then go flying into the pool to flop around.
Cut to today, and its gone from a linear pool to a water wonderland.  Its literally a mini water park (and its freaking awesome!)
They have rock climbing where you can climb up about 10 feet then fall into the cold deep pool, a flow rider to test out your body surfing skills, a play pool, water volleyball, a diving platform, a lazy river (they provide the single and double tubes), water slides, a water slide where you can ride a double shot tube down, lockers (free with your Parks & Rec ID), concessions, clean bathrooms and lots of space to chillax.
And yes, if you have a membership whether it be monthly or annual, this pool is included in your membership, otherwise you can expect to pay $9.  Definitely get the membership if you can, its such a great deal.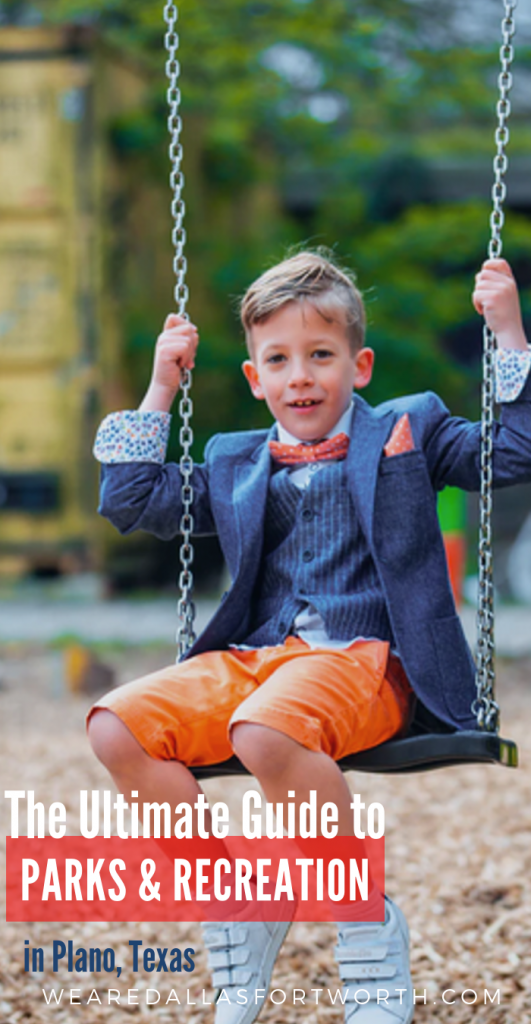 Park Pavilions in Plano Texas

There are plenty of places to sit and have a family picnic in the city parks; however, if you are looking to bring a large group together, you'll probably want to make reservations at a pavilion.

Depending on where you or your group live, there are a few:
Arbor Hills Nature Preserve
Bob Woodruff Park
Hoblitzelle Park
Oak Point Park and Nature Preserve
Old Shepard Place Park
Preston Meadow Park
Russell Creek Park
Shawnee Park
Willowcreek Park
Windhaven Meadows Park
What about Hiking Trails to explore?
Trails such as Oak Point Nature Preserve, Bicycle Trail 28, Arbor Hills or the Bluebonnet Trail were meant for exploration and transportation.
We find it so fun to try out new trails to give our workout some spontaneity and Plano has plenty to choose from, see more about the trails here.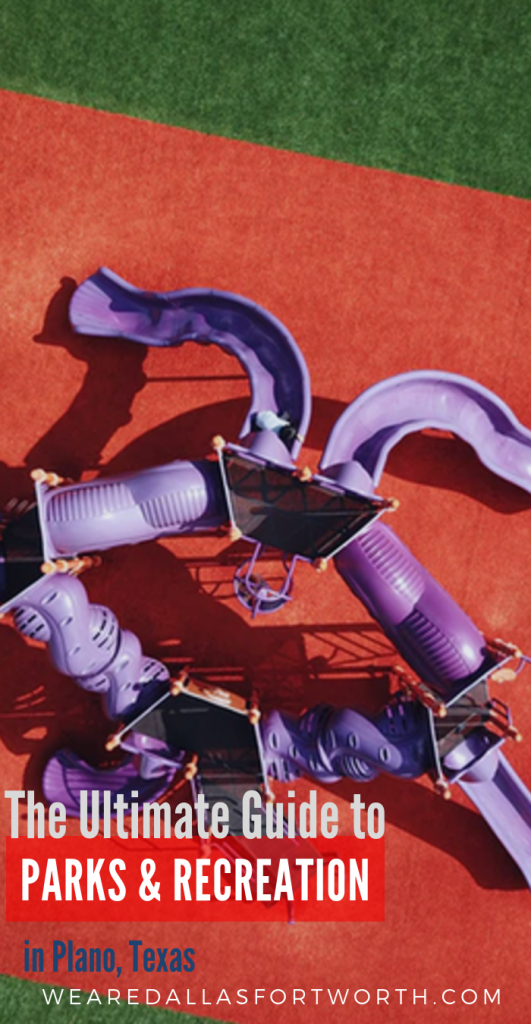 Are there any NEW Parks coming to Plano?

Los Rios Park is one that I am so excited about and I think you will be too!
When its completed in 2020 it will have a disc course (how fun!) and a mountain biking trail.  As an avid mountain biker, I am aware that it won't be huge but it will be a 1 mile trail. Perfect for biking over from my house, hitting the trails then popping over for a coffee at the coffee shop.  Such a perfect day.
I also noticed that there will be a boat launch , I wonder if that's for??  Excited to find out more.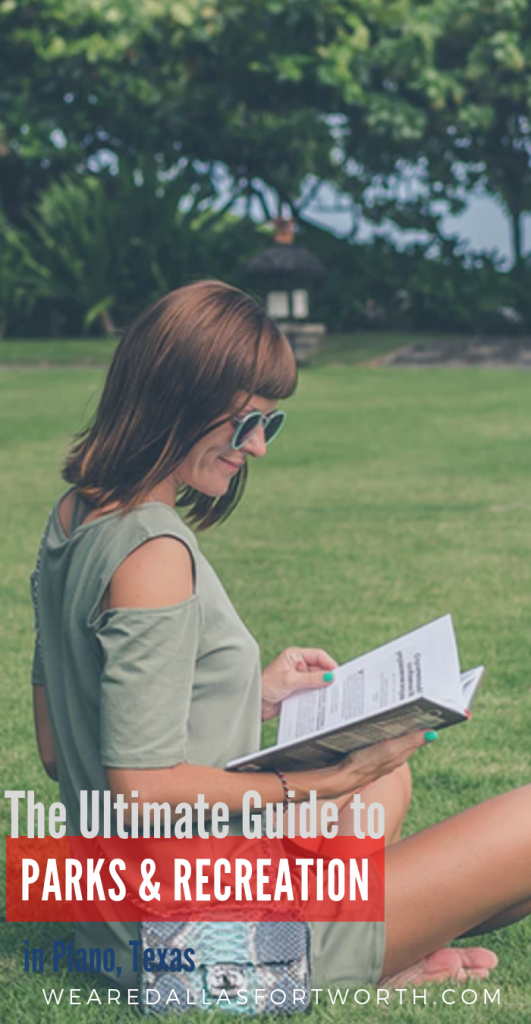 Windhaven Meadows Park Opens Sept. 23
The ribbon-cutting for Windhaven Meadows Park and Liberty Playground will take place at 11 a.m. on Monday, Sept. 23, 2019. This new park features an all-abilities playground made possible through a $1 million donation from Liberty Mutual Insurance Company. It will also include a dog park, spray ground, large pavilion, restrooms and beautiful trails.
Located at Windhaven Parkway and West Spring Creek Parkway, Windhaven Meadows Park is a 123-acre, passive recreational park complete with walking trails, ponds, and natural open spaces. Additional features include:
– 330 parking spaces
– 12 accessible parking spaces
– Restrooms
– 1.9 miles of concrete trail connecting to Legacy and Bluebonnet trails
– 4,800 square foot covered, reservable pavilion
– 4.6-acre dog park with concrete pathways, shade structures, seating areas, drinking stations, rinse stations, and pet waste and litter receptacles
Windhaven Park in Plano is also home to Liberty Playground:
Liberty Playground
This universally designed playground features more than 20,000 square feet of accessible play equipment, providing inclusive play for those of all abilities.
– Comprised of 40% sensory play activities and 60% physical play structures on synthetic turf
– Exceeds ADA requirements
– Equipment focuses on the six elements of play: social, emotional, physical, sensory, cognitive and communication
– A sensory garden with wooden elements and 1,800 square feet of water features
– Older and younger children spaces that encourages age-appropriate learning, risk taking and motor skill development
– More than 50 new shade trees
– Shade structures and picnic tables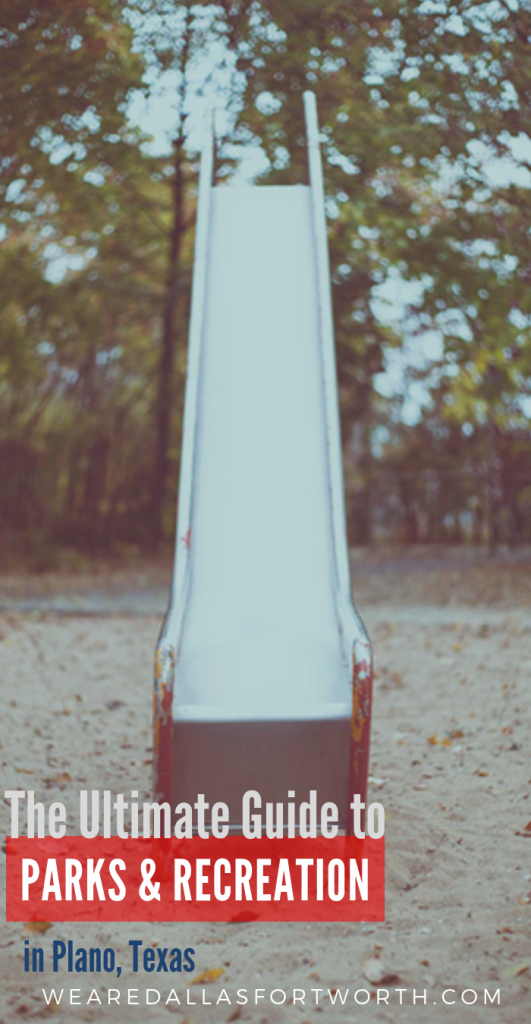 Dog Parks
As a Dog Mom, I think its important that we chat about dog park rules before we chat about where the dog parks are located.
Although the rules are stated on the front gate of the dog parks, not everyone takes a minute to read.
However, I would strongly encourage anyone planning on visiting the Dog Park, visiting for the first time or new to the idea of dog parks, spend some time prepping and understanding the rules of the Dog Park.
In addition to regular rules, usually posted at your local park – rules such as, dogs must be up-to-date on vaccines, dogs must not be left unattended, owners must pick up after their dogs, etc – familiarizing yourself with these important dog park etiquette tips can make your trip to the park a good one!
Here are 10 rules to read before you head out to Bob Woodruff Dog Park, Jack Carter Dog Park or Windhaven Dog Park and something that the Dog Moms discuss often.
1. Call your dog away from the gate while others are entering and leaving. Its good to have space. We all know it gets a little harried around the exit and its always polite to hold your dog back to give others a safe space to enter.
When a dog is first entering they can become very stressed and angry.
2. Remove your dog's leash before entering the park. Most dog parks have a double-gate system that provides a holding area before you open the other gate to let them run into the park.  This is the place to unleash your dog.
**Also, do NOT hang your leash on the fence even though you see others doing this.  Keep your leash on your person, you need to be ready in a moment's notice to leash your dog and take them out of the dog park.
3. If your dog wears a metal collar, remove it before letting him into the park. Dogs at the park often play rough  with each other. Remove the collar so no one gets hurt.
4. Keep an eye on your dog at all times. One of the biggest complaints of pet parents at the dog park is when someone brings their dog inside, then plops down on a bench and looks down at their phone or a book the entire time they're there. Instead, use this time to interact and play with your dog!
5. Pick up after your dog. Grab some bags from the dispenser at the park and use them.
6. Keep a close watch on your dog's body language and the body language of any dog's he's interacting with. 
7. Leave your sick dogs at home.  Dog parks are a breeding ground for disease.  Keep them safe at home.
8. Don't bring dogs that are not spayed or neutered, and especially dogs in heat, to the park. In no way is this ever okay.
9. Leave your McDonalds at home.  This is not the time for a Parisian picnic.  This is a hands on adventure.  Stay on your feet, do not tempt dogs with food, watch your dog, then leave.
Now onto the dog park locations . . .
Bob Woodruff Dog park
This park has not opened as of publishing this article; however, its intended opening date is October 2019.  So just a few more weeks!
This one will be the closest to us and a dog park that we will be able to walk Dutch to go play in.
The hours will be determined once this dog park opens up.
Jack Carter Dog Park
The dog park is a double-gated, fenced, two acre area along Bluebonnet Trail, near its intersection with Chisholm Trail in central Plano. It features a separate area for large and small dogs with shade shelters, picnic tables, benches. LED lighting, water stations for humans and dogs, waste pickup/disposal stations and a dog rinse station near the parking lot. The park closes at 10:30 p.m. A warning strobe will be activated before the lights automatically turn off. Please leave adequate time to vacate the park. The dog rinse station is winterized during the winter months and remains off until spring. Please park in the parking lot provided west of the area. You can find the parking lot by traveling one half-block north on Pleasant Valley Drive from its intersection with Spring Creek Parkway, west of Custer Road. The dog park is the only off-leash area designated by the Parks and Recreation Department. When outside the dog park enclosure, all animals are required to be restrained on a maximum 6-foot leash at all times, including when arriving and departing the dog park.
HOURS
Sunrise – 10:30 p.m.     Friday – Wednesday
4 p.m. – 10:30 p.m.       Thursday
Windhaven Dog Park
Opening on September 23, 2019 this park on the west side of Plano has so many features including a dog park.
Hours TBD.
What events are held at the parks in Plano Texas:
One of the most popular and well-known events throughout the country is the Plano Balloon Festival.
Other events include concerts at the Oak Point amphitheater, races throughout the trails in Bob Woodruff and Oak Point park, 4th of July fireworks and a ton more.
How do you prepare for all the activities?
Our garage and our sports closet is filled with many items to prepare us for all of the activities in the parks:
These are just a few of the items we need when headed to the trails or parks or gym or pools.
Thankfully, the City provides a lot of what you need, such as a pickle ball racket when you show up without one.
Whatever you do, head out to the parks here in Plano.  The trails will take you to places that you never knew existed, memories are waiting to be made and secret spots in the forest are waiting for you to use as secret hiding spots when playing games with your friends.
Seriously, adventure awaits!
Parks themselves play a key role in in our lives – we are impacted by more than just physical and mental health—where you live, work and play are major factors that contribute to your overall health.
Green infrastructure is well known for its contribution to improved environmental quality, but when implemented in parks, projects can also provide social, economic and health benefits to their communities every day. Because of this potential, NRPA recognizes the need for cross-sector solutions to address community health disparities through green infrastructure projects in parks.
Let's not take our park system for granted here, okay?
Oh and one more thing . . .
Come join the conversation over here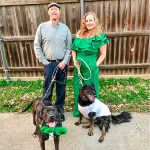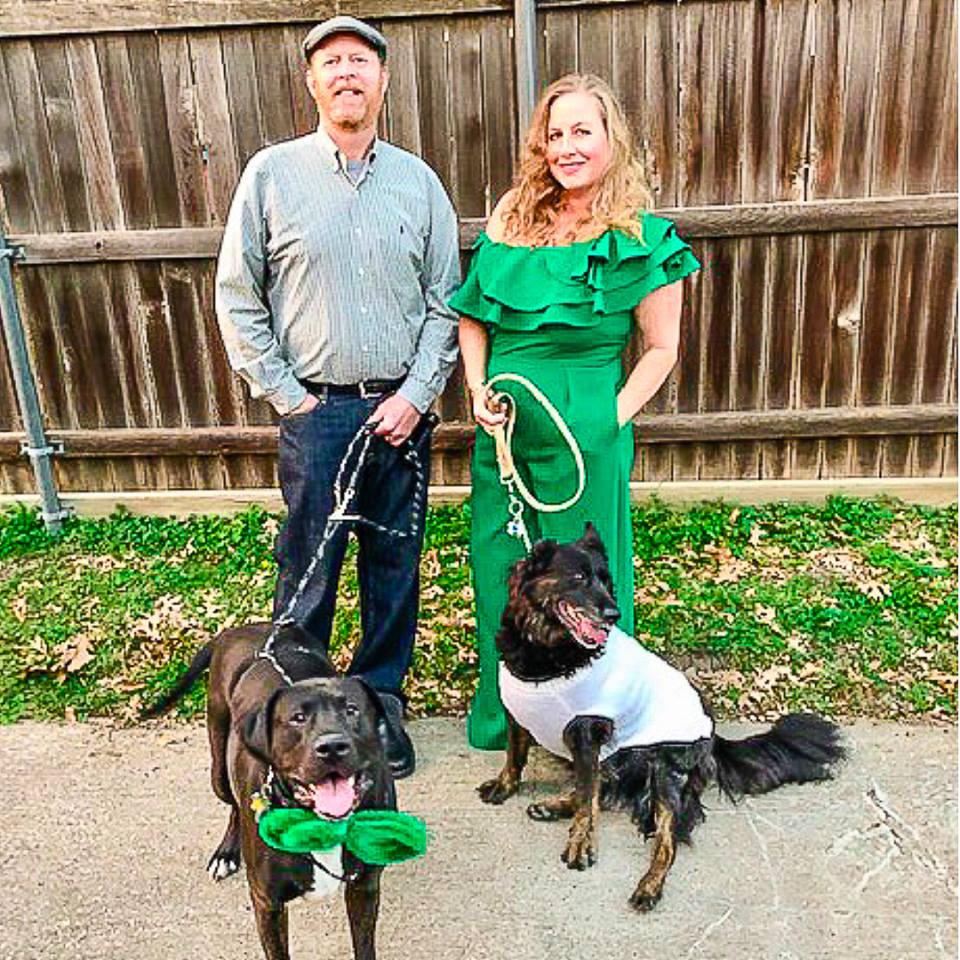 Interested in working with Becca or being featured here on the website, start here
She helps local businesses in DFW and many larger businesses looking to tell a story to the readers of Dallas. Her work entails copywriting, content marketing, blog campaigns, email marketing, social media, coaching and consulting.
This article contains some affiliate links, meaning that if you make a purchase through these links, I may earn a small commission (at no extra cost to you!). Thank you for reading!
Be sure to take a peek at the LIVE show here, I would love to see you join us every Wednesday morning at 10:00am  – here are just a few of them from the recent weeks (lots of Plano and Frisco representation in the house!)
Want to see more on Plano? Check out ⤵️
You might also like
If you like podcasts, here are a few of my episodes from the We Are Dallas Fort Worth podcast