Disclosure of Material Connection: Some of the links in this post may be "affiliate links." This means if you click on the link and purchase an item, I will receive an affiliate commission. Disclosure in accordance with the Federal Trade Commission's 16 CF.
Don't go chasing waterfalls? Who says? Well, those of us who were around for the olden days of the 1990's likely know exactly who said it, but that's neither here nor there. We want you to go chasing waterfalls, specifically those listed here at Prairie Creek Park in Richardson Texas.
Some waterfalls are iconic and some are hidden treasures tucked away in pockets of the metroplex like this one in Praiire Creek Park or in Lakeside Park in Highland Park.
Others appeal to tourist because they are remote and getting to them requires a challenging trek.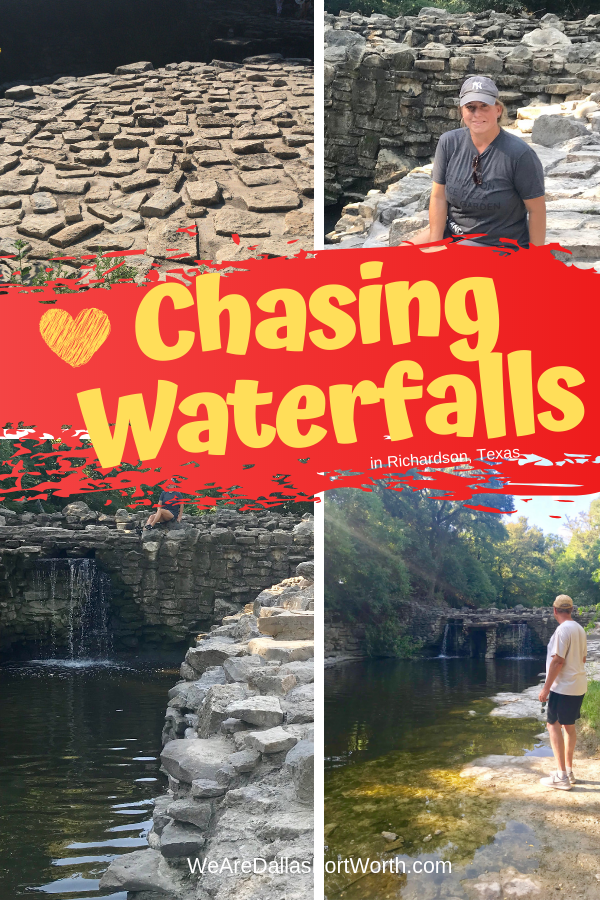 Why should you go see Prairie Creek Park in Richardson Texas?
Because exploring outdoors is a ton of fun and a perfect way to get those steps in each day.
In fact, exploring and playing outside assists in increased life span, weight management, calming the mind, relieving stress and anxiety, improving mental focus, increasing creativity and strengthening the immune system.
Find time today to venture outside and take advantage of the health benefits of the outdoors. Replace time spent inside on electronic devices with a bike ride or a walk to a local park. Take up forest bathing or gardening as a new hobby. And remember outdoor recreation can be enjoyed alone or as a family.
There's no wrong way to get outside and so much to be gained by exploring the natural world. You know why being outside is important. It's time to reconnect with nature. Your body and mind will thank you for it later.
Brian and I have loved our adventures around the globe like when we escaped to Switzerland, Banff Canada, Nicaragua, Mexico City, Dingle Ireland, Sao Paolo but we loved our Texas adventures just as much.  Loved our mini overnight trips and day trips exploring the lovely Caddo Lake, Austin, Jefferson . . .
Overall, we love adventure.  We love taking our hikes and walks throughout our own metroplex because its something we can fit in almost every day or at least on the weekend.  We love hopping on and off the DART Light rail to our favorite coffee shops, to breweries like Brain Dead in Deep Ellum, the State Fair, to bike ride the trails from Forest Lane station on DART, to the Museum of Memories, or even all the way from Plano to the DFW airport. 
From our house, most days you'll find us with our dogs at Bob Woodruff Park or Oak Point Nature preserve – phenomenal parks provided by the City of Plano Parks & Rec Department.  We also take weekly jaunts in our 1930 Model A to the Parker Barn in the City of Parker.  Or, if we are looking for a leisurely Sunday that involves donuts 🍩 we pop the dogs in the Jeep and zip down Avenue K past Downtown Plano and park in front of Top Pot Doughnuts at Cityline in Richardson.  CityLine has some amazing walking trails that connect to Spring Creek Nature Preserve with tons more beautiful trails.  And, then we return back to Top Pot for a cup of coffee and a maple donut while sitting in the pretty courtyard with the dogs.
Parking at Cityline is also a great starting point for our walk to Prairie Creek Park in Richardson.  And without a doubt, gave us our 10,000 steps and a new place to get some exercise in without having to schlep to far from home.
Prairie Creek Park in Richardson Texas
An unexpected treat in a nice greenbelt park in Richardson. This waterfall is a wonderful place to bring the family to enjoy a spectacle not typically found in suburban DFW.
The closest access point is by parking on West Prairie Creek Drive.
This tucked-away neighborhood park and waterfall gives visitors a welcome respite from city life.
You can find this park at 2305 W. Prairie Creek Dr. Richardson Texas 75080.
Prairie Creek Park is one of the oldest and most historically significant parks in Richardson Texas. The lives of many of Richardson's most prominent founding settlers were connected in many ways to the beautiful natural area preserved by the park. Prairie Creek first became a park in 1966 when the city's first Parks Department director managed the purchase of 37.2 acres for the purpose of protecting nature and wildlife habitat. Over the years capital improvements within the park have been minimal in respecting resident's wishes that the park remain more of a nature preserve than a typical neighborhood park.
The first master plan for the park was developed in the 1970's and an updated master plan was adopted in 2002. Important improvements developed within the park over the years include two wooden pedestrian bridges, a spectacular waterfall, the Discovery Point outdoor learning area, and the Huck Finn soft surface nature trail.
Richardson's oldest formal school house once stood on land now encompassed within the park and many civic organizations and the local school district are involved in events that regularly bring people together to Prairie Creek Park. These events include trash bashes, garden club plantings, spring wildflower viewings, and educational opportunities when elementary schools bring students to Discovery Point for outdoor learning and to enjoy the park's natural beauty.
Past farmsteads with windmills, bridges, trails, waterfalls and other unique historical and natural features have been preserved and highlighted by Prairie Creek Park. The natural beauty of this area has been bringing Richardson residents together for over 150 years, and will continue to so long into the future.
Prairie Creek is a small neighborhood park, across the street from an elementary school or you can access it from the intersection of Renner Road and Collins Blvd heading south into the neighborhood. It does have a few short trails, some good picture taking opportunities as well as a pretty secluded little area with big stones to lounge about, climb on, jump off of as you please. There is also, of course, a creek that runs through the park. We went on a Sunday morning and besides the cheerleading squad that met up for pictures, we had the whole place to ourselves. This is a good place to go if you want to stay close to home (assuming you live in the area) and still want to get outside.
The website states that it's 37 acres. You can use it for exercise or a picnic – that would be amazing.  And if you look on Instagram, you'll see so many who have used this area for a backdrop for engagement photos, wedding photos or family pictures.  I think we are already planning to head back with Dutch and Bowden for a family pic.
We love this spot because its so stunning and a hidden treasure that not everyone knows about in DFW and maybe not even in Richardson.  In fact, as soon as I posted the waterfalls in my Instagram stories I had about 15 people message me asking where I was.  They were all in disbelief that I told them that I was not traveling rather I was in Richardson and this beautiful spot was just west of Central Expressway.
Being in nature, is our favorite place to be. Exposure to nature not only makes us feel better emotionally, it contributes to your physical wellbeing, reducing blood pressure, heart rate, muscle tension, and the production of stress hormones. In a nutshell, nature heals.  At first thought or even first glance, it may not seem that the DFW area offers much in the form of nature and places to explore but trust us, once you do a little digging, you will find so many treasures within Dallas you will be astonished.
We cannot wait to find new nature gems in DFW and invite you to join the convo over here on the page.

This article contains some affiliate links, meaning that if you make a purchase through these links, I may earn a small commission (at no extra cost to you!). Thank you for reading!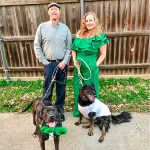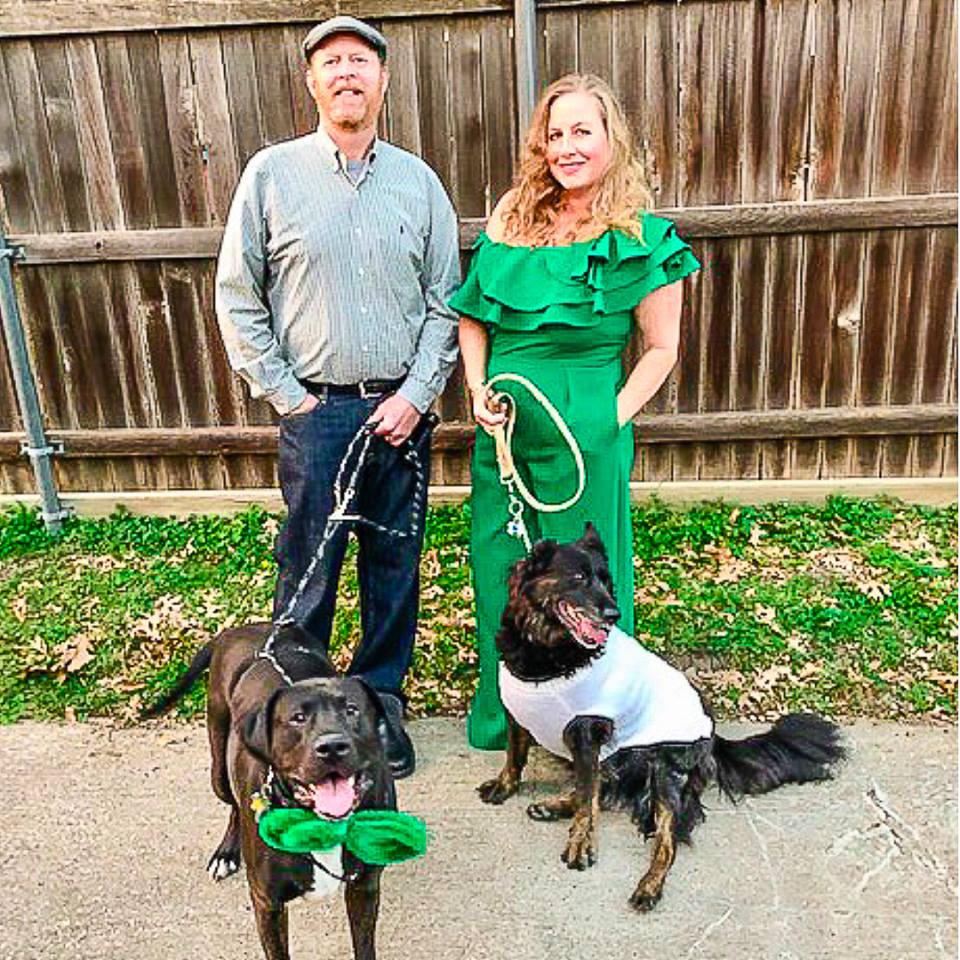 Interested in working with Becca or being featured here on the website, start here
She helps local businesses in DFW and many larger businesses looking to tell a story to the readers of Dallas. Her work entails copywriting, content marketing, blog campaigns, email marketing, social media, coaching and consulting.
Catch some of our podcast episodes here: