Disclosure of Material Connection: Some of the links in this post may be "affiliate links." This means if you click on the link and purchase an item, I will receive an affiliate commission. Disclosure in accordance with the Federal Trade Commission's 16 CF.
I don't think I have to tell you that packing up, uprooting your family and moving to a new town, like Celina is one of the most stressful things you'll experience in your life.  Am I right? There seems to be this never ending list of things to do. But there's one thing that needs to go to the top of your list ASAP. Make sure you add calling the City of Celina and getting your Celina Texas Utilities setup
Because you know having water, trash collection, recycling collection will need to happen as soon as you start life in Celina.
And of course, you'll also need to
Check to see if your HOA covers any of the utilities (or what their guidelines are)
Update your address
Let friends and family know of your new address
Arrange your payment
Stay organized with this notebook
Let's get you started on your new residence in Celina.
And let's talk about your options and who you need to call ASAP.
Celina Texas Utilities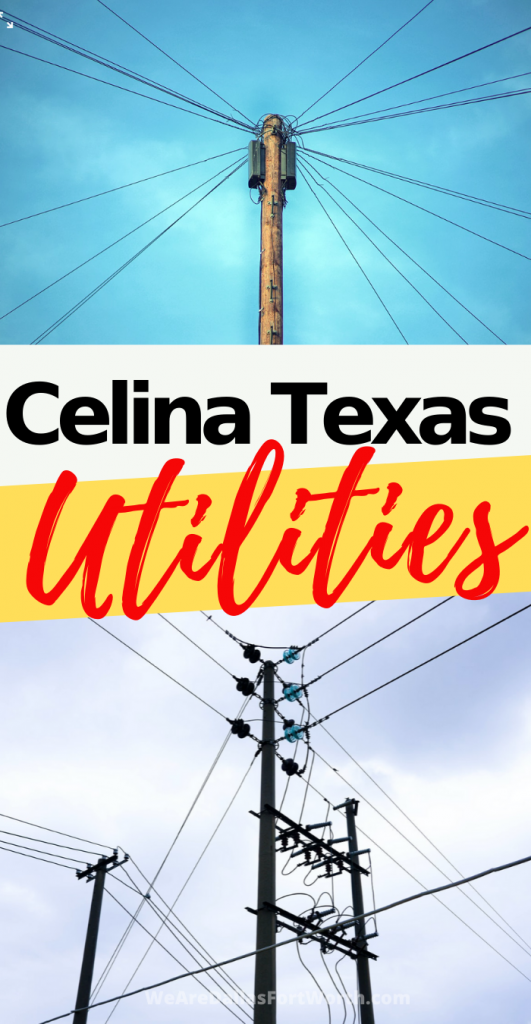 If you're new to Celina, you might not know that . . .
The Celina Utility Billing Department provides service related to water, sewer, trash and recycling services to residents and businesses.
And you will need to Start your service or Change your service or Disconnect your service:
✅ It must be done in writing on a specific form
❌ Requests cannot be accepted over the phone
If you need help right away, then you can call 972-382-2682
Or you are welcome to visit City Hall in person.
Here is their address:
City of Celina
City Hall
142 North Ohio Street
Celina, TX 75009
If you've settled down to Celina then you know . . .

Celina is an ideal place to raise a family and relocate if you are looking for a quiet town or a quasi suburban rural town.
The city is in far, far north Texas (still mostly Collin County) and is actually closer to Oklahoma then it is to Dallas. Celina is still a very quiet, small town with the exception of a small downtown historical area with a famous BBQ and a couple of wineries and the park, activities are all about family and enjoying the amenities in your neighborhood community. Currently, all activities are outside of the town as Celina as it's mostly a bedroom community.
Because the focus is on your home and being in your home, there is no Starbucks to run to at the moment,  you'll want to make sure you have your house needs ready to go to live without any hiccups.
Celina Texas Utilities: Trash Pickup

Waste Connections provides each customer with a green trash bin.
All non-recyclable waste should be placed inside the green cart and placed curbside prior to 7 a.m. on the scheduled pick up day for your neighborhood.
Trash is picked up once each week.
Recycling is picked once each week.
Do not overfill your trash bin.
Celina Texas Utilities: Water
Did you know that only about 2% of Earth's water is drinkable? Interesting fact.
Besides the need for drinking water, your home will also need water for your lawn, new tree plantings, washing your car and filling your pool amongst a few other things.
And water is a precious resource that also has guidelines and requires payment.
Watering your lawn
Did you know that Celina is part of the WaterIQ program? This is a program that offers many valuable resources such as as water saving tips and info on rainwater harvesting.
If you want to know how much water your home is using, then you can calculate it using this Water Calculator.
And Celina has many more resources and advice on water and water conservation over here.
Celina Texas Utilities: Sewer
First, if you need immediate help with any sewer issues at your home, Did you know that the Sewer Division has an employee on-call 24/7 year-round? If you need assistance after regular business hours, please call the Public Works Department at 972-382-2682, and they will dispatch the on-call employee.
❌ Don't pour grease down the drain
Celina Texas Utilities: Recycling
The City of Celina uses Waste Connections to provide services
Each customer has one Blue Recycling bin.
The recycling bin should be placed at the curb by 7 a.m. every week on the scheduled pickup day.
Please allow 5 feet between trash and recycling carts to allow cart pickup by automatic arms.
Please keep your carts at least 5 feet from vehicles.
Be aware of this ONE thing about your Celina Texas Utlities:

Payment for Water and Utilities
If using your credit card or debit card, online or over the phone, the City will add a 3% fee to the the transaction.
Alternatives to online or phone ⤵️
You can mail a payment here:
Att: Utility Billing
142 N. Ohio St
Celina, TX 75009
Or visit in person:
Just go to the Celina City Hall
142 N. Ohio St
Celina, TX 75009
Hours of operation ➡️ 7:30 am – 5:30 pm Monday-Thursday
Hours on Friday ➡️ 7:30 am – 11:30 am Friday
*If you pop over to the City Hall when its closed, then you can you use the drop box which is located in between lobby doors.