Disclosure of Material Connection: Some of the links in this post may be "affiliate links." This means if you click on the link and purchase an item, I will receive an affiliate commission. Disclosure in accordance with the Federal Trade Commission's 16 CF.
McKinney is once again celebrating St. Patrick's Day and they are inviting all of McKinney's residents to come on out.  Anyone near McKinney or passing through is invited to join in on the festivities the Saturday prior to St Patty's Day.  This is your guide to the St Patrick's Day Festival in McKinney.
A Detailed Guide to the St Patrick's Day Festival McKinney
The festival is free and family friendly! Festivities include costume contests, delicious food, a play-zone for kids, two Irish bands, Irish dancing and of course good, cold beer.
This event is not a city sponsored event like many of the others such as Home for the Holidays, Oktoberfest, Arts in Bloom or Krewe of Barkus; however the McKinney EDC does provide support to make this festival happen.
Typically, city sponsored festivals and events are held on the Square whereas this one is at a local McKinney business via a private company.
Let's answer all of those questions you might have:
What time does this event start?
The McKinney St Patrick's Day festivities start at 9:00 am and end at 4:00 pm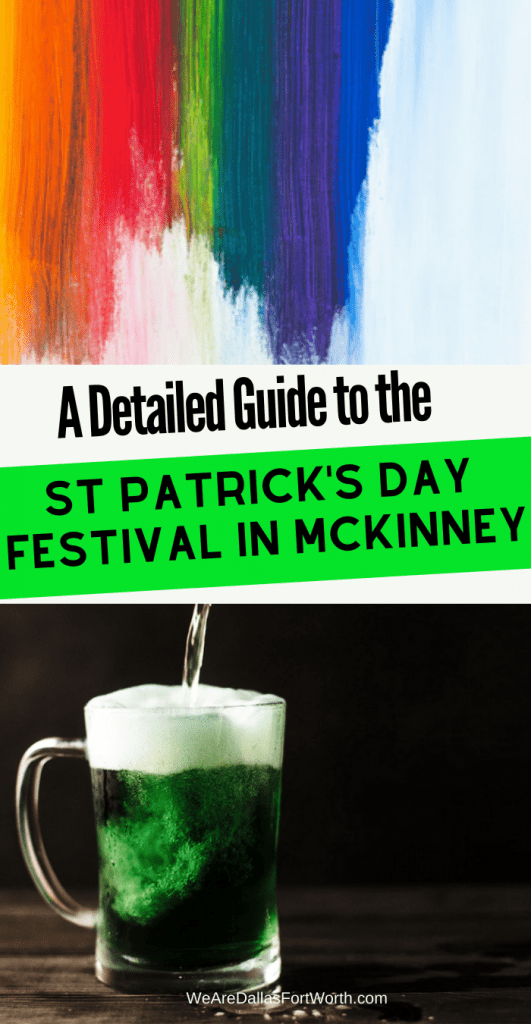 When is the event?
Saturday, March 14
Who should attend the St Patrick's Day Festival in McKinney?

This is a family friendly event and perfect for all ages. So anyone who likes to enjoy live music, yummy food and beer.
Where is the event located?
TUPPS Brewery
721 Anderson St, McKinney, TX 75069
Will it be cold?
With Texas weather, y'all know it can change rather quickly.
The brewery does not have heat nor does it have AC so be sure to dress accordingly.
(if you go in the Summertime, they do have these cranking)
What will happen at the St Patrick's Day festival?
Festival and 5k
The Shamrock Run 5k starts at 9:00am and includes medals and swag.
TWO stages including a new outside stage sponsored by Prestige Community Credit Union with Irish Rock Bands, delicious cuisine including Irish favorites, costume contests, lots of GREEN BEER, lawn games and plenty of cool vendors!
Can you tell me more about the Shamrock 5k?
The Shamrock Run 5k starts at 9am and finishes in front of  the brewery.
The start and finish line will be in front of TUPPS Brewery located at the historic McKinney Cotton Mill which is just south and a bit east of the Downtown McKinney Square.
The 5k Registration includes a Shamrock Run event T-shirt, a medal and a swag bag.
Make sure to register for the Shamrock 5k prior to the event if you would like to run.
After the 5K the festival begins at 10:00am.
Where can I park?
There is always a lot of chatter around the parking situation in McKinney.
Understandably so, its a really cool and popular historic downtown to visit.
You can park in the grass lot next to Tupp's
You can park in the neighborhood to the South of Downtown McKinney
You could find a parking space in one of the new parking garages in downtown McKinney
You can find a parking spot in one of the many parking lots on the McKinney Square
If you are concerned about parking, keep in mind that there will be a complimentary shuttle that will shuttle festival attendees between downtown McKinney at the Chestnut Commons parking garage (Virginia/Chestnut) starting at 10am.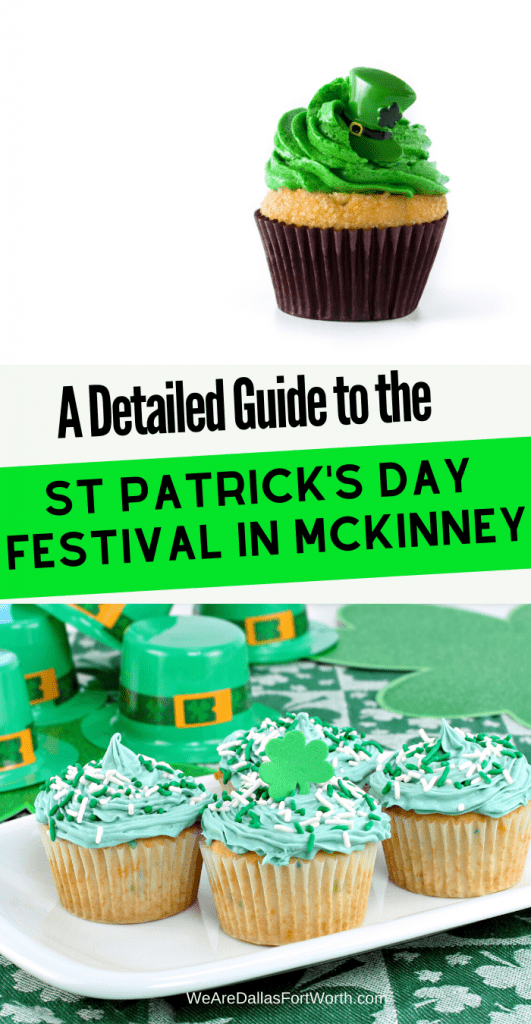 Is it kid friendly?
Yes, kids of all ages are welcome. This might be a better alternative for kids than the Dallas Parade on Greenville.
Is it dog friendly?
Yes!! The Dog Moms will be happy to hear that.
Make sure to bring your poop bags and well-behaved pooch (get some festival practice in at the Krewe of Barkus)
What should you wear?
Anything green and/or outrageous is always a good idea.  It is the day to find all the green in your wardrobe or that one St Pattys tee you bought years ago and wear it proudly.
Green shamrock glasses? Yep, pull those out.
Green top hat? Yep, you'll need that too. 😃
Final Thoughts on the St Patrick's Day Festival in McKinney
DFW is growing into its own destination surrounded by staycation cities all around us, like McKinney. After you've visited the parade in Dallas or the Mansfield Pickle Parade, head up north to participate in McKinney's celebration of all things Irish.
This newer McKinney event  is much more laid back than the Dallas festival and much smaller.  You might like this option as a family event.
I believe we are on the 3rd Annual McKinney St. Patrick's Day Festival & Shamrock Run and it looks to be another fantastic place to celebrate St Patrick's Day festivities in DFW.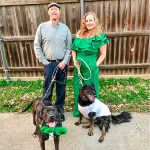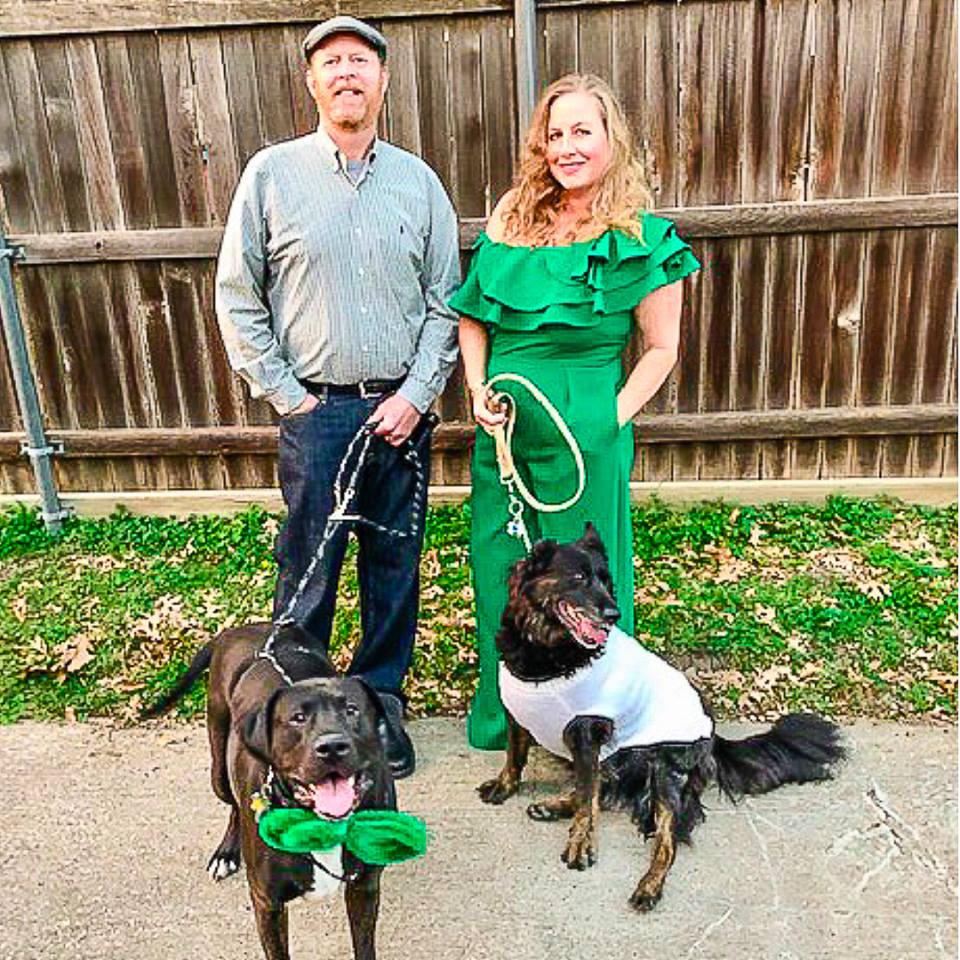 Interested in working with the We Are DFW team or being featured here on the website, start here
They help local businesses in DFW and beyond as an Online Business Manager, support on LinkedIn, social media and marketing Training and a even a little content marketing, blog campaigns, email marketing, social media, coaching and consulting.
You might also like
If you like podcasts, here are a few of my episodes from the We Are Dallas Fort Worth podcast
Be sure to take a peek at the LIVE show – here are just a few of them from the recent weeks (lots of Frisco representation in the house!)