Disclosure of Material Connection: Some of the links in this post may be "affiliate links." This means if you click on the link and purchase an item, I will receive an affiliate commission. Disclosure in accordance with the Federal Trade Commission's 16 CF.
Roadtripping: Turner Falls Park
We took the most fabulous day trip to Turner Falls Park in Davis, Oklahoma which is exactly 2 hours door to door (not horrible for a day trip, but def a full day).
Turner Falls is one of Oklahoma's tallest waterfalls, dropping 77 feet into a natural swimming pool. Located on Honey Creek in the Arbuckle Mountains near Davis.  Located in the Arbuckle Mountains, which are among the oldest mountains on earth, Turner Falls Park has been described as one of the three geological windows into our past, along with the Grand Canyon and the Black Hills of South Dakota.  These ancient mountains have been exposed to the elements and eroding longer than younger ranges, so they aren't the tallest mountains, but they are a beautiful backdrop for an outdoor adventure.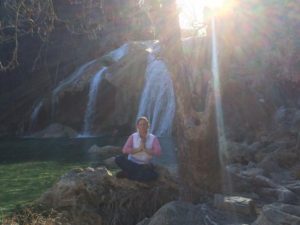 You don't exactly expect to see mountains. much less mountains with a waterfall, in southern Oklahoma, but then again, that's what makes travel interesting.
My husby (aka husband) and I went to Turner Falls Park mainly to see the  falls and to hike, but the park also offers tubing and swimming in Honey Creek, as well as camping.


But then we found more.
Inspiring vistas like these with fun trails on all across the edge.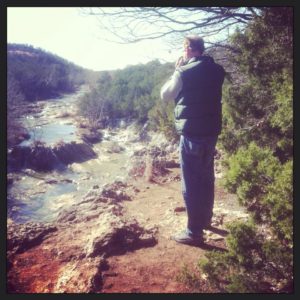 Caves.
Gift Shops.
Sno cone shops.
Mini train to tour the park
Giant waterslide.  Waterslide would be a stretch.  It was a metal slide like the kind I slid down in the 80's that could be really slippery as long as it was cool out.  If it was hot and you had on shorts, the slide might have a sample of your skin.  So they had this slide in one of the main swimming areas which was awesomely 80's.  No safety features.  Loved it!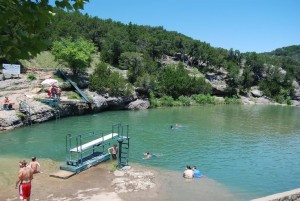 The park also had castles built into the cliffs.  This was another surprise to us and it was so awesomely strange.
Check out these pics and deets from The Pioneer Woman

Here are some tips for a successful day at Turner Falls:
– Bring a picnic basket and enjoy lunch at one of the park's many picnic areas.
– On the way home, stop at Arbuckle Mountain Fried Pies (I-35 Exit 51) or Smokin Joe's
-Do NOT bring your dog.  I didn't understand this until I was there but the grassy areas blend into the creeks that flow from one swimming hole to the next.  Dogs don't make sense there.
-Bring good hiking shoes or wear athletic shoes – when climbing up the steps into the castles there are a lot of steep hills and narrow staircases, some even wind underground into small places
-Bring a camera – this is a photographer's dream locale
P.S.  Before you leave the area, grab an amazing dinner at Smokin Joes just across the 35