Disclosure of Material Connection: Some of the links in this post may be "affiliate links." This means if you click on the link and purchase an item, I will receive an affiliate commission. Disclosure in accordance with the Federal Trade Commission's 16 CF.
What are you going to do about Thanksgiving Dinner in Dallas this year?
Each year, Brian and I actually have this dilemma.
Our families all live out of town for the most part. This leaves us either dashing to the airport for an international trip, flying to Florida to see my family, rushing into the I-35 parking lot southbound to see Brian's family, hoping that family will come our way OR our final choice which is sleeping in, hanging out with the dogs and dining out.
Depending on how chaotic things are with our work schedules, we sometimes just opt for a slow holiday season.
A chance to recharge, take it easy and transition ourselves in to the season of joy and magic.
Or we could run around in these tees:
To be completely honest, as much as we love the magic of the season and I love spending my Saturday nights drinking a hot chocolate and watching Hallmark movies, we don't really buy into all of the hustle and bustle.
We enjoy the Power of No.
It does not mean we are grumpy bears.
We just keep our calendar full of the things we love – time with our dogs, enjoying nature trails, adventuring on the DART to try a new coffee shop or restaurant, mountain biking, reading and doing what feels right to us.
And I know we can all agree when I say ⤵️
We can't forget the importance of rest – and reminding ourselves we don't constantly need to be busy.
Which brings me to . .
If we don't end up traveling anywhere, we might as well treat ourselves to a dinner out.
One of our favorite favorite, omg, favorite places ever for Thanksgiving is the Highland Park Cafeteria. Its a classic.
They serve all of the best "Thanksgiving" kind of foods, super delicious, friendly service, family owned and the price tag is very budget friendly.
The line is long but hey, whats the rush? It's a great time to meet more Dallasites and make a new friend for the day.
This year, Thanksgiving falls on November 28.
So it may be kind of sneaking up on all of us, because, at this writing, its not too far away.
If you're planning dinner out, it's time to make reservations if you haven't already.
*note: no reservations needed at Highland Park Cafeteria, just hop onto line and enjoy!
**note: This year was our FINAL visit to the Cafeteria =(
Information is still coming in, so we'll update accordingly. Prices below do not reflect tax or tip.
If laboring in the kitchen all day doesn't sound like your idea of a holiday, leave it to the professionals to prepare your Thanksgiving meal on Thursday, November 28, 2019.
For an all-American feast of turkey and all the trimmings, visit these top Thanksgiving Restaurants in Dallas Fort Worth.
And best of all? No dishes to wash. No cooking.  Just drive up and indulge.
Thanksgiving Dinner in Dallas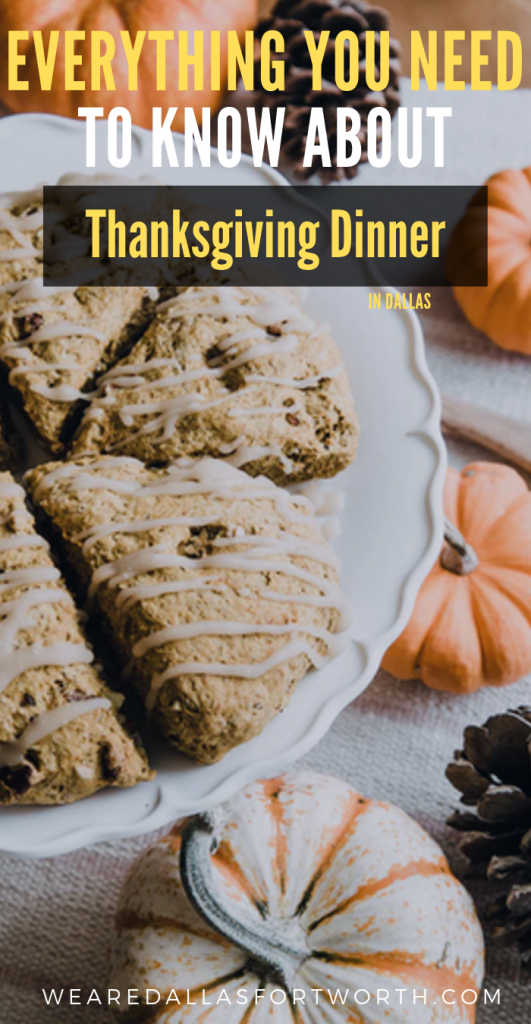 Everything You Need to Know About a Thanksgiving Dinner in Dallas
For starters, do you need these for your family get together? Or would a full one of these be better for ya?
Restaurants open in Dallas
III Forks
17776 Dallas Pkwy
Dallas, TX 75287
(972) 267-1776
III Forks Steakhouse serves the ultimate in Texas French cuisine.
A four-course Thanksgiving meal is $49 for adults and $18 for children at III Forks from 11 a.m. to 8 p.m.
And y'all know you will eat like the Queens and Kings that you are at this fabulous spot.  We love this steakhouse, my family loves this steakhouse and I think all of Dallas would agree this is the place to treat yourself.
Snag lobster bisque or tenderloin tomato soup, salad, holiday turkey with fixings, creamed potatoes and maple-glazed yams, or choose alternate entrees of beef tenderloin with snap peas and creamed corn, or salmon with wild rice and spaghetti squash. Desserts include pumpkin pie cake, Kentucky bourbon chocolate pecan pie, and more delectable treats.
Fearing's Restaurant
2121 McKinney Ave
Dallas, TX 75201
(214) 922-4848
Dallas is all about Dean.  Dean Fearing that is.
Dean Fearing's restaurant serves up Thanksgiving fare via its three-course menu priced at $125 for adults, $75 for vegetarians, and $35 for kids 12 and under.
Second Floor Regionally Inspired Kitchen
13340 Dallas Pkwy
Dallas, TX 75240
(972) 450-2978
Second Floor Regionally Inspired Kitchen serves contemporary American dishes with a regional flair. The culinary and beverage program are influenced by the Westin's "Be Well" movement, which allows guests to Eat Well, Play Well, and Feel Well, in whatever fashion suits their mood, day or overall lifestyle.
They offer craft beer dinners, private dining and indulgent dishes like candied jalapeno and pecan chocolate bark. Yum!
This upscale eatery in the Westin Galleria is offering a Thanksgiving buffet chock-full of delectable options including:
Southern Inspired Thanksgiving Buffet 2019
Thursday, November 28 from 11:00 AM – 3:00 PM
Chef appetizers
Beef brisket burnt ends, Elote corn salad
Slow smoked baby back ribs cherry glaze
spiced butternut squash soup sippers (Dutch pot)
Jalapeno cilantro bisque sippers (Dutch pot)
Deviled eggs
Shrimp ceviche served with blue corn tortilla chips
Salad station
Chopped romaine hearts with shaved parmesan (whiskey glass)
Field greens with crisp seasonal vegetables (whiskey glass)
Choice of Caesar, basil ranch, blue cheese, dressings or herb vinaigrette
Individual composed side salads
Beet and goat cheese salad
Cherry tomato and cucumber with basil
Entrée station
house smoked sausage and sweetcorn hash
roasted salmon, poblano pepper relish
vegan eggplant rotini, chipotle tomato reduction
Carving station
Roast turkey with cranberry relish and giblet gravy
Texas fried turkey
Applewood smoked turkey breast
Corn bread dressing, (Dutch pot)
Texas spoonbread dressing (Dutch pot)
Jalapeno and chorizo dressing (Dutch pot)
Molasses baked ham, served with pecan molasses half glaze
Sides
Green bean casserole, crispy bacon and tumbleweed onion
Braised sweet potato in maple butter
White cheddar macaroni
Broccoli cheese casserole
Cast iron Brussel and carrot agave nectar
Garlic mashed potatoes
Kid's station
Hand Breaded Chicken tenders
Mac and cheese fritters
tomato and cheese flatbreads
Desserts
Fresh baked Cookie action station
Warm Chocolate chip cookies with a choice of toppings
(powdered sugar, anglaise sauce, caramel sauce, chocolate sauce, m&ms, vanilla cream)
Texas sweet tooth
Candied jalapeno and pecan chocolate bark
Smoked Bacon cheesecake shots
Caramel churros (habanero syrup)
Cherry cobbler
Pecan toffee bread pudding, pear anglaise
Fall inspired dessert bites
Pumpkin tarts
Pecan tarts
Apple tarts
Gluten free mousse selection
How amazing is this Thanksgiving menu??
Princi Italia – Dallas (yes, they are open after the tornado)
5959 Royal Ln #707
Dallas, TX 75230
(214) 739-5959
Scratch-made Italian Fare. Offering delicious, fresh food such as homemade pastas, seasonal vegetables, light and lemony salads and more.
You'll find their Dallas locale in the Preston Hollow area. And to indulge in Princi Italia's Thanksgiving feast this year, you'll want to pop in between noon and 9 p.m.  A three-course menu is priced at $42 (kids 12 and under cost $21). Start with butternut squash gnocchi and tortellini fonduta. Main courses include roasted turkey, beef tenderloin, scallops, lobster tail spaghetti, and grilled salmon, and pie.
Highland Park Cafeteria
1200 N Buckner Road at Garland Road
Dallas TX 75218
(214) 324-5000
Just outside of the Dallas Arboretum is our favorite restaurant choice for Thanksgiving Day.  Serving Dallasites since 1925, they crank out the classics:
Roasted tukey
Prime rib
Mashed potatoes
Green bean casserole
Sweet potato casserole
Cornbread
Pecan pie
Chocolate cake
You get the gist . . . and there's a lot more of that Thanksgiving awesomeness.
If its cold, bundle up, and jump in line.
Del Frisco's Grille
3232 McKinney Ave #175
Dallas, TX 75204
(972) 807-6152
The four DFW locations of Del Frisco's Grille (Southlake, Fort Worth, Plano and Uptown Dallas) are offering an a la carte Thanksgiving menu with traditional and less-traditional dishes. Cheesesteak eggrolls, butternut squash bisque, and crab cakes are among the offerings, alongside roasted turkey, pork tenderloin or a New York strip steak. Traditional holiday fixings and desserts are also on offer. Hours are 11 a.m. to 8 p.m. and reservations are recommended.
Del Frisco's Double Eagle Steak House
2323 Olive St
Dallas, TX 75201
(972) 490-9000
This steakhouse's locations in Uptown, Fort Worth, and Plano will serve up its regular menu plus a three-course Thanksgiving dinner for $49. Del Frisco's sticks to tradition with butternut squash soup, turkey with both regular and sweet potatoes, apple-sausage stuffing, cranberry relish, and pecan pie a la mode. Reservations are recommended and hours beginning at lunch and lasting through dinner service vary by location.
The Crescent Club
The Crescent Club
200 Crescent Ct.
Dallas, TX 75201
214-953-4343
Another option for Thanksgiving Dinner in Dallas is this Uptown Dallas icon which is normally members-only, however for this event it is open to the public as they bring a modern twist to the table by offering a Thanksgiving Brunch on Turkey Day. Reservations available from 11am-2pm, allowing family and friends to gather together without the pressure of keeping things formal, while also accommodating those that have to juggle attending more than one meal in a day.
The spread, served at 
Hotel Crescent Court's exclusive
Crescent Club
, will be full of tasty fall fare that locals and travelers alike will gobble right up. The menu features palate pleasing plates such as an omelet station, brisket and kale hash, hot-off-the-iron waffles, grilled chicken Waldorf salad, charcuterie displays,
roasted butternut squash bisque
with sherry creme and bourbon vanilla apples along with a seafood display and carving station complete with all the Thanksgiving trimmings such as honey baked ham,
turkey
, prime rib, cornbread dressing, whipped sweet potatoes with marshmallows,
classic green bean casserole
, a full kids menu, seasonal pies and more. Prices range from $120+ for bottomless mimosas, $95+ for adults, $55+ for 12 and under, and complimentary for children under 5.
Scout Dallas
1914 Commerce St
Dallas, TX 75201
(469) 320-8993
Scout is located inside of the Statler Hotel in Downtown Dallas on Commerce Street.
CBD Provisions
1530 Main St
Dallas, TX 75201
(214) 261-4500
CBD is one of our fave spots to pop into when we are downtown. We love the food, the fabulous service and ambience.
Circo
Circo is a spin-off of NYC's Le Cirque offering fabulous food & drinks in an opulent environment with a rooftop pool.
City Hall Bistro
1321 Commerce St
Dallas, TX 75202
(214) 651-3686
Chef Jeramie Robison put together Thanksgiving plates for $24 that are available for dine-in and to-go. Chow down on smoked turkey breast with sage gravy, squash dressing, brown butter whipped sweet potatoes, rutabaga au gratin, grilled broccolini, and a deviled egg. Plates will be available from noon until 9 p.m.
Where else can you dine . . .
Eddie V's in Dallas and Fort Worth will serve traditional Thanksgiving lunch and dinner with sliced turkey, green beans, brioche sage stuffing and more.
The Fairmont Dallas will serve brunch in the International Ballroom and dinner at the Pyramid Restaurant. Brunch will be a buffet with live music, and anyone 21 and up who wears a cowboy hat or boots gets a free glass of sparkling wine. Dinner will be a fixed menu.
Fearing's Restaurant will serve a three-course Thanksgiving menu at lunch and dinner. Vegetarian menus available.
Gorji Restaurant in Far North Dallas will serve a three-course dinner with choice of turkey, pork chop, three-cheese spinach lasagna, prime petit filet or salmon and shrimp.
High Fives, a bar and restaurant on Henderson Avenue in Dallas, opens at 6 p.m. with a full menu.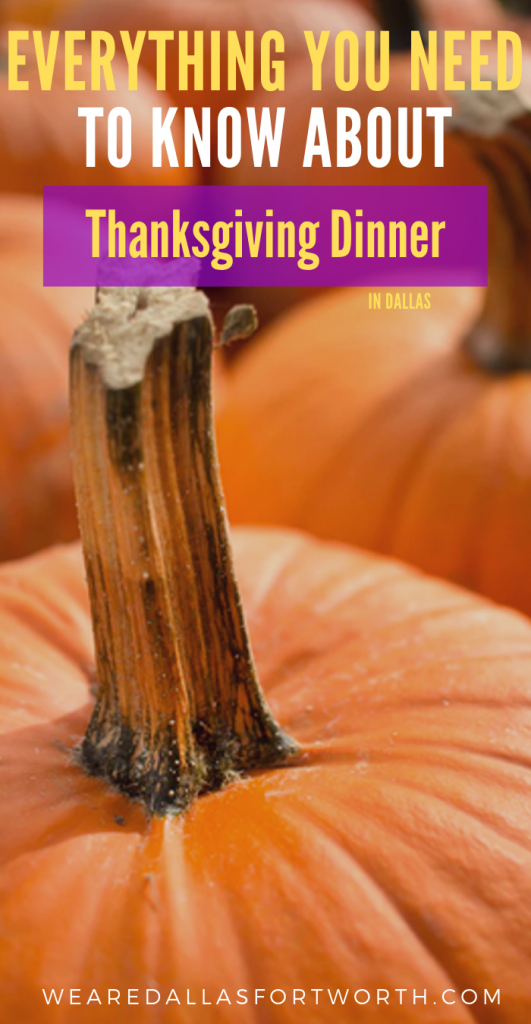 Restaurants open in Plano
Moxie's Grill & Bar
8451 Parkwood Blvd
Plano, TX 75024
(469) 535-5300
For a very un-traditional Thanksgiving meal, the Plano location of Moxie's Grill & Bar will serve up its regular menu until midnight. Snag sushi cones with tempura shrimp, fresh avocado, pea shoots, nori crisps, and sesame chili ponzu; red Thai curry bowl with stir-fried veggies, jasmine rice, and curry-buttered naan, plus potstickers, steak, blackened mahi mahi, and chipotle mango chicken.
If you are looking for something a lot more casual then try the Holy Grail Pub in Plano. They will serve fried turkey or chile-rubbed lamb at a four-course lunch or early dinner. Kids welcome. Beer pairings available for adults.
CRÚ Food & Wine Bar – (The Shops at Legacy)
7201 Bishop Rd
Plano, TX 75024
(972) 312-9463
All four locations of Cru (Dallas' West Village, Plano's Shops at Legacy, Fort Worth's Shops at Clearfork, and Allen's Watters Creek) will celebrate Thanksgiving with a three-course meal for $42 (12 and under, half-off). Adults can sip on Angry Orchard rosé cider made with "Amour Rouge," red-flesh apples from France, while chowing down on pumpkin mascarpone ravioli, red diver scallops, filet mignon, roasted turkey breast and more. Chocolate molten lava cake for dessert looks like a must-try.
Restaurants open in Frisco
City Works – Frisco
3680 The Star Blvd #1300
Frisco, TX 75034
(469) 850-1850
City Works is an eatery and pour house in Frisco.  A sprawling craft beer list with over 90 local and global varieties, classic American food with brilliant chef-driven twists, and an upbeat, energetic atmosphere. With gigantic HDTVs and state-of-the-art A/V, City Works is the unique pairing of ultimate sports bar and delightful restaurant.
Restaurants open in Irving
The Keg Steakhouse
Rodizio Grill
Starbucks
Cool River Cafe
Restaurants open in Southlake
Copeland's!
Copelands is a New Orleans-based chain offering a great menu of Cajun-Creole classics, plus signature drinks.
Restaurants open in McKinney
Brian and I once snagged a sandwich and snacks at the RaceTrac off of Virginia Parkway en route to hiking with the dogs at Erwin Park in North McKinney.
McKinney still has a small town feel which means your best bets will be the Starbucks, Whataburger, Waffle House and hotels.
You define how you want to consume your Thanksgiving dinner in Dallas . . oh and there's also this list of restaurants in McKinney.
Restaurants open in Denton
Hannah's Off the Square
In 2001, Hannah's Off the Square humbly opened its doors to the city of Denton. Now, more than a decade later, Hannah's has grown along with the town and its people. Once located in a modest building off Hickory Street, Hannah's is now situated in a historic site that was home to a turn-of-the-century blacksmith business. This original space has helped to inspire an eclectic cuisine reflecting the artistic and imaginative atmosphere of downtown Denton.
111 West Mulberry St.
Denton, TX 76201
Restaurants open in Allen
Same as McKinney above.
As far as hotel options, the new hotel across from Watter's Creek will have some great dining options such as Stampede.
TwoRows Classic Grill just off 75 and Bethany (north bound side) is the highly rated hometown favorite of restaurants in Allen, Texas. They have something that can satisfy any appetite and we're home to the world famous Honey Pepper Bacon.
And for Thanksgiving they will be serving a traditional Thanksgiving spread. Yay!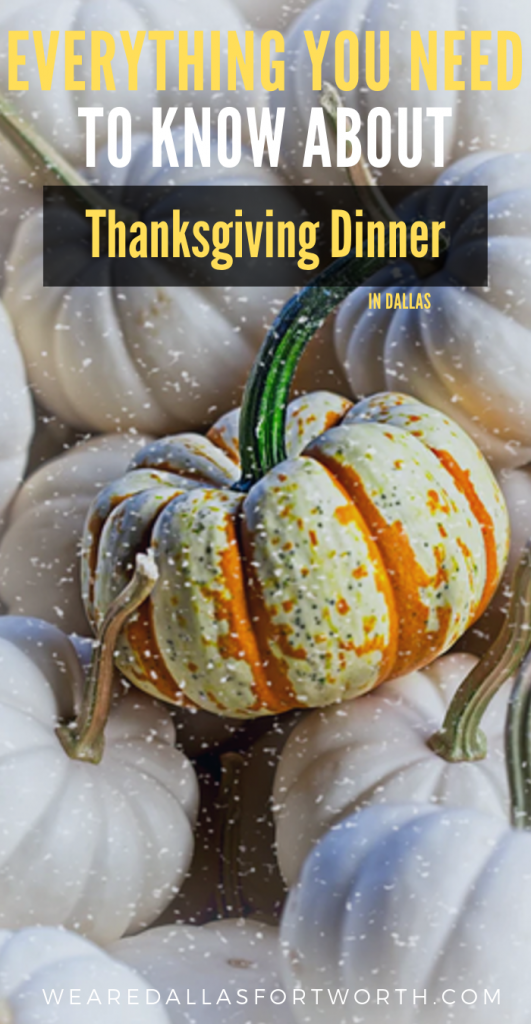 Best Places to Pick up Baked goods if headed to a gathering for Thanksgiving dinner in Dallas?
1. The Cake Bar
2. Kuluntu (Oak Cliff)
3. Bird Bakery
4. Bonafide Betties in Rockwall
6. This Alabama Pecan Company offers delicious pecan pies (and they will ship to your door)
And you might also need these adorable dangle earrings ⤵️
What if you are the host and also the main chef at your home?
Here are some recipe books that will help you out ⤵️
What else is open on Thanksgiving Day in Dallas?
You could always attend the Cowboys game, hike any of the parks, trails or state parks and of course many of the malls and shops open later in the evening.  Hello Black Friday.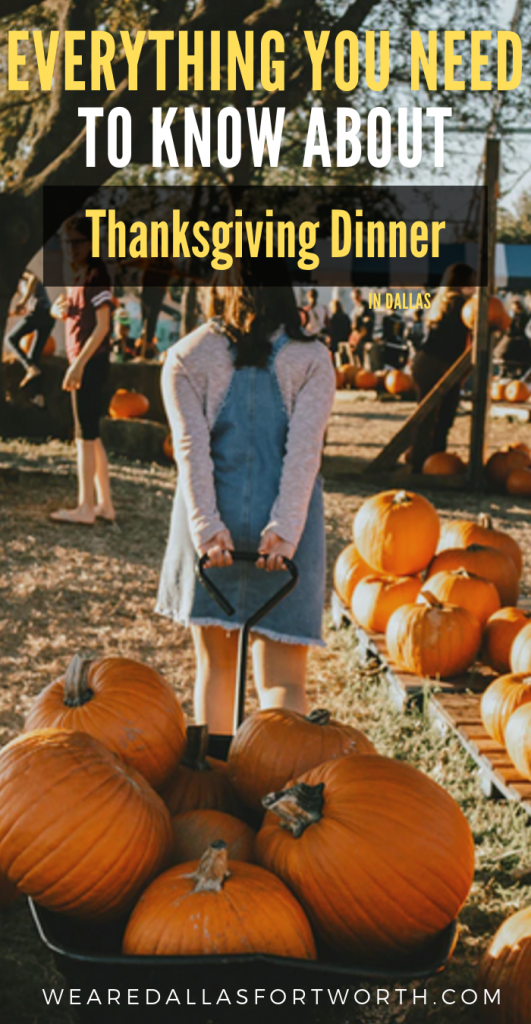 Where can you find prepared meals for Thanksgiving Dinner in Dallas?
Whole Foods
Central Market
Luby's
The Commissary
Bullion
Eatzi's
Cowboy Chicken
This year we will either head off with the dogs for an adventurous hiking trip like Beaver's Bend State Park or treat ourselves to a fancy dinner in downtown Dallas.  Either way, we will probably leave that decision to the last minute to see how we feel.
Oh heck, I have a feeling we will be back in line at Highland Park Cafeteria for our Thanksgiving dinner in Dallas because you just can't beat the variety of yummy Thanksgiving food nor can you beat the prices.  Trust me, you'll gobble up every bite and thank me for the recommendation.
Oh and one more thing . . .
Come join the conversation over here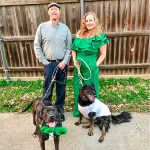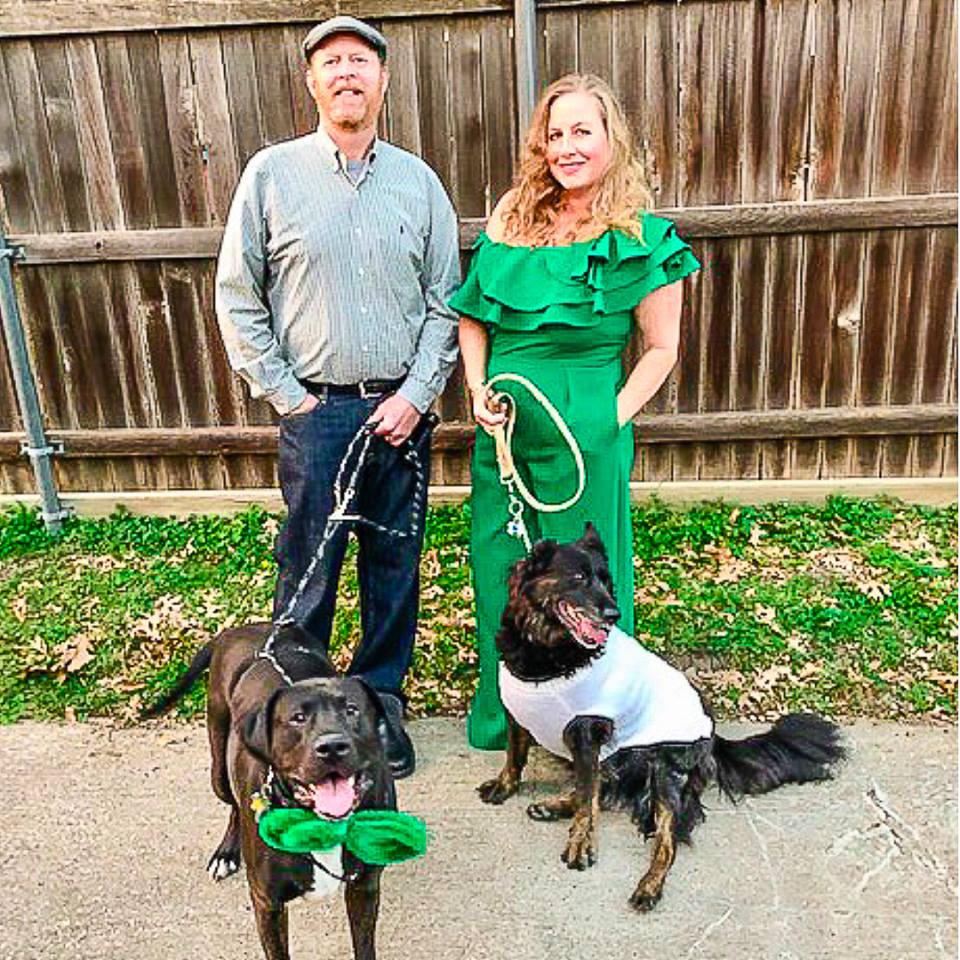 Interested in working with the We Are Dallas Fort Worth team, start here
They help local businesses in DFW and many larger businesses looking to tell a story to the readers of Dallas. Her work entails copywriting, content marketing, blog campaigns, email marketing, social media, coaching and consulting.
❌ P.S. No businesses mentioned here pay me to be mentioned on my website. ❌

Be sure to take a peek at the LIVE show here   – here are just a few of them from the recent weeks (lots of Plano and Frisco representation in the house!) Over 7,000 views on these videos below . .
You might also like
If you like podcasts, here are a few of my episodes from the We Are Dallas Fort Worth podcast