Disclosure of Material Connection: Some of the links in this post may be "affiliate links." This means if you click on the link and purchase an item, I will receive an affiliate commission. Disclosure in accordance with the Federal Trade Commission's 16 CF.
Frisco has set out to build the world's premiere museum of railroad & technology – the Museum of the American Railroad.

We are lucky lucky residents to have this treasure here in the metroplex and as well all know, Frisco will no doubt do a fantastic job in maintaining this piece of history for residents and visitors of DFW to see. They've seem to have had plans that go decades back and they continue to uphold these plans and execute to perfection.
And BTW, as a train fanatic and train lover, I just love having this museum here where I can access it anytime I want.
For me, whether it be cross country trip on the Amtrak, riding the People Mover at the Magic Kingdom or jumping on the DART Light rail at Parker Road station to dart around the enttire metroplex or to DFW Airport, I'm pretty much obsessed with all things trains.  In fact, riding the variety of trains in Switzerland as well as the Hershey train through the old sugar cane fields of Cuba were some of the best memories in recent trips.
Railroads are super important to American growth and history.
Back in the day, a railroad could literally make or break a town.  When railroads were building through early  Texas, there  was intense competition to attract lines to communities – but it came at a price.
It allowed a city like Frisco to grow and  prosper while other towns while others would be completely bypassed and would eventually collapse.
Without railroads, the world would be an altogether different place. Railroads fueled the industrial revolution and shaped our pandscape.
Trains have left an lasting mark on the world and the USA in particular.
What is the Best Kept Secret Inside of the Museum of the American Railroad?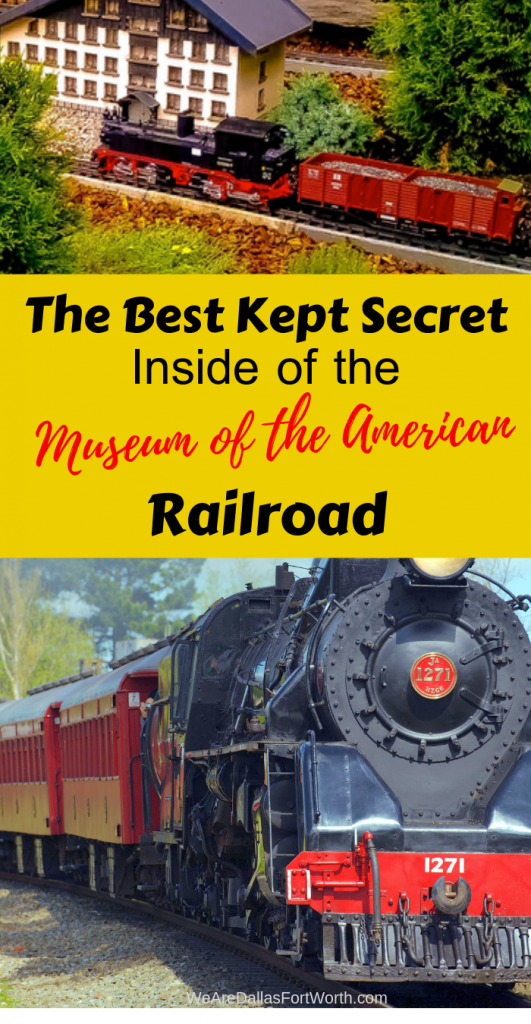 So exactly what is the best kept secret inside of the Museum of the American Railroad?
Its the most amazing donation from the Sanders family ➡️ one that Rod Stewart will eventually come and see!! Yep, that's what I said!
The Sanders family of North Dallas donated a very large model train set (and yes, Rod Stewart is a model train fanatic typically booking 2 hotel rooms when he travels – one for him and one for his model trains.)
So perhaps one day soon we will run into him over at Summer Moon sipping a latte . . . its possible.
One day, the Museum of the American Railroad received a phone call from Jane Sanders. She offered to donate her husband's massive G-scale model train layout. And although the museum did not have enough room at the time, Mrs. Sanders invited to staff to come tour the 2,500 square foot layout of the model.
The staff was in awe.
Traintopia was born!
TrainTopia – A Railroad Odyssey in Miniature officially opened to the public Wednesday, July 18, 2018. TrainTopia is located inside the Frisco Discovery Center and is open Wednesday – Saturday, 10am – 5pm and Sundays, 1pm – 5pm.
In a nutshell, the Museum accepted the donation and relied on the Frisco Economic Development Council and the Frisco Discovery Center to find the space that would be needed.  Keep in mind, 2,500 square feet is the
size of an average home
here in the metroplex.
A custom light show which takes the exhibit from daylight to nighttime, and hundreds of miniature automobiles and people. The exhibit spans Arizona to Texas, from the dramatic rock formations of the Four Corners region near New Mexico, to a thriving Northeast Texas in the early 1960s. Also featured is an animated downtown Dallas street scene, the Palo Duro Drive-In Theater with a movie playing, West Texas refineries and working saw mills in Colorado.
During a pop-in to a Frisco EDC meeting, they surprised us with a sneak peek of Traintopia being built.  I could not believe the size of the room and the amount of detail within every square foot of this exhibit being built.  It was so unbelievable and I could not wait for the opening.
The set-up is nearly identical to the way it was displayed by the Sanders family in their own home.
When I visited the sneak peek of Traintopia, I learned that the museum would be spending more than a year recreating the layout and would be adding a $60,000 high tech theatrical lighting system that can simulate thunderstorms, the lighting could also transition from dawn to dusk, and in addition create night scenes in the span of about 17 minutes.  That feature alone is worth the cost of admission.  Ticket info is below y'all . . . keep reading!
This is all made possible because of the generosity of one family – The Sanders. This is a gift to all of the residents of Frisco and all the visitors from across the globe who will visit.
Stephen Sanders, who served with the Green Berets in the U.S Army during the Vietnam War, was diagnosed with cancer shortly after his model train display was completed.
What is the Museum?
Founded in 1962, the Museum of the American Railroad is a not-for-profit Texas corporation dedicated to celebrating the heritage and exploring the future of railroads through historic preservation, research, and educational programming. The museum collects artifacts and archival material from the railroad industry to exhibit and interpret their significance in American life and culture. Exhibits and general programs are provided year-round.  Educational programs are available to local schools and universities through study trips, in-class programming & outreach, and online resources.
In its most ambitious project to date, the Museum closed its location in Dallas' Fair Park to relocate its collections and operations 30 miles north to Frisco.  According to the updates that I have been watching closely on LinkedIn (omg, LinkedIn is the BEST social channel ever), Dallas' Fair Park will be going through its own changes and renovations.  As the years progress, we will see what happens to the South of us.
Where is the Museum located?
The Museum is located at the Frisco Discovery Center.
8004 N. Dallas Pkwy, Frisco, TX 75034
What are people saying about Frisco Discovery Center?
One TripAdvisor said:
Great Place to Hold An Event
This is a great place to take your kids. It is also a wonderful venue to have a party. Our group held an annual Casino night and brought in a DJ and had a blast. There is artwork everywhere and our young adults loved exploring all the different areas while we raised money for Special Olympics! Check them out.
And another TripAdvisor reviewer stated:
The children we took their were under six. Almost everything there fascinated and engaged them. There's lots of hands-on stuff for them to do and plenty of opportunities to learn, although I wonder how much children that age are actually learning. But the place is tailor-made for small children and if it doesn't actually impart knowledge, it wonderfully sparks curiosity, which is a great stimulus to learning. Membership, btw, is a great value and entitles one to reciprocal benefits at other science museums and centers, something we have taken occasional advantage of. One more reason that Frisco is a great place for kids.
What are people saying about the Museum and TrainTopia?
An out-of-state visitor said this:
Surprising jewel, wonderful staff

One person's hobby donated to the city is a surprising jewel within this museum complex. Have the staff share the full story of the displays, how they received the donation and what the various scenes meant to the original owner. Gives a great perspective and new appreciation for this large-scale model train and the intricate scenery. Had never seen such details on an LGB train, and they have more pieces yet to incorporate into the display. Take the scavenger hunt – young kids and young-at-heart kids will enjoy their time. Only visited the interior models – will walk through the outdoor exhibit in a cooler month.
And a Frisco resident stated:
Must See if in DFW and You're A Train Fan!

The collection of trains here used to be at the State Fair of Texas and include a Big Boy diesel steam engine. Call ahead for a professionally led tour. Right now the trains are outside, but plans are to build a large shelter to protect them from the elements.
Another star in this Museum is a very large model train exhibit donated to the museum by the family of a Dallas oil man who built the whole exhibit. Altogether there are 7 trains that run through models of 1960 Dallas, East Texas, West Texas (including the Palo Duro Canyon), New Mexico, Arizona and Colorado. Best model train display my husband and I have ever seen! Wonderful details of the era! It's really fun to watch the excitement and delight of children (especially 5-7 year old boys) as they they view the exhibit for the first time!
While a Dallas resident from TripAdvisor said this:
Distant Memories Come Flooding Back

I visited the museum with my 12 year old grandson. He wanted to share my enthusiasm because I was donating my Lionel train set I received in 1957. The director met with us and gave a personal overview of the train displays. Was amazed at the attention to detail. So many trains and lovely town settings. Was provided a listing of numerous objects to check off when we discovered them. Had to have some help on a few. Lovely time spent. Went back 10 days later with remaining grandchildren. Fantastic display.
About how much time should you budget for your museum trip?
You'll want to arrive at least 15 minutes prior to your scheduled walking tour, then you'll need 60 minutes for the walking tour.  IF you have the combo ticket to enter into the Traintopia exhibit – you can take as much time as you would like inside of there.
What can you do?
This is the place for all things TRAINS.
As a lover of trains from the DART to the Amtrak and trains across the world, you might also ❤️ trains as much as I do.
It's one thing to talk about trains or to see them on television. It's something else to see them up close and bring back the nostalgia of an era gone by.   Go see trains in a whole new way, schedule your guided walking tour and get a taste of what this country was like when rail travel was a part of everyday life. You will discover a staff waiting to show you allow you to experience the culture of railroading.
The Collections at the Museum of the American Railroad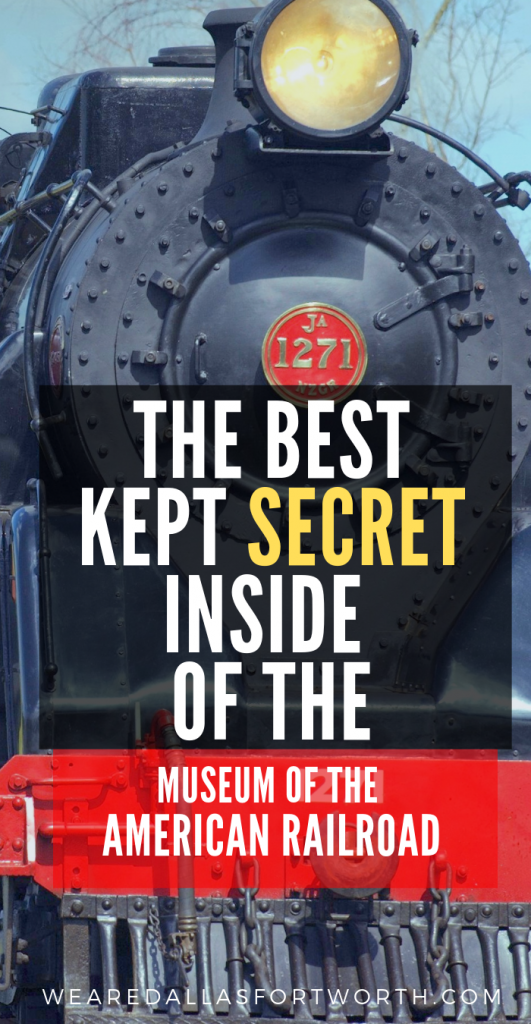 The Museum is proud to host a unique assortment of equipment and artifacts from railroading's past. The tour guides at the Museum of the American Railroad are extremely knowledgeable and passionate about the railroad history.
These venerable old trains exist today because of the hard work and dedication of a relatively small number of people. It all began in 1961 when the founders of our museum realized that not only had the era of luxurious steam powered passenger trains come to a close, but little even remained of their existence. Over the next several years, they set out to save what precious few pieces of equipment were left. Some were graciously donated by the railroads upon retirement; others were literally pulled from the scrap lines. These are the survivors – the lucky ones – perhaps a little rough but they are tangible evidence of our heritage.

Pullman Sleeping Car "Goliad" arrives at the Age of Steam, 1965. A new generation of committed individuals is working to steward this museum into the next century. But such an endeavor is not an easy one. Historic preservation often faces challenging circumstances. We're constantly seeking additional sources of support as we carry out our mission. We do our best to maintain the collection and minimize the effects of time and exposure. We do this in an effort to preserve an important part of history along with a sense of pride in our community.

There are many stories behind the iron and steel artifacts that are gathered here. They have undoubtedly touched many lives. We hope you enjoy your visit. While some of you will relive the past, others will discover it for the first time. This collection is part of your heritage. If you leave here more enlightened and enriched, then we consider our efforts to have been a success. (source: Museum of the American Railroad)
You will see:
Pullman Sleeping Cars
Round End Chair Observation
Santa Fe Waycar
Union Pacific Steam Locomotive
Pennsylvania GG1
Lunch Counter Diner
McQuaig
and a plethora of other train cars that will provide a fascinating look inside.
How much are the tickets for adults? For kids?
You have a few options for tickets.
I recommend purchasing a Combo tickets for both TrainTopia & an onsite guided Walking tour — $12 for adults and $6 for children ages 3-12.
You can pay admission at the TrainTopia exhibit in the Frisco Discovery Center approximately 15 minutes prior to your tour.
They also provide group tours, if you want to set one up go ahead and reach out to (214) 428-0101.
Here's something unique you can do at the Museum of the American Railroad:
Photo shoots! Yes, this location has been an unique spot for filming or taking cool influencer/blogger shots, bridal shoots, business photos and more. Living in a time where many seem to be searching for cool backdrops, this is one that you might just love.  If you are looking for something more classic, try Brookielynn's Bungalow down the road.
How can you help?
Museums are non-profits and could always use support in continuing their mission. If you are interested in helping see the Museum of the American Railroad become the premier destination then look into 2 ways you can help – the best 2 ways: Volunteer your time or Contribute your money. Yes, like everything, it costs money to keep up something that is this big and state of the art. You can see many of the contributors here that made this possible so far.  A huge thank you to these families and businesses.
To say that this is a labor of love would be an understatement. Our compensation is the satisfaction of a job well done and our best effort given.
Volunteering offers the greatest opportunity to learn about railroading and its role in the growth of our nation, while contributing to the quality of life in the community. Send us an email if you're interested!
They are always seeking people with skills and time to help us protect, preserve and present the museum's collection to the public.
If you are fascinated by model trains like so many in this country, perhaps you want to start your won collection
Take a peek at one of these kits:
Personally, I'm aiming for a Silver Spoons style set in my home one day – yes, I'm a child of the 80's 😀 I just loved that show!
Until that happens, I'll be spending my days and taking my visitors to Traintopia and the Museum of the American Railroad.
Hope to see you there one day soon!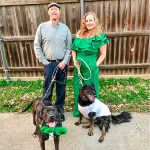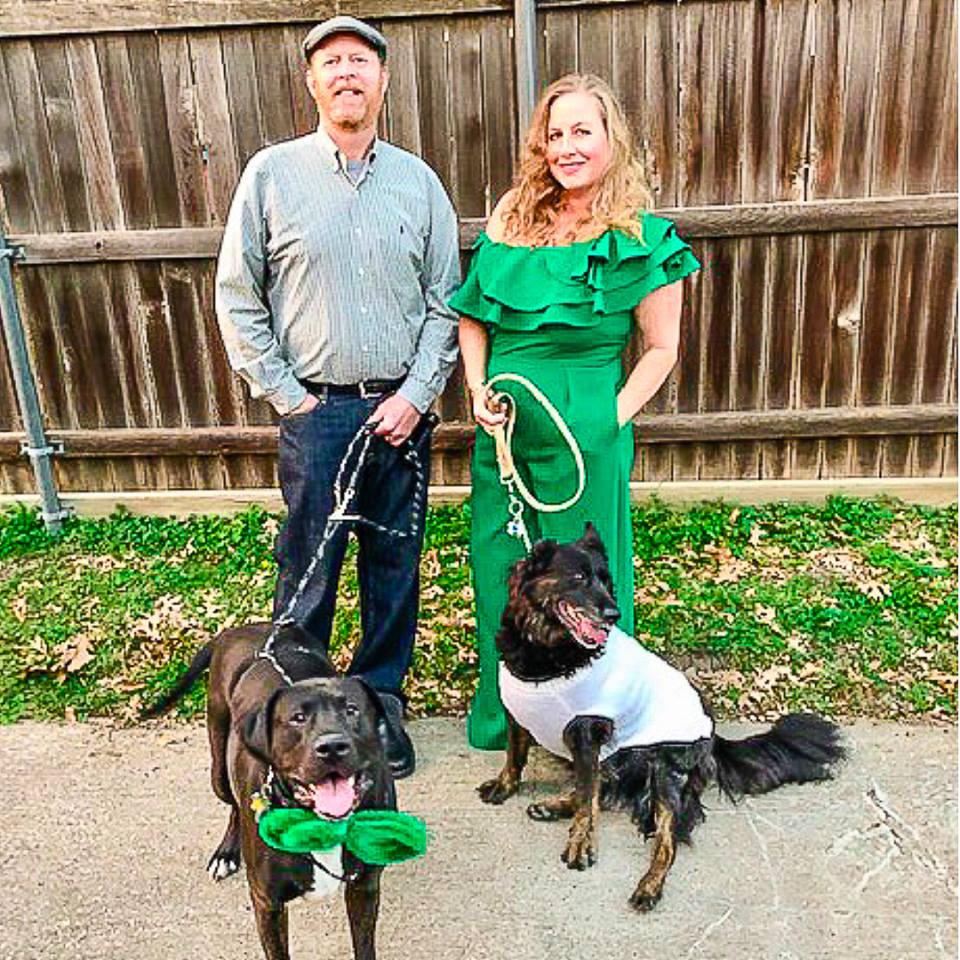 Interested in working with Becca or being featured here on the website, start here
She helps local businesses in DFW and many larger businesses looking to tell a story to the readers of Dallas. Her work entails copywriting, content marketing, blog campaigns, email marketing, social media, coaching and consulting.
This article contains some affiliate links, meaning that if you make a purchase through these links, I may earn a small commission (at no extra cost to you!). Thank you for reading!
You might also like
If you like podcasts, here are a few of my episodes from the We Are Dallas Fort Worth podcast