Disclosure of Material Connection: Some of the links in this post may be "affiliate links." This means if you click on the link and purchase an item, I will receive an affiliate commission. Disclosure in accordance with the Federal Trade Commission's 16 CF.
My name is Becca and I have a chronic library habit. Its one of our community's greatest gifts and reminds me of everything in my childhood.  What's interesting is that I recently popped into the Museum of Memories for childhood memories but it was more fun than memory for me.  Visiting the McKinney Texas Library is truly my museum of memories and a perfect escape on any day I want to escape into a book.
Everything You Need to Know about the McKinney Texas Library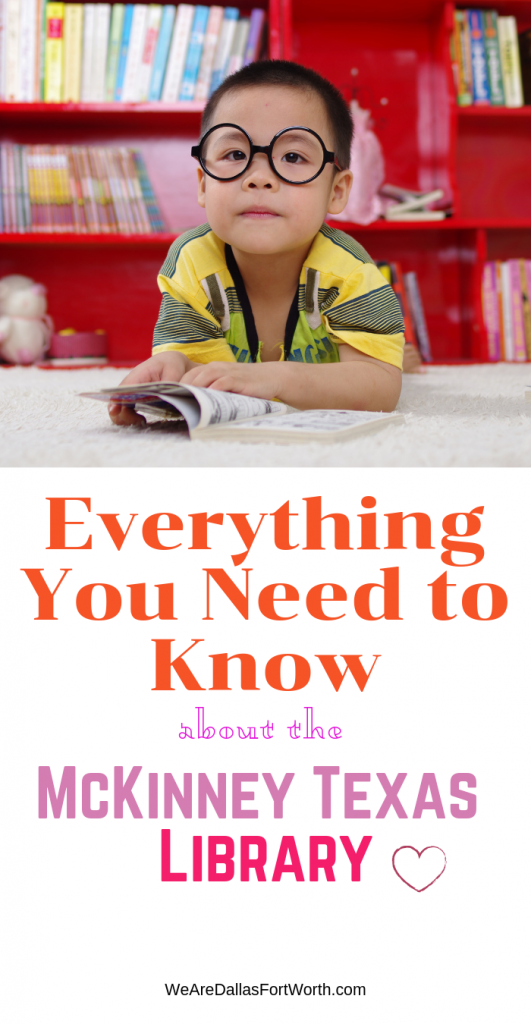 First of all, did you know that there are multiple libraries in McKinney??
McKinney Texas actually has 3 libraries: one is located in Downtown just off the Square while another is in West McKinney and the final one is the Collin County Law Library.
Where are these McKinney Texas libraries?
John and Judy Gay Public Library
6861 W. Eldorado Pkwy.
McKinney, TX 75070
Roy & Helen Hall Memorial Library
(this is the one in downtown McKinney)
101 E. Hunt St.
McKinney, TX 75069
*yes, they have parking
Collin County Law Library
The library has been one of my favorite places in the world ever since I first sat cross-legged on the floor, going to story time in the public library. There seemed to be nothing better than heading to the library with my siblings and being allowed to check out a bag full of books at a time.  To this day, it still feels like I;m shopping but without having to pay a dime.
What's so amazing about libraries?
Shall I count the ways?  Okay, I will.  There is something special about this place made to build community – something I just happen to ❤️ doing as well, especially online.  In this fast-paced world, libraries maintain their purity and wholesomeness.  The librarian and staff aim to please, create programs we will get value from without asking for anything in exchange.  Well, maybe they will ask for our library card.
Here are a few of my reasons:
1. Libraries are actual, physical buildings where we can meet real people face-to-face and hold books in our hands. Sometimes these building are historic or have fascinating architecture.
2. Libraries can take you from a bad day and magically transport you to a good one 😀 It feels like fairy dust has been sprinkled on my head once I walk through the sliding doors. Am I right?
3.Books have the magical power to bring comfort, security, and adventure.
4. Everything I ever wanted to learn and know was in the library. Our local libraries offer so much more than books and that includes: computer access, classes, new books that you would find on Amazon or inside of a Barnes & Noble. The library offers community education, access to Lynda.com and even wifi.
5. Free shopping.  In some libraries you can even check out audio books, movies and magazines (that would sell for $3.95 or more at the grocery store). I love "shopping" at the library. Its a no-risk shopping event.
6. Community Library programs such as story time, book clubs, classes and more foster true connection between people and ultimately our communities.
7. Because there's no commitment to purchase or store the books, library patrons are free to explore any topic or author that strikes their fancy. Because our taxes pay for them whether you use them or not.
8. The Dewey Decimal system brings order.  =)
9. Book sales!!!
11. Free lectures to learn something new and meet new people.  Perfect way to add to your LinkedIn posts. 👊🏽
12. Signing your name for your first library card is the first rite of passage into being an active member of society. It was so fun to get my first card that I was able to sign with cursive!!
13. Libraries hold local history, artifacts, and stories as well as being a resource for current local activities.
14. You have the ability to order books. And your closest library will make them ready for pickup for you so you don't have to drive too far.
15. Online renewal makes life easier.
16. Research databases. Library systems subscribe to pricey online database services that none of us could ever afford on our own. I access most of them from my home computer, simply logging in with my library card number. These databases include genealogy, academic research, news archives, digital images, health, and much more.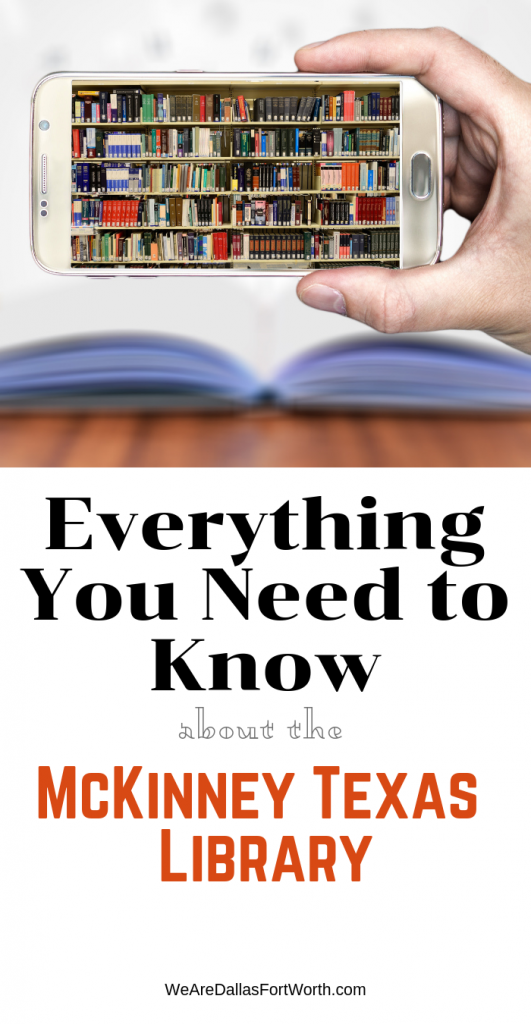 So are you ready to get a piece of this in McKinney? 🙋
First, its important to know the hours of the McKinney Texas libraries.
The downtown library is open 7 days per week.  Each day provides different hours but the majority of days are from 10am – 6pm. Sundays are limited and then a few of the weekdays extend until 9pm.
And the library on Eldorado is also open 7 days per week with varying hours but mostly focused on that 10:00 – 6:00 block just like the library downtown.
Checking Out Library Materials from the McKinney Texas Library
Programs at the McKinney Libraries
One of the greatest assets of the library system is the access to awesome programs.
I know that Moms always find the programs to be so helpful and a fun and free outing with their children.  But the McKinney libraries don;t stop there, they also offer programs for teenagers and equally awesome programs for adults.
The librarians have created a program that includes attention for children, teenagers and adults.
To run programs at libraries, the libraries must understand the community that they are serving and what matters most to them.
There is no reason for the McKinney librarians to host a program or class or story time if no one shows up.  So they have the big task of creating programs to serve the various demographics of the McK community, plan the event, promote the event and manage the event.
Wowsers!! Can we give it up for librarians?
They have the ability to work under pressure, meet constant deadlines and all with a smile on their face.
❤️ What programs might you enjoy at the Roy & Helen Hall Memorial Library in downtown McKinney?
The children have programs that include: Beanstalk, Book Buddies, Texas 2×2, Storytime Kits, Playdates, Back to School Bashes and more.
The teenager programs include: College & Test prep, Driver's License Practice Tests, Lone Star, NovelList Plus and many many more.
The adult programs include: Friends of the Library, Volunteer opportunities, meeting room rentals and lots of other awesome options.  See them here.
❤️ What programs might you enjoy at the Library off of Eldorado in McKinney?
All the same as the downtown McKinney library =)
What RESOURCES can you utilize at these 2 McKinney libraries?
As a card holding library member, you'll also have access to the Research Center.  Its ridiculously comprehensive for just about anything you need more insight on.
The Resource Library has 4 components:
Educational Resource
Geneology Resources
After you have exhausted every angle on your 23andMe ancestry search or your Ancestry.com search, whichever one that you have chosen, you might be ready to dive even deeper.  This is where the McKinney library can assist you.
Ancestry.com – Available only at McKinney Public Libraries. Resources for the family researcher, including U.S. Census, Social Security Death Index, and birth, marriage and death records
HeritageQuest Online – Billions of census records, family histories, military and bank records, and access to Periodical Source Index Archive. Available through TexShare; call the library at 972-547-7323 for login access.
Reading Resources
Source and more from this site here
Now, before I close out here . . . at the very beginning I did mention that McKinney has a 3rd library.  Yep, and don't forget it 😀
What is the Collin County Law Library?
The Law Library's mission is to serve at a place that is both convenient and accessible and to maintain a legal reference for the judges, litigants, and residents of Collin County. The Law Library Fund is provided by fees collected in connection with civil suit filings. (source: the Collin County Law Library)
If you go, keep in mind, they can proved legal assistance not legal ADVICE.  There is a huge difference and they will be sure to inform you of this.
Basically, they cannot make an interpretation for you.
This is from their site:
By law, no member of the Law Library staff may give any patron legal advice. Accordingly, staff may not interpret legal materials for patrons, advise them as to how the law might apply to their particular situation, or assist them in preparing and filling out legal forms of any kind. Staff can provide patrons legal assistance by directing them to topical print materials, sections, and subject headings that might be helpful in answering a particular question. (source: Collin County Law Library)
The American public library is a beautiful thing and a model of what a community-run, not-for-profit, public service ought to and can look like. Keep going to your library, promoting your library – yes, take that Instagram photo and let your followers know that the library has got it going on.
We need to fight like hell for these institutions so that our next generation can also participate in something as special as the liocal library.   Because when we all look back at our memories of libraries, aren't they all such totally positive memories??
I would give a resounding YES!
And one more thing, you might like to find other ways to support the different businesses in McKinney by taking a list of these things to do in McKinney Texas, or head down the road to Princeton, or eat at one of these lovely and delish restaurants.

This article contains some affiliate links, meaning that if you make a purchase through these links, I may earn a small commission (at no extra cost to you!). Thank you for reading!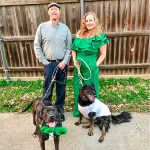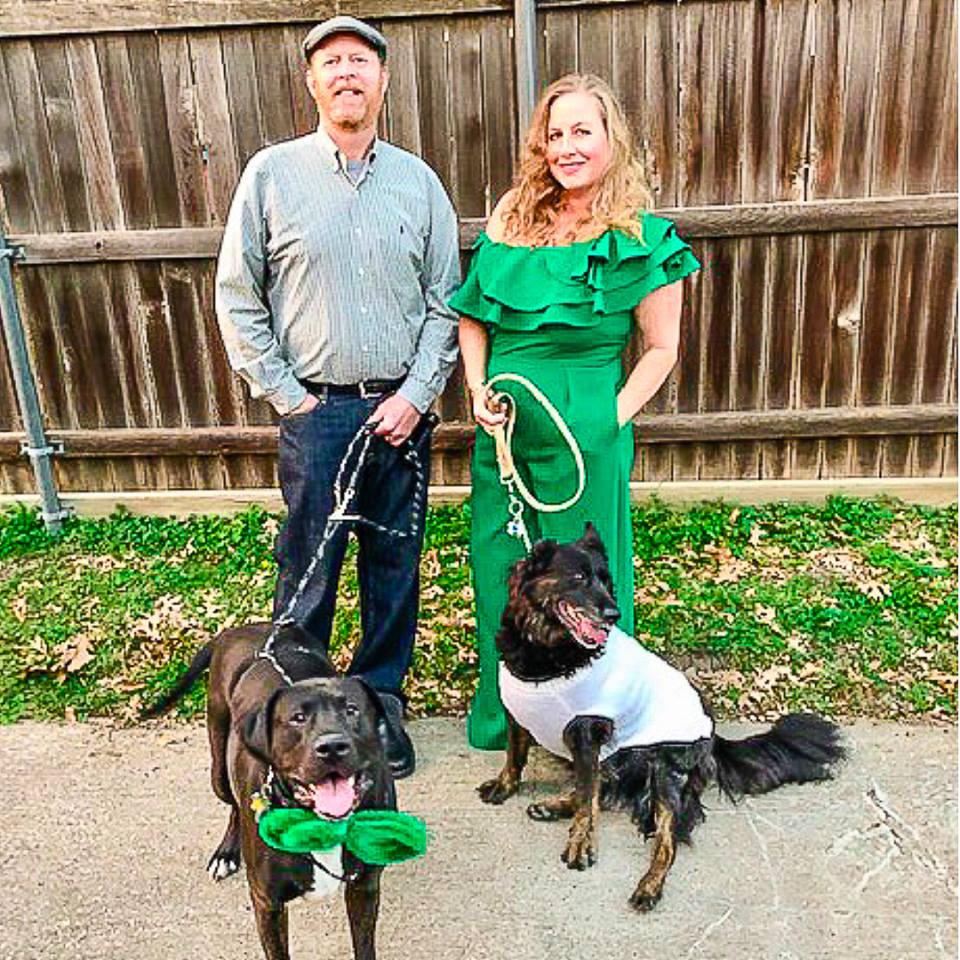 Interested in working with Becca or being featured here on the website, start here
She helps local businesses in DFW and many larger businesses looking to tell a story to the readers of Dallas. Her work entails copywriting, content marketing, blog campaigns, email marketing, social media, coaching and consulting.
Catch some of our podcast episodes here: