Disclosure of Material Connection: Some of the links in this post may be "affiliate links." This means if you click on the link and purchase an item, I will receive an affiliate commission. Disclosure in accordance with the Federal Trade Commission's 16 CF.
On the far northern tip of the sprawling Dallas-Fort Worth metroplex, McKinney offers up small-town charm that's not too far away from the heart of the big city. Home to the historic (and absolutely adorable) Downtown McKinney square, this town is worth the drive. I swear. McKinney Texas restaurants are some of the best you'll find.
Here's the funny thing – living in Plano, I choose to head to Dallas or Highland Park because everything is a bit more shiny and interesting there.  Except, I will take McKinney any day.  If you live in Dallas or Highland Park or Denton or Plano or as far south as Waco, McKinney is a destination spot and worth a day trip at minimum.
27 Delicious McKinney Texas Restaurants (and ONE you cannot miss!)
The restaurants in McKinney range from Southern cuisine to flashy French fare, these 27 essential McKinney restaurants serve up the city's best cuisine. Go forth and head north to explore this sweet little suburb's thriving dining scene.
Is your favorite McKinney restaurant missing from this map? Shout it out in the comments.
McKinney, Texas is one of the nation's fastest growing cities, and with fast growth
comes exciting culinary opportunities
. Located just thirty miles north of Dallas, McKinney provides an array of delicious restaurant options for any visitor, many of which revolve around the concept of serving locally grown, grass-fed meat. Here are some of the yummy delicious restaurants for you to indulge in.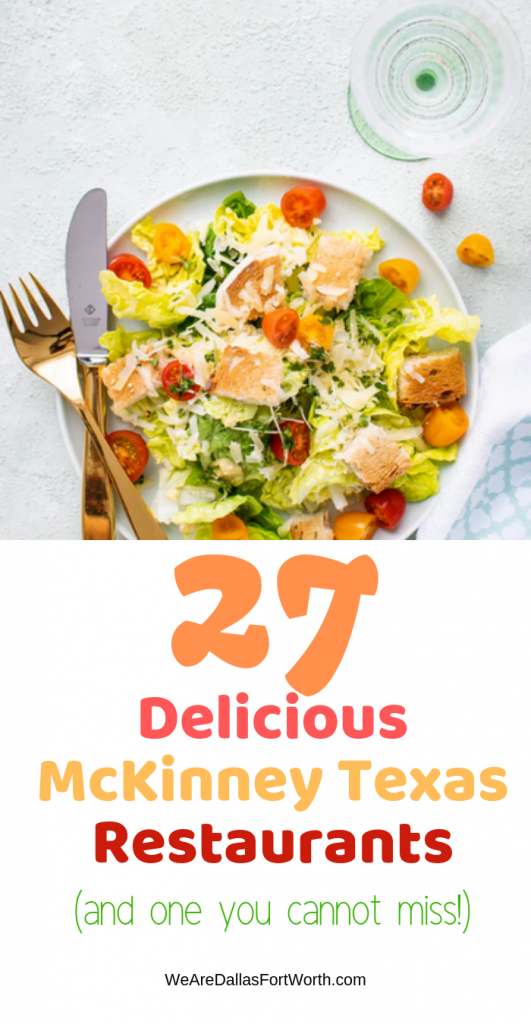 1.

Chick Fil A

Say what?  Yes, this mecca of chicken stands on the corner of University and 75 and quite possibly the busiest, most insane restaurant I have ever stepped into.  And its for good reason, Chick Fil A (which started in 1946) has a fantastic reputation and good food.  Its perfect for families with little ones that can go wild on the playground and find chicken nuggets the perfect kid-friendly food.

The company's official statement of corporate purpose says that the business exists "To glorify God by being a faithful steward of all that is entrusted to us. To have a positive influence on all who come in contact with Chick-fil-A."

And yes, this qualifies as one of the best McKinney Texas restaurants 😂

2011 W University Dr.

McKinney, TX 75071

(972) 569-8884
2.

Butcher Board
Yet another stellar option for sandwiches in Downtown McKinney, Butcher Board serves up meats like whole hog and smoked roast beef that are cut to order. Salads, tacos, sides like cole slaw and potato salad are also on offer, along with a selection of freshly-baked desserts that make for a sweet finish.
Brought to you by Johnny Carros, the man behind Sugarbacon, this fast casual restaurant offers a regular menu of eight sandwiches – like the Smoked Brisket and the Chili Rubbed Turkey Breast, homemade sides and delicious cookies. And beer.  They have beer.
And BTW, this is just any sandwich shop. Butcher Board smokes and roasts all meat in-house and carves it fresh for each sandwich. If you haven't visited yet, check it out. While you're there, enjoy a selection from the craft beer menu to accompany your sandwich.
My go to sandwich is the smoked brisket while Brian's is the Texas Cuban.
This is also a restaurant I toured on the Food Walks of Texas food tour in downtown McKinney with Tall Paul.  So fun!
I particularly like this restaurant because its easy to order and grab a seat – sometimes fast casual is just what the doctor ordered. McKinney Texas restaurants come in all forms  =)
216 W Virginia St #102
McKinney, TX 75069
When I ask anyone where to go for Mexican food while in McKinney, this is the name that always comes up.
Its a no frill kind of place, which we all know can be the best places to eat.
This tiny, counter-service spot is a local favorite for tacos and a Tex Mex breakfast. Try the chilaquiles and this place is the perfect spot if you are not looking to spend a fortune.
Contact info:
330 E Louisiana St
McKinney, TX 75069
4. Durkin's Pizza
They've got pizza, Sunday fun day and Wednesday family night . . oh and they have 3 locations.  2 are in McKinney!
Contact info:
8930 TX-121 #594
McKinney, TX 75070
(972) 727-8400
Harvest is that beautiful restaurant that you've walked by in Downtown McKinney, ya know, the one with the front porch just to the north of the McKinney Performing Arts Center.
This farm-to-table restaurant celebrates the Texas food movement with keeping their focus on local and seasonal items. 
From the owner Rick:
Harvest is committed to cultivating relationships with our community and the environment. The questions; where was it grown, how was it raised and can we recycle this are the foundations of the restaurant. Each of our seasonal menus features organic, local and regional products and celebrates the seasonality of ingredients, food and the rich contributions of farmers.Our mission is to reward farmers, ranchers and growers' efforts, and the efforts of other local artisans through direct transactions. We aren't changing the world, but we hope to plant a seed of consideration of sustainability for future generations to come.

Hospitality is in my blood – my parents bought their first restaurant in Oklahoma when I was 12 years old, my uncle had a 600 hundred acre ranch and grandparents  farmed almost everything that was on the table in the evening.  It taught me at an early age to appreciate where our food is grown and raised and the importance of respecting our land.  Building 20 restaurants the last 25 years sums up my passion. Hospitality is what I have chosen to embrace as my life work. I always say that building a restaurant is one of the most creative experiences in the world… but it's a craft no one has yet perfected, which makes the challenge that much more enjoyable!
Living on a farm 12 miles from our restaurants allows me to grow my own beef, run cross country every morning and live life with my wife and children in a very quiet spot.
Contact info:
112 E Louisiana St
McKinney, TX 75069
Besides the absolutely delish food, you'll want to be here to see Adriatica Village.  When you drive up, you won't know if you are in the suburbs of DFW or Croatia.
I'm obsessed with the architecture and the beauty of this hidden spot that combines retail, restaurants, single family homes and apartments all into one.
Enjoy fancy dishes like duck confit, escargot, and Wagyu beef served with truffled mashed potatoes. Be sure to save room for Gregory's decadent sides, like ratatouille and lobster risotto, which are served a la carte.
Contact info:
6675 Mediterranean Dr #3120
McKinney, TX 75070
7. Blue Olive Grill
For the Mediterranean food lovers out there.
Contact info:
2414 W University Dr.
McKinney, TX 75071
8.

Hugs Cafe

Hugs is a special kind of place and you'll know that the minute you walk in.

I don't know how they do it but from the moment you walk in, you feel like family rather than a customer.

The food is served on beautiful unique dishes and I have never had a bad meal.  Its always just what the doctor ordered.

This non-profit cafe provides job opportunities to adults with special needs, along with a fantastic menu of sandwiches, salads, sides, and sweets. Go for the "Blainer," a roast beef sandwich with provolone, caramelized onion jam, and horseradish sauce, and finish with one of Hugs's famous wedding cake cookies.
Contact info:
224 E Virginia St
McKinney, TX 75069
9. The One and Only Burgers and Fries
The owner, Gabriel Pineda wanted to fulfill his dream of owning his own restaurant but not just any restaurant, the one and only restaurant.  And he did that in 2014.  This hot spot is all about local, fresh food and quality service. They offer fries, hot dogs and hamburgers with unlimited toppings, allowing visitors to customize their meal any way that they want it.
And make sure to try their signature sauce.
Contact info:
1330 N McDonald Street
McKinney, TX,
214 973 5360

10. Square Burger
Salmon burger. Check!
Glass of Sauvignon Blanc. Check!
Its the date night burger place and a fabulous way to spend that Friday paycheck.
The atmosphere here is a bit more swanky with lots of light as the restaurant is on the corner of the McKinney Square and filled with natural light from all of the large windows. The menu includes grass-fed, organic meat from McKinney's Genesis Beef. Over thirty draft beers are available to accompany any of the menu options. McKinney Texas restaurants are ah-mazing throughout the city and downtown areas.
Contact info:
115 N Kentucky Street
McKinney, TX,
972 542 0185
11. Top Dog Tacos
See everything about Top Dog Tacos here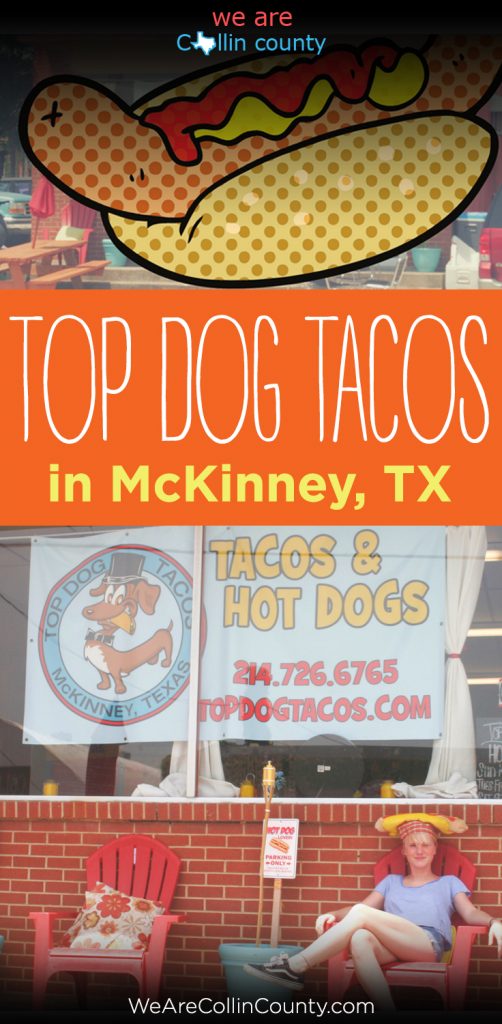 12. Hat Creek Burger Co.
Hat Creek Burger has that Twisted Root burger aesthetic with the exception of a HUGE playground for the kiddos and also a drive thru (perfect for when you need to feed the kids but also get them home and in their jammies right away)
They have all the usual cast of characters as well as vegan, vegetarian and gluten free options. BTW, would you bring this burger holder with you?? I might bring mine.
On top of that, they have an indoor/outdoor big screen TV
Contact info:
3321 S. Custer Road
214-592-0534
13. Bluebird Cottage and Cafe
Discovered on my way to the Myers Event Center, this little cottage sits way out in the country.
One customer from Bluebird Cottage and Cafe states "If you want fresh homemade food, great service and a fabulous atmosphere try this place. It is easy to find (right off Lake Forest Dr) in McKinney. You receive personalized service and an owner that genuinely cares about your experience. This has moved to #1 on our list of privately owned breakfast spots
And another stated "I stopped here with my friend for breakfast after a 40mile bike ride. We were thirsty and hungry. The portions were plentiful and the quality was excellent. The owner took a minute to talk to us and told us some of the story of the restaurant. She is an impressive individual along with her staff. Stop by sometime, and get the waffles or the breakfast burrito. The location and view are awesome too!"
Contact info:
3711 FM1461
McKinney, TX 75071
(469) 450-8855
14. Dillas Quesadillas
This McKinney Texas restaurant makes fresh quesadillas, cooked to order with scratch-made dipping sauces. Dine-in, drive-thru & take-out quesadillas.  Its on the Northeast corner of Hardin Boulevard and US 380

Contact info:
3510 W University Dr #200
McKinney, TX 75071
(214) 491-4144
15. Harry's on the Harbor
Another amazing spot in the unique Adriatica Village of McKinney. This is a laid-back American haunt with pub grub & lunch specials, plus TV sports & an outdoor patio.
You can try them out for lunch, dinner, Sunday brunch or sit at the bar and have a bite to eat and a cocktail.
Contact info:
6601 Mediterranean Dr.
McKinney, TX 75070
(214) 592-0240
16. Eleven 17
While working his way through college at Texas Tech University in a local café, Justin discovered his love for the restaurant business. At the age of 22 he opened his first restaurant that he successfully owned and operated for 15 years. Channa graduated from Texas Tech University, and worked for a luxury retailer, always knowing she wanted to be a Mother. Justin and Channa married in 2008, they welcomed their first-born daughter, Emerson Chase, on September 17th, 2009 and their son, Truett Graham, on November 14, 2011. As Texas natives we moved to McKinney in 2014 from Central Texas. We opened our second restaurant 11|17 in 2018, serving our community and building relationships with our neighbors. 11|17 is a tribute to our children and their birth days.
Number 1117 is an auspicious number as it embodies the 'new' with manifesting good fortune, and to remember to be grateful for all that the Universe provides. As an angel number, 1117 indicates that you are heading in the right direction in your life, and this has been achieved through positive affirmations, intentions and actions.
For those pimiento cheese lovers out there, you'll need to come here and start with drinks and apps.
Contact info:
1910 N Stonebridge Dr suite 180
McKinney, TX 75071
(972) 363-0031
We are only halfway through all the awesome and delicious McKinney Texas restaurants, keep scrolling ⤵️
17. Uncork'd Wine Bar
Contact info:
301 N Custer Rd #180
McKinney, TX 75071
(214) 592-8841
18. Mitas Hill Vineyard
See more about here: The Coziest Place in McKinney
And yes it does qualify as one of the McKinney Texas restaurants because it has the vineyard, events, a wine bar and amazing food.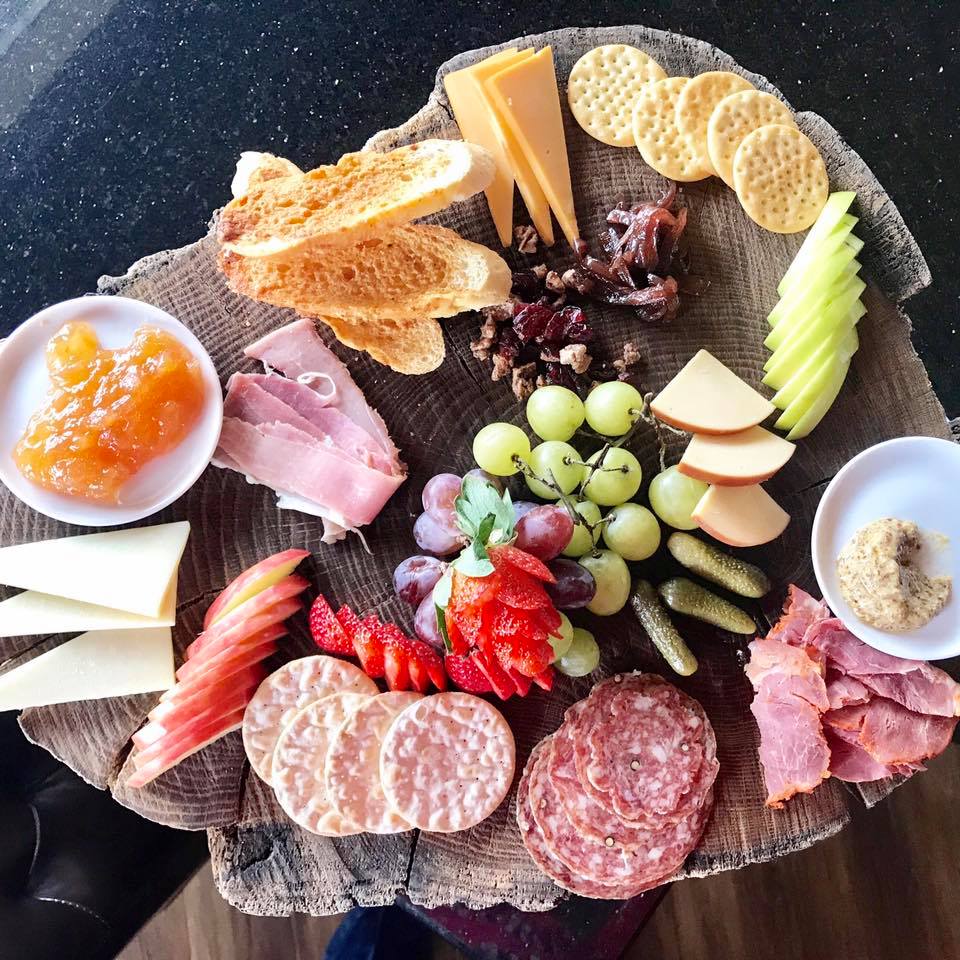 19. Eclair Bistro
Eclair Bistro is a masterful creation of French-American cuisine that is made with freshest ingredients, making it one of the BEST restaurants in North Texas.
Contact info:
216 E Virginia
McKinney, TX 75069
(214) 701-4409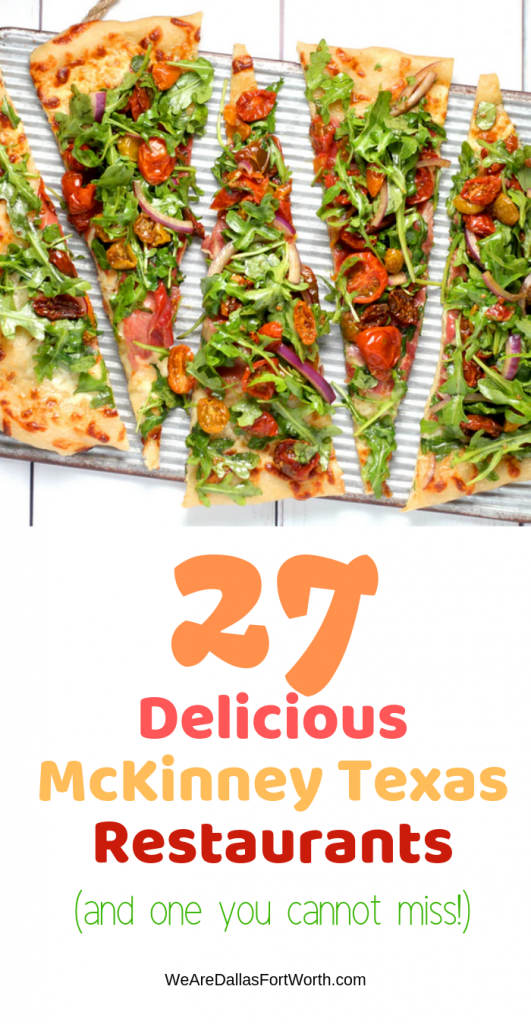 20. Fuzzy's Taco
Fuzzy's is that perfect place to go when you don't know what you want but you do know you want a fresh meal that won't break the bank.
Fuzzy will serve up tacos, cold beer and big ass margaritas.
Contact info:
3190 S Central Expy #570
McKinney, TX 75070
(469) 952-2252
21. Okada Japanese Steak and Sushi
Come here if you are in the mood for table top hibachi shows, sushi, sake & Japanese cocktails served in stylish modern environs.
Contact info:
2750 S Central Expy # 100
McKinney, TX 75070
22. JC's Burger House
Having the urge for chili or chicken sandwiches or a good ol' fashioned burger, this is your place.
Contact info:
6840 Virginia Parkway #100
McKinney, TX 75071
(972) 984-1717
23. Bakers Drive In
Home of the Texas Cheese Burger since 1954! Bakers serves old fashion hamburgers, home made fried pies and a full menu of other favorites.
And if you order a shake and/or drink, you'll get to choose from small, medium, large or Texas size 😂
Contact info:
1001 S McDonald St
McKinney, TX 75069
24. Mesa's Mexican Grill
They've grown to an additional location in Prosper and one in Allen as well.
Their location in McKinney is super accessible just off of 75 and Eldorado.  If you like Mexican food (doesn't every Dallasite and Texan?) then you'll want to add this restaurant to your list of places to eat at.
See their story from their site
Mesas Mexican Grill began on a family trip where two visionary minds ventured to follow a dream based on the philosophy that everything is possible with God. With that strong believe and relentless efforts from the collaboration and experience between Raul Meza and Alfredo Benitez, the dream soon became a reality with doors opening at their first location in Prosper, TX in July, 2013.

Their original recipes, supported by an amazing staff who delivered quality service, made "Mesa's" a hit among the community and by 2014, Mesas Mexican Grill opened their second location in McKinney, TX which quickly became a local hot spot for great Margaritas, fresh food and good times, proving that success is possible through teamwork and the trust of loyal customers.
Contact info:
7820 Eldorado Pkwy
McKinney, TX 75070
(469) 617-3090
25. Bill Smith Cafe
A classic McKinney establishment, if you want a heart breakfast – then head to Bill Smith's for some down home cooking.
Contact info:
1510 W University Dr
McKinney, TX 75069
(972) 542-5331
26. El Corazon Tex Mex
The Cuellar family has a long history of serving DFW residents with their amazing Tex Mex recipes. In fact, this restaurant has been recognized by D Magazine as the Best Tex-Mex in DFW, El Corazon is proud to bring the heart of Tex-Mex to McKinney.
Contact info:
1222 N Central Expy
McKinney, TX 75070
(469) 678-5011
And what's the ONE of the best McKinney Texas restaurants you absolutely cannot miss? ⤵️
Rye
I don't think I have ever met anyone that does not like Rye once they discover this teeny tiny Soho-esque mecca of amazing food.
Of all the McKinney Texas restaurants, this is one of our faves!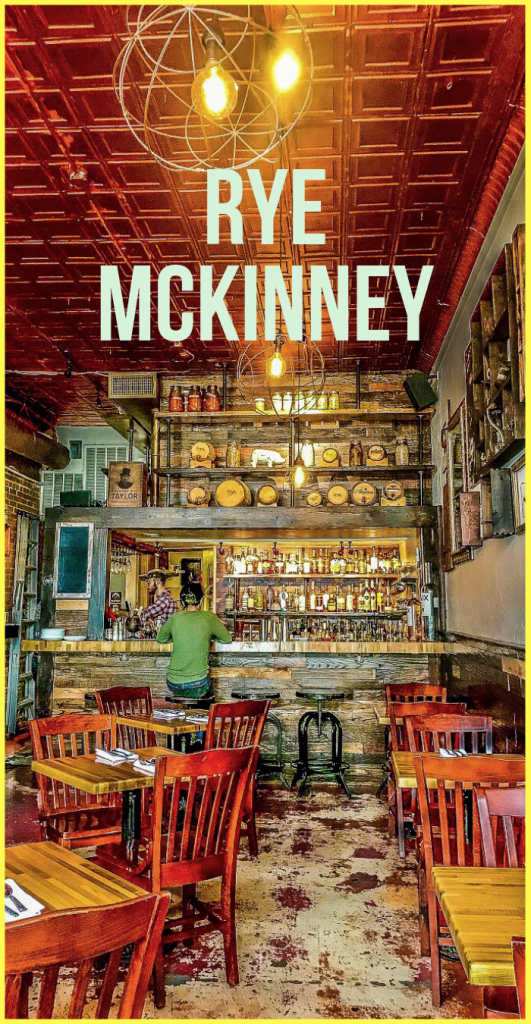 111 W Virginia St
McKinney, TX 75069
There you have it! 27 delicious McKinney Texas restaurants you don't want to miss.
Without a doubt, there are probably a few more that needed to be added to this list . . because, if you've been to McKinney, you know this town is full of delicious foods and amazing people doing their best to serve their customers.