Disclosure of Material Connection: Some of the links in this post may be "affiliate links." This means if you click on the link and purchase an item, I will receive an affiliate commission. Disclosure in accordance with the Federal Trade Commission's 16 CF.
Yes, dogs can swim, and they are good at swimming. Just as humans learn to swim, dogs do as well, and they actually learn swimming faster than humans. In this post, I will tell you exactly where to take your dogs swimming in Dallas.
Dogs swim days have finally arrived, and you can take them to the swimming pools in Dallas and today, I am going to be showing you the best places to take your dog swimming in Dallas. So, let's get started!
Where To Take Your Dogs Swimming in Dallas
1. Northbark Dog Park
This place is being loved by most of the people living in Dallas because Northbark Dog Park offers you something for every dog, whether they are small, large or be one of the dogs that prefer swimming.
Basically, this park is divided into three sections; Under 30 pounds, Over 30 Pounds  and a pond for the dogs who like to swim. The swimming hole here in Northbark Dog Park provide your dog plenty of room in the crowded days as well so that your dog can enjoy at its fullest. Another thing which most of the people like about this park is, there's a picnic area for those people who wants to bring some food, when their dogs are swimming and can enjoy there for a while.
So, if you want to give this park a try, then Northbark Dog Park is located at George Bush and Dallas North Tollway, making it the best place for a large number of people and their puppies.
2. Paws in the Pool
Paws in the pool is just another dog pool party which is considered as one of the best places to take your dogs for swimming. There are separate timings for the bigger dogs and small dogs for the swimming purposes, and you can let your dog set free in the picnic area as well.
9:30 to 11:00 am for the dogs under 35 pounds and 1:30 to 3 pm for the dogs over 36 pounds. Paws in the pool will charge you $8 for your dog and $2 for one human, but if there's any friend with you who wants to enjoy seeing your dog swimming too, then you've to give $2 extra for each additional person.
So, if you want to give this place a try, then Paws in the Pool is located at Frisco Water Park, 5828 Nancy Jane Lane, Frisco. I would recommend you to take your family along with you to this place so that they can enjoy dogs swimming and having fun. Plus, if you have any room in your phone for more dogs pics, then you'l be taking a ton.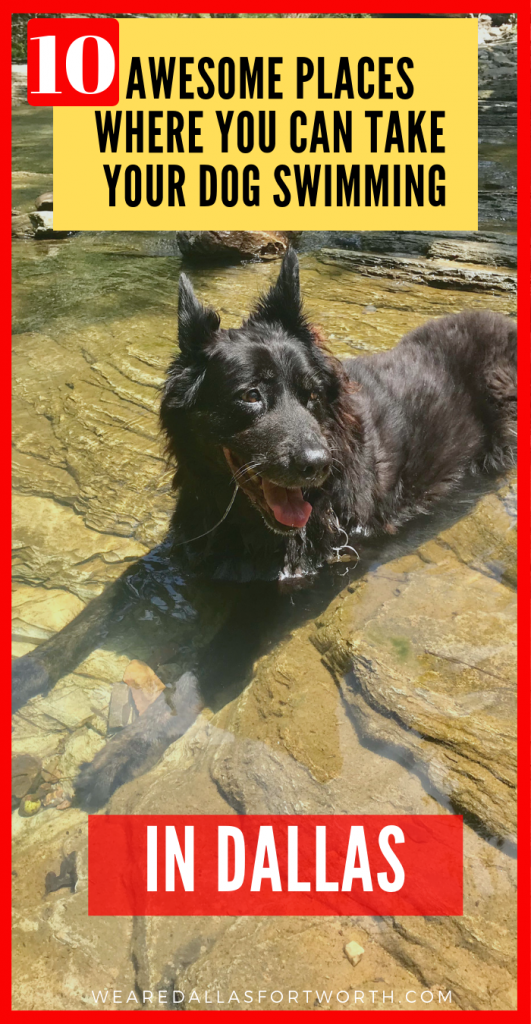 3. Bow-Wow Luau
If you want to enjoy the water park features such as splash times, contests, games, and giveaways, then Bow-Wow Luau is the place for you to go. The best benefit that you're going to get is this is one of the few chances you'll have to take your dog to a water park.
You can bring a larger and smaller dog along with you, but you can only bring two dogs at once because they have set a rule of bringing two dogs per owner.
So, if you want to give this event a try, then you can get to this place between 1 to 5 pm at Hawaiian Falls, 4400 Paige Road, The Colony and they are going to charge $15 per person in advance and $20 at the main gate.
4. K-9 Kerplunk Dog Swim
If you're a fan of the outdoor shallow pool, then K-9 Kerplunk Dog Swim is the best place for you to go not because they only offer you outdoor shallow but the atmosphere and the facilities they provide you to let your dog enjoy in the swimming pool.
The best thing which I like the most in K-9 Kerplunk Dog swim is, admission of your dog at this place is a donation to the Plano Animal Shelter, either it's money or goods. But, you can give extra money if you want to donate anything for the Animal Shelter by going to their official Website.
So, if you want to give this event a try, then it is located at Oak Point Recreation Center Pool, 6000 Jupiter Road, Plano and you can visit this place from 9 am to the noon.
5. Wags & Waves
Wags and Waves 2019 on September 7, from 10am to 4pm, as Hawaiian Falls in Garland, TX, goes to the dogs for the ultimate pool party to close out the summer!
It's a doggie swim day of fun in the sun while also benefiting local area animal rescues: Cat Matchers, Dallas Companion Animal Project, DFW Rescue Me, Feral Friends, Garland Animal Services, and Legacy Boxer Rescue.
This year they're swabbing the deck and raising the Jolly Roger flag for a special pirate themed Wags and Waves 2019!
Float down the Kona Kooler Lazy River or catch some waves in the Waikiki Beach Wave Pool — all with your furry best friend!!
6. Bonnie Wenk Dog Park
Not only do they have a dog park sectioned off for various size dogs, they have a splash pad area for your pups to cool off and those little baby pools for your dog to frolic or sit in. This is a fave park in north Dallas.
7. Your Pool
Because its triple digits, let Fido swim if you've got your own backyard pool. In this case, Lucky  =)
Or use one of these if you don't have a pool, so easy!   or this smaller one specifically for dogs.
Case in point, how adorable is Lucky after a swim in the pool.  Living a fabulous life 💛
[thank you to Kim from the Dog Moms for letting me use this snap]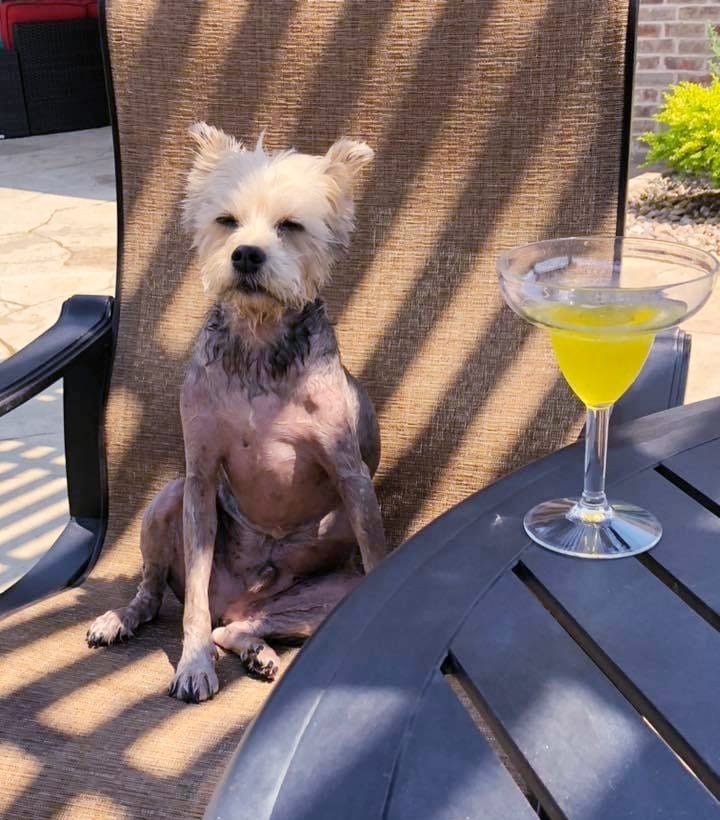 8. White Rock Lake Dog Park
Located at 8000 Mockingbird Lane in Dallas, this is a much-loved park to let your furbaby play and swim in the lake.
9. Lakes, creeks and ponds
If there is an access point, my Bow Bow loves to swim throughout the creeks in Bob Woodruff park in Plano.  However, she is under voice-control and I am very mindful of my surroundings before I let her take a plunge.  Meaning, I make sure that we are completely alone before I let her take a quick dip.
10. Doggie Splash Day
Mesquite Parks and Recreation Department invites all dogs and their owners to 16th annual Doggie Splash Day on Saturday, August 10, 2019 from 9 a.m. – noon at Vanston Pool, located at 2913 Oates Drive.
Click on image to download for free and print: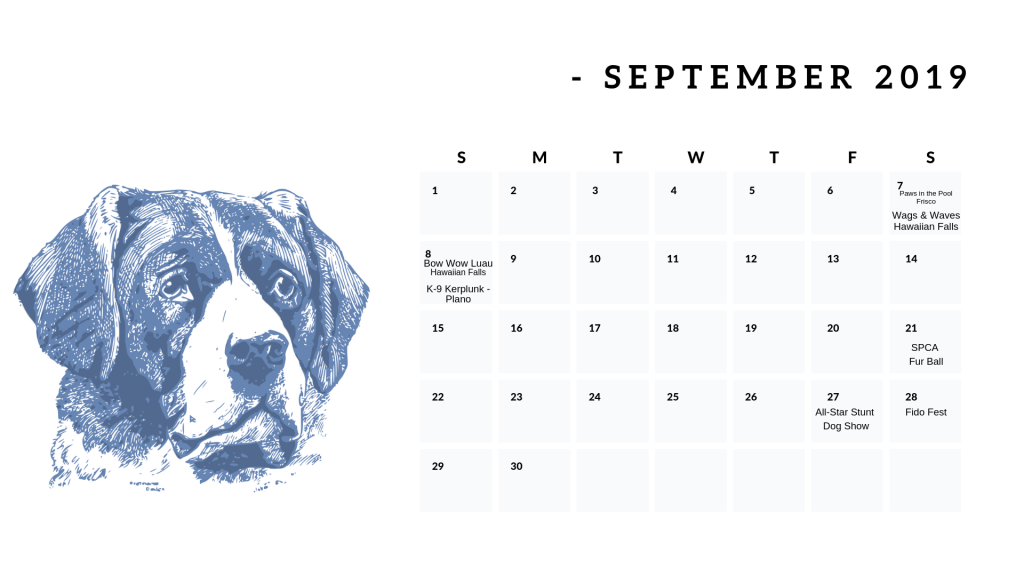 Do you know where to take your dog swimming in Dallas?
Hopefully, this list will give you some great options to have some fun water days with your pup.
I truly believe that dogs have the right to enjoy as well, and there's nothing as good as taking your dogs to the swimming pools before they close the swimming pools for the summers.
If you've any questions related to Where to take your dog swimming in Dallas, then feel free to comment down below. I will try to answer your questions as soon as possible. Cheers!

One more thing . . . 
Come join the Dog Moms group over here.
And you can also try this indoor Wickbone to keep them stimulated inside the house ⤵️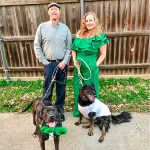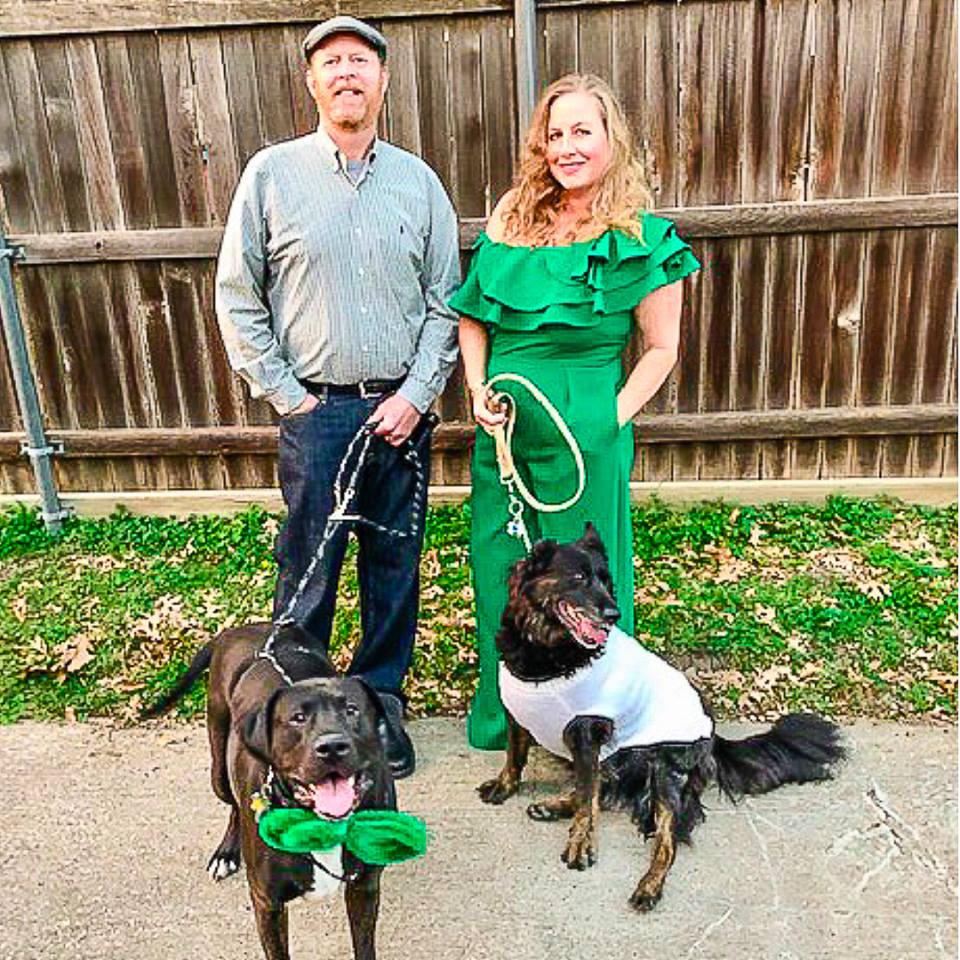 Interested in working with Becca or being featured here on the website, start here
She helps local businesses in DFW and many larger businesses looking to tell a story to the readers of Dallas. Her work entails copywriting, content marketing, blog campaigns, email marketing, social media, coaching and consulting.
This article contains some affiliate links, meaning that if you make a purchase through these links, I may earn a small commission (at no extra cost to you!). Thank you for reading!
You might also like ⤵️
And take a peek at the podcast, I have had the privilege to speak to some amazing movers and shakers ⤵️