Disclosure of Material Connection: Some of the links in this post may be "affiliate links." This means if you click on the link and purchase an item, I will receive an affiliate commission. Disclosure in accordance with the Federal Trade Commission's 16 CF.
Glen Rose, is now a place for revitalization from our busy home of Dallas Fort Worth.
As our concrete jungle grows, so does the need for mini escapes.
Construction zones and cones have us getting a little crazy sometimes . . we are not the only ones, right?
One of our favorite escapes that is not too far from home is the tiny, adorable and beautiful town of Glen Rose, TX.
Glen Rose is deemed the Dinosaur Capital of Texas, known for the hundreds of tracks left millions of years ago that are still visible today. Glen Rose has much more to offer than just dinosaur tracks. Although, keep a look out as you are driving through town as you'll find many fossil sites to pull the car over to explore.
The picturesque little town is a prime weekend getaway destination for those in Dallas or Fort Worth because it sits among rolling hills, the Paluxy River and the Brazos River.  And, if your family loves to get outside and play . . .
Glen Rose is all about the outdoors!
And when you are ready to slow the pace down, stroll through the downtown Square, cafes or pull up a chair at the Green Pickle.
Things to Do in Glen Rose Texas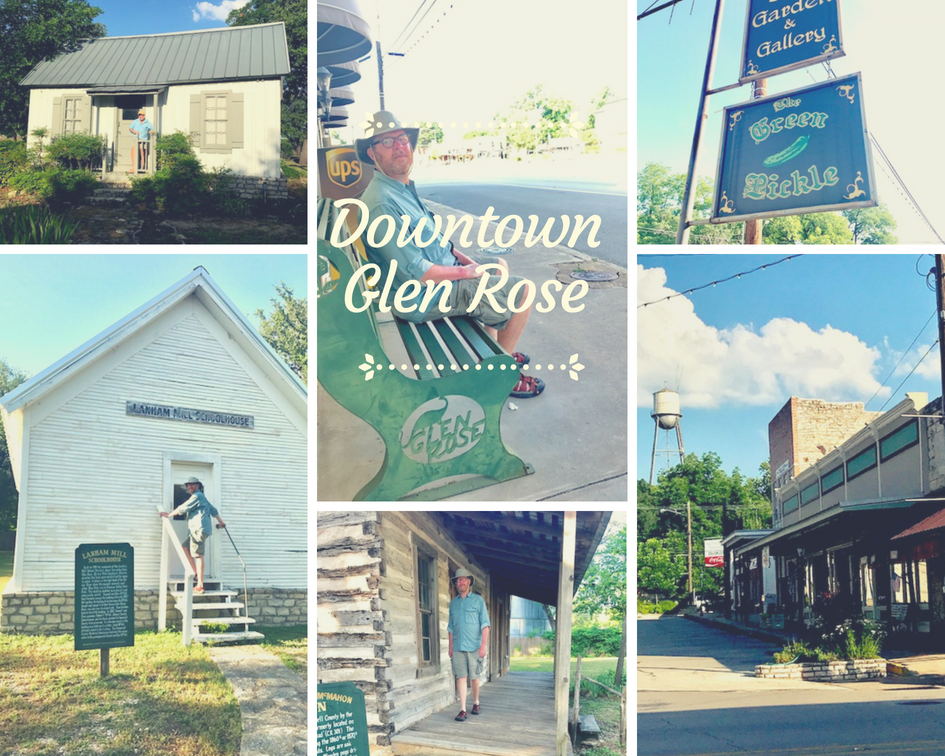 Pack your hiking shoes, sports gear, bikes, kayaks and paddle boards and head south from Dallas to this gem of a town.
Hint: our favorite places to get gear are
REI
in Plano,
Field and Stream
in Prosper or Orvis in Dallas. we always find the best gear to prepare us for adventure.
And many times, we end up matching (not sure Brian thinks this is as funny as I do)
P.S. Husband on the left and I'm on the right #clarification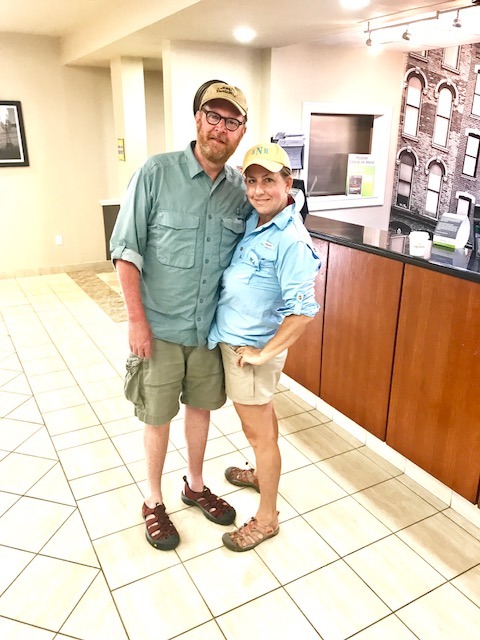 Back in Glen Rose . . .
And don't miss out on that Hollywood Insta moment  =)
☀️ First up, Big Rocks Park has a vast collection of unusually large rocks that give the park its name. Located on the north shore of the Paluxy River the park is a great place to swim and picnic, explore, relax and maybe even horseback ride.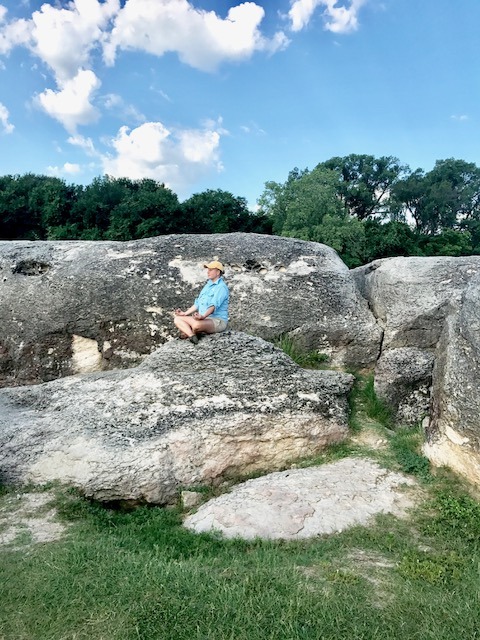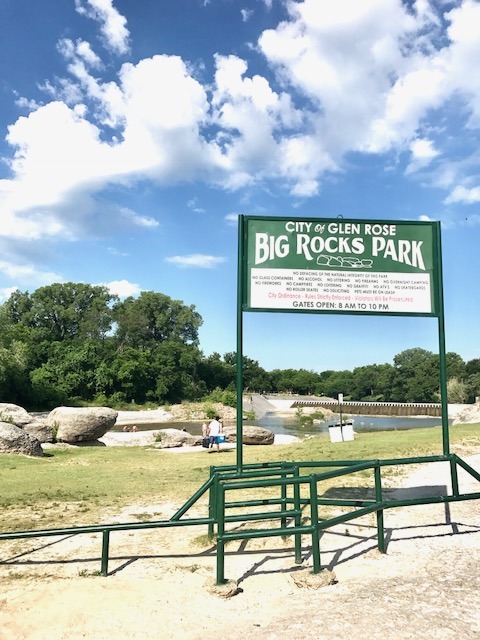 ☀️
Snow Shack.
You won't be able to leave Big Rocks Park without making a stop just next door at this snow cone joint. Plus, with the dinosaur putt putt course adjacent you'll feel like you just walked into The Summer series of
The Babysitters Club
. Some of y'all know exactly what I'm talking about.  This little section of Glen Rose is a Summer Heaven for kiddos.  Oh, don't worry, if you miss it, I promise your kids will find it.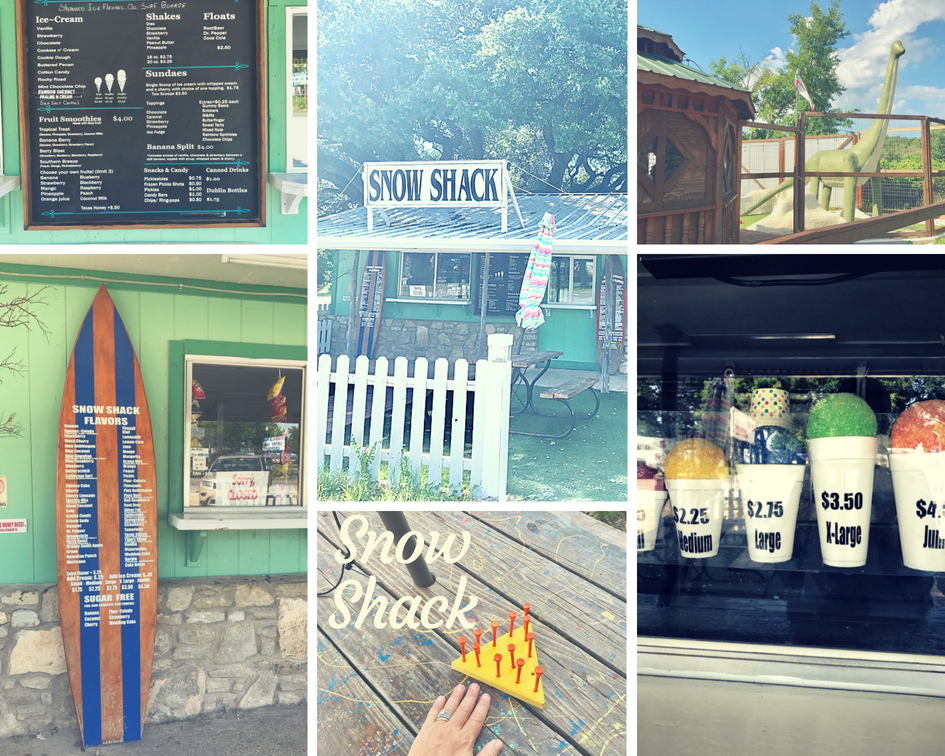 ☀️Tube or Canoe Down the Brazos – Head a few miles northeast of Glen Rose and you will find canoe and tube outfitters company called, Rhodes Rentals
☀️Attend the Saturday morning farmer's market on the Square
☀️Embark on a Safari – Drive over to Fossil Rim Wildlife Center where kids and adults alike will enjoy taking a drive through the 1,700 acres to see zebras, rhinos, giraffes, and thousands of other animals. Fossil Rim offers drive-thru tours where you can feed the animals from your car, as well as behind the scenes tours, and unique overnight stays.
☀️ Mountain Bike Solavaca Ranch
This Texas mountain bike trail is located in the limestone hills of the Paluxy River watershed and just down the road is the Dinosaur Valley State Park. This is an 8 mile single-track trail (PLEASE NOTE THIS). Our first adventure on this trail in triple digits and we thought it was 4 miles, once we finally made it back to the car after 8 miles we were out of water and completely worn out.  Thank goodness we weren't too far from some amazing BBQ.
Anyway, here are some of the details to this private ranch:
Fee is: $3/person per day. Hours are Daylight to Dark.
Solavaca is a privately owned ranch with an ideal topography for a mountain bike trail.
Once you arrive you will need to pay your fee per person and sign a waiver.
These videos on our trail give you a good idea of the trail. Pre-Ride Video 2013 and CAT 3 Racer
The 8+ miles of single-track trail – all marked ORANGE – will lead you through a variety of challenges as well as sections of scenic and fast riding.
This is not a beginner trail
If you would rather hike, this makes a great hiking trail
Research the link below before you depart for this trail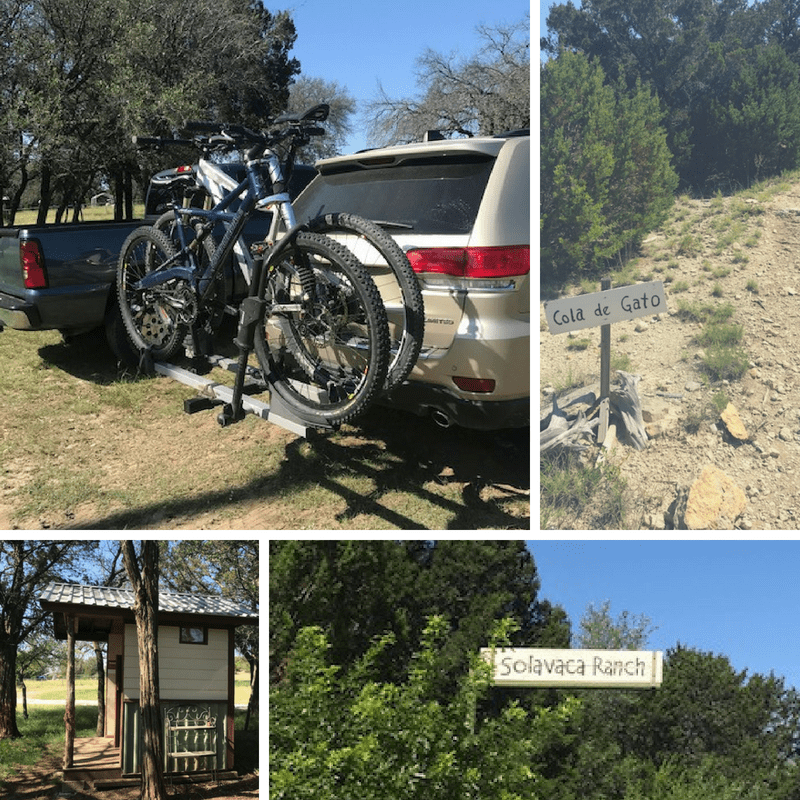 ☀️ Eat dinner at the
Loco Coyote Grill
. You won't want to miss this "hole in the wall" of sorts hidden in the midst of the Texas hills. It seems to have been discovered as its now been featured in Texas Monthly and Texas Highways.
We ventured from Granbury Texas to have dinner here and took many twists and turns (while promising my husband we would land upon the most amazing and delicious BBQ).  After 20 minutes, I'm sure he had his doubts that we would discover  and sighting of civilization but alas, there it was, the Loco Coyote Grill on the hilltop.
Loco Coyote is at 1795 CR 1004 in Glen Rose.
Hours:Thu-Fri 5-9 p.m.,
Sat 11 a.m.-9 p.m.,
Sun 11 a.m.-3 p.m.
Phone: 254.897.2324
While you wait for your table, grab a bucket of ice cold beers, hand out on the lawn and if you're feeling like a game, be sure to play some horseshoes and
other lawn games.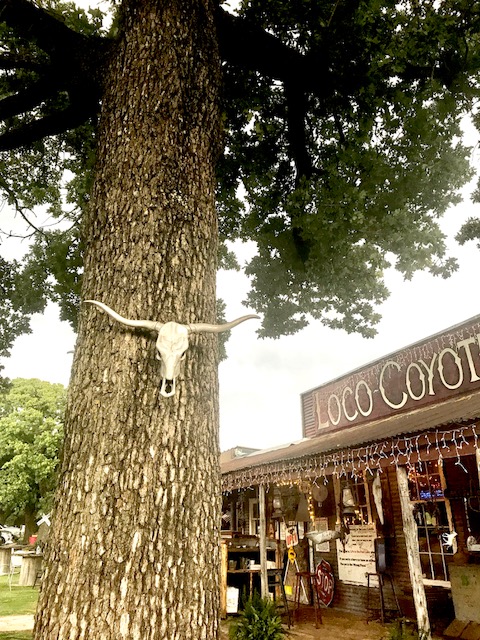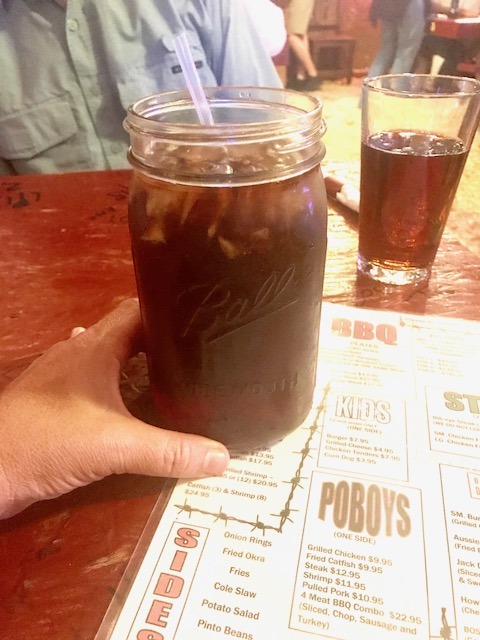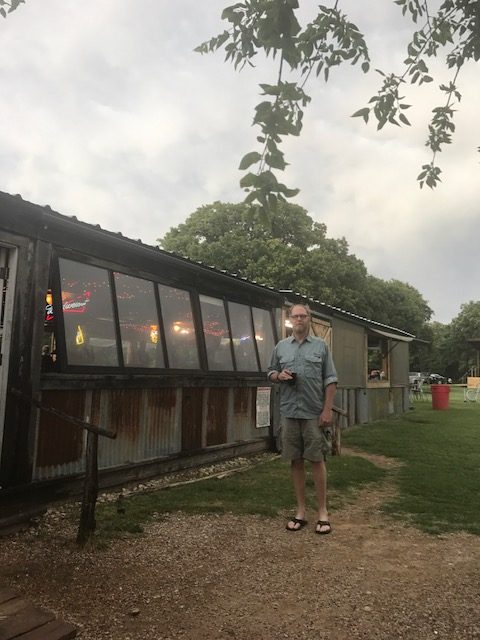 ☀️
Dinosaur World Texas.
At Dinosaur World, the kids can step back into a time and dig for fossils, tour a museum full of prehistoric
fossils
, and wander among animatronic versions of a Tyrannosaurus Rex, Stegosaurus, Triceratops, and more.
☀️ Pie Peddlers. Strawberry, Blackberry or Rhubarb pie? They have everything in this sweet little pie shop on the Square.
☀️Dinosaur Valley State Park. Not to be confused with Dinosaur World is our top State Park to visit in Texas.Long ago, dinosaurs left footprints in the mud at the edge of an ancient ocean. Today, you can walk in their tracks in the bed of the Paluxy River. This state park (yes, bring your state park pass if you have one) is our absolute favorite park in the entire metroplex. We can search for dinosaur tracks, camp, picnic, hike, mountain bike (this is the first time we ever saw a tandem mountain bike), swim and fish in the river, watch for wildlife, look for a geocache, ride your horse, or they also have an interpretive center. This is a must for anyone with kids.  So fun and so much to explore, it really won't disappoint.
☀️You'll have to pop in the the classic
Storiebook Cafe
(nestled between downtown Glen Rose and Big Rocks Park) for a sandwich after a full day of adventure. A great meal surrounded by books and a cup of
coffee
makes for a comfy and memorable time.
☀️And of course, enjoy the Paluxy River from above it, beside it in a chair or in it!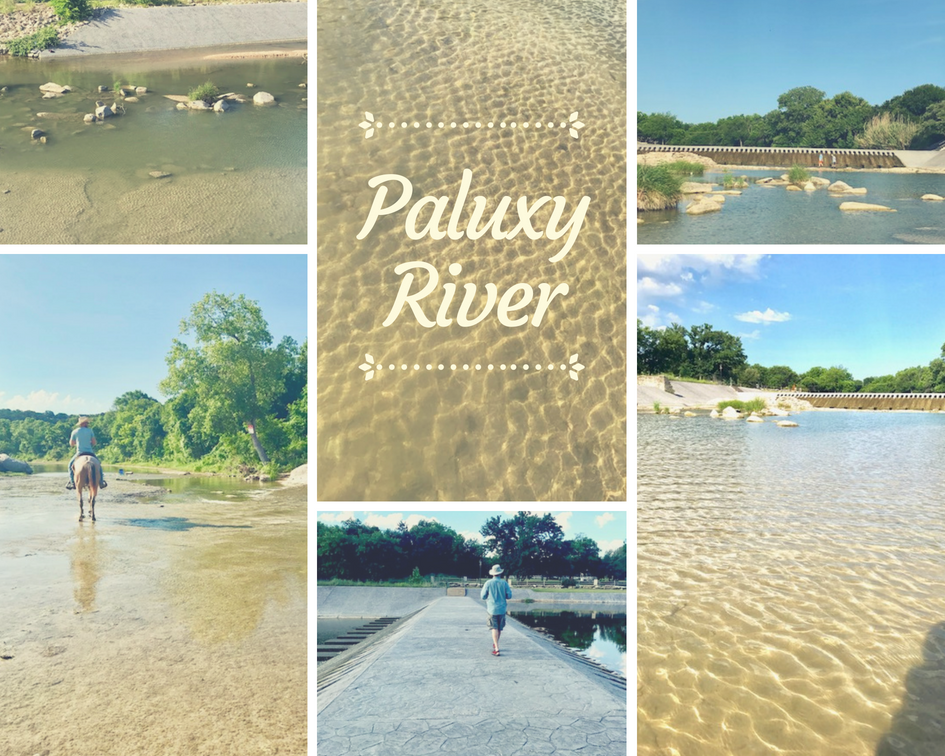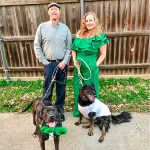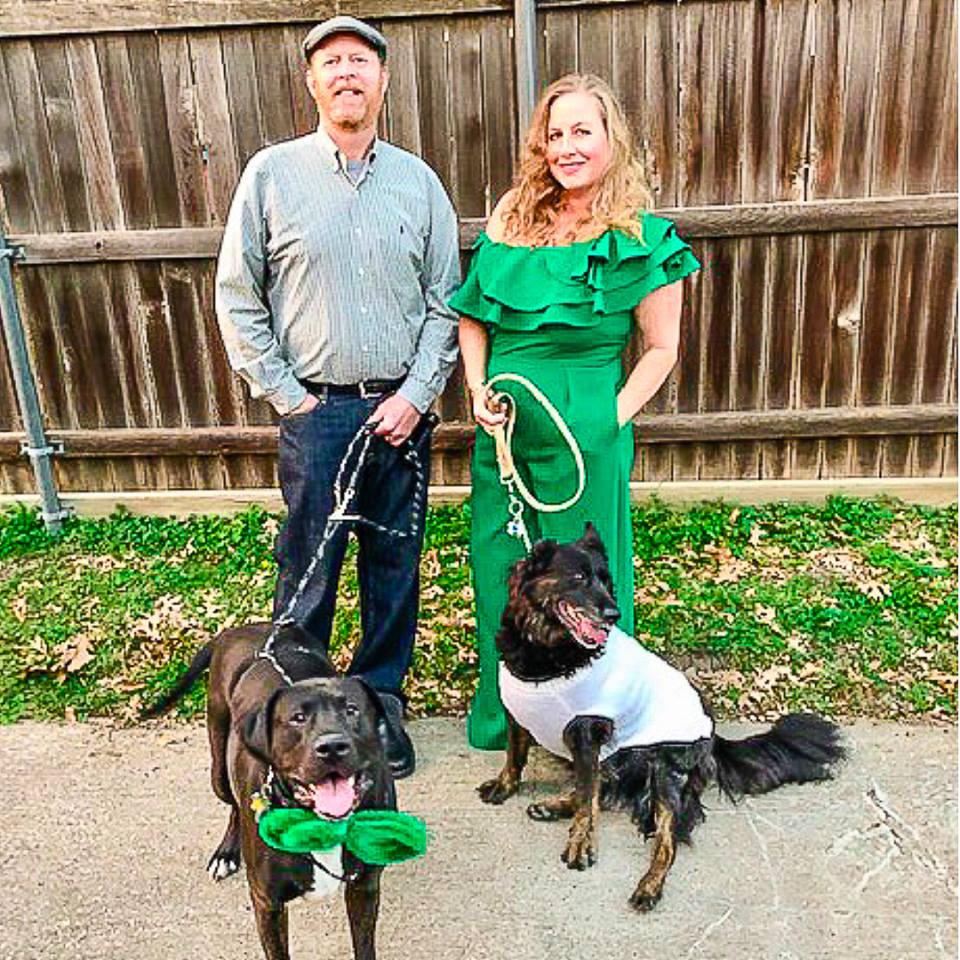 Interested in working with Becca or being featured here on the website, start here
She helps local businesses in DFW and many larger businesses looking to tell a story to the readers of Dallas. Her work entails copywriting, content marketing, blog campaigns, email marketing, social media, coaching and consulting.
Catch some of our podcast episodes here:

Check out more posts from the weekend getaway here . .