Disclosure of Material Connection: Some of the links in this post may be "affiliate links." This means if you click on the link and purchase an item, I will receive an affiliate commission. Disclosure in accordance with the Federal Trade Commission's 16 CF.
The Texas Spa Castle needs to be on your bucket list if you live in Dallas or plan on coming to DFW. There is nothing else like it and a wonderful retreat for the body, mind and soul.
The Ultimate Guide to the Texas Spa Castle
This larger than life spa castle is a place I recommend every single person and family spend a day enjoying.
Its located in Carrollton, right off the George Bush and Old Denton (behind the Wal Mart/Chik-Fil-A). This place is no ordinary spa so you'll want to peruse this post and anything else on the interwebs you can find. Don't get me wrong, this place is amazing but it's not the spa at the Four Seasons, its a Korean Spa and offers a slightly different and totally amazing experience.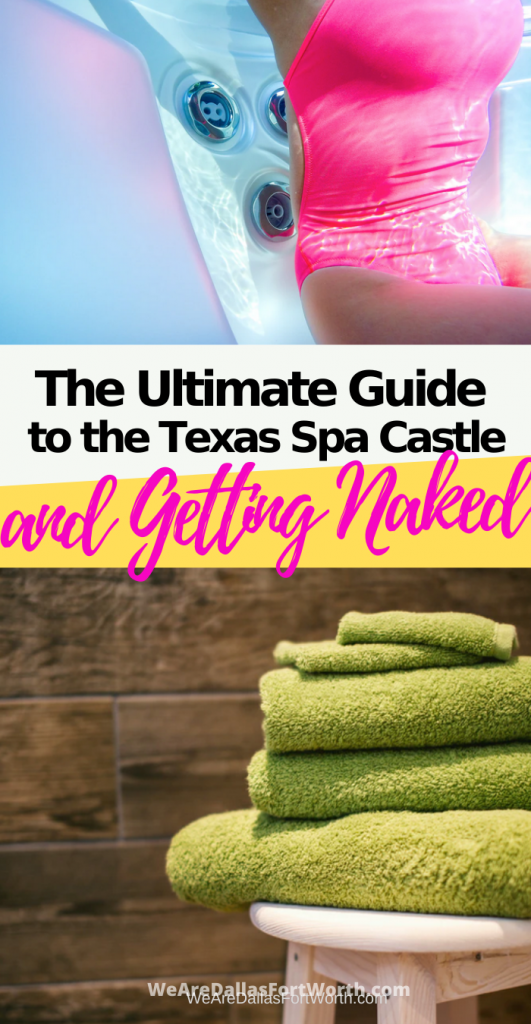 There is so much to it, its kind of hard to describe but this is what their website says:
Bathhouses have been in existence for almost 2000 years, with the Romans and Greeks at its European forefront, and the Japanese at the Asian's. The Roman baths in particular, were known to have been extravagant architectural monuments that stood as an essential pillar of society. These were not just places to bathe and heal, but were a meeting grounds where business was conducted, social gatherings made, and philosophical discussions exchanged – all to help invigorate the body, mind, and soul. Most of the bathhouses were impressively designed and ornately decorated, while still all the while functional.

Japanese and Koreans were, and still are, known for their bathing culture and near obsessive dedication to cleanliness. Heated waters were believed to have the power to cure illness, while the bathing rituals would rid the body of any impurities found inside and out. As running water became more common within homes, bathhouses transformed into destination locations with many accommodations to complement the traditional water-based fixtures.

Despite this transition, bathhouses still remained more functional than full-of-frills luxurious, focusing on the fundamental traditions of achieving cleanliness and furthermore, health.
You really have to see it to believe it.
It's like an all-you-can-spa kind of place (aside from a few extra add ons). They have 10 different coed rooms for you to choose from in their Sauna Valley. You can do anything from a crazy 186 degree omg-this burns my face-fire room to a comfortably warm room where you are surround by Himalayan salt blocks.
I first got turned on by these Korean style spas when my husband and I went to King Spa off of Royal Lane in Dallas (let me clarify, I dragged my husband). Before this spa, I had only been to the Turkish and Russian Baths in North Miami Beach. Now that I have been a few times, I have a mental checklist of what I need to bring to have the best experience.
If you haven't been, you might appreciate this insight AND if you have been I would love to know your tips.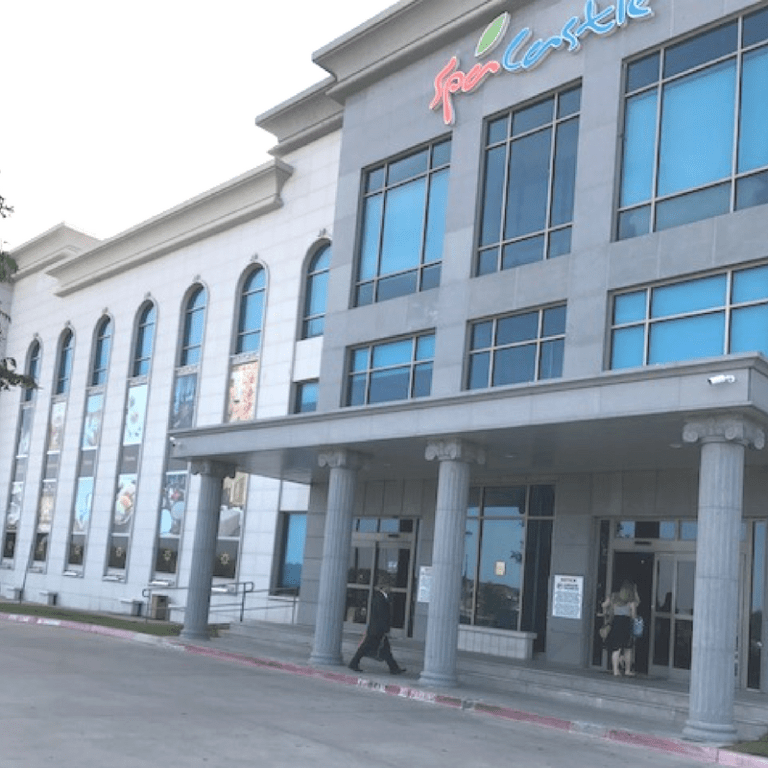 Inside these walls you'll find, outdoor pools, indoor pools, a bar, a spa with additional spa services, saunas, a food court with options on level 2 and level 3, fro yo, coffee, relaxation stations, steam rooms, whirlpools and ice rooms. Oh, and they even have a hotel attached. Still working on getting the husband on board for a staycation here.
Here what you can expect to discover in the Sauna Valley, the rooms include:
Gold Pyramid: plates of 98% real gold
Charcoal Tower: activated charcoal, fine black carbon powder superheated with steam
Loess Tower: yellow soil of Korea
Roman Bath: a modern replicate of the traditional Roman public baths
Color Therapy
Himalayan Salt Room: Pure blocks of Himalayan Salt
Infrared Zone: Lounge chairs placed under overhead infrared heaters
Bul Gama: Extra hot clay oven
Far Infrared
Ice Land
And then there's more . . if all of those rooms weren't enough, they even have a restaurant inside with authentic Korean cuisine. You literally could spend all day there, especially because its open 24-hours per day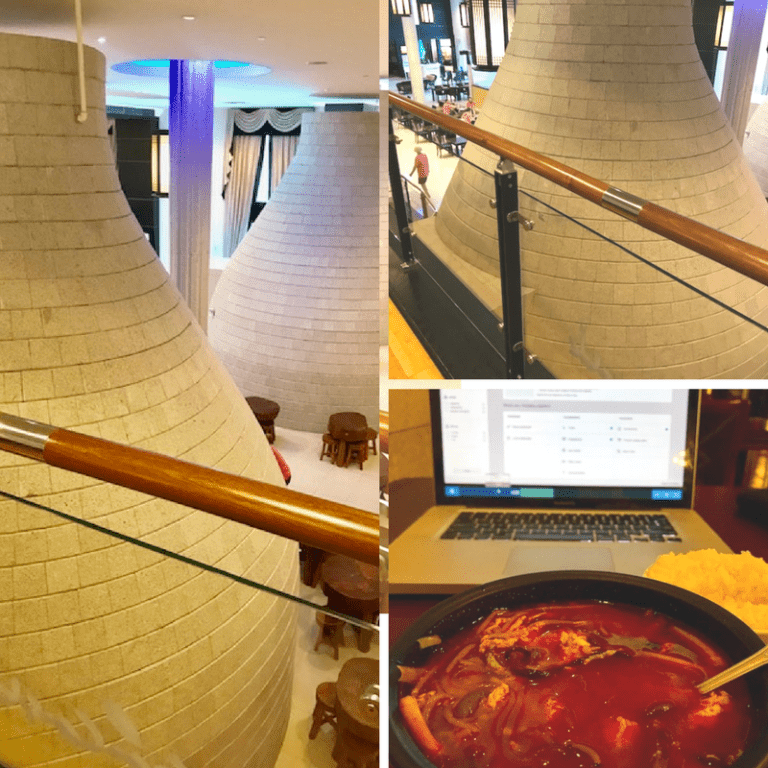 So how does this all work . . .
The Entrance
The entrance to Spa Castle is similar to a gym where you check in and pay. They do offer memberships if you fall in love with it otherwise it ranges between $40 – $50 depending on week day or weekend entrance. Upon paying, you will walk through a turnstile (Disney style) and go to your respective locker room, Male or Female.  If you come with your husband, you'll meet upstairs on the coed side. 
Hours
Its open 365 days per year, 24 hours per day.
However, some pools and services are NOT open around the clock.
Upon Entering the Locker Rooms
You will immediately take off your shoes and place in the shoe locker. The number on your wristband digital "key" will correspond with your shoe locker and clothing locker. Just wave your wrist in front of the lock for it to unlock for you. Then make sure its locked before you walk away.
Special Clothing
Once you place your shoes in the locker, you are now in a barefoot only zone; however, you can bring socks if you would like. I like having socks when I take a break for lunch for a cozier feel against the cold tiles.
Moving along, you will come to a station to pick up your outfit. For ladies its pink and for men its gray. You let them know the size you need and then you get to wear the most unflattering (more unflattering than your PE uniform from school days) around the castle. Thankfully, everyone is doing it so just go with it.
At this station you can also grab a toothbrush or razor or other amenities you might need now or you can come back later.
Go find your locker
Its now time to go find your locker and get into uniform. Then you can go explore!
       **************
On the first floor, are the expansive locker rooms with everything you need to get ready for the spas or get showered, hair did etc to head back out the door. They also have a relaxation zone since the saunas will get you into a state of relaxed bliss.
This is also where the entrance to the outdoor pool area and indoor coed pool and bar. As well as the ladies-only steam room and hot tubs. Each ach mini pool having their own temp and jets to relax you.
This is where you will make your escape to the steam room.
So here comes the nudity part . . . 
This section is in the locker room, and because you are in a female or male-only area, you will need to shed those clothes and go NAKED. Yup, nudity is required here. And by here, I mean only in the indoor whirlpool section of each locker room. Now you don't have to go into this section at all. You can opt for the outdoor pool and those amazing jets with your swimsuit on.
But if you go into the indoor locker room area, leave your clothes in the locker room. Leave the towel behind. You are going to walk bravely into this area with your birthday suit. Every age, shape, fit, pregnant body type is in there.  So you will have to let it all hang out. If you go for it, rock on with your bad naked self! Its super relaxing and everyone is in the same boat (or whirlpool) together =)
The Coed Outdoor Pool 
Not only is it a great place to get a tan but the 2 large pools are full of powerful jets to work out those kinks in your tired muscles.
Make sure to visit the Hinoki Bath and the cavern hot tubs to complete your outdoor pool experience. If you need a snack, there is a snack bar in the indoor pool area as well as a bar where you are allowed up to 3 drinks.  You'll just scan your wrist band and everything will be added to your bill for you to pay upon exit.
So here is what I have learned to bring, which might be helpful to you: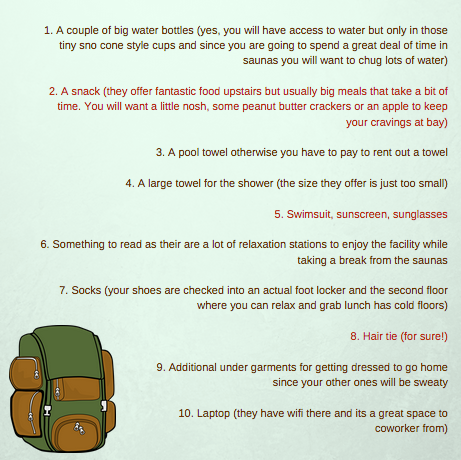 Should I go right now?
YES!
As you can probably tell by now, it's no ordinary spa so don't expect an ordinary spa experience.
The facilities themselves are awesome. The décor is really beautiful. They also provide a lot of free amenities with your entrance price.
The health benefits are phenomenal and its a ton of fun too! Or if your like me, go on a weekday with laptop in tow and get some work done between sauna treatments.

P.S. On the other 3 corners surrounding the spa castle (at Old Denton and George Bush), you'll find 50+ unique restaurants, shops like Daiso (the $1 Japanese store), indoor driving range, ping pong team and all sorts of fun stuff! If you can, make some time to explore  =)
One more thing . . . come join the Facebook convo.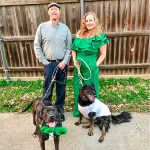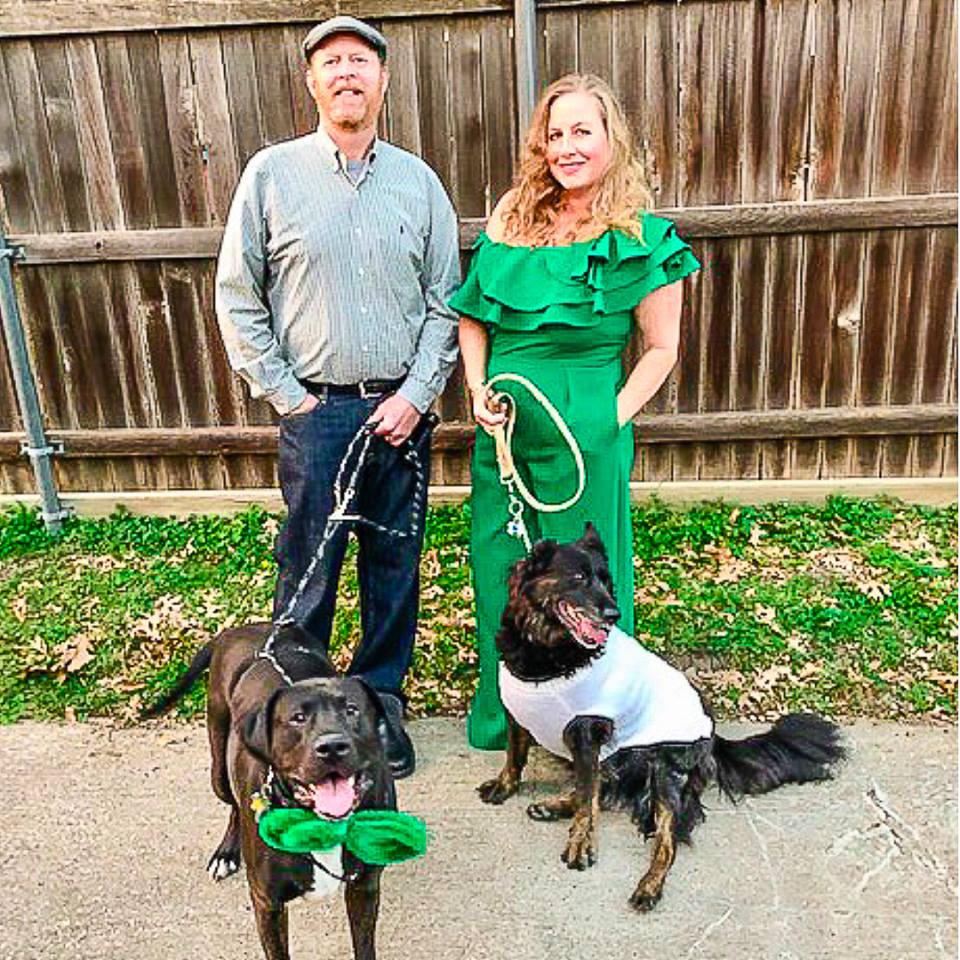 Interested in working with the We Are DFW team or being featured here on the website, start here
They help local businesses in DFW and beyond including copywriting, content marketing, blog campaigns, email marketing, social media, coaching and consulting.
Be sure to take a peek at the LIVE show here, I would love to see you join us every Wednesday morning at 10:00am – here are just a few of them from the recent weeks (lots of Frisco representation in the house!)
Catch some of our podcast episodes here: