Disclosure of Material Connection: Some of the links in this post may be "affiliate links." This means if you click on the link and purchase an item, I will receive an affiliate commission. Disclosure in accordance with the Federal Trade Commission's 16 CF.
Texas is the high school football capital of the world and Allen Texas Football falls in that category.  It not only falls into that category but it dominates football in the biggest way possible.
As we Texans know, everything is just a little different here in Texas aka the Lone Star State and, without a doubt, that includes Texas high school football. It's not just a game here in the South but it is our culture.  Its a culture that has been part of families going back years, decades and even generations.
We're not just talking about the football itself but also all the ancillary parts: cheerleading, drill team, band, the mascot and more.  If you thought huge scoreboards were reserved for Jerry's World and Cowboys Stadium . . not even.   Here in Texas, high school stadiums come equipped with high-definition "jumbotrons" to match the jumbo-sized pride that runs through the veins of Texans.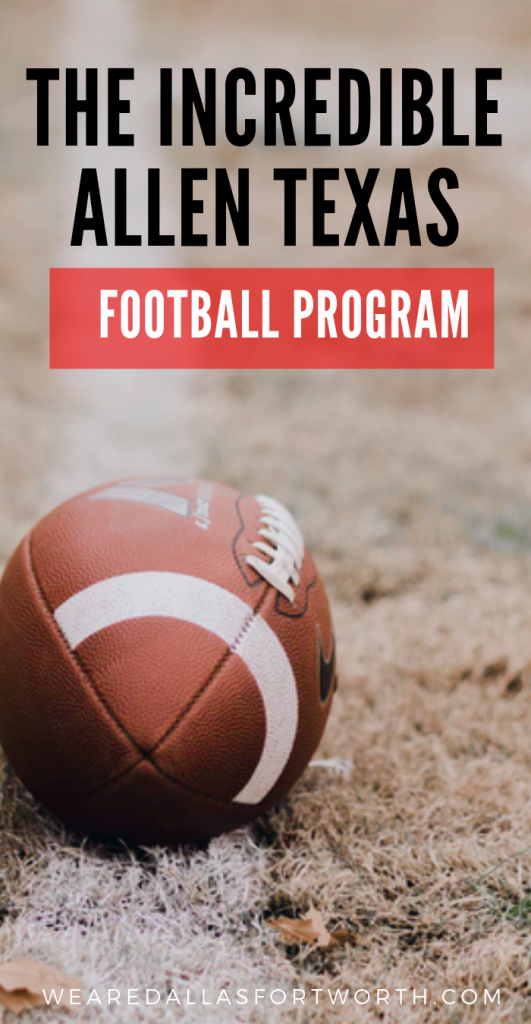 The Incredible Allen Texas Football program
Here are a few reasons why…
Allen is hardly the small community it was 20 years ago, we've all seen it grow and through the Allen Economic Development Council we will see it grow even more (heya 121 and 75 corridor) but an odd paradox in the culture of the city is that residents regularly credit its behemoth of a high school with helping preserve the town's intimate culture.
The Allen Texas football program is an enormous program with an enormous stadium to support the quantity of fans that it has. Keep in mind, while most surrounding schools have multiple high schools for 9th – 10th grade and then separate senior high schools for 11th and 12th grade like Plano Independent School District.   Allen has ONE high school
So what exact division is Allen football?
Allen High School is in the 6a division.
Most states including Texas operate by classifying their schools into Divisions.  The number of students in a school is what usually determines the classification. Usually your bigger cities, or suburbs of bigger cities, are going to have your higher classification due to more kids in the town, compared to smaller cities or urban areas where housing is smaller or more apartments, townhomes etc.
Because of the size of Allen High School this definitely qualifies them as a 6a division school. Its a BIGGIE!!
How many students attend Allen High School in Texas?
According to the 2018 stats, Allen High School had 5,105 students attending.  OMG! Right?
How much did the Allen football stadium cost?
Eagle Stadium made a hige splash in the news for its enormous size here in Collin County and the capacity to hold up to 18,000 spectators, the fifth largest high school stadium in Texas, and the largest which serves as home field for only one high school) and its cost of completion (just under USD $60 million).
What is the largest high school football stadium in America?
There are 1, 305 High School Football stadiums in Texas with a combined capacity of 4.13 million people . . . that is more than Oklahoma's entire population! And all Texans would nod their heads in agreement, we see the demand, we filled the demand, we get questioned and some are neutral and some are emotional (both ways) about it.
Eagles Stadium is not the only giant stadium in Texas – her are the TOP 10 in this state:

10. Burger Stadium in Austin –  15,000 capacity
Built in 1975, the Tony Burger Activity Center and Stadium is the home field of four high schools in the Austin Independent School District.
9. Stallworth Stadium in Baytown – 16,500 capacity
Built in 1969, Stallworth Stadium in Baytown, Texas, is the largest high school stadium in the Houston area.
8. San Angelo Stadium in San Angelo – 17,500 capacity
San Angelo is home to almost 100,000 residents and three high schools, which use the San Angelo Stadium home. The stadium was built in 1956.
7. Ratliff Stadium in Odessa – 17,900 capacity
Due to the movie then the TV Series "Friday Night Lights" many are familiar with the home to the Odessa Bronchos and the Permian Panthers, Ratliff Stadium was built in 1982
6. Buccaneer Stadium in Corpus Christi – 18,000 capacity
Corpus Christi Buccaneer Stadium was built in 1938 and can hold over 18,000 football fans.  The home field of Roy Miller High School.
5. Allen Eagle Stadium in Allen – 18,000 capacity
Allen Eagle Stadium cost about $65 million to build in 2013 and was condemned less than two years after its completion. the stadium suffered cracks and major structural damage and it was closed for repairs recently re-opened.
4. Farrington Field in Fort Worth – 18,500 capacity
Owned by Fort Worth Independent School District and opened in 1939, Farrington Field is one of Texas's largest and oldest operating high school football stadiums in the state.
3. Alamo Stadium in San Antonio – about 18,500 capacity
Alamo Stadium is home to eight high schools in the San Antonio Independent School District and can accommodate oversized seating capacity.
2. Memorial Stadium in Mesquite – 20,000 capacity
Memorial Stadium in Mesquite built in 1976 and is shared among  all five of the high schools in Mesquite.
1. Toyota Stadium in Frisco – 20,500 capacity
Toyota Stadium was built as a professional soccer field.  The stadium opened in 2005 and home field of FC Dallas, the professional soccer team. During football season, Toyota Stadium hosts the football games of Frisco Independent School District's seven high school teams.
Why is Allen Texas football so different?
There's a reason why Friday Night Lights and Varsity Blues were such a home run. The entire population of small towns can be found cheering at the stadium on any given fall Friday night.
The focus is on bringing the community of Allen together.  Allen is much smaller than its neighboring suburban towns of McKinney and Plano, it comes across as a tighter community.  But of course, since living in Plano has 6 separate high schools and 3 senior highs . . . of course Allen would be a much closer community all-around plus football supporting town.  Also, Allen football is different because its not just about football players, its also on Cheerleaders who are bringing their best routines and stunts, the marching band, the mascot, the drill team and the support for the athletes.  Its a huge school and community effort.
As our population in the Dallas Fort Worth area ballooned, Plano (71 square miles), Frisco (62 square miles), and McKinney (62 square miles) were ultimately forced to build more high schools to accommodate its growing student enrollment. And guess what? McKinney, Frisco and Plano are still not done growing. Those of you who have been here for awhile have seen the growth and some days its hard to fathom that we can handle any more people, cars or homes.  Plano, with a population of 286,000 people today, now has three senior high schools, as does McKinney, which has about 160,000 residents.
Allen is less than half the size of its Collin County neighbors at just about 27 square miles, and because there's no unincorporated land around it, there has always been a hard ceiling to how big the city of Allen could get.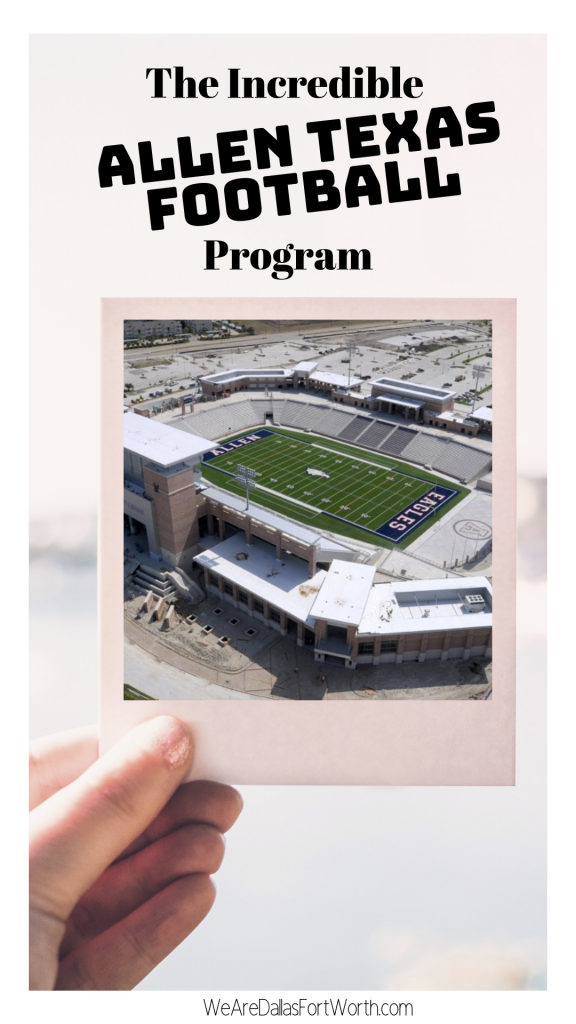 How did they get the money to pay for this stadium?
This is one of the biggest questions I see online and over on the facebook page. Because of this GIGANTIC number for School districts raise money for education through property taxes to fund maintenance and operations.
Maintenance and operations costs include teacher salaries and basic expenses accrued by schools. To raise money for building new facilities, like high schools or stadiums, districts adopt a separate tax, called interest and sinking.
Here is more information on Sinking:
(a) Each fiscal year a sufficient portion of the funds received by the board as repayment of student loans granted under this chapter, as interest on the loans, and as other available funds relating to the student loan program shall be deposited in the state treasury in the Texas college interest and sinking fund or a board interest and sinking fund to:

(1) pay the interest and principal coming due during the next fiscal year on all outstanding bonds issued under this chapter that are secured by money in, as applicable, the Texas college interest and sinking fund or a board interest and sinking fund;  and

(2) establish and maintain any reserves required by the board resolution authorizing the issuance of the bonds.

(a-1) With respect to any bonds that remain outstanding under this chapter, the board may, subject to the terms of the applicable board resolution authorizing the issuance of those bonds:

(1) reduce, eliminate, or replace any reserve portion of the Texas college interest and sinking fund or a board interest and sinking fund;  and

(2) apply any excess money in accordance with Subsection (b).

(b) If in any year funds are received in excess of the foregoing requirements, then the excess may be:

(1) deposited in the Texas Opportunity Plan Fund, the student loan auxiliary fund, or a board interest and sinking fund;

(2) used to pay any costs of the board related to the operation of the student loan program;

(3) used for any lawful purpose related to the student loan program;  or

(4) used for the same purposes and upon the same terms and conditions prescribed for the proceeds derived from the sale of the bonds.

(c) If funds received by the board in any fiscal year as repayment of student loans and as interest on the loans are insufficient to pay the interest coming due and the principal maturing on the bonds during the next fiscal year as described by Subsection (a), the comptroller shall transfer into the Texas college interest and sinking fund and each board interest and sinking fund out of the first money coming into the treasury that is not otherwise appropriated by the constitution an additional amount sufficient to pay that interest and principal.

(d) The resolution authorizing the issuance of the bonds may provide for the deposit, from bond proceeds, of not more than 36 months' interest, and may provide for the use of bond proceeds as a reserve for the payment of principal of and interest on the bonds.

(e) Amounts paid to the board by the federal Lender's Special Allowance program may:

(1) be deposited in:

(A) the Texas college interest and sinking fund;  or

(B) a board interest and sinking fund;  or

(2) be used by the board for the administration of student loan and grant programs administered by the board, including the making of grants under Subchapter M, Chapter 56.  1

via this source
Bond packages that use I&S funds must be approved by voters. Just as my Facebook conversation has unfolded, this is what was voted on many many years ago.  In communities with multiple high schools or older populations that have little connection to the school system, the inclusion of stadiums or upgrades to sporting facilities can lead to a bond package's defeat at the polls. However, in districts where the football team is a point of community pride, a stadium addition can actually help pass a bond package that includes mostly facilities and facility upgrades for academics and the arts.
M&O funds cancannott be used to repay bonds used for construction projects unless they're surplus funds from a previous year, so when stadium proponents are charged with fleecing education for a luxury item related to football, they say the money isn't coming from the same pool. But while I&S funds are supposed to be used only for the repayment of bonds used for construction, wealthy school districts have started using those funds to pay for M&O activity—such as school buses, band uniforms, computers, etc.—to get around laws that distribute their excess funds to districts in poorer communities.
In 1993, Texas passed a law colloquially referred to as "Robin Hood." Using a convoluted formula to assess both wealth and need, Robin Hood takes a portion of a wealthy school district's M&O money to fund schools and projects across the state, including poor districts where property values are low, hence the name. But I&S funds are not subject to Robin Hood, and school districts are not legally bound to use those funds for the purpose listed on the voting ballot. So rather than raise the tax rate on M&O funds and risk some of that money going to the state for redistribution, wealthy school districts will pass a bond package and use the money to fund school operations.
Who is in charge of Allen Athletics and Allen Texas Football?
Eagle Coaching Staff
First up, we have the varsity staff:
🏈 Terry Gambill
Head Football Coach
Assistant Athletic Director
Terry.Gambill@AllenISD.Org
🏈 Cory Cain
Assistant Head Coach
Defensive Coordinator
Linebackers
Cory.Cain@AllenISD.Org
🏈 Derek Alford
Offensive Coordinator
Quarterbacks
Derek.Alford@AllenISD.Org
🏈 Cody Gambill
Special Teams Coordinator
Inside Receivers
Cody.Gambill@AllenISD.Org
🏈Mike Carter
Strength Coordinator
Offensive Line
Mike.Carter@AllenISD.Org
🏈 Justin Dozier
Outside Wide Receivers
Justin.Dozier@AllenISD.Org
🏈 Bryan Kelley
Defensive Ends
Bryan.Kelley@AllenISD.Org
🏈 Scott Stewart
Running Backs
Scott.Stewart@AllenISD.Org
🏈 Jon Cockroft
Safeties
Jon.Cockroft@AllenISD.Org
🏈 Preston Gill
Offensive Line
Preston.Gill@AllenISD.Org
🏈 Matt Woodard
Defensive Tackles
Matt.Woodard@AllenISD.Org
🏈 Garrett Daniels
Corners
Garrett.Daniels@AllenISD.Org
Then we have the Junior Varsity or JV staff:
🏈 Tom Nicklas
Head Coach
Offense
Tom.Nicklas@AllenISD.Org
🏈 Eron Sauls
Offense
Eron.Sauls@AllenISD.Org
🏈 Oliver Pierce
Offense
gene.pierce@allenisd.org
🏈 Stephen Holt
Defense
Stephen.Holt@AllenISD.Org
🏈Adam Pemberton
Defense
adam.pemberton@allenisd.org
🏈Andrew Harlow
Defense
andrew.harlow@allenisd.org
How do you pick up tickets to the games? And how do you obtain 2019 Season Tickets?

When does the 2019 season start?
August 22, 2019 is the first scrimmage game while August 30, 2019 is the very first home game at Eagles Stadium.
Its a big school; how are the teams categorized?
The school is v. BIG! Here's how Allen ISD categorizes this high school:
a. Variety
b. Junior Varsity
c. Freshman – red roster, white roster and blue roster
Where are the games held?
Home games are held at Eagles Stadium while the AWAY games are held at various local stadiums such as Kimbrough stadium in Murphy, Clark Stadium in Plano etc.
Seating Capacity
18,000 / 9,000 home side including 1,000 seats set aside for Escadrille, 4,000 seats in end zone for students and general admission and 5,000 seats for visitor general admission and reserved sections
Number of Chair-back Seats
6,500 reserved bench seats with bench backs including 5,000 on home side and 1,500 reserved on visitor side
General Admission Seats
Approximately 5,000
Ticket Prices
Pre-sale tickets are available for each home game at $4 for students (ages 3 – high school senior) and $6 for adults. Tickets at the door are all $8 for general admission and $10 for visitors reserved.
Parking Spaces
5,034 spaces
Property Dimensions
Stadium sits on 72 acres
Field Turf
"RealGrass Matrix by Hellas"
Admission Time
Gates open 90 minutes before start of game (generally 5:30 p.m.)
Parking Lots
There are no designated home or away parking areas. Fans may enter from Greenville Avenue or Rivercrest Boulevard
Parking Fee
There is no parking charge for Allen ISD events. Parking fees apply to non-Allen ISD events, such as playoff games and will vary by event.
Scoreboard
Daktronics scoreboard 75' x 45' with 38' x 23' HD screen
Press Box
Each floor of the press box is approx. 140' x 42' The main level is primarily a film deck with areas for scouts and athletics staff. The second floor is primarily operations and media support. The third floor is for coaches, hospitality and a judges' area for band competition. If you are looking for press passes you can reach out to the staff at Eagles Stadium.
Additional Facility Usage
There is a practice area for men's and women's golf with nets below the home stands. A 5,800 sq. ft. wrestling practice area and locker room has been added on the home side. The wrestling locker room will also be used for home team lockers other than Allen HS. A weight room (268' x 42') has been added under the visitor side for use by boys and girls athletics.
Parking Information
Parking for events can be a tough situation but here is the low down ⤵️
 Parking is free for Allen ISD events, but fans may only park in designated parking sports.
Parking fees apply to non-Allen ISD events and will vary by event. Please be aware of that difference!! Nobody likes leaving an event only to discover that their car has been towed.  Eeeks!!!  Also be mindful of parking in parking spots only, sometimes the crowd decides to make the rules by parking on medians or on the grass . . . y'all know how things can quickly happen in a parking lot . . do not follow these people and be mindful that you can only park in the parking spaces. Your car could be towed and in fact it probably will be. Just do the right thing  =)  Yes, that means you may have to circle around a few times.
There is no designated visitor and home parking so fans may enter from any gate.  If you are still struggling to find parking – its available off of Greenville Avenue on the east side of the stadium.  Additional parking is available south of the stadium in the Allen High School student lots. Be prepared before you go.
Lastly, Tailgating is allowed after 3:00PM. Tailgating may not take up more than one parking space per car. Y'all go easy over there.
Here is the 2019 Football Schedule for the Allen Eagles:
Every single game begin at 7:00PM

(plan to get there much sooner in order to obtain parking, grab some concessions and find a seat)
August 30 VS Cedar Hill at Eagle Stadium (Tom Landry Classic)
September 6 VS Dickinson at Eagle Stadium
September 13 VS Coppell at Eagle Stadium (Homecoming)
September 20 VS Plano at Clark Stadium
September 27 VS McKinney at Eagle Stadium
October 11 VS Plano East at Kimbrough Stadium
October 18 VS Jesuit at Eagle Stadium (Senior Night)
October 25 VS McKinney Boyd at McKinney Stadium
November 1 VS Prosper at Prosper Stadium
November 8 VS Plano West at Clark Stadium
September 27-November 8 are District games
As we gear up for another football season, any day now here in North Texas, I am so excited for the start of a new year and another year of amazing Collin County and Dallas sports.  Let's go!!