Disclosure of Material Connection: Some of the links in this post may be "affiliate links." This means if you click on the link and purchase an item, I will receive an affiliate commission. Disclosure in accordance with the Federal Trade Commission's 16 CF.
A Chamber of Commerce is a form of business network whose goal is to further the interests of businesses, typically local business. Business owners in towns and cities form these local societies and clubs to advocate on behalf of the business community. And like many cities, Frisco Texas has their very own Chamber of Commerce.
It's actually quite simple –
 A chamber of commerce is a group that's dedicated to protecting and promoting the local business community.
The primary goal?
To help business owners network and grow.
But you might be wondering . .
Is it the best tool for your business in 2020?
Let's explore that.
What You Need to Know About the Frisco Texas Chamber of Commerce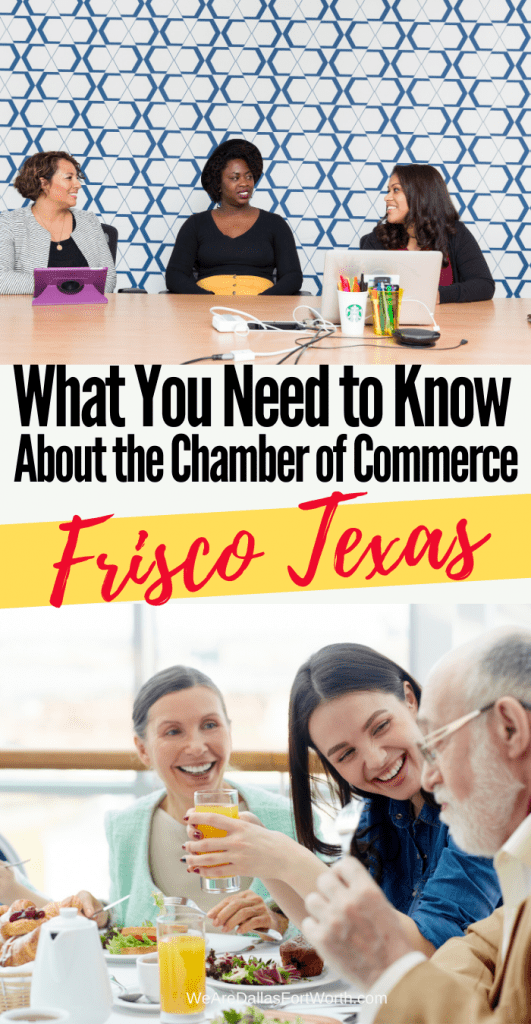 Why are people inclined to join a chamber?
At their core . .
People want one thing.
They want to belong. They seek community.  They seek to be around like-minded individuals.
How can you contact the Frisco Texas Chamber of Commerce?
Go to their physical location:
Call their office
Shoot them an email:
What kinds of options and meetings?
The Frisco Texas Chamber of Commerce hosts networking events, fundraisers, workshops, and other activities, all with the aim of connecting local business owners.
One of their BIG weekly events might intrigue you.
It starts at 7:15am on Thursday morning. ⏰
And if you can wake up and get dressed and absolutely NOT be late, then you might want to attend ⤵️
Chamber Works.
What should we know about the Chamber?
The Frisco Chamber of Commerce received a 5-Star Accreditation, the highest accreditation available, from the U.S. Chamber of Commerce in November. The U.S. Chamber awards accreditation based on a chamber's policies, procedures and community involvement.
How much will it cost you?
The membership rates start at $375 per year and are upwards of $7,500 per year.
If you are interested in attending other events offered at the Chamber, you might need to pay per event.
Should you join the Frisco Texas Chamber of Commerce or any nearby chamber?
Each business will have to make the decision based on their own needs and data.
Remember, not one thing is a magical solution.
Here are some points to ponder ⤵️
Pros:
If you enjoy meeting other business owners face to face, then the chamber will offer plenty of opportunities for you to meet others in the community.
You prefer a handshake.
There are a wide variety of sub groups to attend.
You would like to be involved in volunteer projects.
Having a link from the Chamber's .org website is an authoritative reference point for search engine relevancy
Cons:
Many members belong to nearby suburban chambers of commerce (Plano, McKinney, Allen) making the organization and meetings redundant many times. Seriously, its the same people everywhere.  That's a lot of time to dedicate each week.
This may not be the best ROI for your business.  In the 21st century, the return on your investment just may not be there for your business when so many other efficient smarter tactics are available for use. Not saying there is no ROI, but is this the best ROI in this modern world?
With proper online tools, copywriting skills and marketing funnels, you can scale your business faster and without attending long weekly meetings.
Political undertones at all functions and meetings.
Data. Unlike Google Analytics, the Google Search Console, Facebook Ads and the like, you won't be able to measure data from your efforts.
You're busy running your company, and it may be difficult to justify any time away from your desk. While your Chamber won't be overbearing, you will still need to be active and make an appearance at the events.
Your competition will be there and sometimes they are not so friendly, case in point ⬇️
What are the alternatives to the Frisco Texas Chamber of Commerce?
You never want to limit your business on just one or two channels to grow your business.
What about these options:
LinkedIn.  In fact I wrote a post recently on how to conduct targeted networking (all from the comfort of your home).
SEO. Using a proper keyword strategy can make your business grow with ease. In fact, I grow mine without any advertising or association memberships by using these tactics. I wrote all about these tools and you can see everything here.
Create a marketing and sales funnel.
Starbucks.  Sit at the community table and do your work.  Talk to your neighbor.  Sip your coffee.  Its easy and totally natural.
Use LinkedIn Sales Navigator for robust tools and epic filtering.  Imagine walking into a room full of your ideal prospects.  No sifting through Mary Kay people or realtors or insurance reps.
Facebook ads funnel.
Content marketing. Using blogging, podcasting, infographics, Pinterest, YouTube and the like brings in anywhere from $2,000 per month in sales to $20,000/month and growing.
Final Thoughts
There are a ton of ways to generate leads for your business, please find more than just a couple to diversify. If it does show good potential, get a membership and try it for a year and measure your results, it may be good, it may not.