Disclosure of Material Connection: Some of the links in this post may be "affiliate links." This means if you click on the link and purchase an item, I will receive an affiliate commission. Disclosure in accordance with the Federal Trade Commission's 16 CF.
No matter what the season, there is always time for a little lake time in North Texas. Some like Lake Lavon, some enjoy water skiing on Lake Ray Hubbard in Rockwall and others hit up Lake Lewisville and a little pool time at Sneaky Pete's. After all of that play time, water and sunshine you might be looking into boat detailing in DFW.

Like most detailing services, boat detailing isn't just about maintaining the physical appearance of your kickass boat. It's also about making sure that it's in really good shape before you enter the wild waters here in Dallas.
Maybe you've heard the espression, "its better to have a friend with a boat than own one yourself"
Boat ownership is a heap of work.
Boats are exposed to a lot of elements like the harmful UV rays of the sun and the pH level of water – they need to be maintained and protected.
Just like with cars, giving your boat an exterior wash is highly important.
Just a basic washing remove surface imperfections from the elements as well as the removal of oxidation caused by the sun.  Part of boat ownership is also budgeting in time and money for boat detailing in DFW.
A good waxing and polishing process is also essential for your boat's performance since it can help reduce the resistance from the waves to make the ride smoother for yourself, your family and your guests.
All You Need To Know About Boat Detailing in DFW
Cleaning and detailing the exterior of your boat is quite similar to doing so with your car. First, you need to rinse it with clean water to remove dirt and grime. A pressure wash would do a great job of this. The second step would be to clean it with soap and not just any soap, but a special boat cleaning one.
1. How much does it cost?

On average, you can expect to pay $2.00 per foot for a basic wash.  A basic wash might consist of washing the hull and topside, cleaning gutter tracks, clean and dry windows and brightwork. Or on the other side of the spectrum, you might be paying $30.00 per foot for something more comprehensive. This premium wash might include& Sealant, plus compound and apply sealant to all gelcoat surfaces(from the waterline up if in the water or from the bottom sides of the hull up if out of the water.
To be honest, it depends.  Each company will have a variety of rates depending on size and what you require.
2. What do boat detailers do?
A boat detailer specializes in the cleaning and aesthetic maintenance of boats.
Remember, when you first bought her, you thought she was pretty  😀
Boat detailers put in a lot of physical labor to make your boat look like new again. They wash, clean, scrub the decks and wax it.

3. What about vinyl boat seat cleaners?
This is a popular question.
One of the best is Meguiar's Vinyl and Rubber Cleaner and Protectant – Cleaner/Protectant/Detailer
All vinyl is a bit different, you will want to test spot to see which cleaner is right for you if you need to do this yourself.
Some vinyl seats are made with protective coatings, making them relatively easy to wipe off. While some vinyl fabric seats have more porous surfaces.
4. Where can I find boat detailing in DFW?

Here are 5 local options to help you on your search of hiring a boat detailer.
North Texas Marine of Fort Worth

Extreme Auto Detailing

My Detail Guys
Crystal Clear RV & Boat Detailing
UltraShine.biz
5. How long does boat detailing in DFW take?

Depending on the size boat you have and how much help you have (whether you DIY or outsource) expect to 8 – 10 hours for a 28 foot boat. Generally speaking, this is an average of time that you can expect.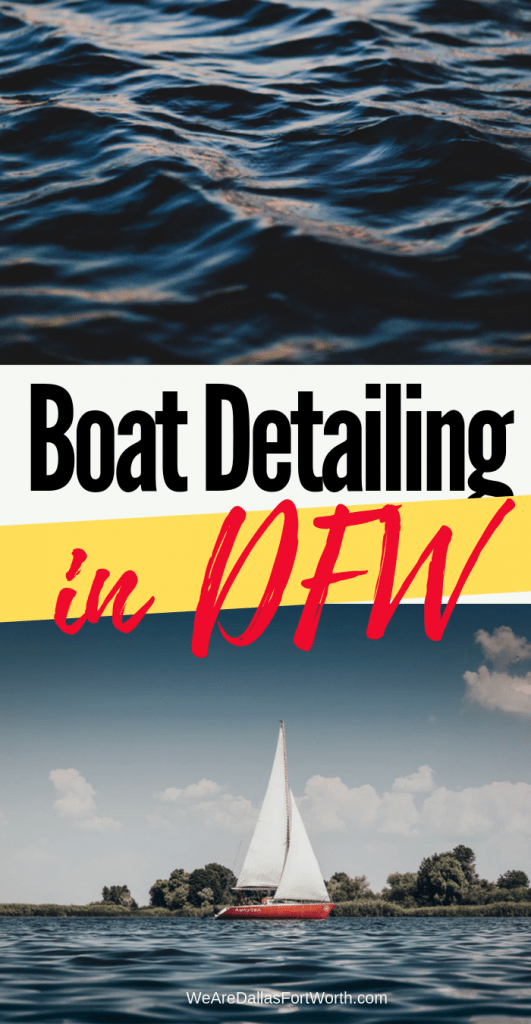 But what if you want to try it yourself? And save your money . . .
Here's some tips for doing your own boat detailing in DFW.
Yes, you can save some money by conducting the cleaning yourself; however, you will need to put in a good amount of time, elbow grease and prep with the right tools to support your efforts.
What should I clean my boat with?

First, you might want to start with a guide to give you comprehensive insight on how to DIY.
1.
The Insider's Guide to Boat Cleaning and Detailing: Professional Secrets to Make Your Sail-or Powerboat Beautiful
This guide written by Natalie Sears, a woman who started her own boat detailing business from scratch, provides all of the insight to boat detailing. 
Boat cleaning isn't as simple as taking a can of kitchen cleanser and scrubbing away, and improper procedures can cause damage to the boat or the environment. This is the only stem-to-stern guide to all aspects of boat cleaning and detailing. The book recommends both generic and brand-name cleaning and maintenance materials to help you make the right selections.
Lots of before-and-after photos show you how to:
Keep your boat looking great and protect market value
Achieve maximum results with minimum work and environmentally safe methods.
Use tables and checklists to keep work organized and efficient
2.
Premium Boat Scuff Erasers | Magic Boating Accessories for Cleaning Black Streak Deck Marks and More
Customers are raving over this boat cleaning product stating that these erasers are miraculous, awesome and they have never had anything quite like it get the job.
3. Starbrite Non-skid Deck Cleaner

Non-Skid Deck Cleaner with PTEF is the most effective and easiest way to clean textured fiberglass or painted decks. The special chelating agents loosen dirt and spills without the need for heavy scrubbing. The PTEF polymers provide a barrier against future stains, making clean up a breeze. It also is ideal for cleaning non-textured areas as well as all fiberglass, vinyl, plastic, metal or rubber surfaces.
4. Drill Brush

This is a Drill Brush that will help you in detailing your boat in DFW.

3.
Perdura DECK BOSS Deck Stain Brush Fence Floor Applicator
This DECK BOSS professional deck stain brush applicator cuts your coating time in half. (pole not included)
Professionals report savings of over $150 on one standard sized deck stain project which is about triple the cost of a DECK BOSS.
This means purchasing a DECK BOSS is the best investment you could make and a must have product for any professional or DIY customer.
Perdura Pro Series DECK BOSS is an Australian brand and our business focus is simple, supply the best quality brushes on the market while giving the best customer support and service.
Perdura Brushes are sold in many countries around the world, are loved by professionals and have a strong following with customers who are focused on quality and performance.
The DECK BOSS will outlast other brushes on the market and will save you lots of money when compared to deck stain/paint pad application tools.
Pads and rollers are a throw away item whereas the DECK BOSS just requires a simple clean and can be used again and again.
CHECK LATEST PRICE ON AMAZON.COM
Conclusion – Boat Detailing in DFW

There is a lot to be done for detailing a boat in DFW and you have the choice to do it yourself or hire help.
Remember, you'll need Exterior Boat Detailing
 Machine buff and polish
Machine multi stage buff & polish
Gel coat hand wax
Wash and chamois dry
Stainless steel polish
Stain removal
Engine detail
Bilge clean, Hull Buff & Polish
 Oxidation Removal
And interior cleaning:
 Complete Interior detailing
Vacuuming of carpets & upholstery
Carpet steam clean
Leather and vinyl treatment
Interior Chrome polished
Windows cleaned
 All compartments cleaned
Via: We Are Dallas Fort Worth writing staff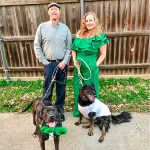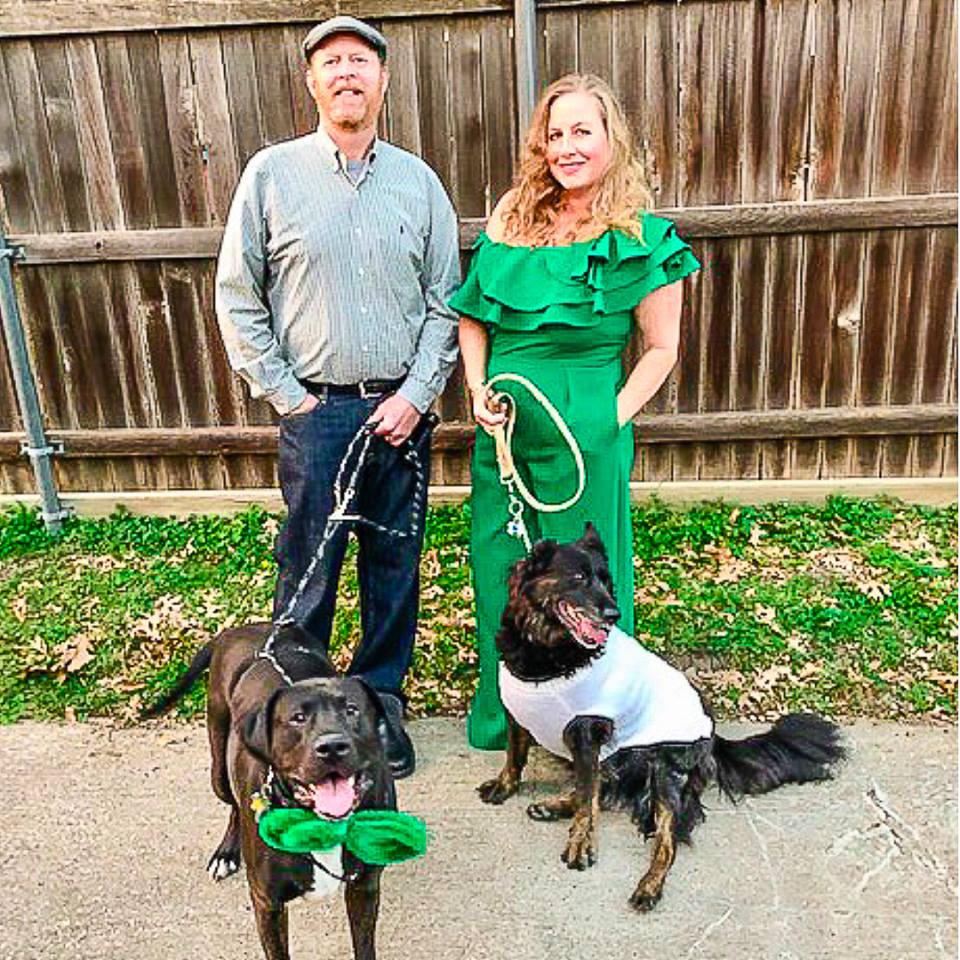 Interested in working with We Are DFW or being featured here on the website, start here
They help local businesses in DFW and many larger businesses looking to tell a story to the readers of Dallas. Her work entails copywriting, content marketing, blog campaigns, email marketing, social media, coaching and consulting.
This article contains some affiliate links, meaning that if you make a purchase through these links, I may earn a small commission (at no extra cost to you!). Thank you for reading!
Be sure to take a peek at the LIVE show here, I would love to see you join us every Wednesday morning at 10:00am  – here are just a few of them from the recent weeks (lots of Plano and Frisco representation in the house!)
You might also like
If you like podcasts, here are a few of my episodes from the We Are Dallas Fort Worth podcast