Disclosure of Material Connection: Some of the links in this post may be "affiliate links." This means if you click on the link and purchase an item, I will receive an affiliate commission. Disclosure in accordance with the Federal Trade Commission's 16 CF.
If you wonder if Plano has always been this big, busy and bustling, just one look into central Plano and you will get a glimpse into the town's history – from the Haggard Ranch to the brock paved roads of 15th street in downtown Plano to the Heritage Farmstead Museum, you'll see that Plano's roots go way back to a much simpler time.
An era before Legacy West, Collin Creek Mall and well before the Plano Balloon Festival was even on the plans for the visitors and residents of Plano Texas. A simpler time with lots of wide open space, farm land and the only thing that reminds us of this history is the farmstead museum which still stands today.
The Heritage Farmstead Museum which is also referred to as the Ammie Wilson House, is a historic farm museum on  15th Street.
Here is the exact address of the museum ⤵️
1900 W 15th Street
Plano, TX 75075
If you want to give them a ring, you can call the museum personnel right here
(972) 881-0140
Why You Must to Go to the Heritage Farmstead Museum Right Now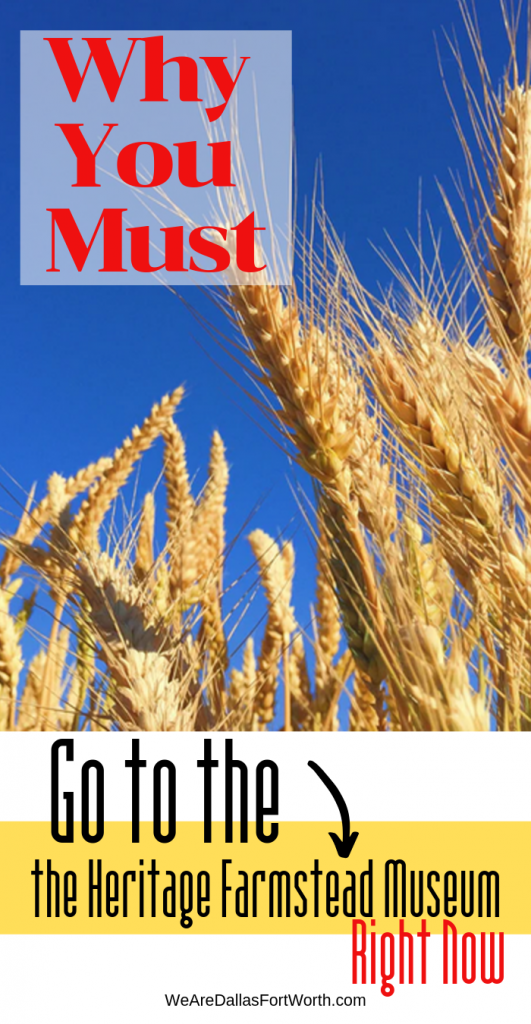 In case you haven't noticed, Plano has been changing a whole heck of a lot and museums like this are important reminders of the role history plays in all of our lives as well as the growth of a city. But of course, we are all seeing the changes in every corner of Plano or maybe when we are traveling north bound or southbound on Central Expressway around 15th street (omg, massive construction and traffic zone) or maybe its trying to cross from the East side of town to the West side of town.  Its hard to avoid the change in progress here in North Dallas.
So why is it more important than ever that you head on over to this treasure in Plano?
Today, the house and farm buildings are an opportunity for modern families, as well as individuals and school groups, to learn about life and work on a 19th-century Texan farm. There's a lot to do!
The best part is that, if you have kids, the farm and its artifacts are touchable history for families and children.
History  studies the past and the legacies of the past in our present day. Studying history and keeping our history alive is what connects things through time and encourages the present day seeker to take a deep dive into these connections.
Keep in mind, the farmstead has some great events for little ones that might be much more fun and enjoyable to get interacive in the museum rather than listening to history.  Keep scrolling to view those events.
When we take time to understand the link between our past and  our present it guides us in understanding the condition of being human.
The study of the past is essential for rooting people in time.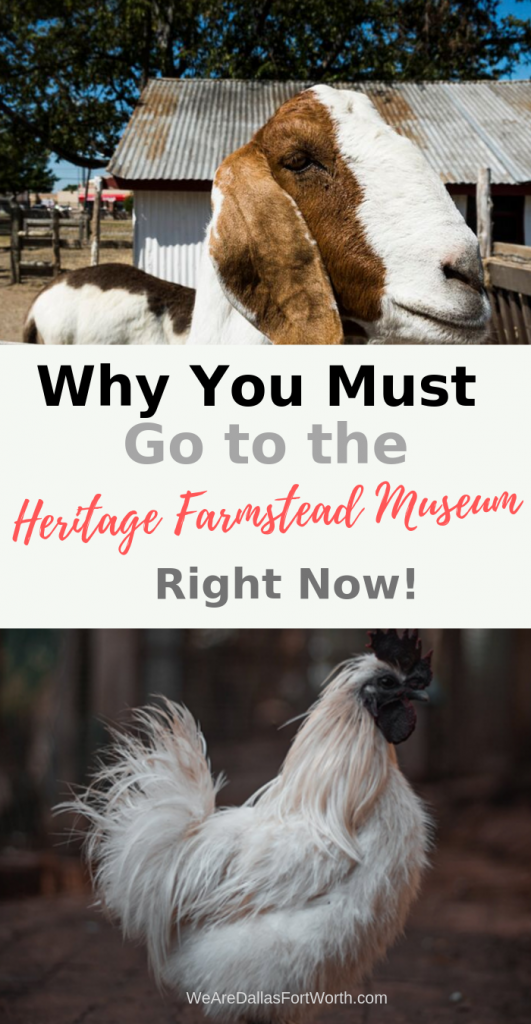 Understanding History is integral to a good understanding of the condition of being human. That allows people to build, and, as may well be necessary, also to change, upon a secure foundation. Neither of these options can be undertaken well without understanding the context and starting points. All living people live in the here-and-now but it took a long unfolding history to get everything to NOW.
History is essential for us and the Texas school districts even place the state history in the school curriculum for every 7th grader.  Yep, if you have a student enrolled in Plano ISD or any other independent school district in Texas, plan on one year of Texas history.
Let's chat about the history of the Heritage Farmstead Museum
What are the origins of the Heritage Farmstead Museum?
The late-Victorian farm-house was built in 1891 on a 365-acre farm belonging to Mary Alice Farrell and her husband Hunter Farrell, a landowner and businessman whose family had moved to Texas from Virginia.
Their daughter Ammie took over the as farm manager when her parents divorced in 1929.
Soon after this time, she became acknowledged as an award-winning livestock breeder before her death in 1972.
In 1978, the farm was added to the National Register of Historic Places.
When I was younger and first moved to Plano with my parents, we were  living in a corporate apartment not far from this museum.  We would walk to it each day and its amazing that we were so close to a living piece of history.
This book – > Why Old Places Matter is the only book that explores the reasons that old places matter to people. Although people often feel very deeply about the old places of their lives, they don't have the words to express why. This book brings these ideas together in evocative language and with illustrative images for a broad audience.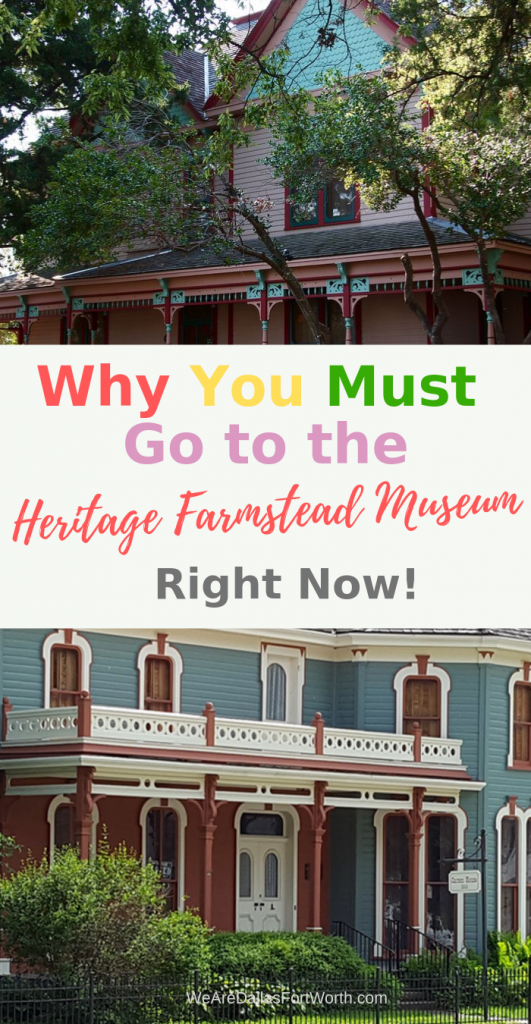 So back to the museum . . .
After the farmstead was added to the national register, the farmstead opened as a museum, this happened ➡️ in 1986 the farm opened as a living museum utilizing the remaining 4.5 acres surrounding the home.
The museum is accredited by the American Alliance of Museums.
More about the museum:
The farmstead museum is tucked into the central Plano suburbs not far from the intersection of Central Expressway and the George Bush tollway. The 19th-century mansion stands on a 4.5-acre farm with old-fashioned barns and other structures that recall early life here in Texas.
Like many historic homes, you'll get an amazing look at the grand wooden staircase, one of many intricate features found throughout this elegant, yet practical, home.
I think our favorite part about touring historic homes and places is the amount of detail in each home, especially when it comes to the railings, doorways and
Each room is presented exactly how it would be laid out  at the turn of the 20th century, with period-style furniture and furnishings throughout. This gives you the best representation of this time in our history.
You can tour the parlor and kitchen downstairs, then ascend to the second floor for a look at how bedrooms were decorated in that era.
You or your group will learn how food was grown and preserved at the Kitchen Garden and Curing Shed. In the Potting Shed, you'll get an up-close view of gardening and preservation tools. You can also visit the Blacksmith Shed to see how rural farmers handled their own metal and machine work, (that's actually one of our favorite things to see at the Chestnut Square Farmer's Market).
If you're into cars, they even have a Model T, similar to our 1930 Model A that is just so much fun to take a peek at.  Its such a cute car even though it has no air conditioning, radio, XM or power seats.  LOL.
Along with its permanent attractions, the museum hosts a revolving selection exhibits highlighting various aspects of life in Plano and North Texas. See below for the variety of exhibits that they have hosted.
With its historic buildings and artifacts on display, a visit to the Heritage Farmstead Museum is a great learning experience for residents and visitors of any age that wants to catch a glimpse of Plano in its early days.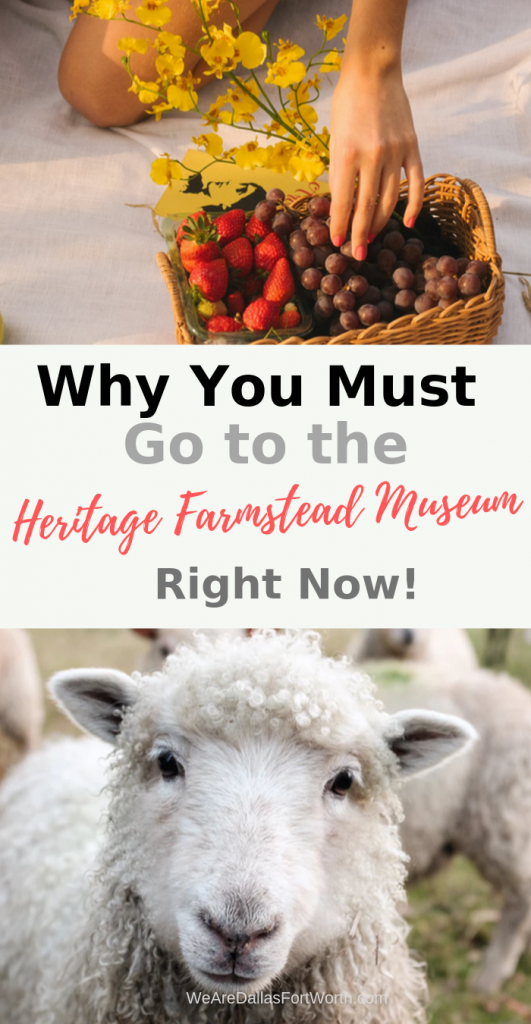 What can you do at the museum?
The primary role of museums is to engage and educate the community and dedicated to helping all of us remain lifelong learners.  Because education doesn't stop after high school, college or grad school – we are so lucky to have many options both online and in the Dallas area to do this.
There is a lot that this museum offers and if you are a resident of Plano, a nearby resident in the cities of Frisco, Richardson, Allen, McKinney, Dallas, Carrollton or another one of our highly populated towns, make time to add this museum to your calendar.
In fact, a recent study conducted by Harris Interactive finds that people are happier when they spend money on experiences rather than material purchases.
The Heritage Farmstead Museum in Plano includes:
1. Collections
2. Exhibits
Past exhibits have showcased the legacy of the Plano Fire Department, the Ladies Aid Society, and the Boy Scouts and Girl Scouts of America.
3. Programs
They offer teeacher resources, pre-k programs, preschool programs, a Junior Historian program, Scout programs and even Summer camps.
4. Events
Farmstead Yoga is coming up on September 19.
Farmstead YOGA is a FREE event for our community; a chance to feel the calm breeze, listen to the sounds of the chickens, goats, sheep, donkey and pigs as well as the hum of the tractor passing by which will bring a smile and sense of well-being. We believe it should be an experience that leaves all of our friends rejuvenated, relaxed and of course filled with a sense of generosity.
Entertainment will include music, food, healthy beverages and wagon rides. This year we will add contests like Hog Callin' and Rooster Crowing and an old fashion Pie Eating contest.  Please choose your contest when you register and get ready for some down home farm fun!
This event is free and open to the public from 5:30pm to 8:00 pm
Non-profits can set up a booth at the event or see the rest of the details here
(source: The Heritage Farmstead Museum)
On October 11, they are hosting a Preschool event to pick pumpkins. You will be able to learn with your little one how pumpkins grow.
And don't forget about the four-course dinner at the Farmstead.  The weather should be beautiful and strangers will come together to sit at one long table.  All of the proceeds of this event benefit Plano FFA students and will be awarded at the Collin County Livestock Show in January.
5. Tours
You'll want to take the tour with the museum guide if you want to be able to see the inside the main house. Great information and a lot of original objects from the 1800s. Its so fascinating to see these items – if you really think about it – it wasn't that long ago.  Its amazing how 100 years can change just about everything how we live.
You also be able to tour the outdoor area. The outdoor area has farm animals such as sheep, goat etc and other surprises.
Also you'll start the tour by watching a video, this is a great foundation to begin the tour.  If you come a few minutes late, you won't be admitted.
6. You can Rent the Farm
If you want something a little out of the ordinary for your setting for a wedding or a party. Sounds like an awesome place to have a memorable event.
Many Plano ISD students will find that this is one of their field trips during the year.
But keep in mind that this is not the event center for student activities but rather a wide range of activities anyone in the metroplex can enjoy.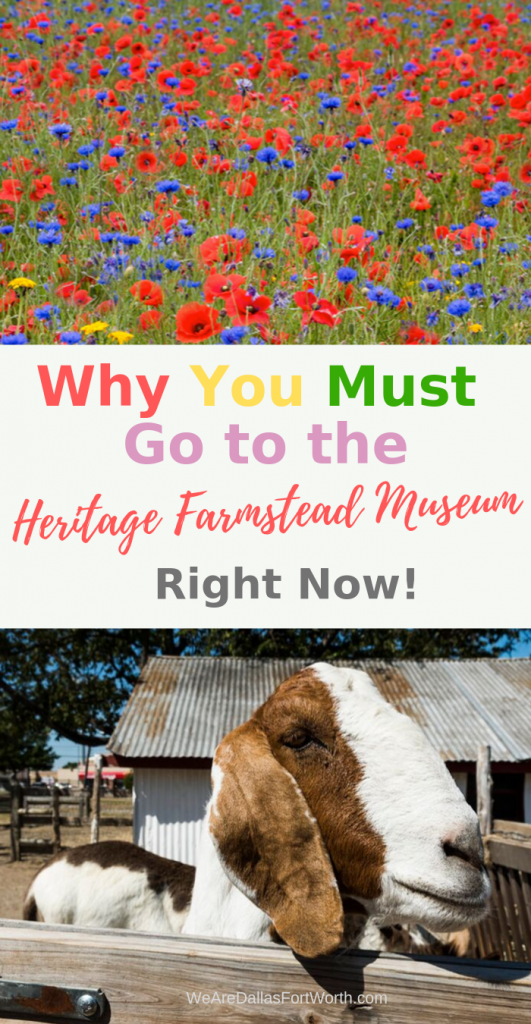 Here are their education programs:

IMAGINE the year 1891 as you approach the new home of Hunter and Mary Alice Farrell. The home welcomes you with brilliant color, seven different shades to be exact. The Victorian architecture expresses a desire to IMPRESS, as this home was a gift to the bride to be of Mr. Hunter Farrell. Do you think that Hunter had any idea that the house would stand for over 100 years and WELCOME over 20,000 visitors each year? Indeed it has become a living history museum to teach generations what it was like to live on a farm at the turn of the century. In our continuing effort to ENGAGE young minds and challenge deep thinking HFM offers all types of educational programming.
They even have Summer camps:
Summer has never been this much fun!! Join us for one or all of our week long camps this summer. We will be exploring the creek and learning about pioneer life on the farm.
When are the best times to go to the museum?
Besides Monday when the Museum is closed, here are their operating hours:
| | |
| --- | --- |
| Monday | Closed |
| Tuesday | 10AM–4:30PM |
| Wednesday | 10AM–4:30PM |
| Thursday | 10AM–4:30PM |
| Friday | 10AM–4:30PM |
| Saturday | 10AM–4:30PM |
| Sunday | 10AM–4:30PM |
Of course, if you are planning a group trip or field trip you will want to contact their office to make plans for your group arrival.
What else can You do near the museum?
1. The Texas Pool
2. Jump Mania is a fun place to let your kids run out any remaining energy they have. Its just a few minutes away.
3. The Plano Aquatic Center is a perfect place all year round for open swim, swim parties or swimming lessons.
4. Liberty Park and Recreation Center.  This Plano Parks & Recreation Center gave this awesome rec center a bit of a refresh and is an amazing resource for the Plano residents.
5. Haggard Park
6. The StarCenter Community Ice Rink
7. Braum's Ice Cream is not far either and a great way to end your outing the the Plano museum
How do you get to the museum?
Its conveniently located in Central Plano and if you are driving it can be accessed from Central Expressway or the George Bush tollway.
Can you take DART to the museum?
DART is never a bad option.  If you are looking for a full day of adventure then DART is the way to go.  Just take the Red Line to the Downtown Plano station, grab lunch at Urban Crust then Uber over to the museum.  It might take you all of 5 minutes.
Then Uber back, grab gelato at the new Gelato spot on 15th street and saunter back over to your southbound DART train.
It's a great way to teach your kids how to explore the metroplex and give them confidence and independence.
Museums need our support in order to keep educating and inspiring people, and we can support them by sharing the message, buying tickets and attending events or supporting programs to keep them going.
Oh and one more thing . . .
If you love Plano and live in Plano, this one-of-a-kind kitchen towel  might just need to be in your home.
And you can see more of the Plano collection right here.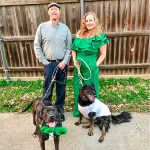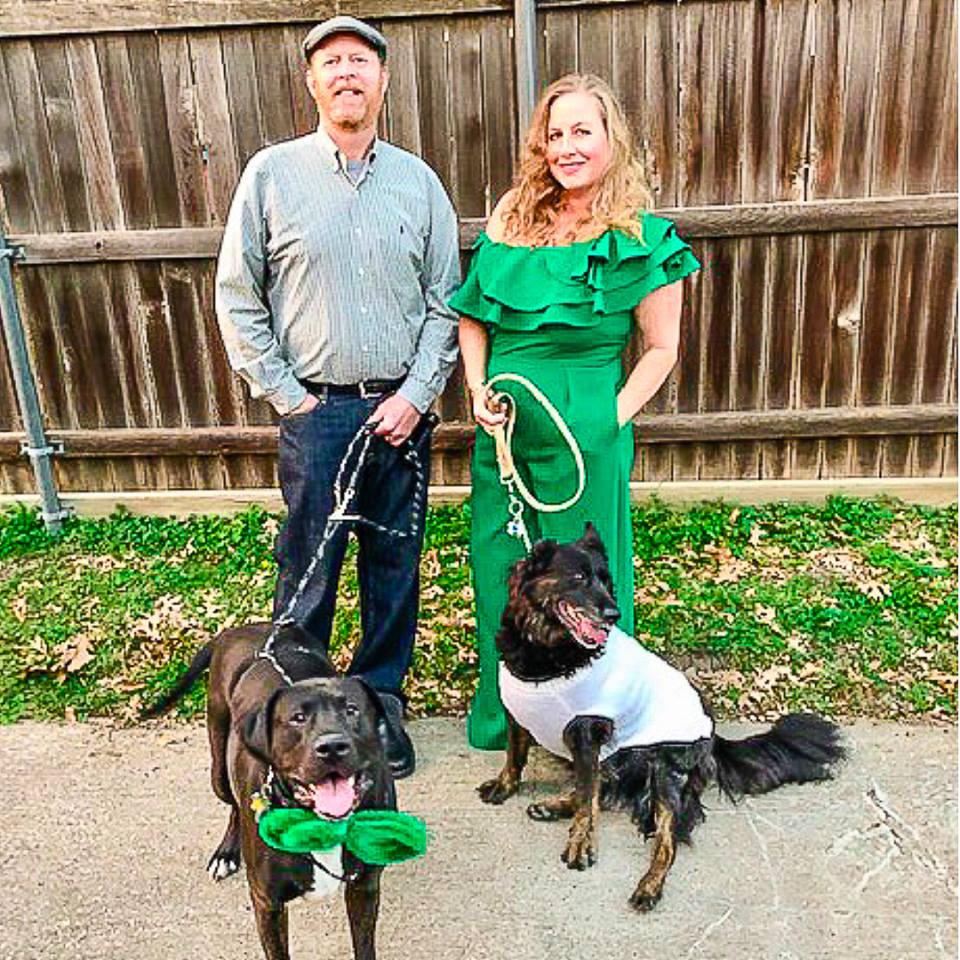 Interested in working with Becca or being featured here on the website, start here
She helps local businesses in DFW and many larger businesses looking to tell a story to the readers of Dallas. Her work entails copywriting, content marketing, blog campaigns, email marketing, social media, coaching and consulting.
This article contains some affiliate links, meaning that if you make a purchase through these links, I may earn a small commission (at no extra cost to you!). Thank you for reading!
Be sure to take a peek at the LIVE show here, I would love to see you join us every Wednesday morning at 10:00am  – here are just a few of them from the recent weeks (lots of Plano and Frisco representation in the house!)
You might also like
If you like podcasts, here are a few of my episodes from the We Are Dallas Fort Worth podcast