Disclosure of Material Connection: Some of the links in this post may be "affiliate links." This means if you click on the link and purchase an item, I will receive an affiliate commission. Disclosure in accordance with the Federal Trade Commission's 16 CF.
I don't think I have to tell you that packing up, uprooting your family and moving to a new town is one of the most stressful things you'll experience in your life.  Am I right? There seems to be this never ending list of things to do and of course all of the packing which makes you just  want to throw out so many of your belongings because it feels as if it would be easier.   However, be sure to put this item at the top of your list – – make sure you add calling the Princeton Texas electric company to your list.
Because you know having electricity, internet and TV is important as soon as you walk in the door.
And of course, you'll also need to ⤵️
Check to see if your HOA covers the utilities
Update your address
Let friends and family know of your new address
Arrange your water and sewer
Stay organized with this notebook
Need I go on?
So lets talk about your options and who you need to call ASAP.
Princeton Texas Electric Company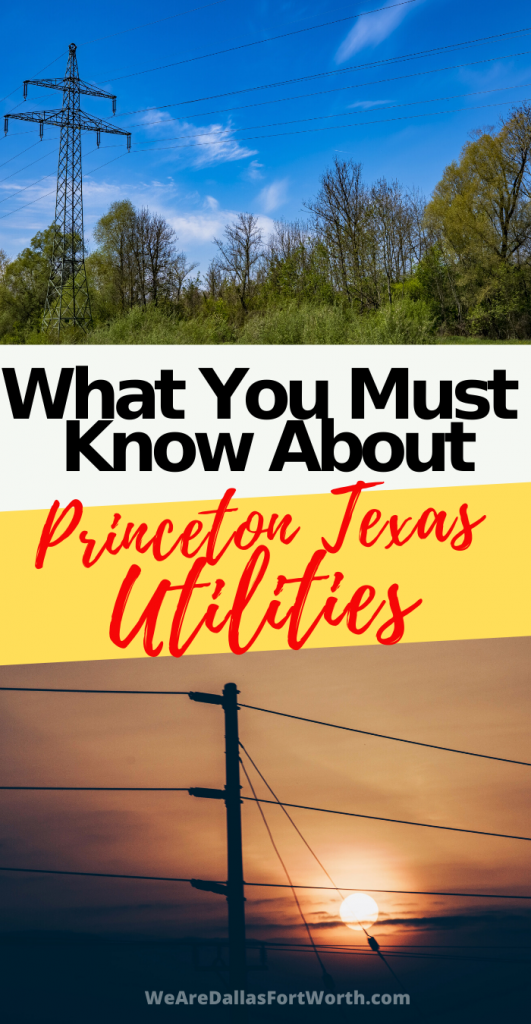 If you're new to Texas, you might not know that . . .
You have the power to choose. 💪🏻
✅ In fact, you can call
1-877-408-3285
and get started right now.
This is the Power to Choose phone number that most Texans call.
Here it is again –
1-877-408-3285
If you've settled down to Princeton then you know
Princeton is an ideal place to raise a family and relocate if you are looking for a rural town or suburban rural town.
When choosing electric companies, keeping in mind that there are multiple electric companies in Princeton, TX, that you can choose from to power your home, keep those Christmas lights running, Amazon shopping going and cooking up those meal kits. 😀
Again, the residents of Princeton have the power to choose their energy provider and find the best electric rates. To find a provider that best meets your budget and needs, do your research before making a decision. Ask around.  Chat in the Facebook groups.  Start a thread in a Mom group.  Just don't start one about vaccinations. 😂
One more thing to note . .
Energy rates vary.
Supply prices are subject to change based on company, time of year and rate plan, and using the Power to Choose makes it easy to compare electric rates.
Here is their website: ChooseTexasPower.org
How can you change your electric company in Texas?
You can usually find this information on your bill or by calling your energy provider. According to the Public Utility Commission, customers can switch providers without facing an early termination fee if they schedule the switch no earlier than 14 days before their current plan expires (for most fixed-rate plans).
You might be wondering who has the cheapest electricity rates in Texas?
| Plan Name | Plan Length | Rate |
| --- | --- | --- |
| Gexa Energy – Gexa Saver Eco Plus 12 | 12 months | $0.094 / kWh |
| 4Change Energy – Budget Saver 12 | 12 months | $0.095 / kWh |
| TXU Energy – Smart Deal 12 | 12 months | $0.105 / kWh |
| Discount Power – Wise Buy Complete 12 | 12 months | $0.114 / kWh |
You can also choose a rate plan, but do you know the difference?
There are 2 types:
Variable-rate supply plan. If you're living in a short-term rental location, you may want to opt for a variable-rate supply plan. While the cost of variable-rate supply plans may fluctuate month to month, they provide you with the freedom and convenience to easily choose a new plan if needed.
Fixed-rate supply plan. Fixed-rate supply plans, as their name suggests, allow you to secure a specific monthly price that will remain constant for the entirety of your contract. Since the price will remain stable, this plan allows for easy budgeting and peace of mind when it comes to financial planning.
Be aware of this about your Princeton Texas Electric Company
Regardless of which Princeton Texas electric company you choose, your utility will be separate. While there are multiple electric companies in Princeton, TX, your utility is dependent on the exact area in which you live.
Oncor and TNMP serve different parts of Princeton, so to find out the name of the utility in your area, look at your current electricity bill.Or the electricity bill once you move in to your new home and receive your first bill.