Disclosure of Material Connection: Some of the links in this post may be "affiliate links." This means if you click on the link and purchase an item, I will receive an affiliate commission. Disclosure in accordance with the Federal Trade Commission's 16 CF.
It's that time.  And you're FREAKING out. Yep, you need to go to the DMV. The Frisco Texas DMV.
Every owner of a motor vehicle and taxes is required to register their car(s) with the tax assessor in the county in which the owner resides. And keep up on that Driver's license too.
If only I could add an Instagram filter to my license photo 😂
How to Fall in Love with the Frisco Texas DMV
The best way is to be as informed as possible before you go.
First, let's take a look at where the Department of Vehicles is located ⤵️
In Collin County you could head to:
Texas Department of Public Safety
2109 W. Parker Road
Suite 224
Plano, TX 75023
Phone: 972-867-4221
400 Powerhouse Street
McKinney, TX
Phone: 214-733-5350
Meanwhile, if you live in Denton County, you'll want to take note of this address:
4600 State Highway 121
Carrollton, TX 75010
Phone: 972-394-4530
Choose the option that is closest to your house to cut down on time spent in your pursuit of your DMV needs.  Or, close to your office.
Use Google Maps at the time of your departure and find out which one is closer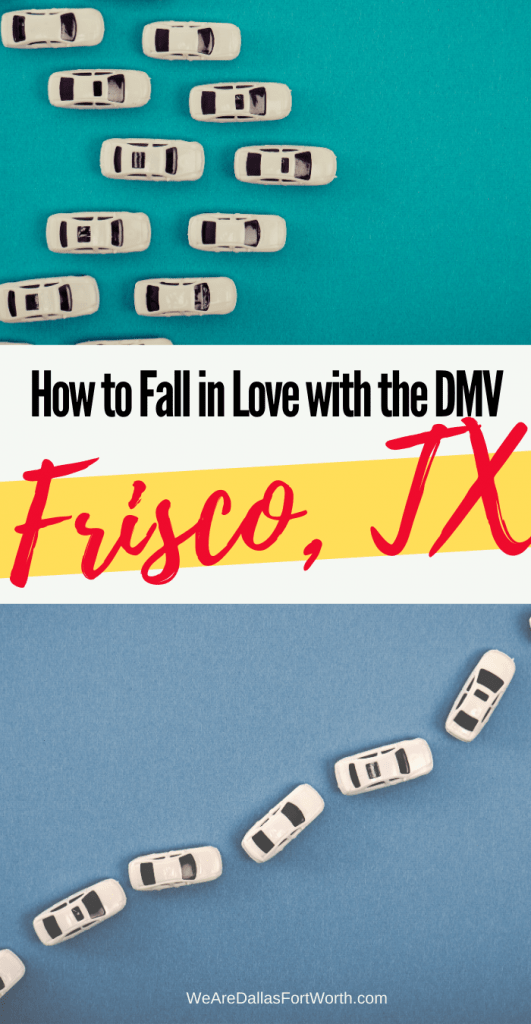 Here are 10 tips for surviving your time at the Frisco Texas DMV and possibly falling in love with this government office ⤵️
1. Don't go if you don't have to. If you can renew your license online or by mail, do it. And ditto for your vehicle registration.
2. Look at your license. You can make a DMV appointment in advance.
3. Be Productive with Your Time. When it boils down to it, the DMV is in a world of its own and a completely unpredictable place. Duh, I don't have to tell you all that. I use this offline time/down time to clean up my storage on my computer (so many videos and graphics that I've posted and can delete), I delete the 500 pictures of my Dogs that have quickly collected and clean up or respond to any emails that slipped through the cracks.  That could easily add up to 2 hours of work that is absolutely perfect for a chunk of down time.
And its also the perfect time to listen to a podcast (see some of my faves here that might pique your curiosity)
4. Check wait times. These can vary widely by office.
5. Consider going in late. Lines start forming outside DMV offices an hour or more before they open.
6. Bring the proper paperwork. If you are applying for a Real ID, bring the right paperwork.
7. Bring a snack. Many DMV offices do not allow food but depending on how long you might be there – just pack something discreet like keeping a water bottle in your purse or laptop bag.  Add a protein bar, ziploc full of cashews or pecans or a trail mix. Or some Lil Debbie snacks. Star Crunch anyone? 
8. Bring a battery backup. Also bring your mobile charger for your phone.  Its amazing how fast your battery can go when listening to a podcast or perusing your Instagram.  backup battery or charger for your mobile device, or a book or newspaper to keep yourself entertained. I use the Jackery.
And its also the perfect time to listen to a podcast (see some of my faves here that might pique your curiosity)
9. Keep calm. Take this moment to do NOTHING. Download the Calm app and give yourself a mini retreat in the Frisco DMV. You know how busy life is in Frisco – I see people going non stop and cars always in a hurry in Frisco.  Breathe.  Connect.
Final Thoughts
You can make this time YOUR time.
If you go in knowing you have an hour to two to carve out for yourself, you 'll learn to love a little me time!