Disclosure of Material Connection: Some of the links in this post may be "affiliate links." This means if you click on the link and purchase an item, I will receive an affiliate commission. Disclosure in accordance with the Federal Trade Commission's 16 CF.
Finding the right Dallas photographers for your portrait or family portrait is a lot like finding just the right dog sitter (yes, in our case) or hairstylist or cleaning person. There are amateur photographers, high end photographers, inexperienced ones – and then everything in between.
Essentially anyone can become a photographer, learn photoshop and be on their way.
That means there isn't a guarantee on the quality of work that a photographer will produce. In a market where anyone can pickup a camera and call themselves a photographer, that leaves you, the potential client at risk for failure. That pretty much is over half of Dallas.  You'll need to screen potential Dallas photographers. Look at the reviews of Dallas photographers and more. But here's the thing, that happens in any industry and there truly is good talent out there no matter how much training a person has had.  Blake Lively's first role was in the Sisterhood of the Traveling Pants.  See! Right out of the gate.  I'm sure she still had to audition though.  And you can do the same with a photographer that you are wanting to use for your portraits, newborn photos, family photos or head shots.
The Most Recommended Dallas Photographers of 2020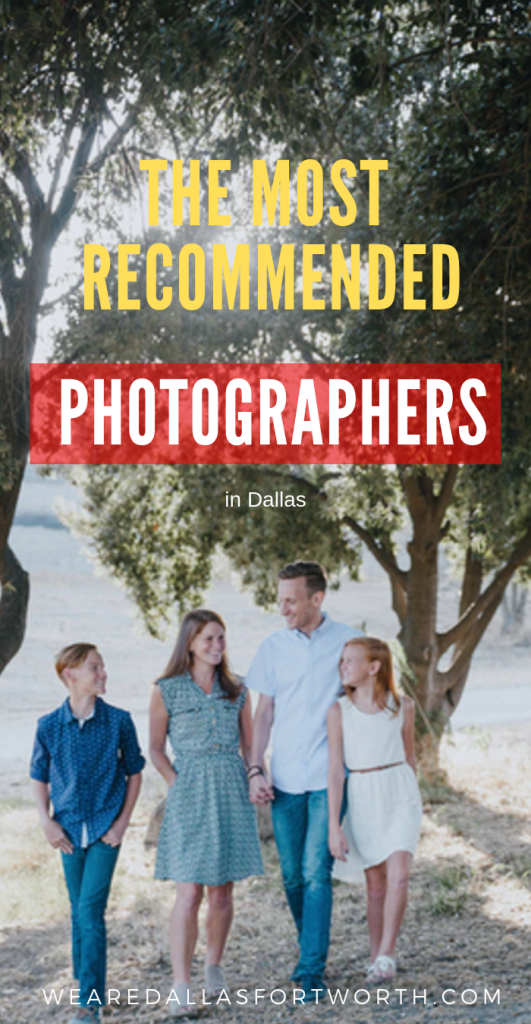 Hiring one of the many Professional Dallas Photographers?
You May Want to Consider These 3 Things First:
1. Photography organizations can help
Fortunately, photographers realized that clients felt this way decades ago. They created self-imposed regulations and established formal organizations to monitor and regulate the quality of imagery photographers were producing. Organizations like the Professional Photographers of America (PPA) and the Wedding and Portrait Photographers International (WPPI) hold annual conventions and trade shows to assess and advance the industry standard quality of photography. Both of these organizations have search boards available to find photographers who abide by their code of ethics.
Also find a photographer within a specific niche so they can remain within their zone of genius.  Niches include weddings, portraits, product photography, food photography, commercial photography, etc. You can then narrow down each of these categories into further specializations — much like medical doctors. Some photographers will only specialize in using natural light, while other are strictly use studio lighting.
Do you want a film photographer or a digital photographer?
2. Copyright 101 — who owns the images?
One of the most confusing aspects of hiring a photographer can be figuring out who owns the copyright to the images. To be clear, unless you have a written and signed work-for-hire agreement, the photographer will retain the ownership of the images they photography. Why? The Copyright, Designs and Patents Act of 1988 clearly states that the ownership of an image is retained by the person who created it. Therefore, you do not own the images. You are in fact licensing the images.
Remember that a photographer's job isn't just pressing the shutter button. They're using a combination of lighting, posing and post-processing to make your vision a reality. They learn these techniques after years of trial and error. You're hiring a photographer for their expertise — not their ability to push a button.
Photos and images are intellectual property. As such, photo ownership starts and almost always stays with the photographer. "Hiring" a photographer doesn't change the ownership. … The photographer may grant you an unlimited license for these photos, but legal ownership stays with the photographer.
3. Ask Questions
Here are some questions that you can ask:
Will the photos be retouched and color balanced? Is that done before I see the proofs?
What exactly is included in your packages?
How many hours of coverage do we get? What is the charge for overtime?
Will there be a second shooter or any assistants? Is there an additional fee for each (if applicable)?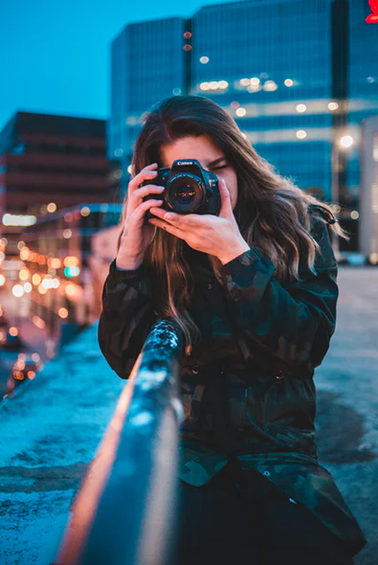 Where are some good photog locations in Dallas for Dallas Photographers?
Perhaps you want something outside of the studio?
It seems like my childhood choice of Olan Mills has now been replaced by cool Insta locations, graffiti walls and alpacas.  Should I add an "oh my" there?
With just the right lighting and a good photographer any location could work but let me point out that Richardson has the coolest waterfall that you can check out over here, if you have kiddos then they may get a kick out of the teddy bears in Highland Park at Lakeside Park, and if you can catch a balloon this locale would work.
If you want to get a family photo amongst the pumpkins, you'll want to head over to one of these pumpkin farms in Dallas.
And I think a totally epic photo could be made in this neighborhood.  OMG. I'm down for it.
If you are able to get your photographer to Deep Ellum while this place is still open, then you could make some really unique pics to drop in the mail at Christmastime by going over here.
What about Photography Tips?
Through a carefully curated selection of quotations, images, and interviews, Photographers on Photography reveals what matters most to the masters. With enlightening text by Henry Carroll, author of the internationally bestselling Read This If You Want To Take Great Photographs series, you'll discover how the giants of the genres developed their distinctive visual styles, the core ideas that underpin their practice and, most importantly, what photography means to you.
So you've got an Instagram account, you're posting pictures, but your follower count has flatlined. Read This If You Want to Be Instagram Famous holds the answers to fixing up your feed and finding thousands of new followers.
Packed with the essential secrets of the hottest Instagrammers around, the book features tips covering photographic techniques, captioning, codes of conduct, kit, and managing your account. Put the advice into practice and soon you too will be hailed as an Instagram icon. What all Dallas photographers want, right?
When photographing people, you can have a great composition, perfect light, and the right camera settings, but if your subject doesn't look right―if the pose is off―the shot will not be a keeper. Posing is truly a crucial skill that photographers need to have in order to create great photographs. If you're looking to improve your ability to pose your subjects―whether they're men, women, couples, or groups―best-selling author and photographer Lindsay Adler's The Photographer's Guide to Posing: Techniques to Flatter Everyone is the perfect resource for you. Another good one for Dallas photographers.
Stunning Digital Photography is much more than a book; it's a hands-on, self-paced photography class with over 14 hours of online training videos and free help from the author and other readers. That's why award-winning author and photographer Tony Northrup's book is the #1 photography book with over 250,000 readers. Perfect for the Dallas Photographers in the area.
The Most Recommended Dallas Photographers of 2019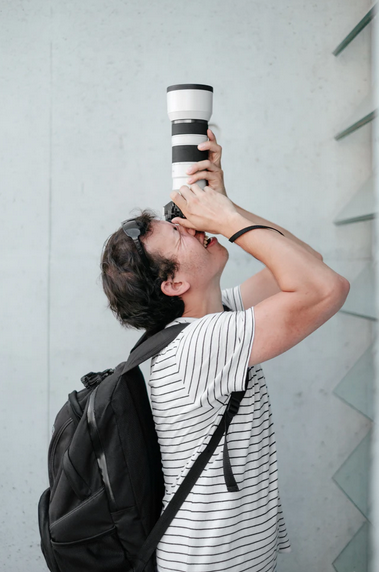 Dallas Photographers
Dallas
Dallas, a modern metropolis in north Texas, is a commercial and cultural hub of the region. Downtown's Sixth Floor Museum at Dealey Plaza commemorates the site of President John F. Kennedy's assassination in 1963. In the Arts District, the Dallas Museum of Art and the Crow Collection of Asian Art cover thousands of years of art. The sleek Nasher Sculpture Center showcases contemporary sculpture.
Here are a few Dallas photographers that you can reach out to in the area:
1. Jennifer Boomer Photography
606 N Edgefield Ave
Dallas, TX 75208
Oak Cliff
Phone number (432) 294-2252
2. Shaun Menary Photography
(214) 945-3970
3. The Three Photography
Stunning portrait photography and food photography.
The photographs are absolutely spectacular!
McKinney Photographers
McKinney Texas is a growing town with lots of charm. There are plenty of places within the town to find a great backdrop for your portraits – downtown McKinney, Adriatica Village, the graffiti walls in the historic district, the Cotton Mill, Chestnut Square historical village or in one of the many parks like Erwin Park.
Here are some photographers that you can reach out to in this area:
1. AimeeLouise Photography
(214) 620-2100
610 Elm Street, Suite 110
McKinney, TX 75069
2. Mary Cyrus Photography
(214) 543-5438
3. Emily Megan Photography
4. Angela Jackson Photography
(469) 288 – 4535
5. Ryan O'Dowd Photography
Plano Photographers
Plano Texas is located just north of Dallas and is full of photo spots from East to West.  Downtown Plano is full of perfect spots like the graffiti wall near Georgia's Farmer Market. Or just across the street at Haggard Park in the gazebo or on the bridge. In the Fall, many families gather with their photographers at Oak Point Nature Preserve to be surrounded by the changing leaves in the trails or on one of the many bridges.  There are multiple places to park around the area such as the Parks office at Oak Point Nature Preserve & Retreat Center.
If you head West, you might be interested in a more metropolitan feel by taking a portrait at the Shops at Legacy or Legacy West.  Plano loves to shop non stop so it could be a perfect photo spot for many families.
And if you head just a bit further West you'll find yourself at Arbor Hills park.  This area has so many great spots for that perfect family portrait.
Discover a photographer below:
1. Brandi Thompson Photography
2. Jessica Hanson Photography
(469) 500-8548
3. Daniel Motta Photography
(214) 440-6335
4. Jason Honea Photography
(469) 438-0149
Frisco Photographers
If you are desiring a family portrait in Frisco, check out the Frisco Rail District as an option, maybe even the Frisco Railyard for something really quirky.
And if you want a natural setting you might prefer Frisco Commons or Celebration park.
Here are a few Frisco Texas photographers you might want to reach out to
1. Erin Moulden Photography
2. Cheri Root Photography(407) 247-7009
Allen Photographers
Allen Texas has a number of gems to bring the family to for a fun portrait.  You could all gather at the Watter's Creek shopping area near the bridge.  Or behind the burger joint on the trails.  Across 75, you'll find an expansive park, trails, historical area and a waterfall.  Choose any setting you want in Allen.  
Allen Texas photographers:
1. Sheila Brauning Photography
If you use Sheila then you might also like moving forward on these:
2. Jack Dickson Photography
(956) 225-9228
3. Mer De Louve Photography
(214) 708-5071
Richardson Photographers
Richardson is a beautiful town with beautiful expansive homes surrounded by mature trees.
I think this is an amazing spot for pics and guess what, its a bit of a secret. I;m sure the Canyon Creek neighborhood and Canyon Creek Country Club have some great options as well.
Here are some photographers that you can reach out to in this area:
1. Carmel Studios Photography
(972) 674-8956
2. Stephanie Marchant Portraits
(214) 287-6691
3. Aaron Roe Photography
Rockwall Photographers
Rockwall Texas has a beautiful Downtown Square. If you head just outside the historic Square you'll run into Squabble Creek Trail with an immense amount of foliage. Of course, Rockwall is also home to Lake Ray Hubbard so its possible to snag a photo on sailboat cruising across the lake as well (hint: try Sail with Scott)
Here are some photographers that you can reach out to in this area:
1. Callie Beth Photo + Design
2. Shanon Zais Photography
3. Crosswhite Photography
Wylie Photographers
Your best bet for Wylie is a spot on Lake Lavon or on Main Street aka Ballard Street.
Here are a few photographers to reach out to ⤵️
1. Melissa Mancini Photography
(469) 609-7370
2. A Moment To Keep Photography
(972) 961-4820
Murphy Photographers
Head to Central Park in Murphy for a photo session.
And check out these Murphy photographers ⤵️
1. Greg Folkins Photography
(888) 724-8890
2. Brilliant Pixel Photography
(972) 429-0516
3. Lind And Love Photography
(469)573 – 4960
Lakewood Photographers
Oh Lakewood, you're so pretty.  Lakewood has a cool vibe to it and feels like a hybrid of Austin and Highland Park.
Lakewood is home to beautiful parks, scenery, White Rock Lake, historic buildings and the Dallas Arboretum.
Here is a list of Lakewood photographers to check into:
1. James F. Wilson Architectural Photography
(214) 823-6542
2. Pete Lacker Photography
(214) 748-7488
3.Red Fern Photography
(919) 576-9351
4. Hannah Maria Photography
(409) 540-8338
5. Candace Moss Photography
(512) 300-4392
Waxahachie Photographers
Similar to McKinney, this downtown Square is adorable and the area has beautiful architecture as well as parks.
I'm sure you'll find lots of exposed brick walls and more down here.
(972) 322-5771
Oak Cliff Photographers
If you've been to this amazing south Dallas neighborhood of Oak Cliff then you know it has a plethora of cool spots. Head down 7th Street or Main Street or to one of the parks or sit outside at one of the cafes with a cup of organic green tea.
1. In The Cliff Photography Studios
2. Henry A Torres Photography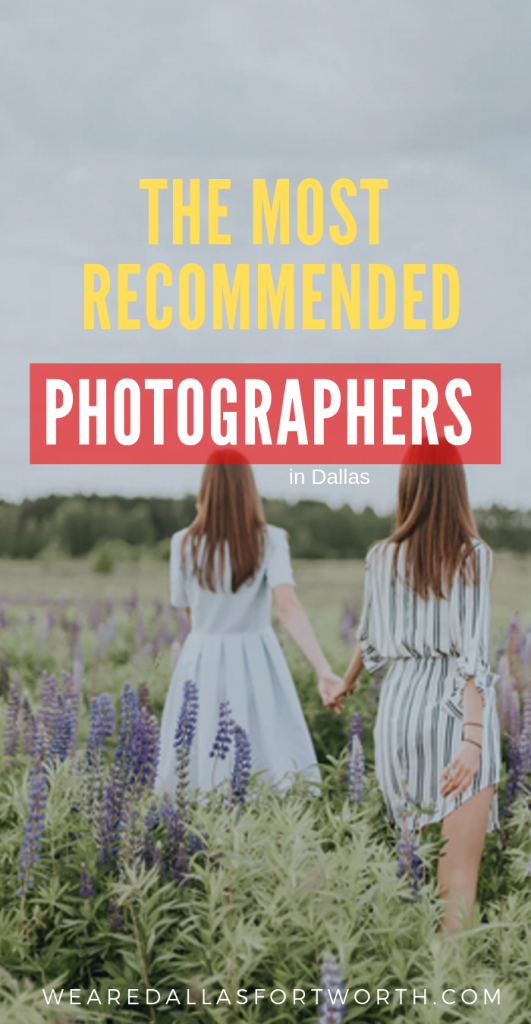 Desoto Photographers
1. LeTisha Nichole Photography
(214) 842-6338
Irving Photographers
Irving has some beautiful back drops in the Las Colinas area.  If you've never been before, take an exploration trip via the DART Orange Line and see everything in this developing area.
1. Sallee Photography
2. Barbosa Photography
(972) 620-1443
Grapevine Photographers
Grapevine has adventure, vineyards and history.  Choose your backdrop in this cute town near DFW Airport.
There are plenty of vineyards in the area that would make for a great setting for an engagement photo session.  The lake has plenty of spots on the waters edge or the trails or the mountain biking trails if you want a really adventurous portrait.  Lastly, Grapevine is home to a massive Main Street and historic area.
See these photographers here:
1. Clara Bella Photography
2. Lyncca Harvey Photography
(817) 320-2901
3. Charlie Lamb Photography
(817) 919-1473
Denton Photographers
Too many places in Denton to name them all . . . but I would point you in the direction of TWU and the downtown Square.
1. Bellissimo Foto
(940) 453-7416
2. Elizalde Photography
(940) 442-8375
3. Shannon Drawe Photography
(940) 380-0408
4. Chevy Chey Photography
(940) 781-5290
5. Denton Birth Photography
6. Paige Smith Photography
(940) 391-0973
Melissa Photographers
I'm sure some of you are tempted to pose right in front of the Buc-ee's and honestly, I don't think anyone would blame you for doing just that 😂
1. Penny Ives Photography
2. Angela Jackson Photography
Anna Photographers
Head out to Barnhill Vineyard for a neat shot or maybe you can find a small spot in the downtown area.  Anna's downtown is teeny tiny tiny!
See if one of these photographers would be willing to join you:
1. Wendy Hudman Photography
2. O'Neill Family Photography
Celina Photographers
Celina is really focused on their downtown Square so this is the place to be if you are in Celina.
See if one of these photographers would be willing to join you:
1. Natalie Roberson Photography
2. Tara Scott Photography
Little Elm Photographers
I would head straight away to Little Elm Beach for a session.
See if one of these photographers would be willing to join you:
1.Brittany Villegas Photography
(949) 370-3495
Where can you print photos?
Your photographer might facilitate the printing and framing of your photos.
You can also find resources like these:
Need your own setup?
Try one of these ⤵️
This background has a cool wood effect
I think I would prefer this brick back drop
Or this cool dark wood background
However you set up your photography session, just know that the sky is the limit.  There has never been a better time to use all of your creativity then there is right now.
Have fun! And have a fantastic photo session. 📸
Oh and one more thing . . .
Come join the conversation over here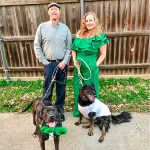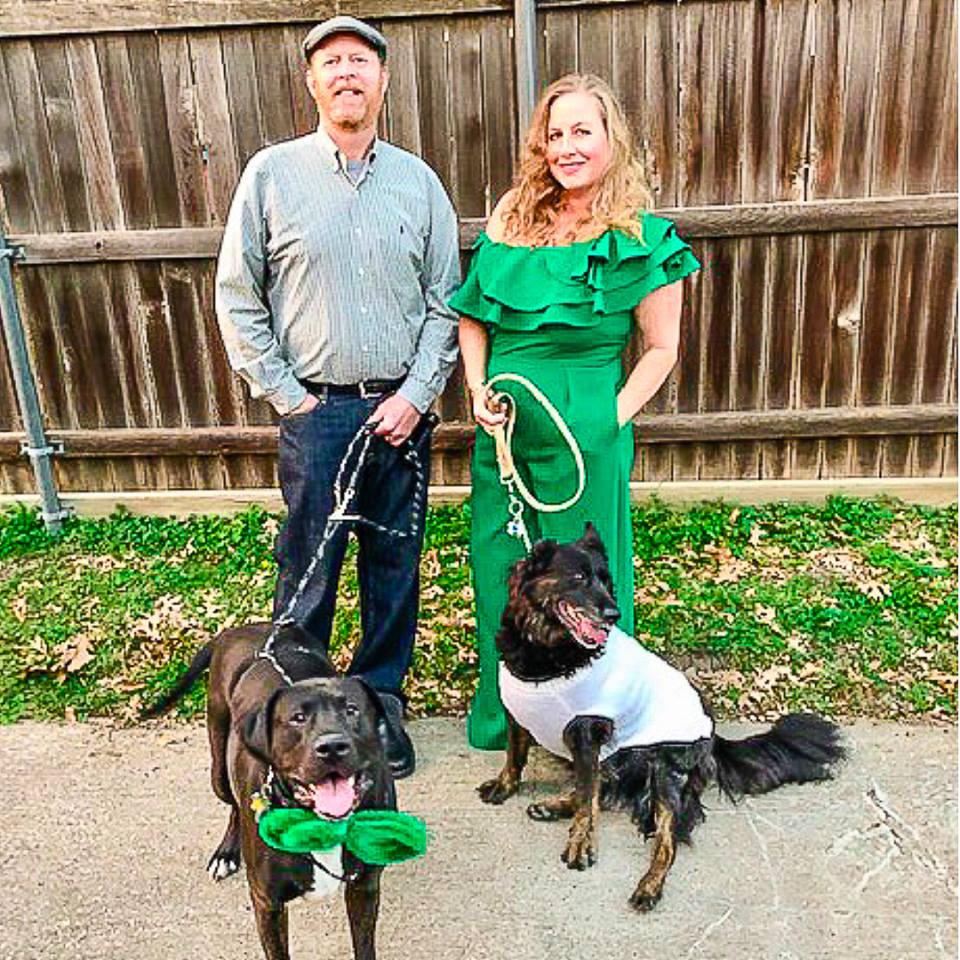 Interested in working with Becca or being featured here on the website, start here
She helps local businesses in DFW and many larger businesses looking to tell a story to the readers of Dallas. Her work entails copywriting, content marketing, blog campaigns, email marketing, social media, coaching and consulting.
This article contains some affiliate links, meaning that if you make a purchase through these links, I may earn a small commission (at no extra cost to you!). Thank you for reading!
Be sure to take a peek at the LIVE show here, I would love to see you join us every Wednesday morning at 10:00am  – here are just a few of them from the recent weeks (lots of Plano and Frisco representation in the house!)
You might also like
If you like podcasts, here are a few of my episodes from the We Are Dallas Fort Worth podcast