Disclosure of Material Connection: Some of the links in this post may be "affiliate links." This means if you click on the link and purchase an item, I will receive an affiliate commission. Disclosure in accordance with the Federal Trade Commission's 16 CF.
Food banks bring more than food to people in need, they bring hope, they bring support and shine a light for those to continue on the path. Frisco is a master planned city and in this city is support for a variety of its resident needs such as the Frisco Texas food bank.
Many times local food banks point their clients to community programs to help educate parents and children on proper nutrition.

Frisco Texas Food Bank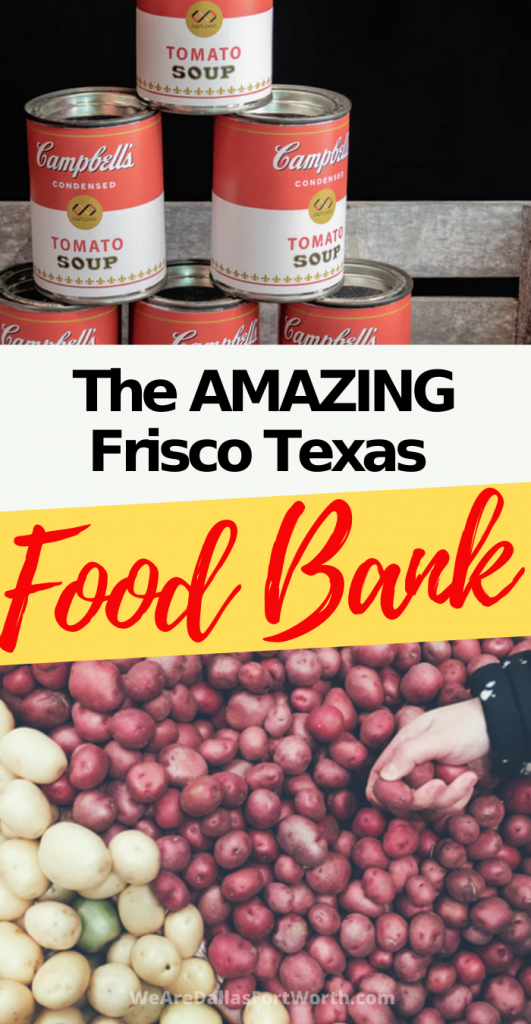 Why does it matter?
Hunger knows no borders.
In fact, I was recently chatting with someone entrenched in the nonprofit world in McKinney.
And you know what she said?
She said there was one surprising area that came to her for food donations.
And this might shock you . . .
But it was Stonebridge Ranch in McKinney.
So here's the thing.
We cannot be sure why that's happening.
But as I said earlier, hunger knows no borders.
Interestingly enough . . .
There's a lot of food out there.
And much goes completely wasted.
Food banks help capture that waste and distribute it to those in need.
They accept donation of both preserved food and fresh produce.
Where can you go in Frisco to donate food?
---
Frisco's Family Services Center
Frisco, TX 75033
(972) 335-9495
Services Offered: Emergency Financial Assistance (can be used for rent/mortgage, utilities, education scholarship toward tuition and or books, employment support such as uniforms or professional license renewal), Gas vouchers, Food Pantry, Holiday Program for children and seniors, School supplies, Thanksgiving Program, Clothing/household vouchers.
Hours: Monday, Tuesday, Thursday, and Friday 9:00am – 5:00pm
Wednesday 9:00am – 6:00pm
---
Frisco Family Services – Food Pantry
Frisco, TX  75034
(972) 335-9495
Frisco Family Services Center provides a food pantry serving the community of Frisco.
Pantry Hours: Monday, Tuesday, Thursday, Friday 9:00am – 5:00pm
Wednesday 9:00am – 6:00pm
---
Here are some other resources near Frisco Texas ⤵️

The Storehouse of Metro Relief
The Colony, TX  75056
(214) 705-3555


The Storehouse of Metro Relief provides a food pantry to the residents of The Colony and nearby cities.
Pantry Hours: Monday and Wednesday 9:00am – 12:00pm
Metro Relief has a food pantry on location which provides groceries and referrals for other services as needed.
They offer weekly assistance to families who have a need regardless of their current economic circumstances. Prayer, encouragement, and tangible support are available to each person who walks through their doors.
---
Bethlehem Place
Prosper, TX – 75078
(469) 296-8877
Bethlehem Place serves about 65 families a month from Prosper and surrounding areas like Frisco.
They accept donations on Tuesday afternoons between 4:30 and 5:30 pm.
Their pantry hours include: Tuesday 6:00pm – 7:00pm
What items do Frisco Texas Food Banks  need most?
Food banks will only take longer life products that they can store for those in need – fresh food can spoil quickly and not all banks have refrigeration facilities. Make sure to ask before you head over with items needing refrigeration.
Each food bank might have a changing list of items they need or you could bring:
And of course, they are always in need of financial donations and fresh produce as well.
Hit the EASY button by using Prime Pantry for those refrigerated and non refrigerated items:
Food banking is a proven solution for nourishing our Dallas communities through dedicated and unified action in creating a resource for those in need.
We can't always tell who is in need or who might have recently lost a job and is struggling more than they will ever let on.
If you can give, even in a small way, don't hesitate to reach out and provide what you can.
Together we can make Frisco and North Texas a great place to be.
You might also like these other fun articles:
Want to go exploring
Catch some of our podcast episodes here: