Disclosure of Material Connection: Some of the links in this post may be "affiliate links." This means if you click on the link and purchase an item, I will receive an affiliate commission. Disclosure in accordance with the Federal Trade Commission's 16 CF.
When Erin Brockovich said she wouldn't drink North Texas water and that included Frisco Texas drinking water, it had a lot of people up in arms, taking to Facebook and trying to figure out what that meant for their Frisco families.

What's Up with the Drinking Water in Frisco Texas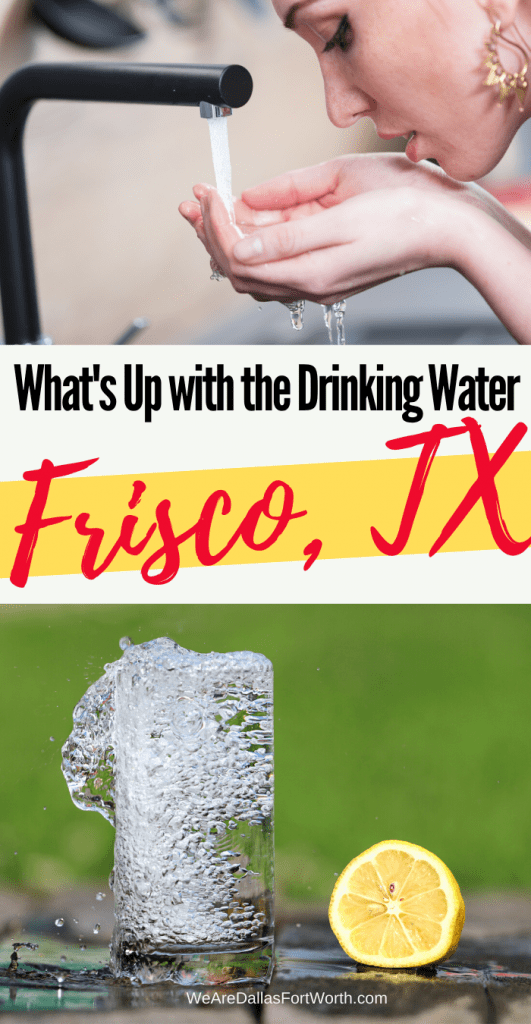 So what happens when one of the loudest voices on water states that the whole regions water is unfit?
Do you stop drinking the water?
Do you call the Mayor non stop until he answers?
Do you move?
Perhaps you do all of the above.
But first, we need to start here ⤵️
Not too long ago, The North Texas Municipal Water District came under fire during its regularly scheduled chlorine maintenance.
The NTMWD services 1.7 million customers and 10 counties, these counties include Collin, Dallas, Denton, Rockwall, and Kaufman Counties.That's a large area and a huge population to serve.
How did the North Texas Municipal Water District get alerted?
You won't be surprised to hear this . . .
The alert came from a Facebook group – this one to be more specific ➡️ Safer Water, North Texas Community
So what exactly did Brockovich say when asked about the Frisco Texas drinking water??
She was asked if she would drink the water herself?
"After a chlorine burn? And what I just learned? No, I would be suspicious of it. But I'm suspicious of all water because I know what goes on behind the scenes," she said.
To sum it up – its not just North Texas water or Frisco drinking water that she would be concerned about, its water in many regions throughout our country.
Why did this alert so many people?
Its because of the method that the NTMWD uses to disinfect water.
They use chlorine to burn the water.
And sure enough, there's a catch . .
Chlorine burns can increase trihalomethane levels.
And why does that matter?
Trihalomethanes may slightly increase the risk of cancer and could cause other health problems.
Final thoughts on the Frisco Texas Drinking Water

If you are moving to Frisco soon, perhaps look into joining the Safer Water GB group.
It seems to be a community intent on staying alert on the health of themselves and their family and in case of an issue, will help you know who you are able to contact next.
You might also like these other articles focused on North Texas:
Want to go exploring
Catch some of our podcast episodes here:

You might also like: