Disclosure of Material Connection: Some of the links in this post may be "affiliate links." This means if you click on the link and purchase an item, I will receive an affiliate commission. Disclosure in accordance with the Federal Trade Commission's 16 CF.
When a loved one dies, grieving family members and friends often are confronted with dozens of decisions about the funeral  — all of which must be made quickly and many times  under great emotional duress. I compiled a list of Highland Park Texas Funeral homes to help you narrow down the best option.
Highland Park Texas Funeral Homes
1. Sparkman/Hillcrest Funeral Home
7405 W Northwest Hwy, Dallas, TX 75225
214.363.5401
Near HP:
2. Restland Funeral Home and Cemetery
13005 Greenville Ave, Dallas, TX 75243
469.925.1436
3. Grove Hill Funeral Home
3920 Samuell Blvd, Dallas, TX 75228
214.388.8887
4. Calvary Hill Funeral Home
3235 Lombardy Ln, Dallas, TX 75220
214.357.5754
You are going to have a lot of questions and discover many things you never knew about the process.
Make an appointment with one or all of the above funeral homes, bring a notepad and be ready to ask as many questions as you can.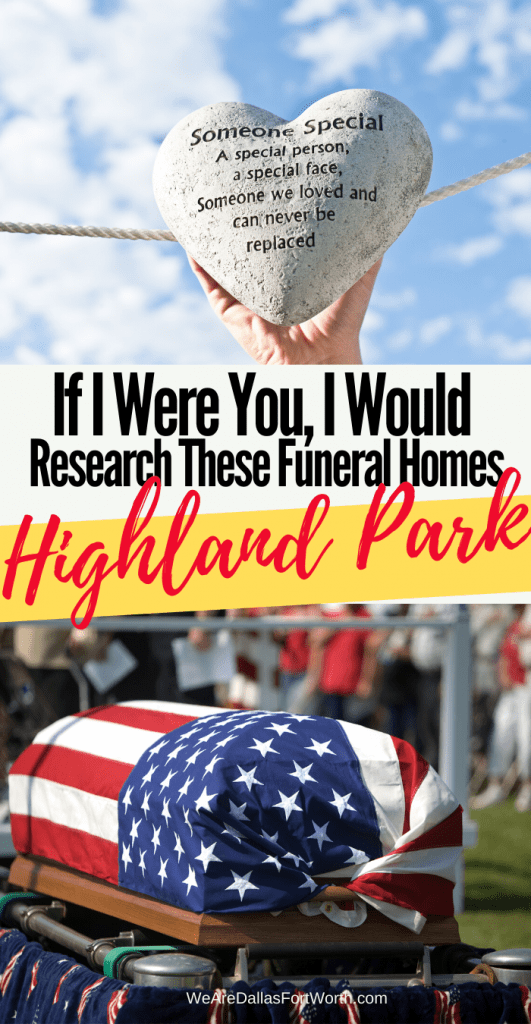 So now that you have the names of 5 well known places in Highland Park and just outside the area . . .
You might be wondering –
What else should I know?
Can I prepare even more?
Keep reading because we think these funeral planning tips will bring you a comprehensive plan to your approach.
Funeral Planning Tips
Many funeral providers offer various "packages" of goods and services for different kinds of funerals.
As a Marketer, I love it.  But as someone who likes to stick to a budget, its nice to have options.
Please remember this . .
When you arrange for a funeral, you have the right to buy goods and services separately.
That is, you do not have to accept a package that may include items you do not want. Here are some tips to help you shop for funeral services:
Shop around in advance. Compare prices from at least two funeral homes. I know it seems like tedious work but in all things, its really important to get insight to multiple services or products.
Know that you can supply your own casket or urn. Head on over to Home Goods.  Boom. Done.
Ask for a price list. As a matter of fact, the law requires the funeral home to give you written price list for products and services. Don't worry – they will most likely do this without you asking.
Avoid emotional overspending. It's not necessary to have the fanciest casket or the most elaborate funeral to properly honor a loved one.
Apply the same smart shopping strategies that you would use for other major purchases. You can cut costs by limiting the viewing to one day or just one hour before the funeral, and by dressing your loved one in a favorite outfit instead of costly burial clothing.
Ideally, you want to decide on what happens to you after you pass away long before it happens.
Pre-arranging as much as possible will give you peace of mind and any surviving family members peace of mind.(yep, think about your children.)
Where can you find more information on planning?
1. I'm Dead, Now What?
2. Peace of Mind Planner
3. Funeral Planning Basics
If you are the one planning the funeral for a friend or family member . .
You might need some items like these ⤵️
1. Remembrance personalized balloons
2. Car racing urn
3. Guest book for memorial services
4. Funeral Thank You cards
5. Memorial cotton ribbon
Final Thoughts on Highland Park Texas Funeral Homes
The loss of a loved one can leave you with a lot of unanswered questions, feelings of stress and anxiety and grief that makes events difficult to handle.
The right Funeral Home will guide you through the aspects of the funeral service with compassion, dignity and respect.
Call around and choose the one that feels right for you.
Oh hey, you might also like these other articles focused on North Texas:
Want to go exploring
Catch some of our podcast episodes here: