Disclosure of Material Connection: Some of the links in this post may be "affiliate links." This means if you click on the link and purchase an item, I will receive an affiliate commission. Disclosure in accordance with the Federal Trade Commission's 16 CF.
If you're a homeowner in Celina, then you'll want to know a few things about your Celina Texas water bill.
Did you know that the three major users of electricity in the home are the electric heating/air-conditioning, the electric clothes dryer and the electric water heater? We talked about your utilities over here and even talked about how much money you need if you are moving to Texas for the first time over here.
What You Should Know About Your Celina Texas Water Bill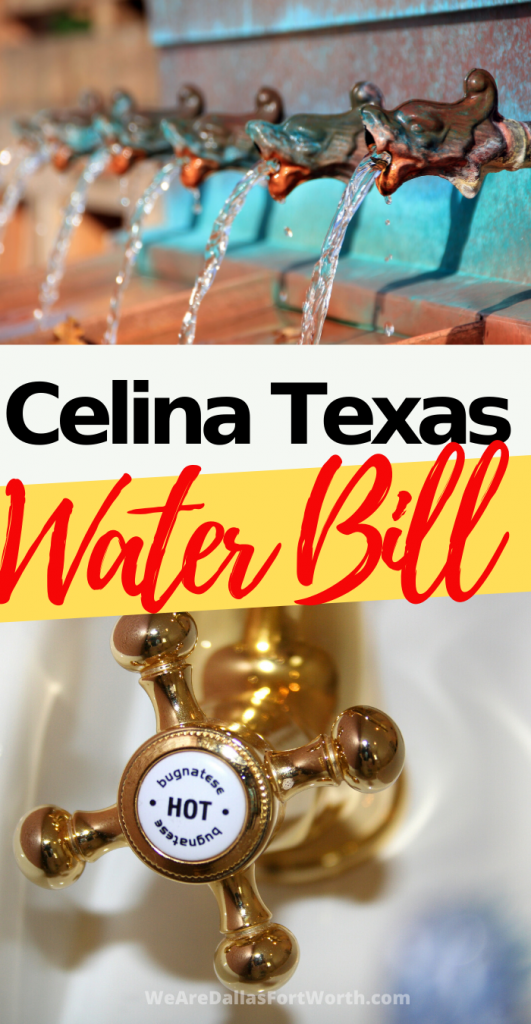 Who is in charge?
The Utility Billing Department provides customer service related to water, sewer, trash and recycling services to residents and business options.
The Water Department manages the maintenance and repair of the water production, transfer, and distribution
About how much will it cost?
As mentioned over here, if you pay via credit card or debit card there is a 3% additional fee.
As far as the water service rates, you can see the chart here.
Where can I pay?
Thankfully, the City of Celina provides many options for you to pay your Celina Texas water bill.
Pay Online. All credit card transactions will be charged a 3% convenience fee.
Pay by phone. 972-382-3345. Monday – Thursday. 7:30 am – 5:30 pm. Friday. 7:30 am – 11:30 am. …
Mail in Payment. Attn: Utility Billing. 142 N. Ohio St.
Pay in person. Celina City Hall. 142 N. Ohio St. 7:30 am – 5:30 pm Monday-Thursday.
When can I water my lawn?
Water early (before 10:00 a.m.) or late (after 6:00 p.m.) to reduce water loss through evaporation.
Having a rain barrel in your yard to can be a huge help on those dry weeks.

How can you save money on your water bill?
Here are 7 simple ways that you can make a bigger impact on your water bill every month.
All it takes is for you to tweak small things in your every day life and the savings can starting adding up daily.
1. A Rain barrel is a great option for collecting all of the Spring showers and using them in the dryer months.
2. This is a low flow shower head which is a perfect replacement for your current shower head.  And its absolutely stunning for your new Celina home.
3.  This bucket is fabulous for any purpose around the home or on-the-go.  I love it for collecting water as I am waiting for it to heat up, this way I can pour the cooler water into my dogs' water bowl.  Its a simple and efficient way to save a gallon of water a day. Every little bit adds up.
4. You could take shorter showers. Try this nifty tool.
5. Run a full load of dishes in the dishwasher rather than hand washing.
6. Also, run a full load of clothes in the washing machine.
7. Lastly, turn off the faucet while brushing your teeth.  If you have a family of 4 and each person did this, you could easily save 1 – 2 gallons of water per day.  Over a month, that's 60 gallons of water from one small task.
Final thoughts on your water bill
If you are moving to Celina soon, make sure to get that water turned on and stay on top of your bill.
And, if you ever notice an increase in your water bill, don't hesitate to contact the City. Call them up and ask for your meter to be reread.
There could be a leak, or it could simply be due to an inaccurate reading of your meter.
If its not a leak, consider how your family could make some small modifications to how you are using water in your household and make a commitment to making those changes.
You might also like these other fun articles:
Want to go exploring
Catch some of our podcast episodes here:

You might also like: